When looking at art sends you into a summer holiday day dream, it's definitely something we want more of. And that's exactly what Sylvia from Harvey Walker Studio does with her playful, hand drawn watercolour artworks. Think seashells on gingham backgrounds, coral, beach umbrellas and enchanting crabs!
We were delighted to sit down and chat with Sylvia to hear all about her relatively new jump into the world of art.
Related article: Sweet and whimsical children's artwork from Dreams and Clouds
Related article: Abstract still life paintings with a soft, pastel colour palette from Art by Ally S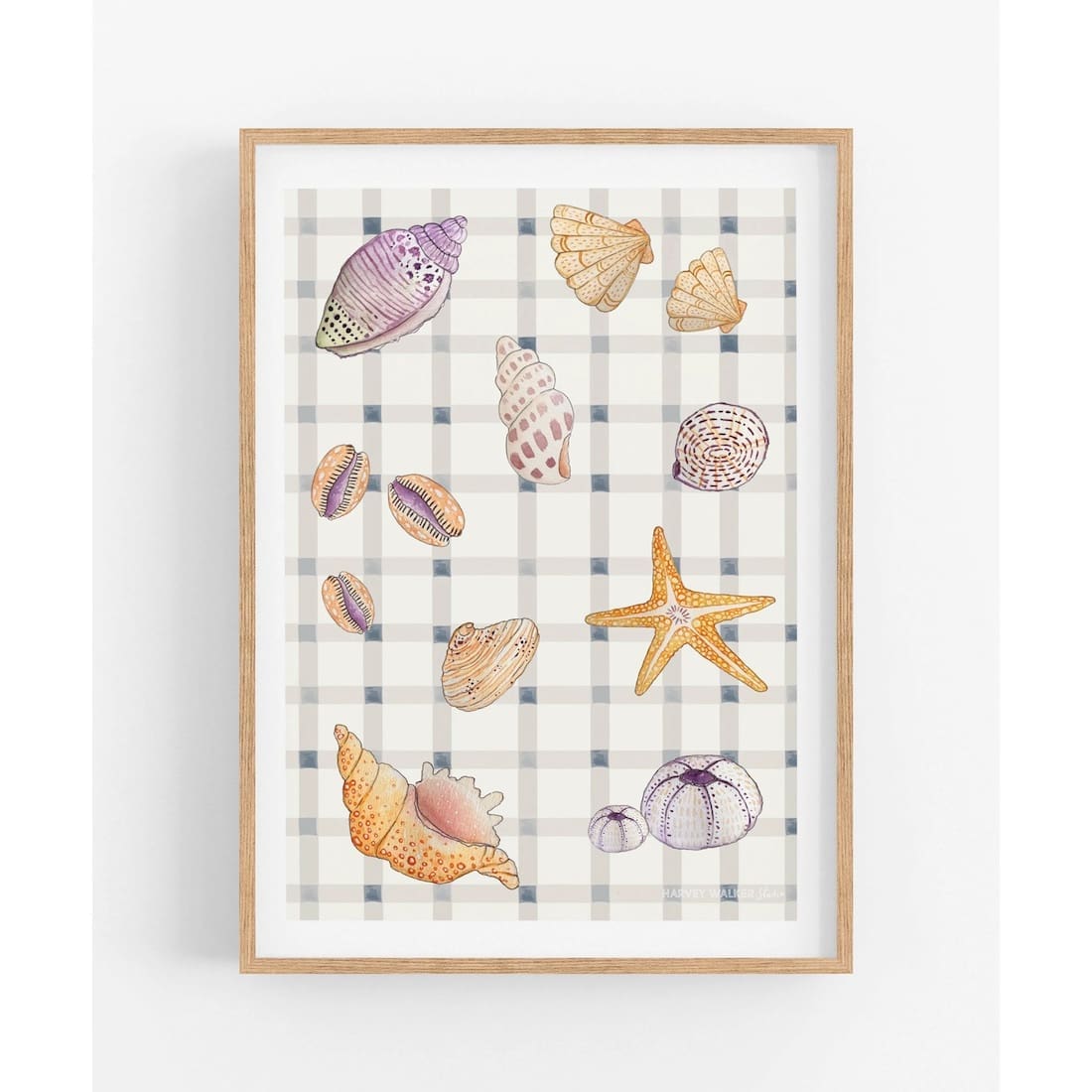 Working in a creative industry, art has always been a big part of Sylvia's life.
"I come from a very creative family and have pretty strong creative blood," Sylvia tell us. "I've always wanted to do anything creative — really, I love it all and for as long as I can remember, have wanted to do some form of art.
"My background is in graphic design and product development. But for some reason, they didn't quite fit right. Being constantly surrounded by other creatives at home, and at work made me think that when the time was right, I should just go for it and make it happen. That it would just somehow work out for me too.
"I'm really not sure why I didn't pursue art straight away!"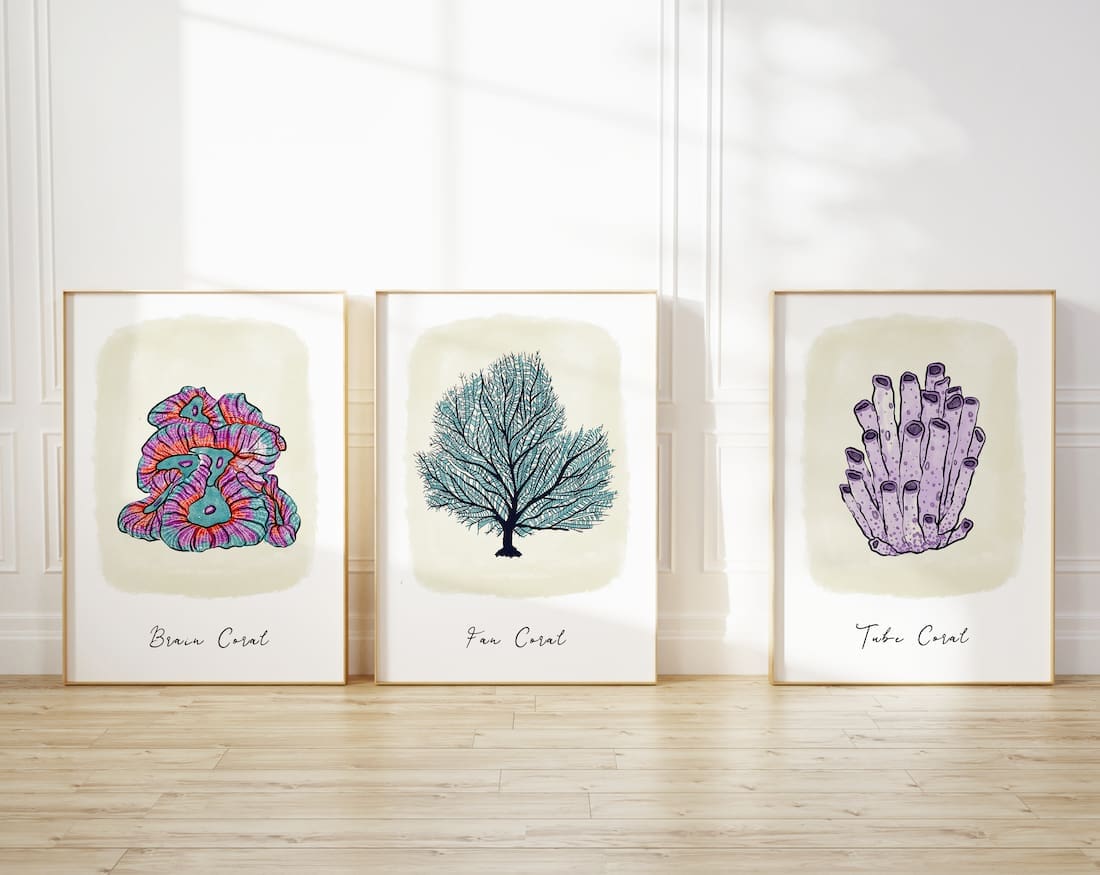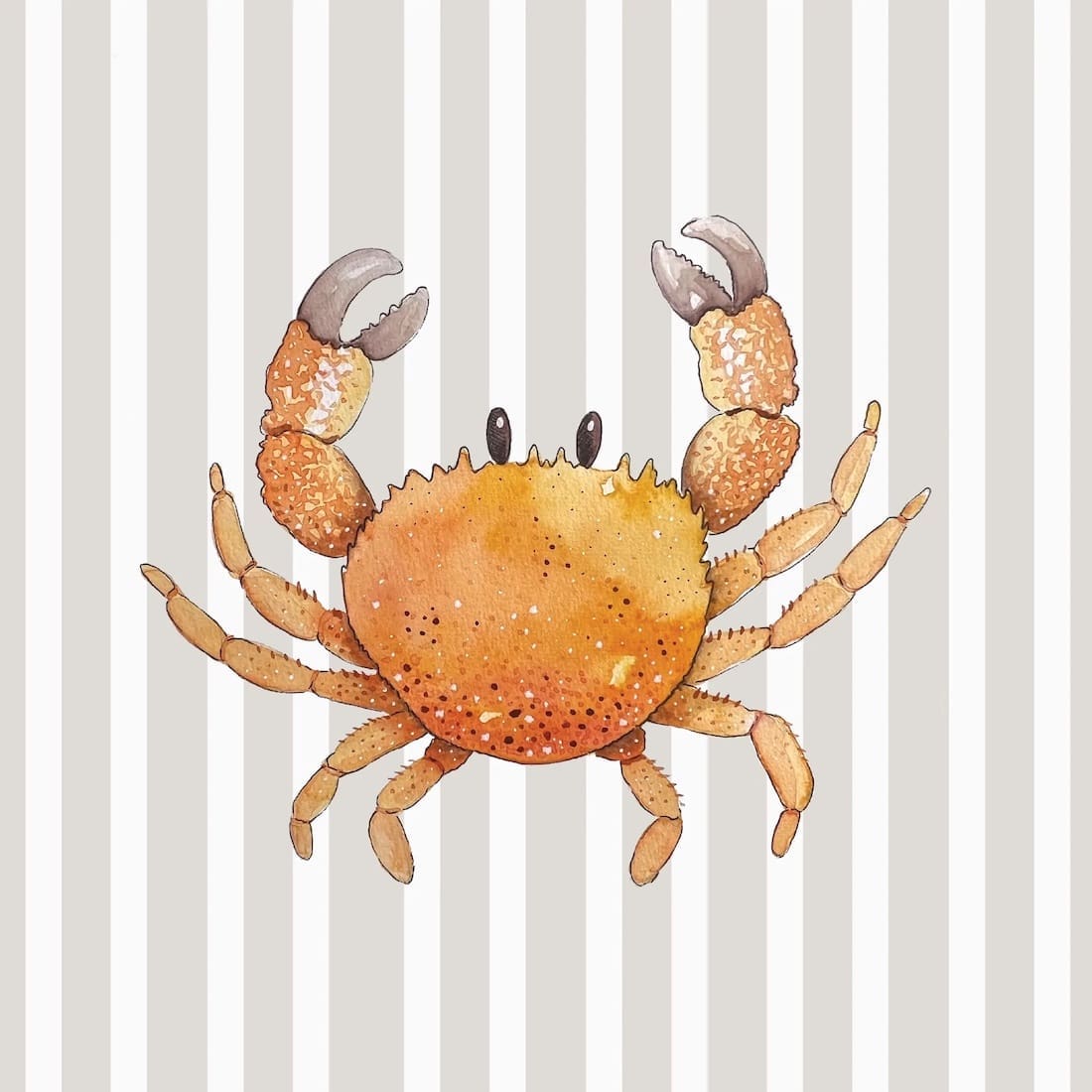 Sylvia has always had a burning desire to be an artist, she just needed the right push to get her there.
"It sounds silly, but when I was younger, I always thought to myself, 'I will do these jobs for now, but when I get older I will be an artist'," Sylvia remembers.
"My style of art is really just an extension of who I am and this is the vibe I want to put out there at the moment.
"When we finished our home renovation I couldn't find what I was looking for to decorate our walls. I painted a large scale acrylic and when people came to view our home, they loved it so much they wanted me to create artwork for their homes too.
"I also started doing some watercolours prints for my home that were fun and timeless. And it kind of just took off from there!"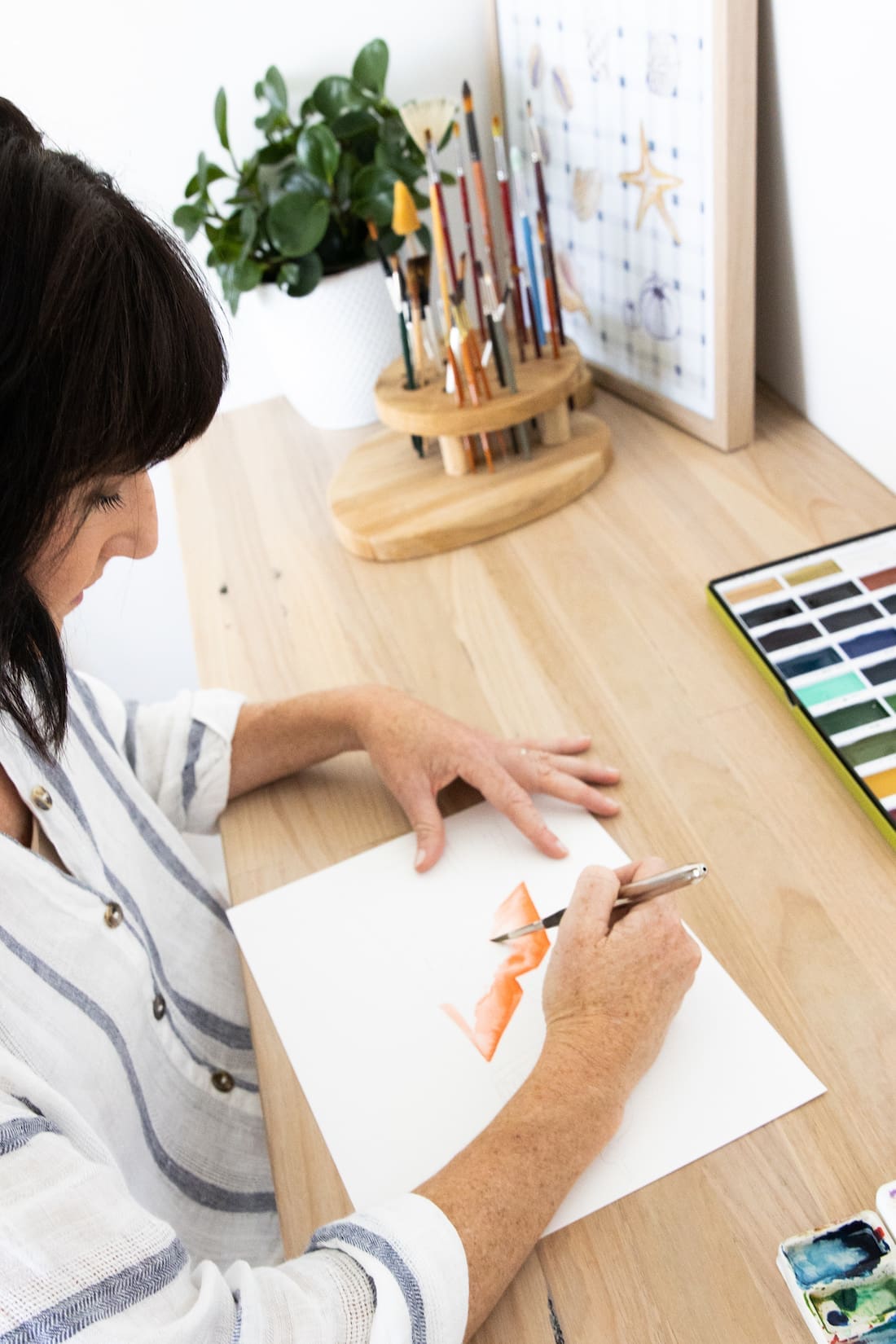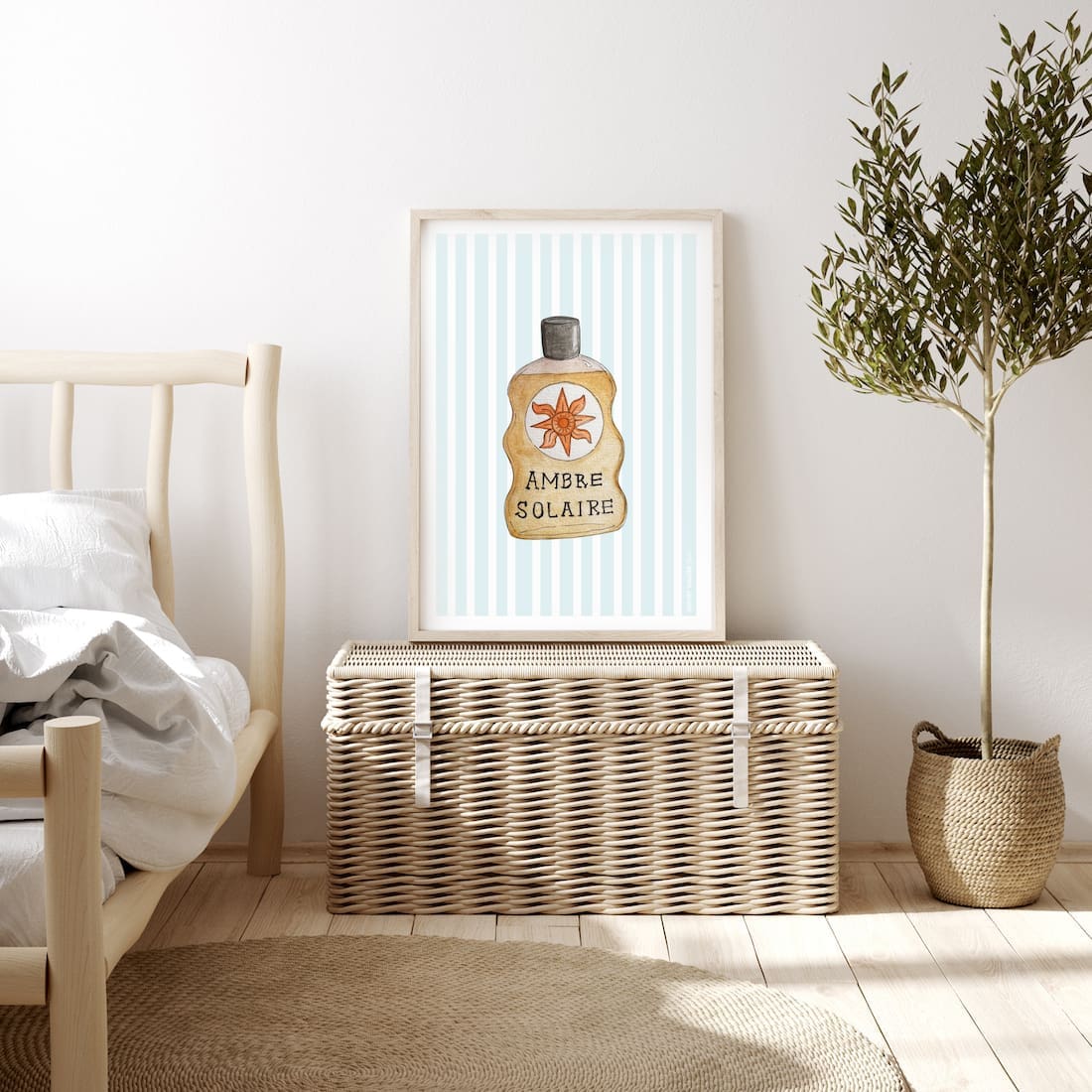 There is definitely a beachy, summer vibe about the artworks from Harvey Walker Studio.
"I was born and raised on the northern beaches, so perhaps that's where it comes from!" smiles Sylvia.
"I feel like I'm a pretty positive person, so maybe it's my personality coming out in my artwork? And I don't take myself too seriously, which is how I think art should be too.
"I have been lucky enough to have done some amazing travel and had some truly wonderful experiences. But I always look forward to coming home to the beaches. There is just something special about it here.
"My favourite pieces would probably be the ones with a bit of a vintage vibe. They take me back to a more simple lifestyle or a holiday memory. I think they are timeless pieces that will look beautiful for years to come."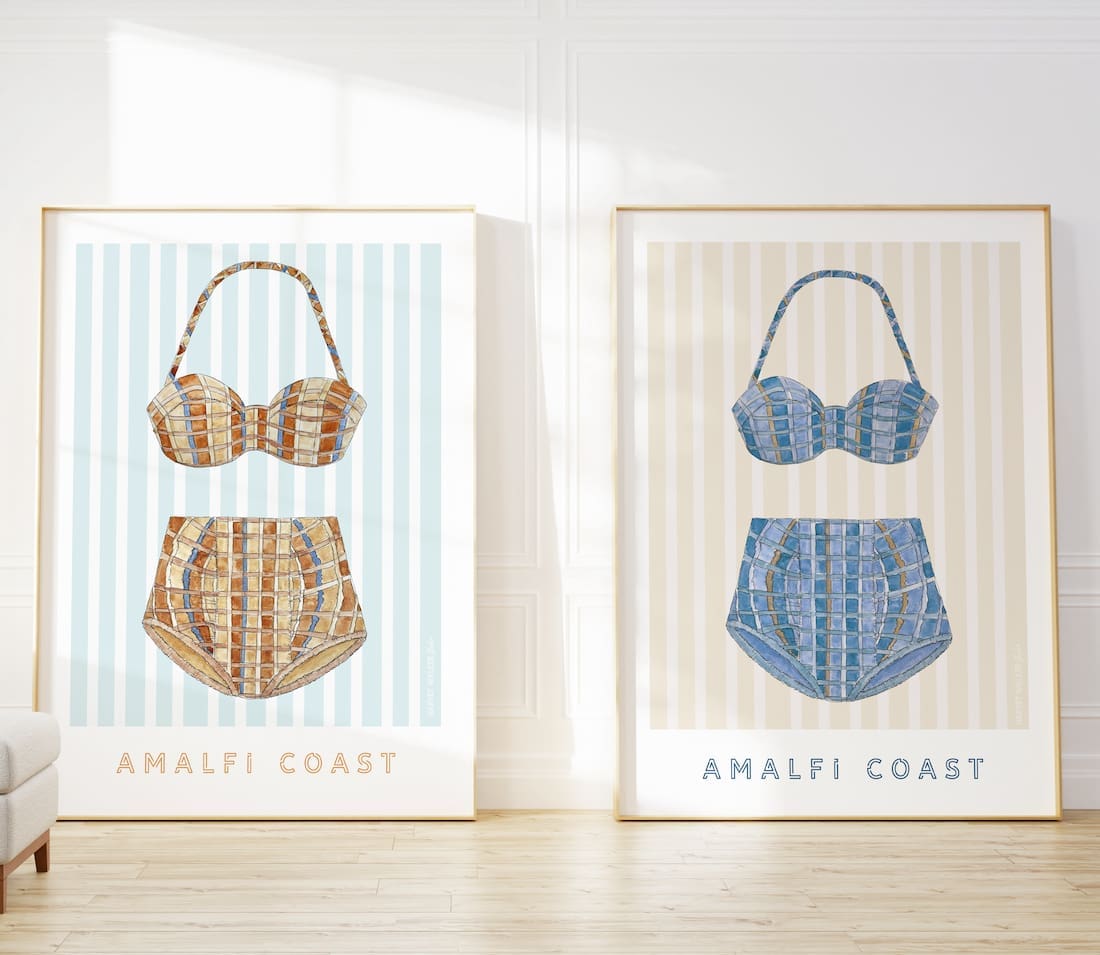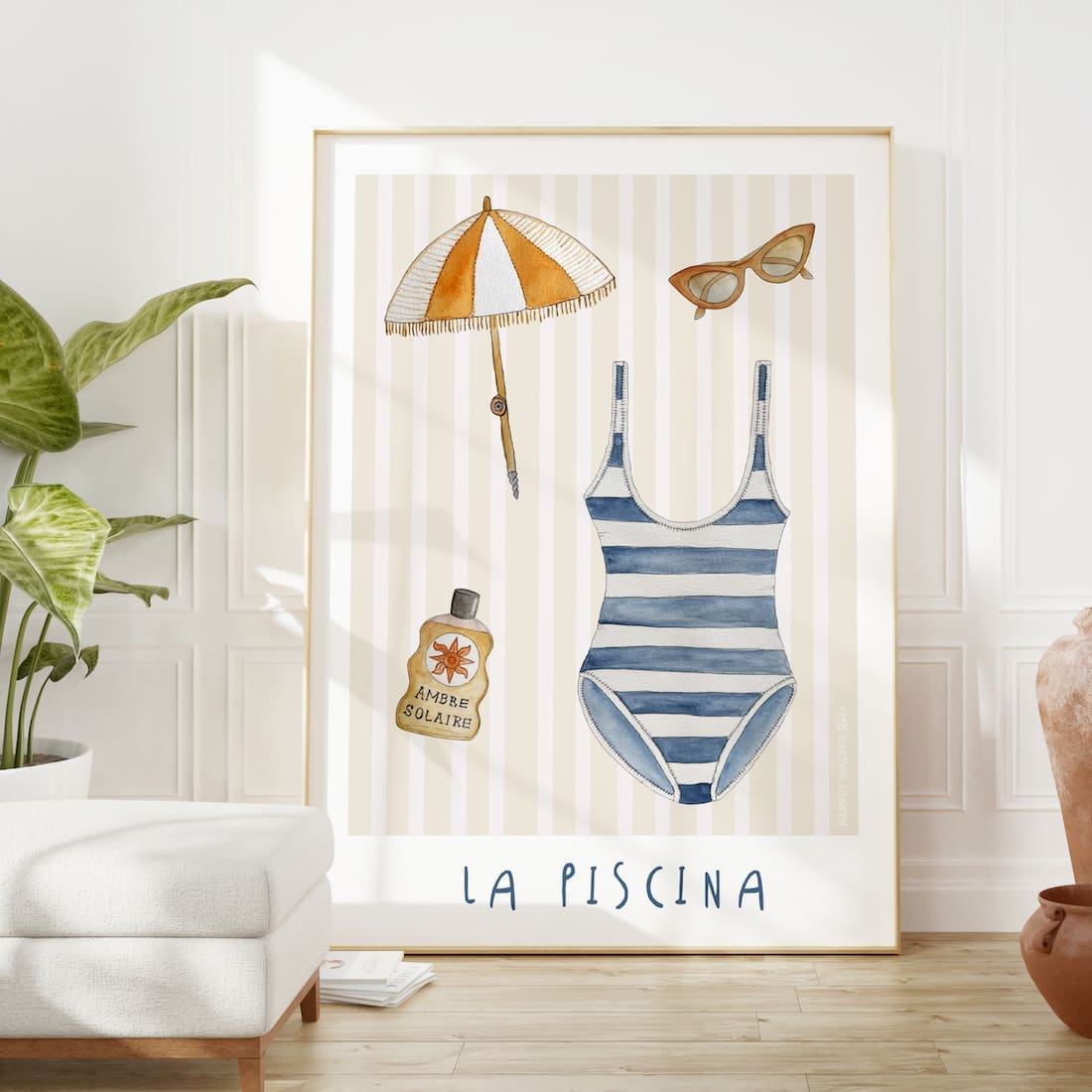 Sylvia's hand drawn watercolour artworks begin with an idea and then just seem to flow with ease.
"The creative ideas part is always done at night. When I should be sleeping, instead I lie there, creating artworks in my mind," Sylvia says with a laugh.
"I guess that's one good thing about being a mum who can function on little sleep and coffee the next day!
"The sketching is definitely a big part of the process and one I truly love. I don't really have to think, my hand and brain just seem to communicate. It's a bit like touch typing… they just seem to get on with it. It's fluid, and before I know it I have pages and pages of sketches.
"Next I take time doing the watercolours and planning out my colour palettes.
"With my background in graphic designer, the process of digital editing the watercolours is quite a fun one. Just like adding the garnish onto a beautiful dish, the digital editing really makes the watercolours pop.
"This is also where you need to be true to your aesthetic to create a cohesive collection.
"I try not be bound by labels with my art. I want to create a studio where people can come to get something personalised for their homes, like a large scale original artwork, or ready to hang watercolour print."
Thank you to Sylvia for sharing her beautiful hand drawn watercolour artworks with us. To see more of her collection, visit the Harvey Walker Studio website, or take a look at her Instagram page.