Tired kitchen but can't afford a remodel? We hear you! Whether you're looking to improve your home's value or simply want a more beautiful kitchen, one of our most common reader requests is ways to update your kitchen for less. The good news is you don't have to spend thousands of dollars on a full-scale remodel to achieve major impact. In fact, updating your kitchen on a budget has never been easier thanks to all the user-friendly DIY products and affordable materials now available.
Keep on reading for our favourite savvy ways to transform your kitchen. We're sure you'll find at least one idea to try!
Related article: Slim shaker cabinets and marble mosaic splashback are a dreamy combo in our latest kitchen renovation project
Related article: 11 types of white kitchen splashback tiles: Add interest with shape over colour
1.   Paint existing cabinetry
New kitchen cabinetry is one of the best ways to transform your kitchen. But when renovating on a budget and new cabinets out of reach, it's time to pull out the paint brush! Painting kitchen cabinets or staining timber door-fronts will give your cookhouse a major facelift.
Before you think 'that's too hard' or 'that won't look good', just take a peek at the fabulous example below! Mari shares all the step-by-step instructions on her Instagram of how she transformed her dark brown timber veneer kitchen into this dreamy muted green space.
Paint offers endless opportunities to transform existing cabinets into new ones. But be careful with your paint selection, you want to use specialist renovator products that are hardwearing and designed for kitchen use.
The most popular kitchen cabinet paint colours are:
white
cream or taupe
black
navy blue
forest or sage green.
2.   Install new lighting
Adding modern but affordable light fixtures won't just improve your kitchen's look and feel. Lighting is also critical to the functionality and safety of your kitchen.
In Australia, track lights, spot lights and pendant lights are the most popular kitchen lighting solutions. You could also install some discreet LED strip lighting, such as underneath your overhead kitchen cabinets to wash light down your backsplash. This provides functional lighting when cooking or ambient lighting when your kitchen isn't in use.
Designer tip: use multiple layers of lighting so you can adjust your lighting to suit your needs. Think task lighting when cooking, general lighting when entertaining or accent lighting when relaxing. It's also a good idea to use dimmer switches to provide further lighting control.
3.   Install open shelving
If you have blank spaces on your kitchen walls, consider installing shelves. Shelves provide a styling opportunity and can offer much-needed kitchen storage. For example, they are an effective way to eliminate clutter from your work surfaces.
Not sure what to style your kitchen shelves with? Popular home decor includes serveware or glassware, indoor plants, beautiful ceramics, small artworks and cookbooks.
Check out this article for all of our kitchen shelf styling inspiration.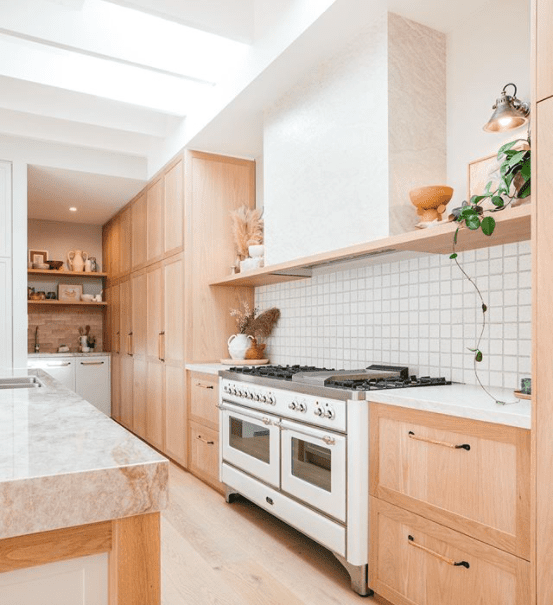 4.   Reassess your storage
You don't have to introduce new elements to your kitchen to transform the space. Even small changes, such as reorganising, can do the trick. Start by reclassifying your kitchen items. Group products by use, for example cereal boxes, baking ingredients, mugs, cutlery, and saucepans, to mention a few. Then look at how you can arrange these in the most practical and accessible way.
Organising tips: keep large appliances, big bowls, and pans in base-level storage or cabinet drawers. Avoid keeping heavy items up high. Store lighter items and stackables, such as cake pans and baking trays, in upper cabinets. If you often keep spices in the upper cabinets, move them into drawers for easier access.
Check out our top tips to organise your pantry here and how to organise your spices here.
5.   Give appliances a facelift
It isn't just your kitchen cabinets that you can refresh with paint, you can also give your appliances a new look! Christine from Little House on the Corner used blackboard paint to give her fridge a modern makeover.
As well as using paint, you can also find removable vinyl decals or magnets on the market. There are ones specially designed for fridges, dishwashers, you name it! Some of these are seriously fun and cute, such as the magnetic vintage lemons dishwasher cover pictured below.
And who knows, with a little creativity, you may find even more solutions to disguise or transform old kitchen appliances!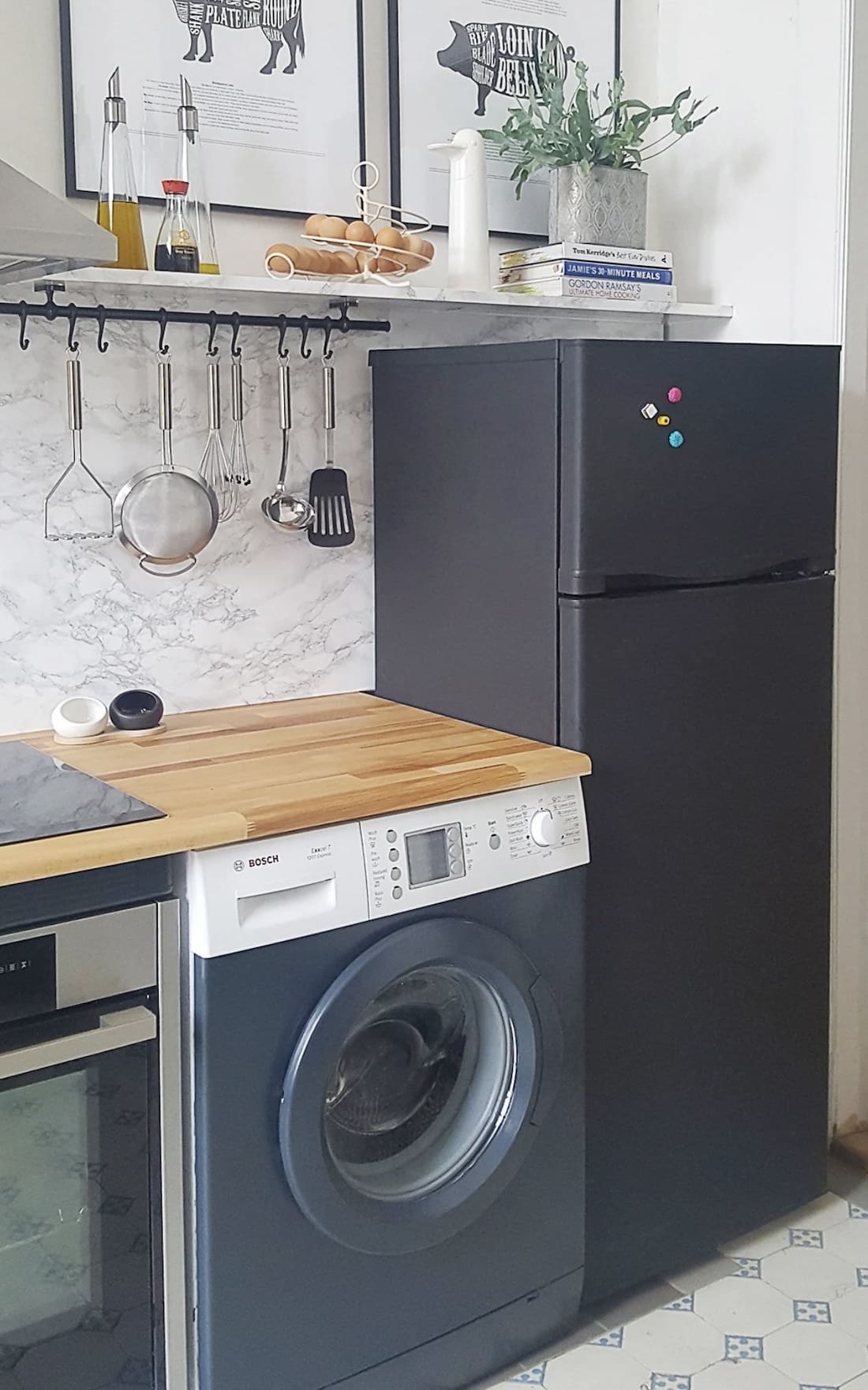 6.   Paint the walls
Another paint idea is to refresh your kitchen walls! This one doesn't require any special paint products and is an easy weekend DIY project.
You could get bold with colour and take inspiration from the latest paint colour forecast trends. Or simply give the space a crisp makeover with white paint. We know how overwhelming it can be to select the right shade of white paint and have all the tips here.
Whatever colour you select, be sure to follow our advice on how to paint like a pro to get the best DIY paint finish possible!
7.   Replace old cabinet hardware
Finally, an oldie but a goodie is to switch out your old kitchen hardware for modern handles and knobs. From timber to luxe marble, brass and bronze, there's never been more stylish kitchen handles and knobs on the market.
In this article we share all the best places to buy stylish handles and hardware online.
We hope you picked up a few ideas on how you could refresh your kitchen on a budget! Do you have more tips on updating your kitchen for less that you can share in the comments below. Or better yet, a before and after kitchen reno project you're happy to share with us? Send us an email at hello@stylecurator.com.au as we'd love to see and possibly feature it on the blog.