6 Stunning Electric Fireplace Ideas to Make your Home a Showplace
Adding an electric fireplace to your home is a sure-fire way to make a personal statement of style and add drama, not to mention warmth, to your interior decor. A stylish fireplace makes your home inviting and cozy while adding a calming aspect to your room for family and friends to enjoy.
If you have a wood-burning fireplace, you can replace it with a convenient electric fireplace insert. If you don't have a fireplace, consider your options for adding one the easy way to enhance your home. A quick look online and at home decor magazines will show examples of convenient electric fireplaces, from traditional and vintage models to super contemporary linear fireplaces that can be added to your wall for a touch of luxury.
1. Create a Focal Point
A traditional fireplace in the center of your wall is the perfect way to create a focal point in your room. Arrange your sofas and chairs around the fireplace to create an inviting seating area ideal for friendly conversation. Bask in the warmth of the fire and allow yourself to relax in comfort as you watch the dancing flames.
2. Hop Onto the Vintage Bandwagon

The vintage look is all the rage these days, especially in homes that have Farmhouse decor for a comfortable, relaxed feeling. The Dimplex compact electric stove features vintage styling that will fit right in. Choose a matte black finish, a neutral tone that will blend with any color scheme. Note the working door and splayed legs that give this accent piece a stylish look.
3. Add a Fireplace Media Console

A media console is a perfect way to keep your electronics organized and provide a place for the TV. Today's Dimplex media consoles offer storage as well as a captivating electric fireplace for your entertainment space.
4. Choose a High Style Contemporary Fireplace
Two-sided fireplaces give your home a cutting-edge contemporary feeling. A two-sided fireplace with a geometric look can act as a room divider that can be enjoyed from different points of view. If you are transitioning from a traditional home to a more contemporary feeling, a high-style fireplace is a beautiful addition to your home.
5. Turn Heads with a Linear Fireplace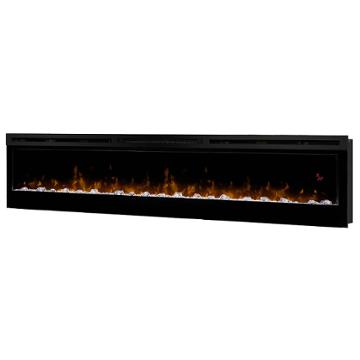 Imagine a spectacular linear electric fireplace in your living room, great room, entertainment space or just about anywhere in your home. Insert a linear fireplace under your wall-mounted TV or add it solo to your wall for a show-stopping contemporary look. The slender, streamlined horizontal proportions make a linear fireplace a striking addition to your home.
6. Use an Electric Fireplace Insert for an Existing Fireplace
If you love the look of your built-in traditional fireplace but hate the thought of gathering wood and cleaning up the mess, consider an electric fireplace insert under your brick or masonry mantle.
Dimplex Fireplaces at Home Living Furniture
Find a wide selection of innovative Dimplex fireplaces at Home Living Furniture in Howell and Middletown, New Jersey. Home Living Furniture is a one-stop-shop experience where you will find furniture collections and accent pieces for every room in the house.
For information about Home Living Furniture weekly sales and promotions and to shop online, visit homelivingfurniture.com.