The annual plant Cleome viscosa is upright, branching, and has sticky leaves. It can reach heights of 40 to 150 cm. The plant is harvested from the wild to be used locally as a food source and medicine. The plant is occasionally grown in India, where it is becoming more well-liked as a less expensive alternative to cumin. 
Its production is encouraged for marginal or degraded agricultural land because it is easier to grow than typical crops. It can be grown as an outdoor plant in your garden/verandah. 
See also: Oval leaf pondweed: Know how to grow and care for this houseplant
Source: Pinterest
Facts about Cleome viscosa
| | |
| --- | --- |
| Common Name | Asian spider flower |
| Type of plant | Pantropical |
| Height  | Upto 1.5 m |
| Agroforestry Use | Used as green manure in Ghana |
| Family | Cleomaceae |
| Native | Tropical Africa and Asia |
| Sunlight | Direct sunlight |
How to grow Cleome viscosa
The plant prefers a light, fertile soil in an area that is warm, dry, and sunny with lots of space to grow.

Three to four weeks after germination, plants begin to blossom, and their life cycle lasts roughly three months. 

Since they are transient, the blooms open in the morning and close in the afternoon.

Due to its sticky nature and potent odour, the crop is not destroyed by wildlife or attacked by insect pests.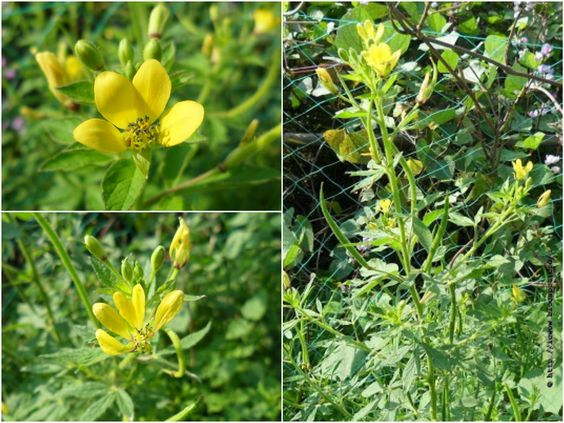 Source: Pinterest
See also: How to design an indoor garden
Maintenance tips for Cleome viscosa
Make sure that the plant receives maximum sun exposure for best results.

Ensure that your garden soil is well-drained.

Try planting these in large beds by themselves. 

Don't use too much fertiliser.
Uses of Cleome viscosa
Since it is non toxic, the plant is incorporated into food as a stimulant to increase appetite. 

A decoction is used to treat illnesses like colic and dysentery by acting as an expectorant and digestive stimulant. 

It is believed that chewing the leaves for a week will increase a woman's chances of getting pregnant. 

The leaves are applied externally to cure wounds and ulcers, ease rheumatism, and treat herpes infections by acting as an anti-irritant. 

Rheumatoid arthritis, gonorrhoea, diarrhoea, and dysentery are all treated with decoctions.

To treat piles, a decoction of the seeds is applied as a wash. The seed has 0.04% viscosin and 0.1% viscosic acid. 

For the treatment of earaches, a paste made from the root is applied externally.

Given the beauty of the flowers, they are sure to add colour and vibrancy to your garden.
FAQs
Which family does Cleome viscosa belong to?
Cleome viscosa belongs to the family Cleomaceae.
Can you eat cleome viscosa?
Yes, the leaves can be cooked and eaten. The seeds can be substituted for mustard in curries, and the fruits can be pickled.
Recent Podcasts