Now that the challenges of last year are behind us, you can expect to see some design trends that make the home even more comfortable and inviting.
Many of us still appreciate the calming effect of neutral tones, but the cool grays of recent years are now enhanced by touches of beige. There is a renewed emphasis on sustainability, and along with our concern for the environment comes greenery that brings the outside in.
In keeping with our desire for comfort during the pandemic, you can expect to see some curved lines replacing sharp edges. Some people will also go as far as incorporating a vintage look with their modern styles to add an extra layer of coziness and contentment.
Here are some of the main design trends you can expect to see in 2022.
Design Trend #1: Use a Warmer Neutral Color Palette

While there is no need to replace your beautiful white
sofa or gray rug, you might want to consider adding some warmer neutral tones for a more updated look in 2022. Expect to see more comforting neutrals like beige, cream and taupe, or even more saturated tones like burnt orange. These comforting neutrals invoke a cozy atmosphere that retains the calming effect of neutrals but softens the sterile look of steely grays and crisp whites found in hyper-contemporary styles.
Design Trend #2: Bring the Outside In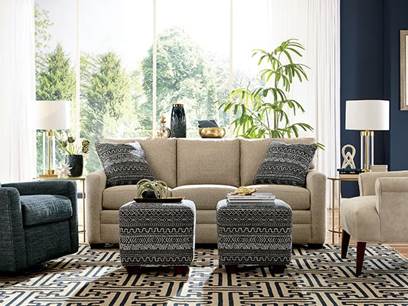 Houseplants are having their moment right now, a reminder of our desire to connect with nature. The pandemic had many of us gathering outdoors, and this year more than ever we are bringing the outside into our homes. That longing for natural greenery translates into decorating with shades of green along with patterns that display foliage in wallpaper and rugs. In fact, green is considered one of the top color trends for 2022.
Design Trend #3: A Softening of Straight Lines
While angles, geometric shapes and straight lines are still in style, we are now seeing interest in curved silhouettes for sofas, chairs and tables. Look for a softer vibe to furniture collections with arcs and curves that moderate sharp edges to provide a more comforting feel. Layers of texture and a hint of vintage designs add to the softer look.
Design Trend #4: An Emphasis on Sustainability
To go along with the trend of connecting with nature, furniture buyers are now more interested than ever in sustainability. Look for natural materials to go along with nature-inspired colors and greenery, like leather and natural stone in addition to metal and glass.
The Latest Furniture Designs at Home Living Furniture
Expect to see the latest furniture designs for 2022 at Home Living Furniture in central New Jersey. Find furniture for every room, along with name-brand mattresses and outdoor patio furniture.
For information about Home Living Furniture weekly sales and promotions and to shop online, visit
homelivingfurniture.com.