Workability of Concrete describes the ease with which newly mixed concrete may be blended, laid, compressed, and finished with minimum loss of uniformity. A material's workability has a significant effect on its durability, reliability, shape, and even the time and money required for positioning and finishing. 
In this article, you will learn everything there is to know about the workability of concrete, including the factors that might affect it.
See also: Know everything about the modulus of elasticity of concrete
Types of Workability of Concrete
The following are the three categories that may be used to classify the workability of concrete:
Harsh Concrete
One may also refer to concrete that is difficult to deal with as harsh concrete. It is a kind of concrete that contains a negligible quantity of water. The blending of such concrete by hand is a difficult process. Since the cement paste in this kind of concrete is not hydrated enough, the aggregates tend to separate into their individual components at a quick rate. 
It is quite challenging to keep the consistency of the concrete mix uniform, and the compacting of concrete needs a significant amount of labour. The water-to-cement ratio of this kind of concrete is lower than 0.4.
Medium Workable Concrete
The majority of building projects call for this particular form of workability in their concrete. Concrete of this kind is simple to work with in terms of mixing, transporting, positioning, and compacting without suffering from significant segmentation or loss of uniformity. 
This particular form of workability in concrete is frequently employed in all types of concrete work that utilises little reinforcement. The ratio of water to cement in medium-workable concrete should be between 0.4 and 0.55.
Highly Workable Concrete
Source: Pinterest 
A concrete that is very workable is one that can be mixed, transported, placed, and compacted in constructions with relative ease. This kind of concrete is used in situations in which it is not feasible to effectively compress the concrete, as well as in mass concrete. These types of concrete are simple to work with and need little effort to settle. However, there is a significant risk of both uniformity loss and segmentation occurring in this scenario. 
Coarse aggregates have a propensity to sink to the bottom of the container, while the concrete paste rises to the top. In situations when the vibration of the concrete cannot take place due to the presence of substantial reinforcement, this kind of concrete is used. This kind of concrete has a water-to-cement ratio that is higher than 0.55.
Relationship Between Workability of Concrete and Strength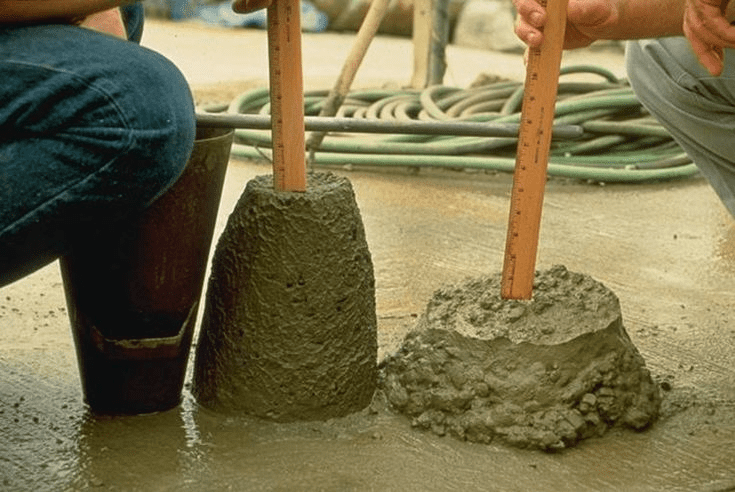 Source: Pinterest 
Concrete's strength is crucial since it characterises concrete itself. The strength of concrete is inextricably linked to its other qualities due to its interdependence. The density ratio or the amount of compaction has an effect on the strength, and compaction, in turn, is dependent on an adequate amount of workability. In order to achieve an optimal density with a manageable quantity of labour, freshly mixed concrete has to have a certain level of workability.
On the other hand, excessive workability might have an effect on compressive strength and even reduce it. It is possible for the concrete's compressive strength to drop with a rise in the water-to-cement ratio, which in turn enhances the workability of the concrete. Therefore, one may infer that Concrete's strength is inversely proportional to its workability. That's why minimising concrete's workability is essential if you want to get the desired strength.
See also: How flexural strength test helps evaluate concrete
Factors affecting Workability of Concrete
Any concrete mix's workability and other qualities are influenced by a number of factors, including the ratios and properties of the constituent materials as well as the characteristics of the admixtures. Workability is also impacted by the following elements:
Water Content 
The quantity of water that is contained inside a given concrete volume will have a considerable impact on the workability of concrete. The suppleness of the concrete would increase in proportion to the amount of water that is contained in one cubic metre of concrete.
Most of the time, more water is added to concrete on the job site to make it more workable. However, it is crucial to remember that a higher water level in concrete might weaken it. It's important to keep the water-cement ratio steady, therefore more cement is injected along with each new addition of water.
Mix Proportions
The aggregate-to-cement ratio is a standard indicator of workability. Lean concrete is produced when the aggregate-to-cement ratio is greater.  Because there is less amount of paste available to provide lubrication in this scenario, the material's workability is negatively impacted.
On the other hand, a rich mix is produced when the ratio of aggregate to cement is kept lower. Because there is a greater quantity of paste available to offer lubrication in this scenario, the workability of the concrete is improved.
Size of Aggregates 
If the aggregates are larger in size, they will have a smaller surface area, and as a result, a lower volume of water will be needed to adequately wet the surface. As a result, less paste is needed for lubrication in order to lower the amount of internal resistance; hence, we can claim that using aggregates with a larger particle size will result in greater workability. The workability of the material will suffer if the aggregate sizes are reduced.
Shape of Aggregates
There is also a significant relationship between the shape of the particles and the workability of concrete. In contrast to spherical or cubical-shaped aggregates, jagged, longitudinal, or flaky particles produce concrete that is characterised by an abrasive character. Therefore, aggregates with a rounded form are easier to deal with. This is because spherical aggregate will have a smaller surface area and fewer voids in comparison to jagged or brittle aggregate.
Texture of Aggregates
Concrete's workability is also significantly impacted by the surface roughness of the aggregate, which is included in the mixture. The aggregate with a substantially rough surface has a larger surface area compared to the aggregate with a perfectly balanced surface area with a similar volume. As a result, one may draw the conclusion that aggregate with a rough surface will have low workability, whereas aggregate with a fine or vitreous texture will offer concrete superior workability.
Grading of Aggregates 
This is a significant component that has a significant impact on the workability of concrete. When an aggregate has been properly graded, it will have the fewest number of voids possible in the volume that it occupies; hence, when the total number of voids is reduced, there will be more paste accessible, which will result in a more effective lubricating action.
The extra quantity of paste causes the combination to become adherent and greasy, which inhibits the particles from segregating into their respective groups. As a result, the aggregated particles will move barely past each other while requiring the very minimum amount of effort to compress. Therefore, the more precise the grading of the aggregate, the lower the void content will be and the greater the workability of concrete.
Use of  Admixtures
Additives also have a larger impact on concrete's workability. Concrete's workability is substantially enhanced by plasticisers and superplasticisers. Since the air-entraining substance is also surface operative, it helps to lower the amount of adhesion between the particles. The air bubbles then function as a kind of ball bearing, allowing the particles to move about with ease.
Workability of Concrete Measurement
The many kinds of concrete that are used in construction allow for several different classifications of measurement techniques. 
Normal Concrete
Typically, before pouring concrete, the condition is verified by measuring the slump, which provides a rough indication of the material's workability.
Self-Compacting Concrete
There are a number of different tests that may be used to determine the consistency of the concrete. The information pertaining to the assessments is summarised in the table that follows.
| | | |
| --- | --- | --- |
| Filling Ability Test | Segregation Resistance Test | Passing Ability Test |
| Slump Floor Test | V-funnel at T5 minutes | J-Ring Test |
| T50cm Slump Flow | GTM Screen Stability Test | L-Box Test |
| V-Funnel Test | | U-Box Test |
| Orimet | | Fill-Box Test |
See also: Cement test: Everything you need to know About It
FAQs:
What factors make concrete more workable?
If you increase the water-to-cement ratio, the concrete will have a larger water content per unit volume and will be easier to work with. An increased water-to-cement ratio is often employed when mixing concrete by hand.
Why is it important that the concrete be workable?
In order to correctly fill the moulds and encapsulate the reinforcements and other embedded elements, the concrete mixture must be flexible enough to be put and cemented using the available processes.
Why does workability decline over time?
Fresh concrete becomes rigid as time passes. This is due to the fact that a portion of the water being used to blend the concrete evaporates, and the remainder is consumed by the aggregates. Consequently, the workability of concrete diminishes with time.