An area of interior styling you don't seem to find much advice on is how to style your dining table.
This large surface in the home often gets left out when styling or worse, becomes a dumping ground for bags, papers, laundry and a million other things!
We've curated a stack of gorgeous images to inspire you to style your dining table beyond meal times.
Related article: Dining room inspiration: 10 totally different (but gorgeous) dining room styles
Related article: Gina's home: Dining room reveal
Less is more
When your dining table is this fabulous, why hide it?! Interior Stylist Aimee Tarulli shows how just a few luxe items adds styling interest. The perfect dining table styling inspo for the minimalists among us.
Ceramic vessels
A trio of ceramic vessels in different shapes or sizes is a beautiful and simple way of styling your dining table. Add a pop of greenery in one for added interest.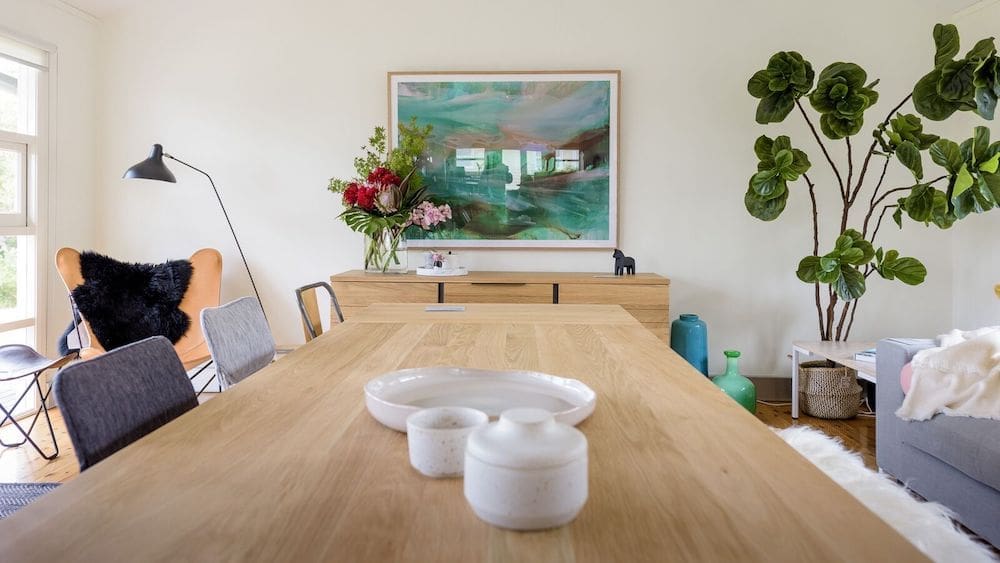 Floral or greenery statement
A vase, or two, or three, filled with beautiful blooms or green leafy branches will bring colour and life to your dining space. You don't necessarily need to go to the florist for these, Eucalyptus branches or fig branches (shown further below) could be foraged instead.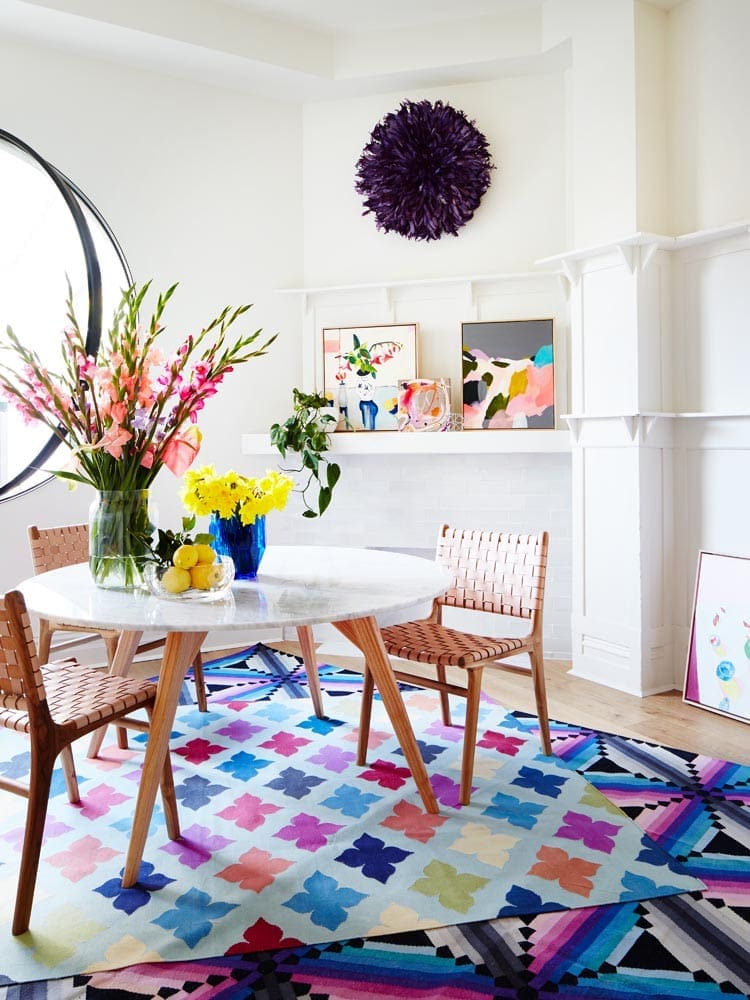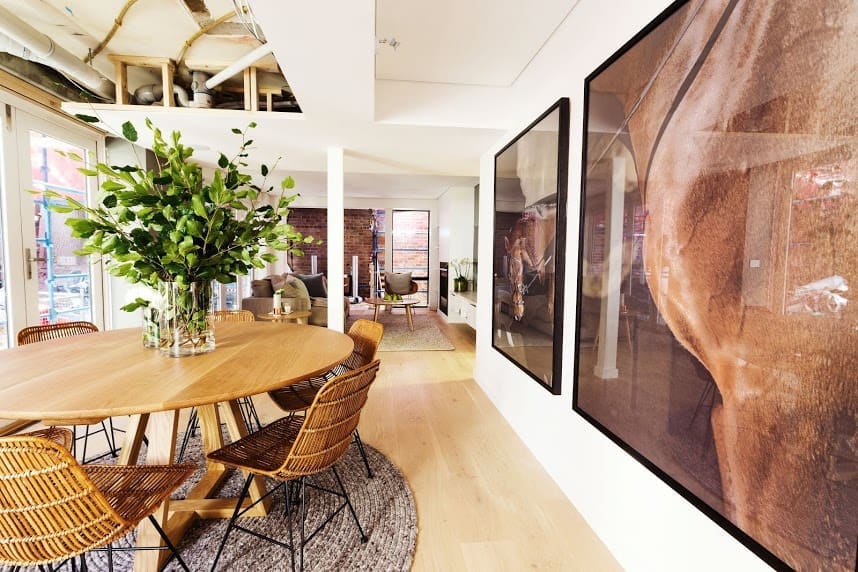 Dining vignette
For those a little more confident with styling or wanting to challenge themselves, why not create a stylish dining vignette like this blush pink, copper and timber one?
Use a cutting board or tray as a base and then find items that relate to the dining space such as trivets, coasters or salt and pepper grinders to create a stylish arrangement.
We also love the arrangement Aimee created in her home using a feature tray, tall vase, cook book, candles and coaster.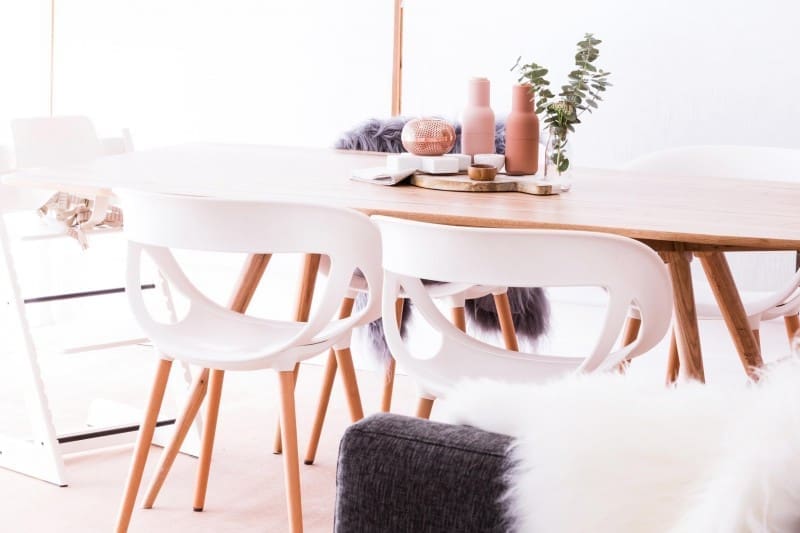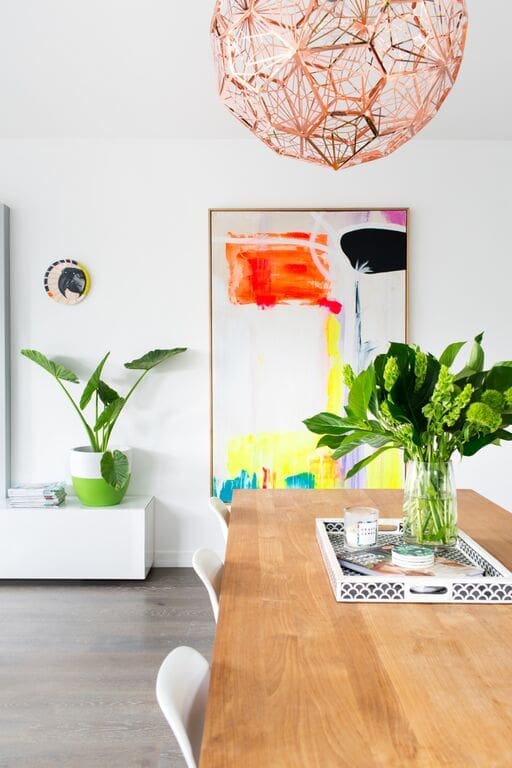 The perfect pair
When playing with large scale home decor, 2 complementary pieces can look fabulous. On this dining table, Nicole Rosenberg of Liberty Interiors paired a glass vase of white tulips with a stunning fluted-rim bowl.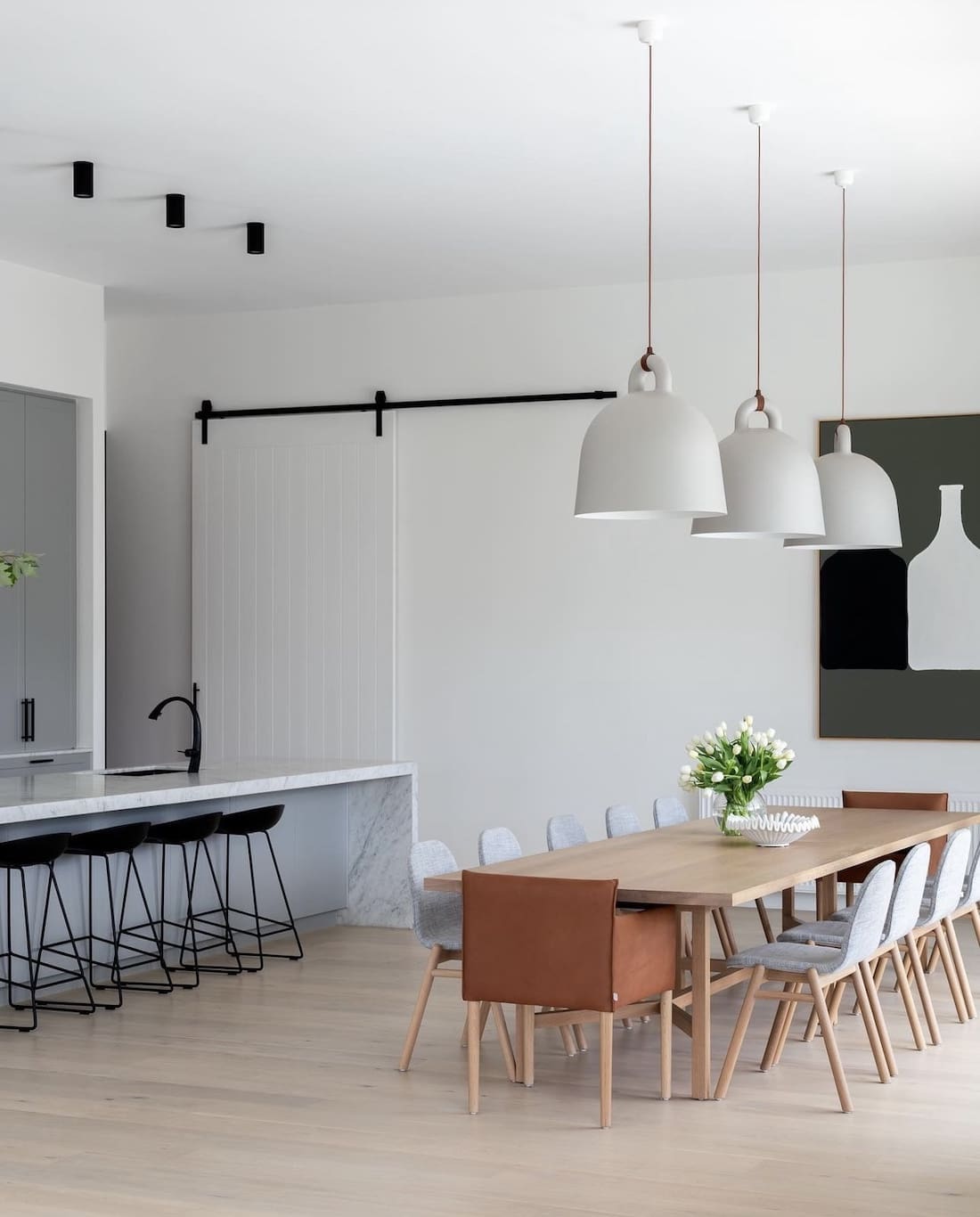 Set for breakfast
Combine being efficient and stylish in one by using your breakfast bowls as styling props. Use a mix of ceramic bowls that reference artwork or other colours in your dining space.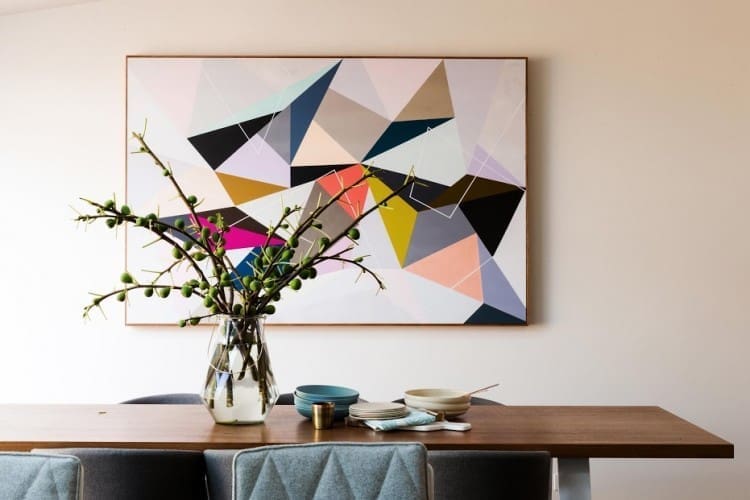 Trio of vases
Just as a trio of ceramic pieces looks fab so too does a trio of vases. Why? Well items arranged in odd numbers — 1, 3, 5, 7 etc — are more balancing to the eye.
Again, in this dining space they've used a trick of adding greenery to one of the vases and we love how they've mixed up the colours too.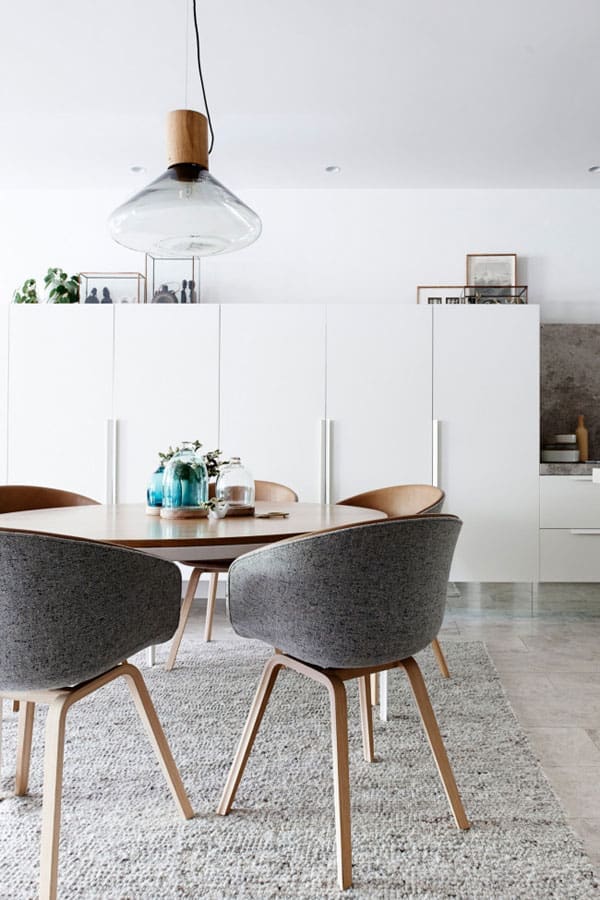 How do you style your dining table when it's not being eaten at? Tell us in the comments below or link to your favourite inspiration picture!
And if you enjoyed these tips, be sure to 'Pin' this image to your Pinterest account for later.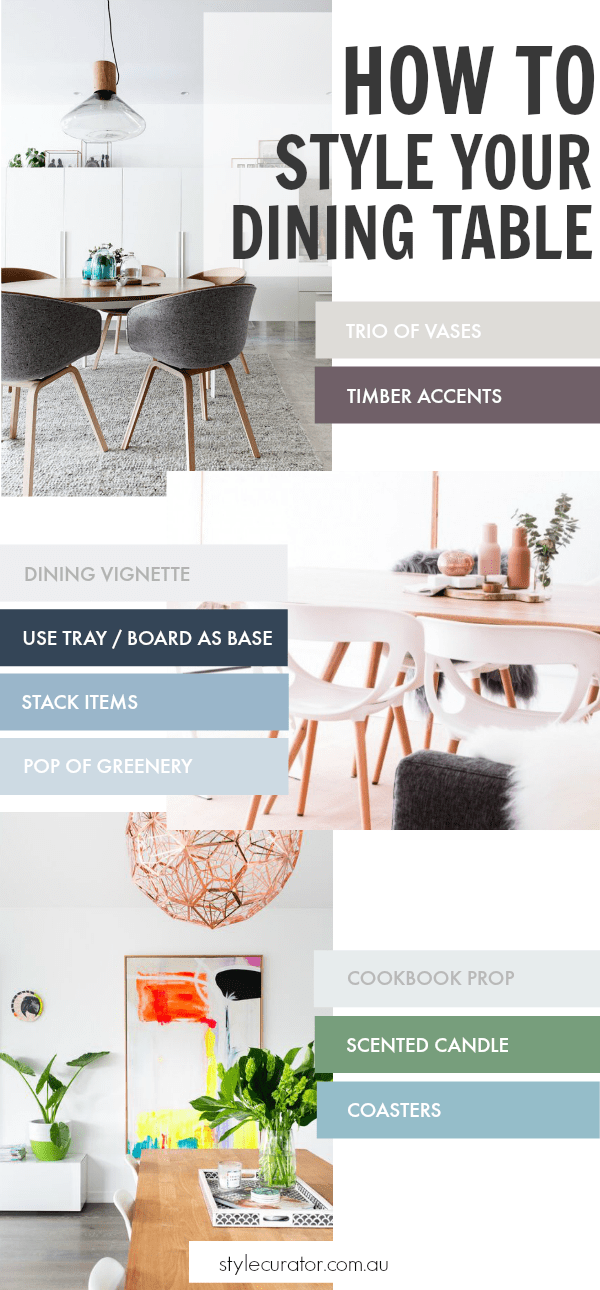 This article was first published in November 2019 and continues to be updated with the latest tips and images