There is no question that the sofa is likely to dominate the decor in your living room or great room, so getting it right is important. When you choose a sofa style you are defining the look of the space, whether you want a casual farmhouse feeling, a modern contemporary vibe or a more traditional living area.
It is a good idea to consider your lifestyle as well as the size of the space when you place your sofa in the room. Try to "float" the sofa away from the wall if possible and add an attractive wall arrangement above the sofa to add interest and further define your style.
1. Choose the Right Sofa Style

From traditional Chesterfields to minimalistic mid-century modern, there is a sofa style that fits your taste. If you are a traditionalist looking for a timeless sofa, consider an elegant cabriole style with graceful lines, beautiful wood detailing and visible legs. A modern Chesterfield will give you a wide choice of colors and fabrics.
Mid-century modern sofas offer a sophisticated look with clean lines and tapered feet. Cushioned, straight-lined Lawson sofas are always in style. Choose a
sectional if you want to maximize your seating.
2. Consider the Sofa Arrangement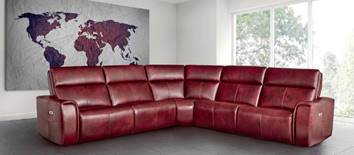 When you place your sofa, your goal is to create a cozy seating area where you can converse easily with family and friends. If you have a small space, an armless sofa will add less bulk to the room. To create symmetry and a formal feeling, use two matching sofas facing each other.
For a great room, two sofas or a sectional in an L-shape can define the seating space in a large area. Another option for a great room is to place two matching sofas back-to-back with a console table in between to create two distinct spaces.
3. Move the Sofa Away from the Wall
If you have the room, "float" your sofa away from the wall to give your room an open and airy feeling. Even if you don't have a great room or a large living room, you may be able to place a narrow console table behind the sofa to accommodate a decorative item or hold a drink.
4. Decorate the Space Above your Sofa
Once you choose your sofa style and placed it away from the wall in just the right spot, add a finishing touch by decorating the wall space above the sofa. Add style to traditional or farmhouse decor with an interesting arrangement of pictures or a vintage mirror. If your home is contemporary, use one large piece of wall art, and if you have a coastal look, think of seaside-themed objects for the space above your sofa but don't overdo it.
Discount Living Room Furniture Collections
Look for discount living room furniture collections online and at Home Living Furniture showrooms in Howell, New Jersey. See the latest styles from name brands and enjoy discount prices every day, along with weekly sales and promotions.
For more information add to shop online, visit homelivingfurniture.com.