Gray can be a calming wall color that creates a backdrop for your room or a bold furniture choice that adds a dramatic touch. From calming dove gray to moody charcoals and everything in between, the color gray is a versatile neutral that looks good in just about every home.
While many colors harmonize with gray, you will want to decide on a color palette that can bring out the best in your home decor. Determining which colors to use with your gray color scheme depends on the shade of gray you choose.
A Calming Gray Color Palette


If you have soft gray walls or a medium gray sofa and loveseat, you can create a calming atmosphere by blending warm gold tones with your cool grays. Introduce color through a wallpapered accent wall, patterned rugs or throw blankets and pillows.
If you want to make a strong statement of style, you can select a gorgeous saddle brown recliner to add even more warmth to your decor. Notice a touch of orange undertones. Rust brown is even redder and richer.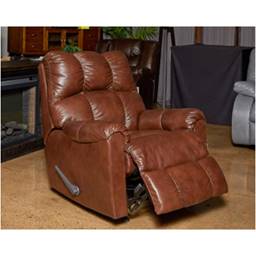 The Drama of Charcoal Gray
Charcoal gray adds an interesting moody look that can be offset by bold and bright pops of vibrant color. Think startling shocking pink and eye-catching shiny brass shades that attract attention against a dark charcoal backdrop.
The surprise of saturated color splashes contrasting with dark gray brings an unanticipated feeling of balance to your decor. Start with a gray upholstered headboard and restful gray walls in the bedroom and add exciting colorful touches to give your room a decorator look.
A Medley of Neutrals
There is nothing more calming than a room decorated in neutral tones for a soothing place to relax at the end of a busy day. Gray blends well with other neutrals like beige, brown, black and white. You can add interest to your neutral color palette with updated accents like layers of texture, patterned rugs and touches of greenery.
Crisp Gray and White
Consider a cool look of shades of gray and bright white to bring a fresh feeling to your home. Linen fabrics, wide stripes of alternating gray and white and light gray walls make your room look inviting even on the warmest days. A soft upholstered sleigh-style bed can add a farmhouse look to your bedroom. If you must have a touch of color, consider fresh or faux flowers in a simple white and gray vase as an accent.
Discount Living Room Furniture
Find a wide array of discount furniture and accents to bring high style to your gray palette home. Home Living Furniture in Howell, New Jersey offers discounts on name brands every day, along with weekly sales and promotions. Visit homelivingfurniture.com to shop online.