As Halloween becomes more of a mainstream celebration, why should the kids have all the fun?! From themed parties to Hallo-wine tasting nights, there are plenty of ways adults can get in on the celebration! 
One common element that seems to run through adult themed Halloween activities is a bar cart. Before we heckle 'Drink up witches', let's look at how we can style up your bar cart for the occasion. Here are our top tips to be the ghostess with the mostest.
Related article: DIY Halloween door mat
Related article: Creating a spooky yet stylish Halloween
Set the scene
Halloween is all about drama and theatre so start by setting the scene. Are you going for an undead or graveyard theme, or perhaps a tamer pumpkin and autumnal harvest theme? Modern Halloween styling also pushes the limit — you don't have to stick with an orange and black colour scheme if you prefer pretty pastels. Have fun with it!
Whatever you pick, look for ways you can bring pops of this to your bar cart, the floor around and even the wall behind. We used an inexpensive faux cobweb as a backdrop to add spiders, bats and also a Boo balloon. While on the bar cart, we added artificial skulls, bats and pillar candles, and on the floor a graveyard tombstone. 
We love how these subtle accents have transformed our Dominique drinks trolley from Early Settler into a hauntingly beautiful Halloween bar cart.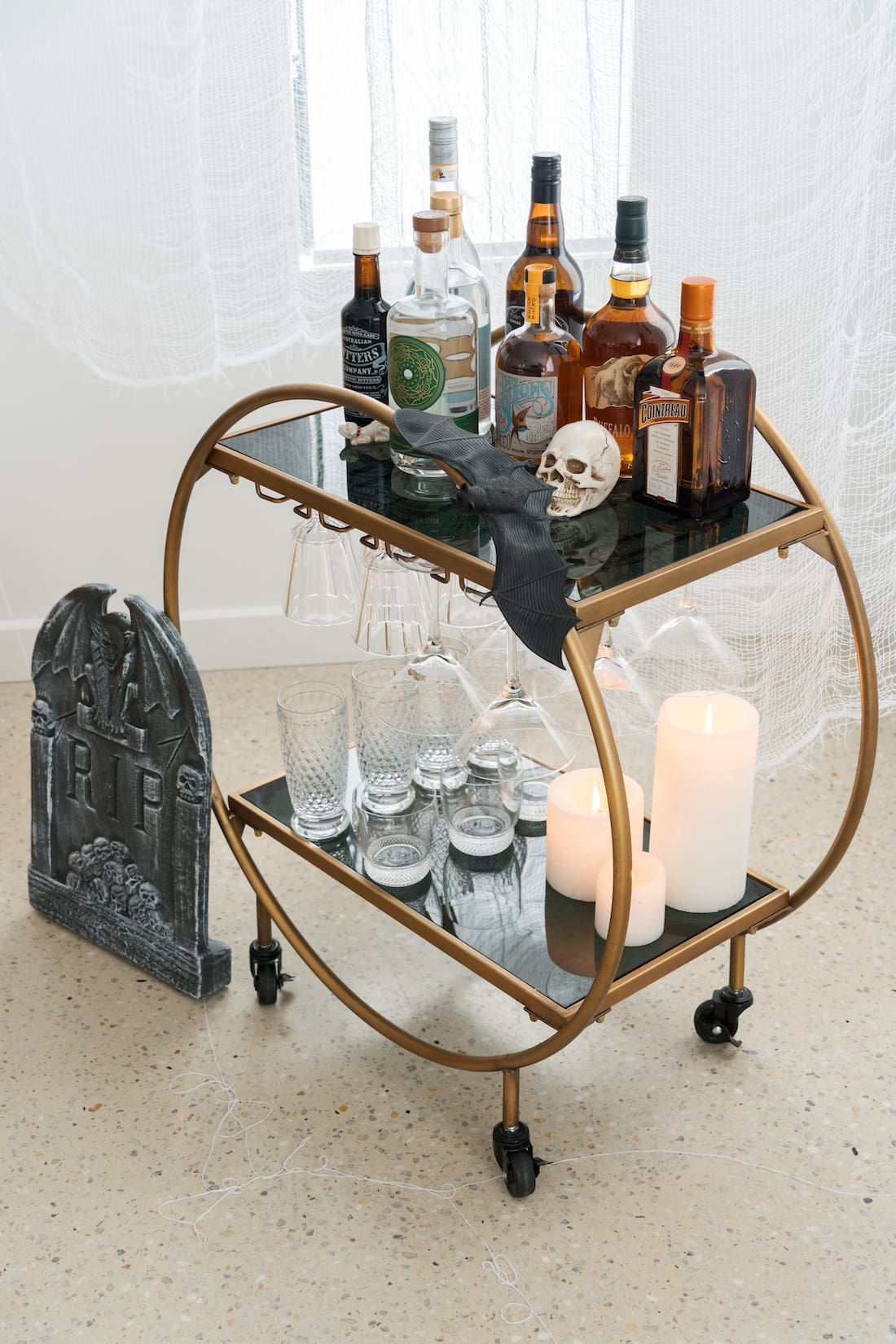 Pick your poison
With the scene set, let's look at drinks menu. Why stick with the classic cocktails when with a little creativity, you can serve up a memorable witch's brew. These are 3 of our favourite Halloween cocktails.
Corpse n' bitters
Ingredients:
½ cup bourbon
¼ cup maple syrup
4 orange slices
4-6 splashes bitters
1 dried orange slice
1 cup ice
Add bourbon and maple syrup into a cocktail shaker. Add half the ice, orange slices and bitters. Shake for at least 30 seconds. Add ice to a short whiskey glass and strain over the cocktail mix. Garnish with a dried orange slice.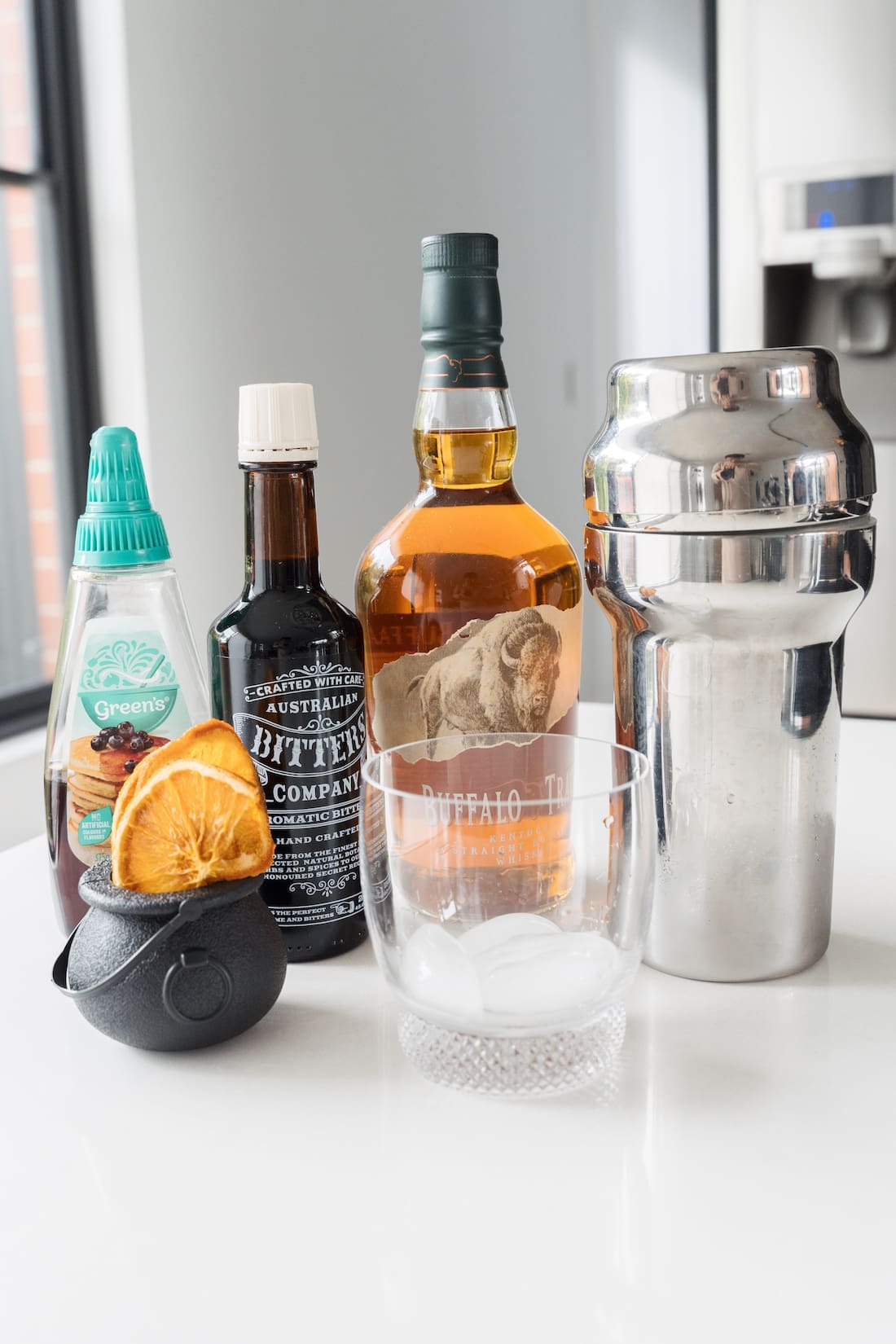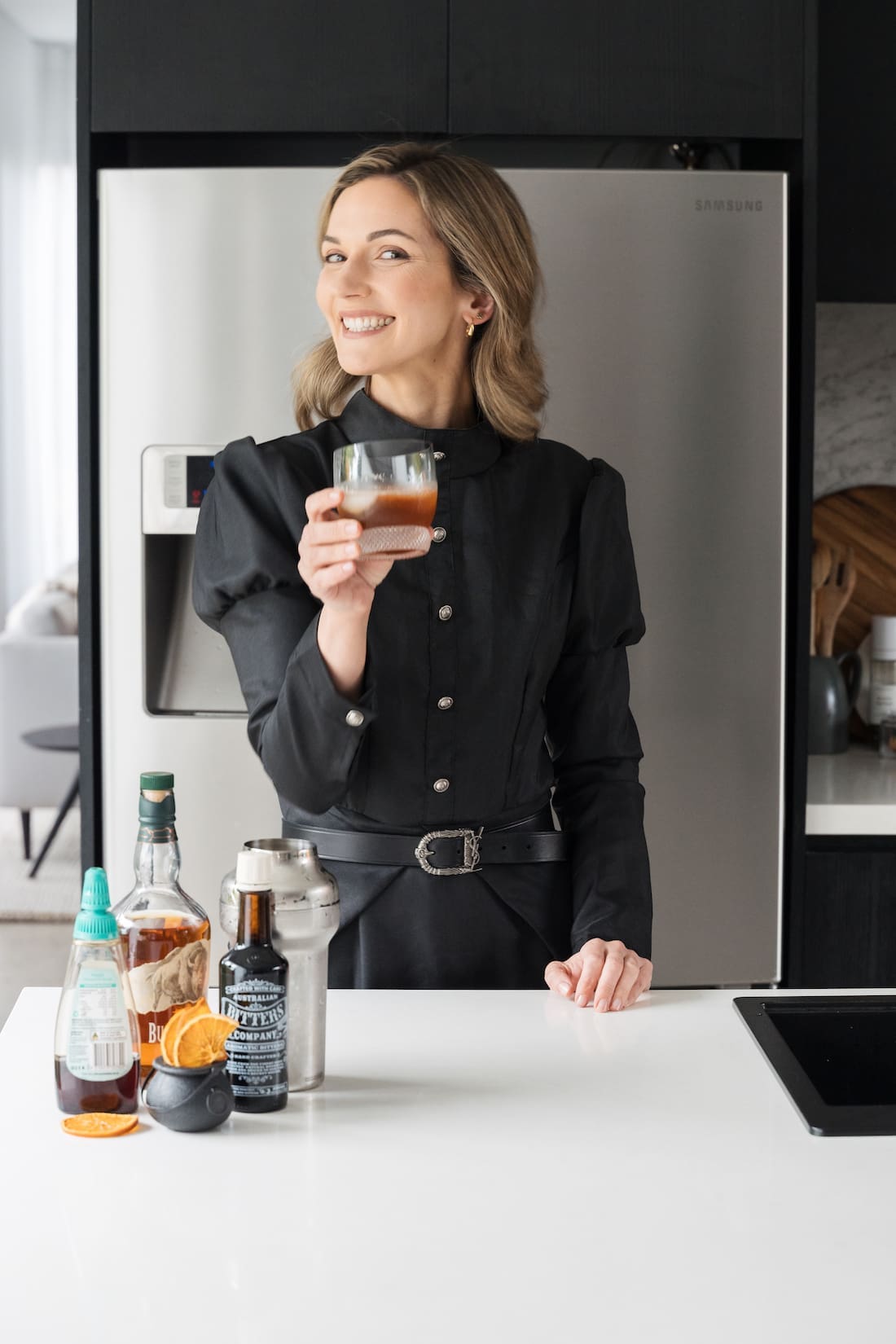 Mummy juice
Ingredients:
½ tbsp gin
½ tbsp vodka
½ tbsp rum
½ tbsp triple sec
1 tsp lemon juice
1 tsp simple syrup
2 strawberries
ice to serve
In your cocktail shaker add the gin, vodka, rum, triple sec, lemon juice and simple syrup. Shake to combine. Roughly chop the strawberries and add to your serving glass. Using a rolling pin, gently muddle the strawberries until they're slightly smashed. Add the ice and pour over the cocktail mix.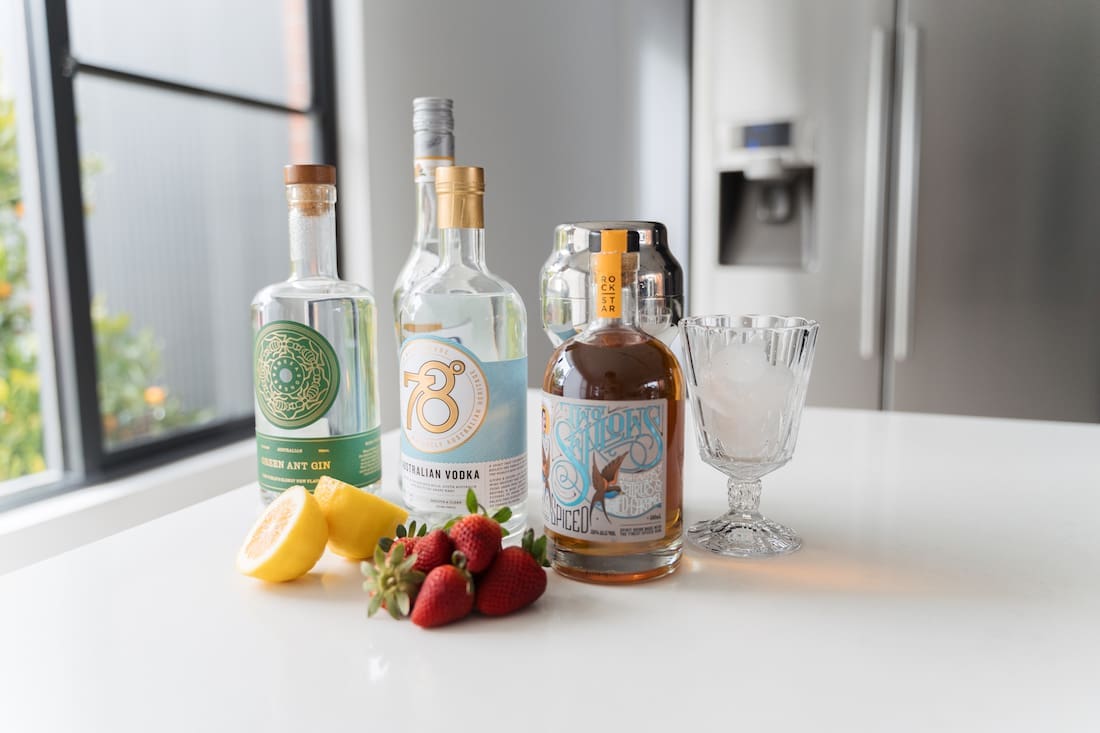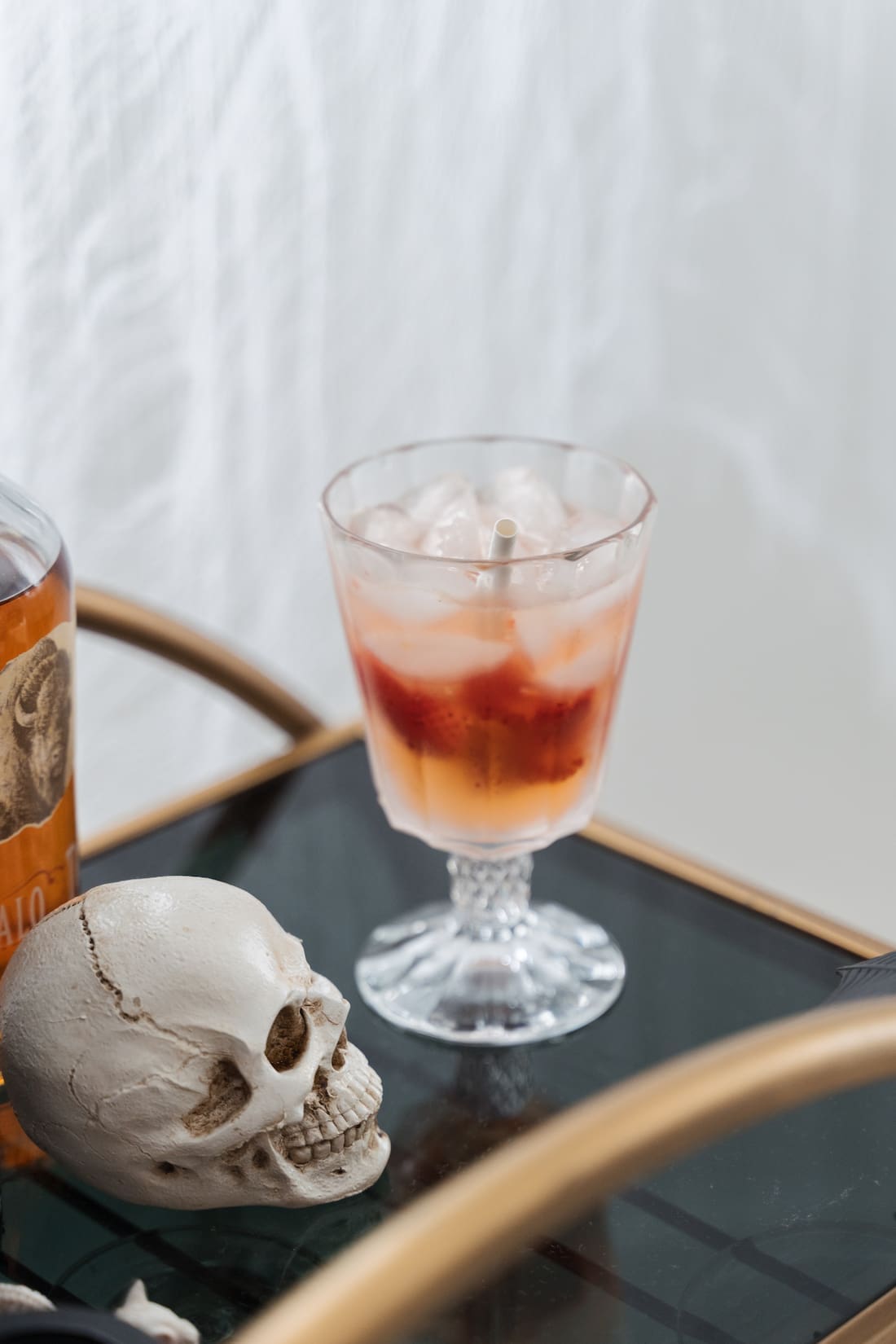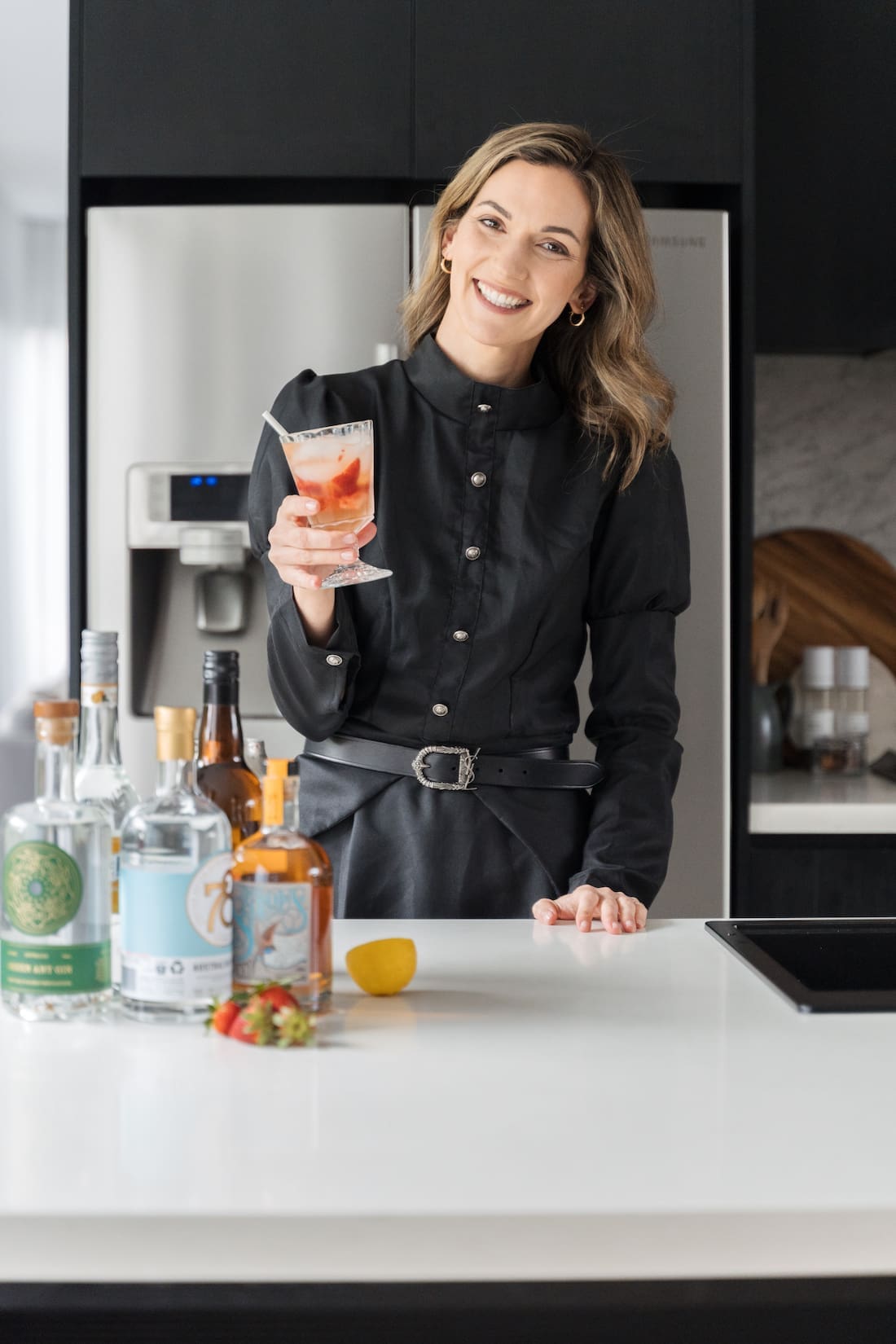 Boos without the booze (non-alcoholic)
Ingredients:
100ml grapefruit juice
1 tsp honey
1 tsp simple syrup
ice
tonic water
thyme sprigs to garnish
Add the grapefruit juice, honey and simple syrup into a cocktail shaker. Shake to combine. In a highball glass, add ice, pour over the juice mix and top with tonic water. Garnish with some singed thyme sprig* and enjoy your boos without the booze.
*To singe the thyme, either gentle burn with a kitchen blow torch or a long match. Or, carefully hold the thyme over a gas burner, turning often. You want it singed, not burnt to a crisp!
If you want to turn this Halloween mocktail into a cocktail, simply add 30ml of vodka to make it boo-zy.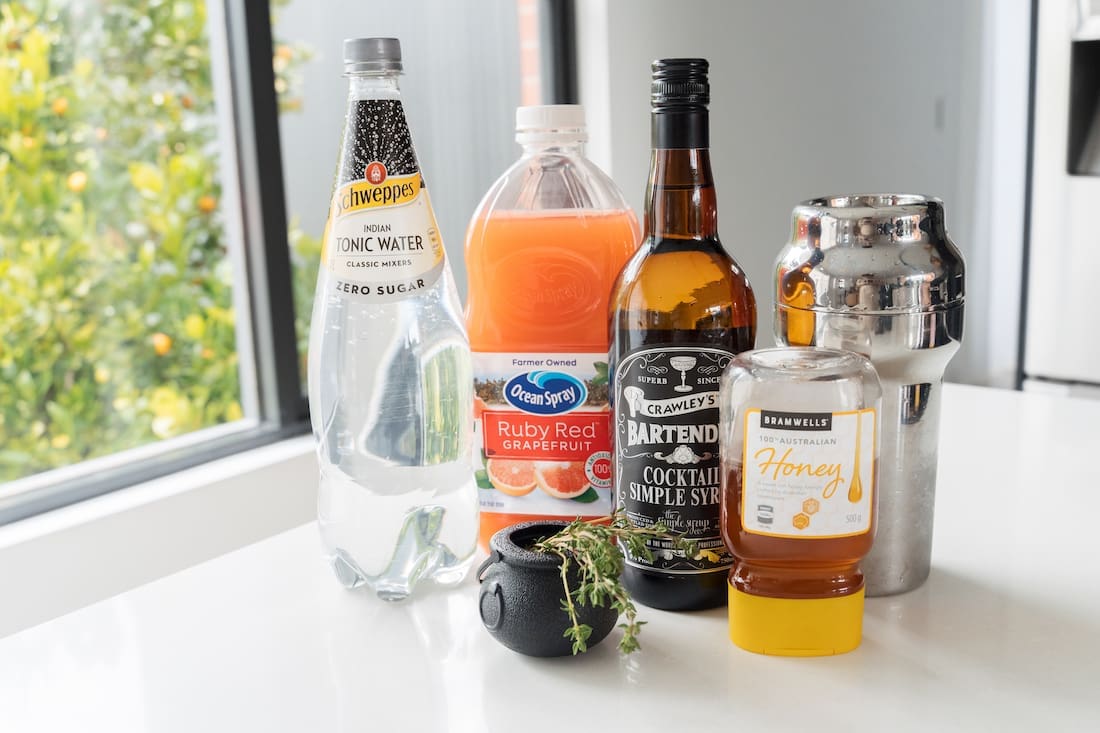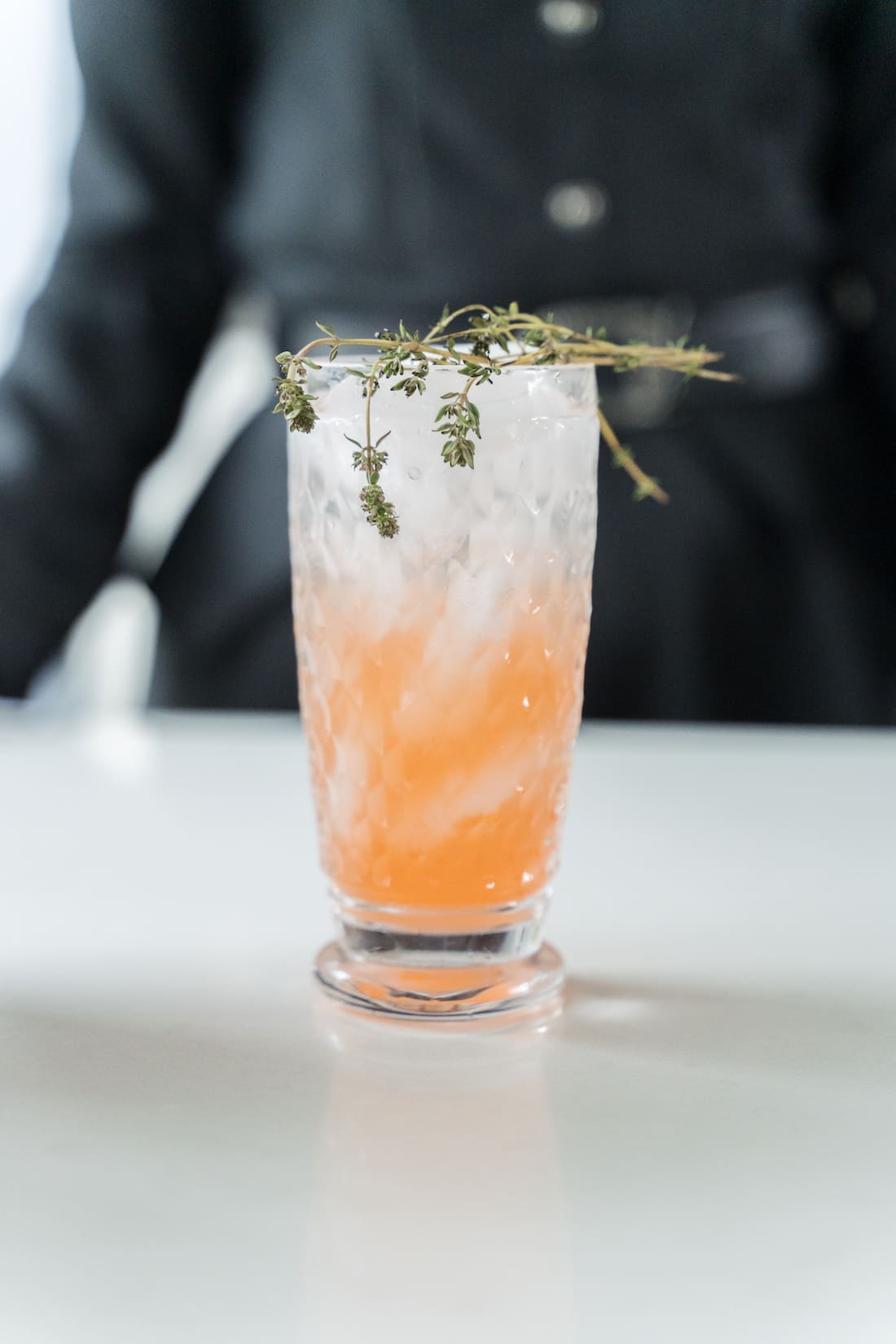 Style up your drink, witches!
If you've got your signature cocktails (or mocktails) down pat but want some ideas of how to make them a bit more Halloween-y, why not check out these fang-tastic ways to elevate your drinks 
Pumpkin ice-cubes
Using a cute pumpkin mould, fill it with orange juice to create a fun and tasty ice-cube. Bound to make any drink look gourd-geous.
Sugared candy sticks
Make your own or simply dye some black with some food colouring to fit your Halloween theme.
Smoked herbs
Not just for the smoky effect, smoking herbs is a simple and effective way to give your drinks an extra depth of flavour. Rosemary will add a woody, smoky effect whereas thyme will bring those burnt lemon vibes. These two are our favourites, but we say experiment with your favourite flavours and impress the witches hats off your guests with your fancy combos.
Spider cubes
Simply grab a packet of fake spiders and freeze into ice-cubes. Use in drinks to add that extra creepy element or place in ice buckets to keep wine and champagne chilly and a little bit thrill-y. Arachnophobes should be warned prior to accepting a drink.
Frozen eyeballs
Take a tin of lychees, drain and add a fresh blueberry into the centre of each one. Freeze to create an ice-cube that also doubles as a creepy garnish.
Savoury eyeballs
Another take on the eyeball look, if you're serving drinks with more of a savoury twist, you might like to try this goulish garnish. Simply thread a cocktail onion onto a toothpick and add a sliced black olive to create an eye-catching accompaniment.
Bone-appetit! We're almost done with the Halloween puns… promise!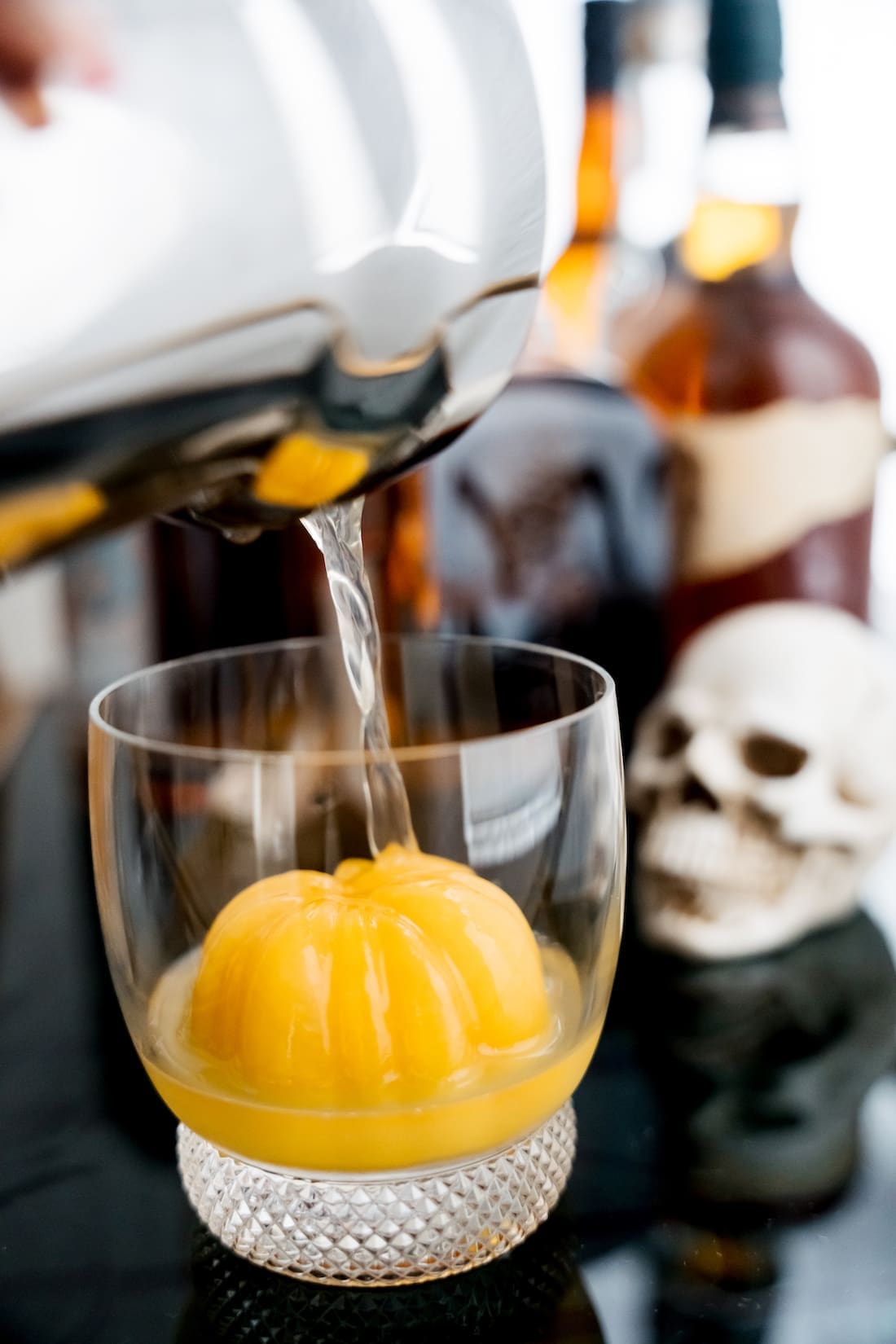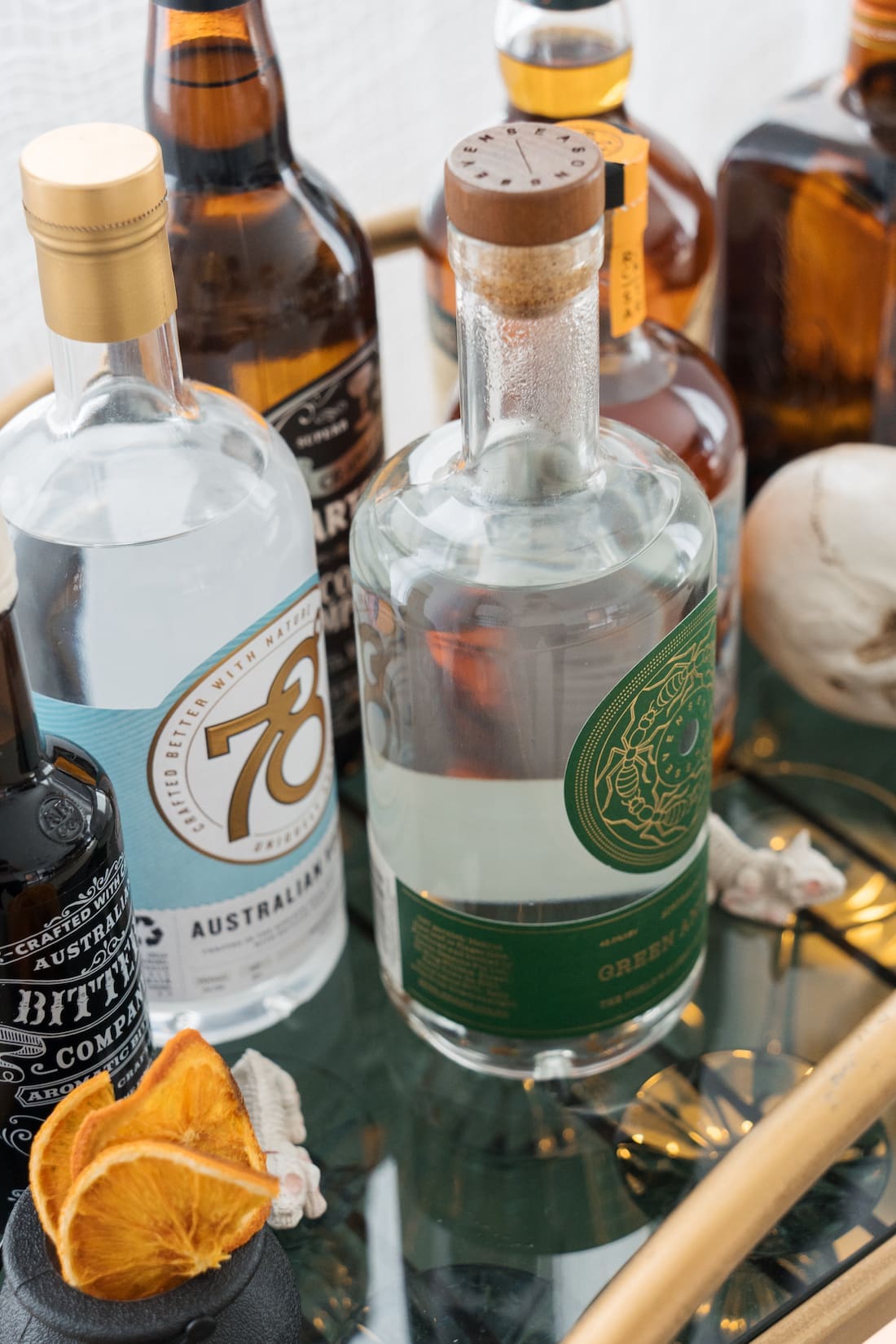 Dress to impress
A Halloween party is the perfect excuse to dress up more than just your home. Take inspiration from your styling and dress to impress. And why stop at just the outfit when there's face paint, fake blood, artificial nails, and so much more you can work into your outfit to really look the part.
We hope this Halloween bar cart styling guide and our fave Halloween cocktail recipes makes your next Halloween party extra special! Do you have any questions about the items we used? Pop them below and we'll get back to you asap. Witch-ing you a happy Halloween!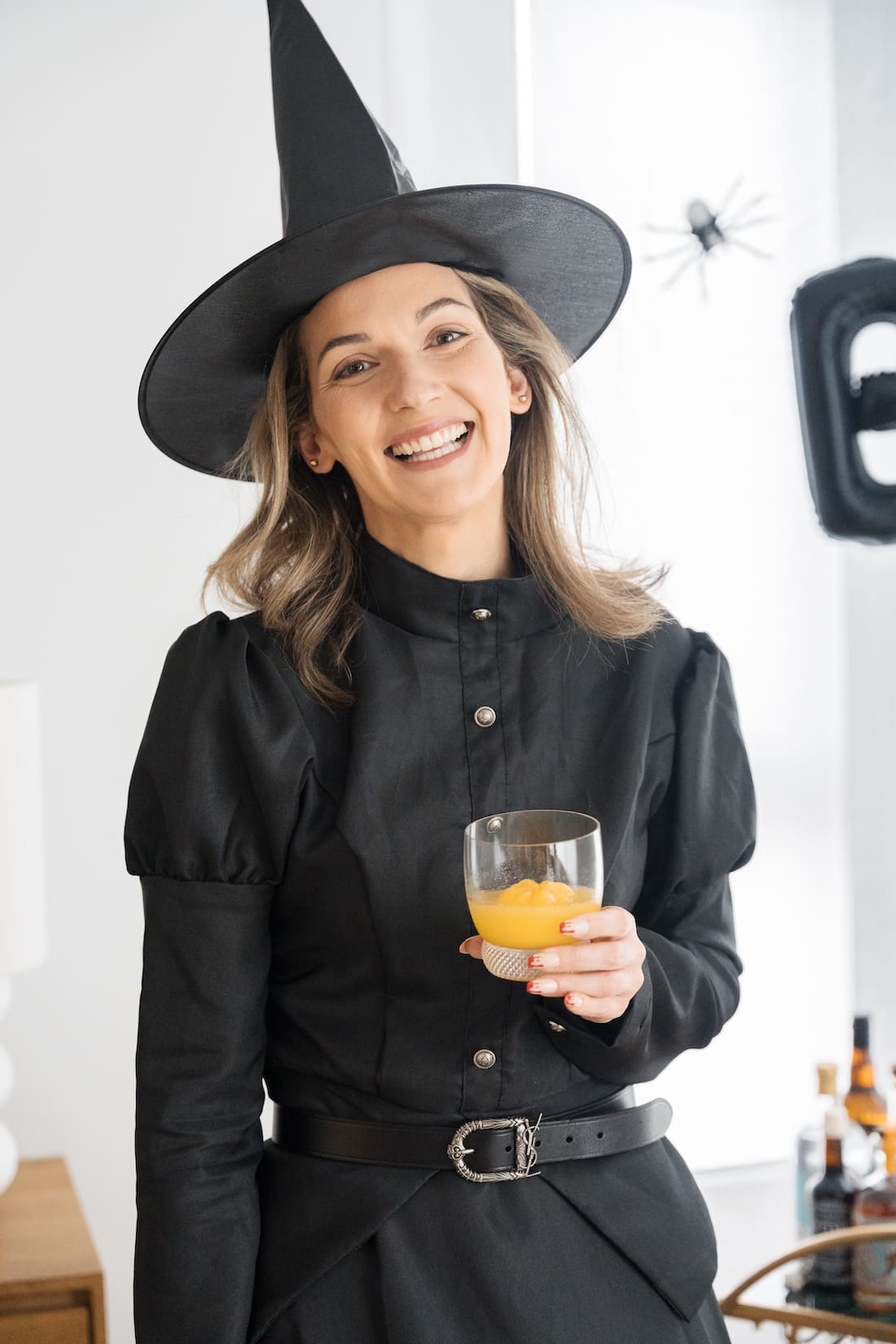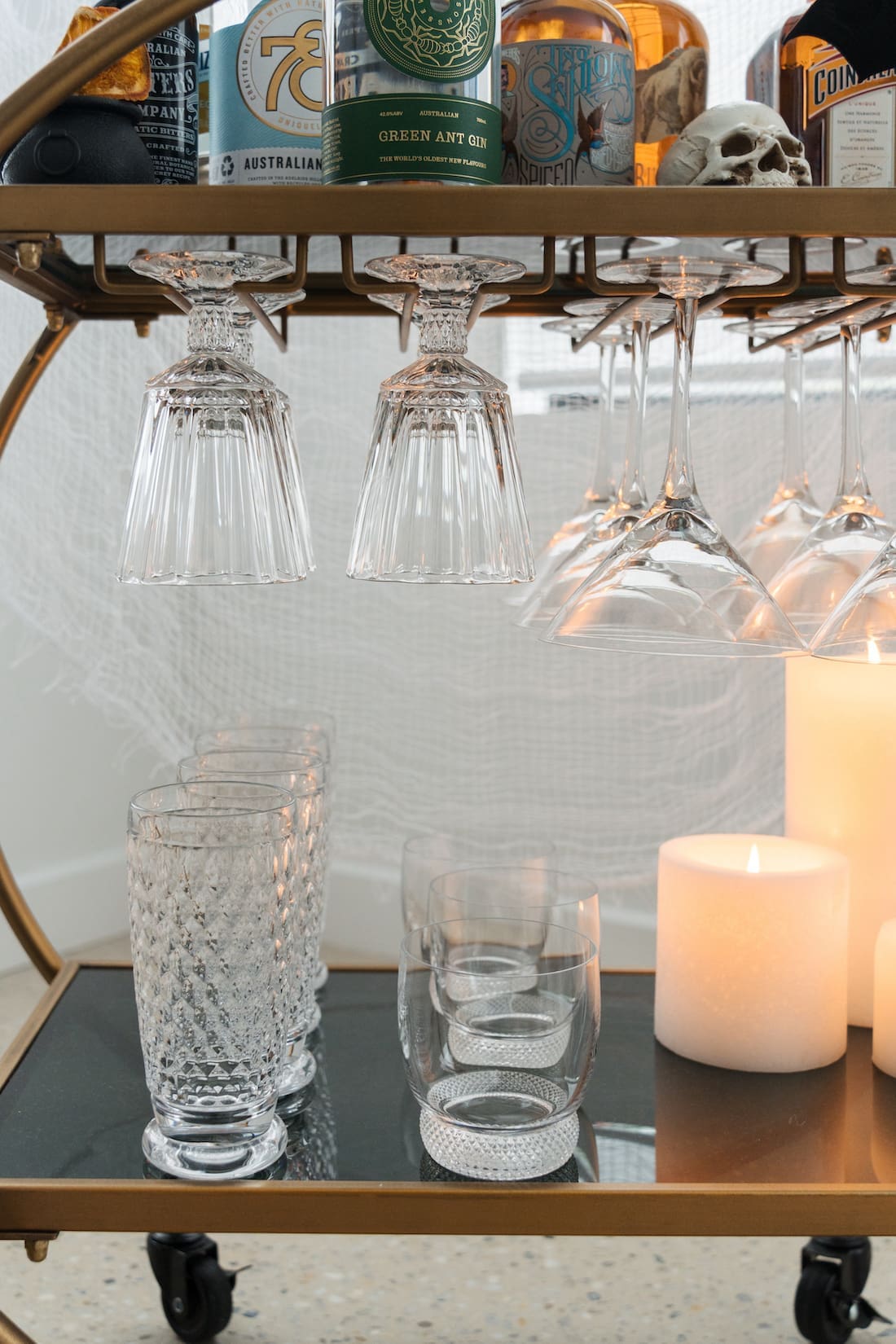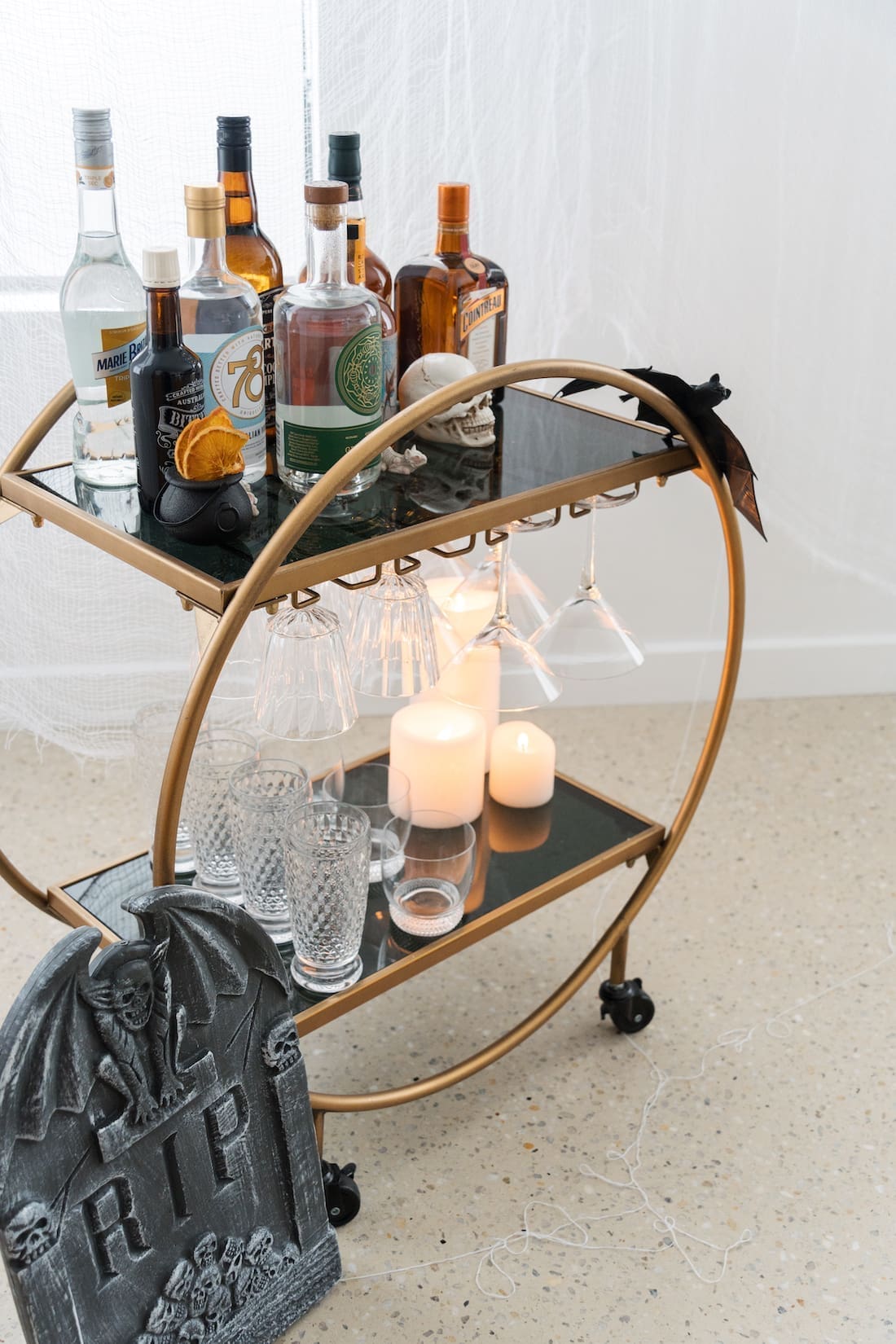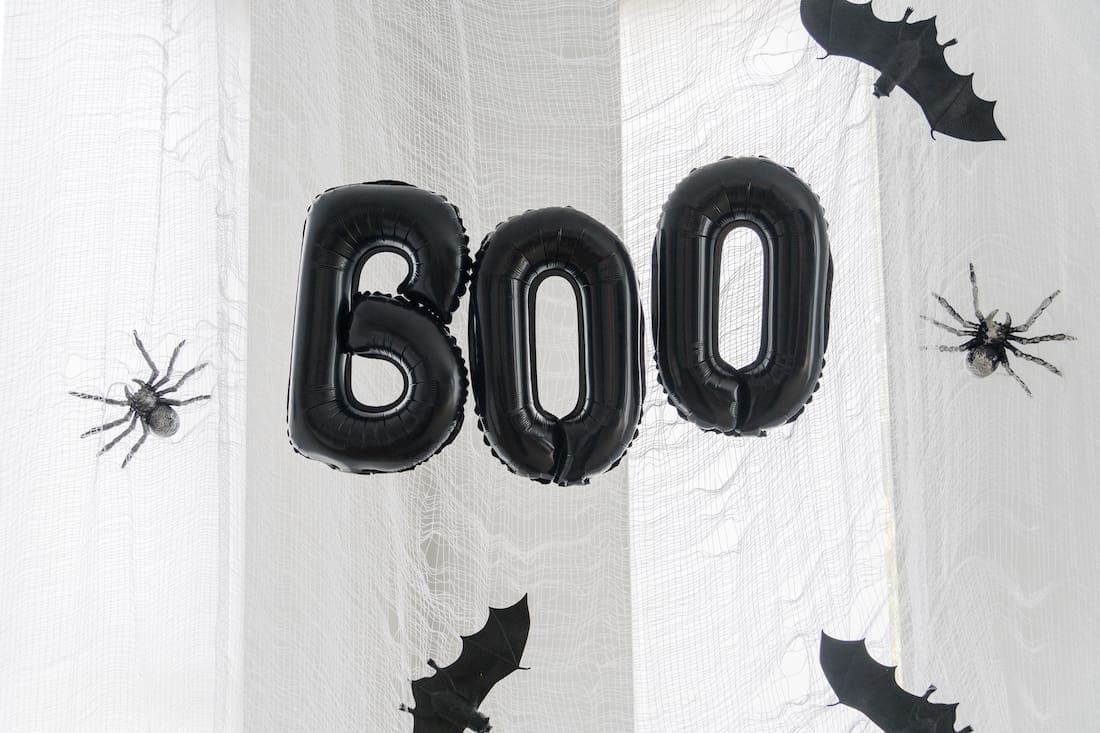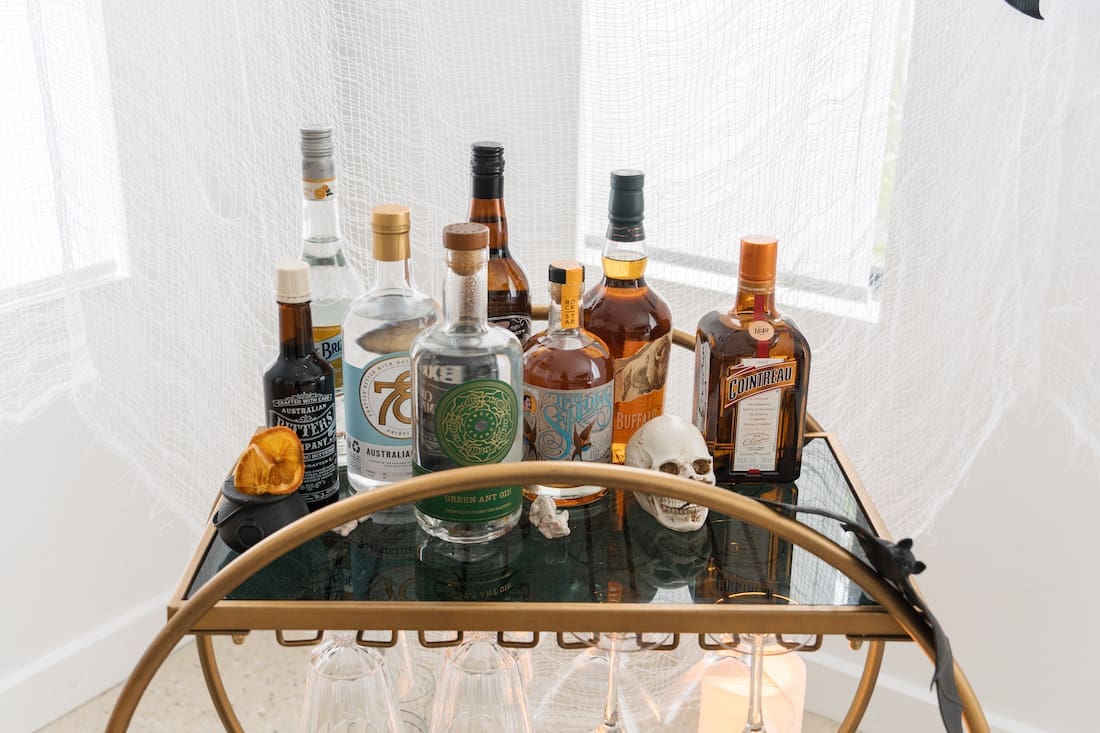 Disclaimer: Some items in this article were gifted. This post also contains some affiliate links. This means that when you click on a link and purchase something from that site, we may make a small commission at no extra cost to you.