Today's styles often call for light color upholstery for a modern, airy look. People love to sink into the cushions of a sofa or chair with comfy down or synthetic filling to relax at the end of the day.
When you purchase name-brand upholstered furniture, you can expect it to last for many years if you take care of it properly. Always follow the manufacturer's instructions for care and cleaning to keep your furniture in tip-top shape, even if it gets a lot of use. High-performance fabrics may be a good choice for families with children and pets.
Here are some helpful upholstery care and cleaning tips you can use to protect your upholstered furniture:
Place Furniture in the Right Spot
Putting your upholstered furniture in the right place can add years of enjoyment. Make sure to place fabric upholstery away from direct sunlight and out of the way of a heat source. That goes for leather furniture as well.
Prevent Dust Accumulation
You can prevent debris and dust from accumulating in the fabric of upholstered furniture by using your vacuum regularly. What you don't want is for dirt to get embedded into the fabric. You can vacuum leather upholstery by using the soft brush attachment of your vacuum cleaner.
Reverse Cushions for Even Wear
You might notice wrinkles appearing in your leather or fabric upholstery as time goes on. These so-called comfort wrinkles are really the natural progression when upholstery matures. To keep the cushion and pillow filling evenly distributed and comfortable, reverse them every so often whenever possible.
Take Special Care of Leather Upholstery
While you can expect leather sectionals, sofas and recliners to stand the test of time, some rules to follow to keep your furniture in good shape. Never use harsh products like ammonia or varnishes, and avoid furniture polish, oils, soap and dusting agents.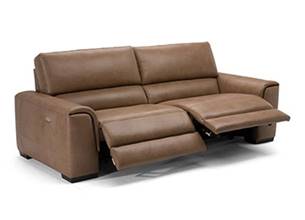 If you need to remove stains or dirt, use a damp cloth with a mild non-detergent soap and water solution. Make sure not to rub the stain, and when you are finished, allow the furniture to dry naturally. If you still see the spot, repeat the process.
To keep your leather furniture safe, do not use products like pens, nail polish and nail polish remover while seated to avoid spills. Keep in mind that the ink in magazines and newspapers might transfer onto the leather upholstery.
When you decide to use a product or technique to clean your upholstered furniture, test it on an inconspicuous part of the furniture before you clean the entire piece. Better yet, use a professional upholstery cleaning service to do the job.
Fine Name Brand Upholstery at Home Living Furniture
Now you can find a wide selection of upholstered furniture at Home Living Furniture in Howell and Middletown, New Jersey. Choose from a wide range of styles from contemporary to timeless traditional for upholstered sofas, loveseats, chairs, recliners and ottomans.
Find discount prices every day and enjoy weekly sales and promotions. For further information and to shop online, visit
homelivingfurniture.com.