Pink indoor plants are certainly trending at the moment and it's no wonder why. Indoor plants not only enhance the overall feel of a space, but studies show they can boost moods, reduce stress and help clean the air of pollutants.
Not to mention, pink plants look amazing no matter where you place them! With gorgeous colour variations, sizes and forms available, there's a pink plant for every one.
Don't quite know where to start? Read on to find the 7 prettiest pink plants to display around your home, most of which are very beginner-friendly!
Related articles: 12 reasons why you're killing your indoor plants: How to keep indoor plants alive
Related articles: Create you own tropical jungle: 10 plants that thrive in the bathroom
1. Arrowhead
The Pink Arrowhead plant, or Syngonium Neon Robusta if you want to get scientific, is the beautiful pink variety of the popular arrowhead family! Their gorgeous arrow-shaped leaves look like pink hearts, bringing colour and love to any room.
As a low maintenance plant, they are incredibly easy to care for, making it the perfect plant even for the most beginner plant parent.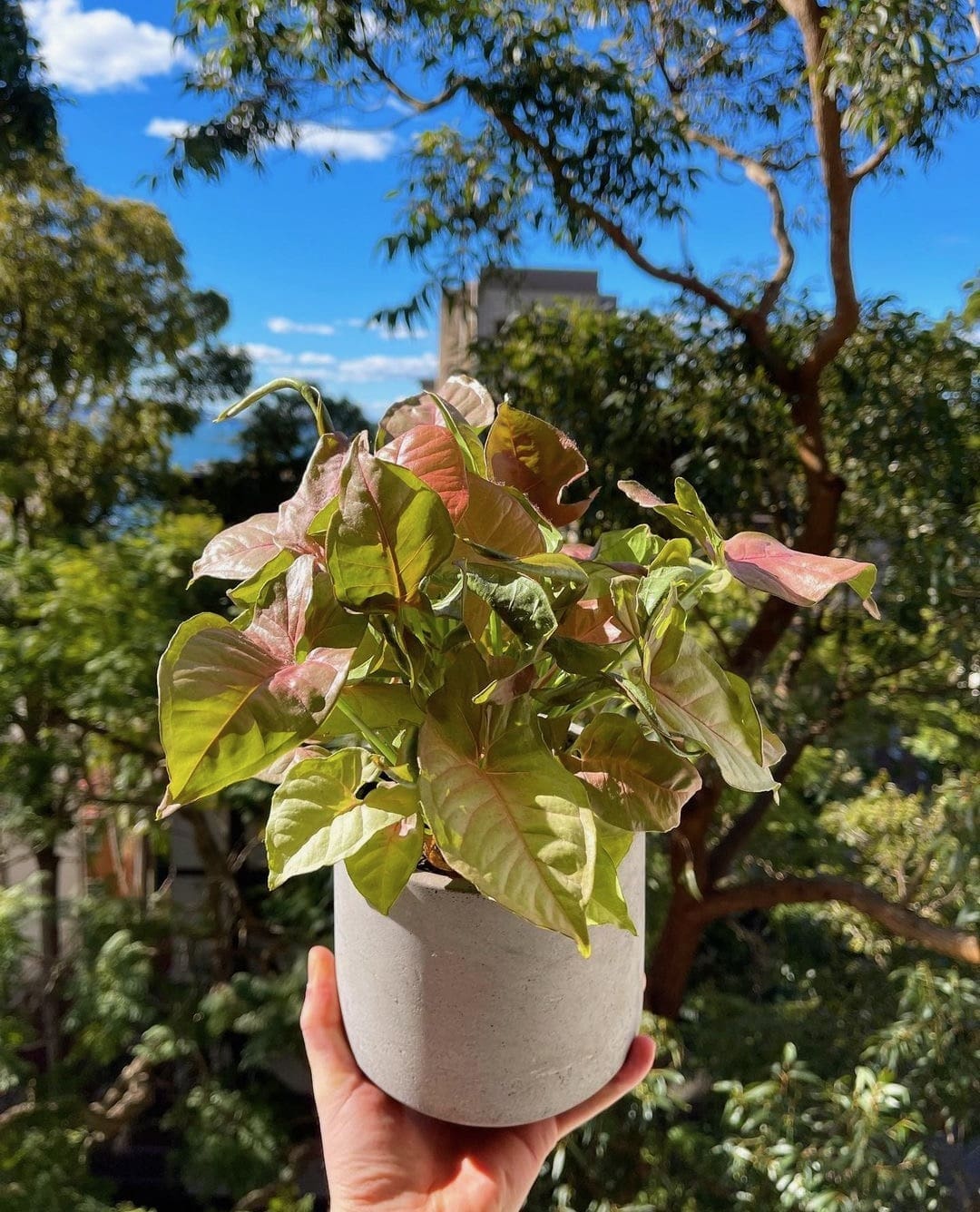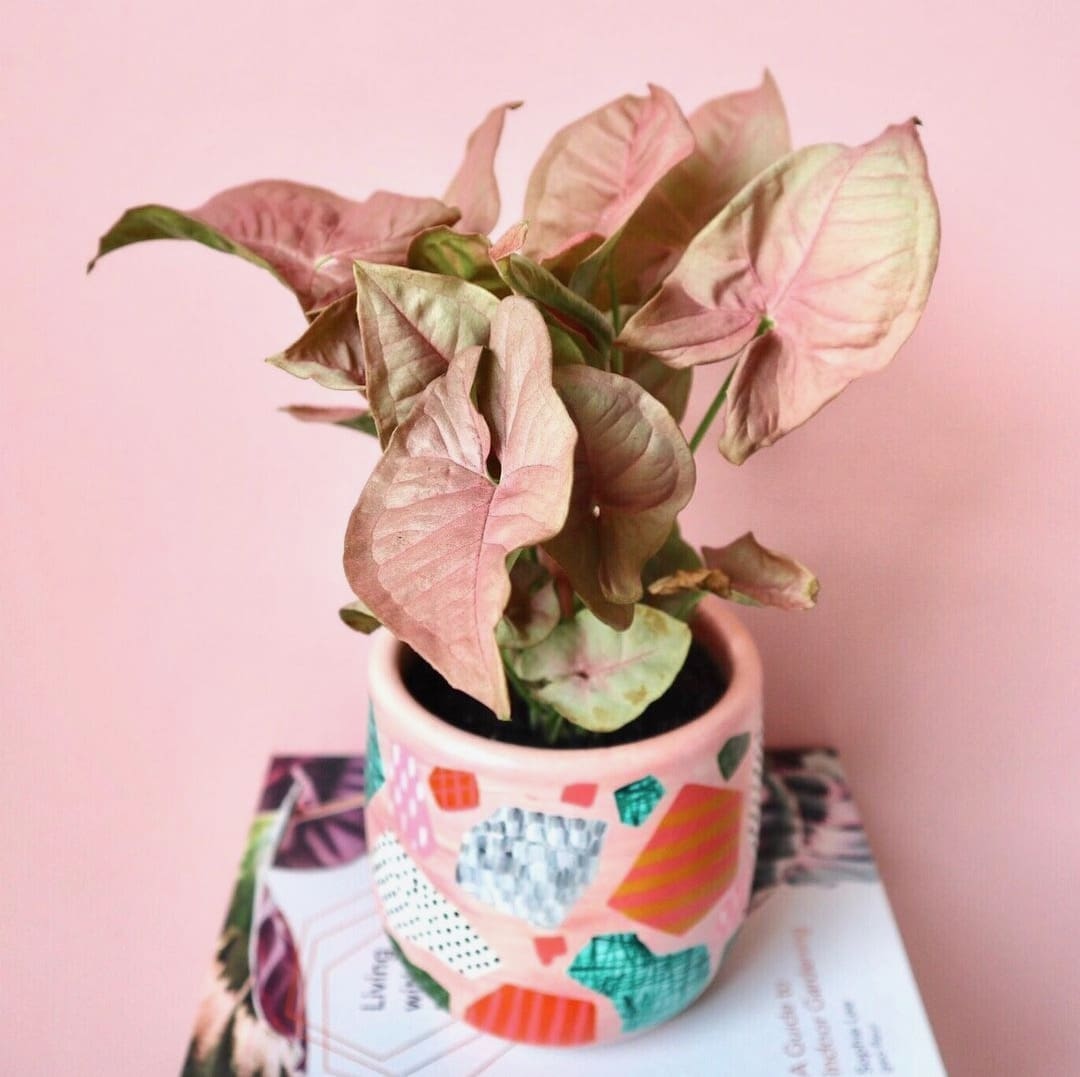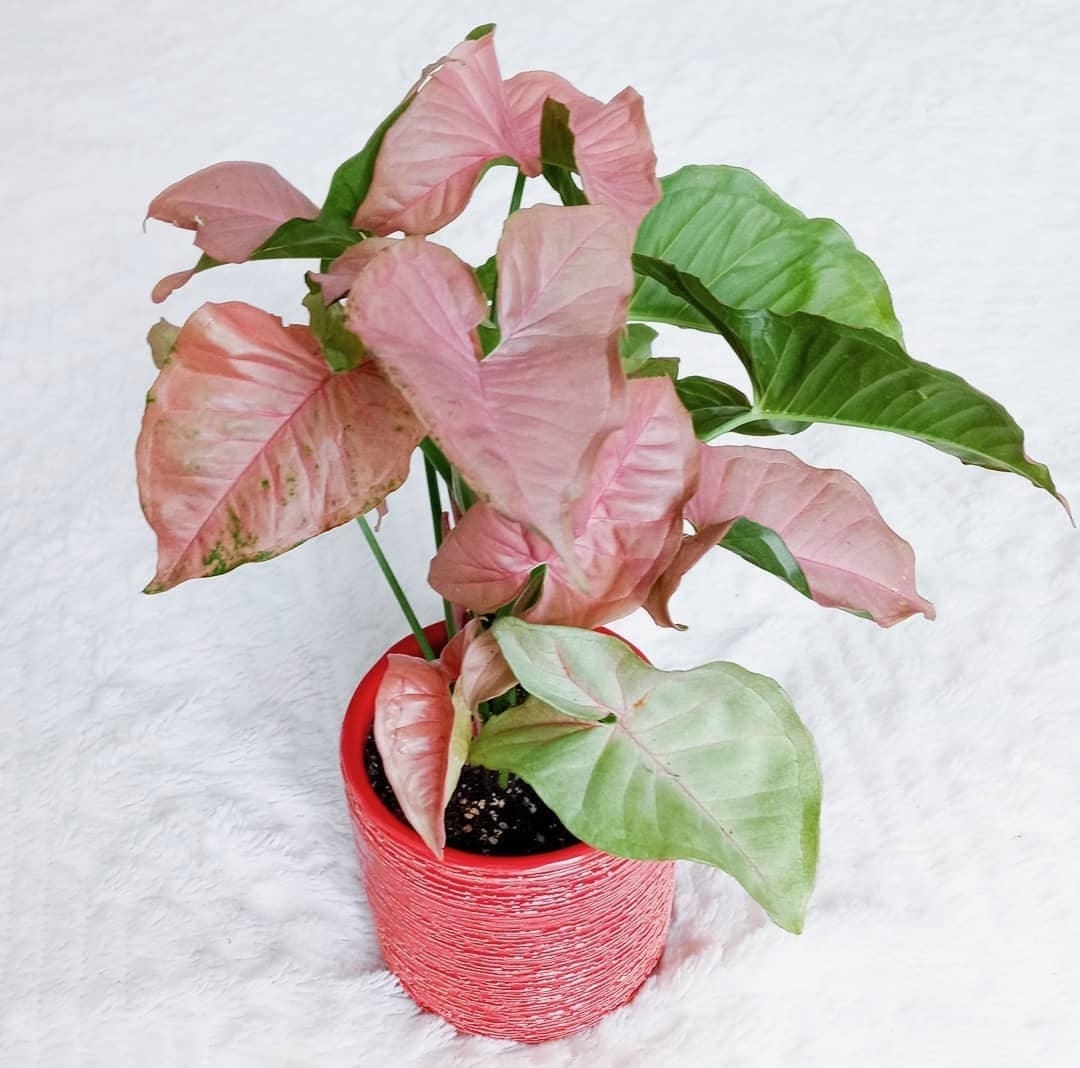 2. Polka Dot plant
Polka Dot plants, or Freckle Face in Australia, are common houseplants with a wide array of colourful displays. The pink splash variant is a super popular option, but they come in red or white too.
Anyone forget to water their plants from time to time? Us too! Luckily, these plants aren't drama queens. While they love lots of water, they can survive quite well and will continue to flower, albeit less. They will not, unfortunately, survive the winter, especially if you leave them outside.
It is worth noting in Eastern Australian coastal districts, the polka dot plant is considered a weed by local councils. While still easily available at local nurseries, it may not be recommended in certain areas.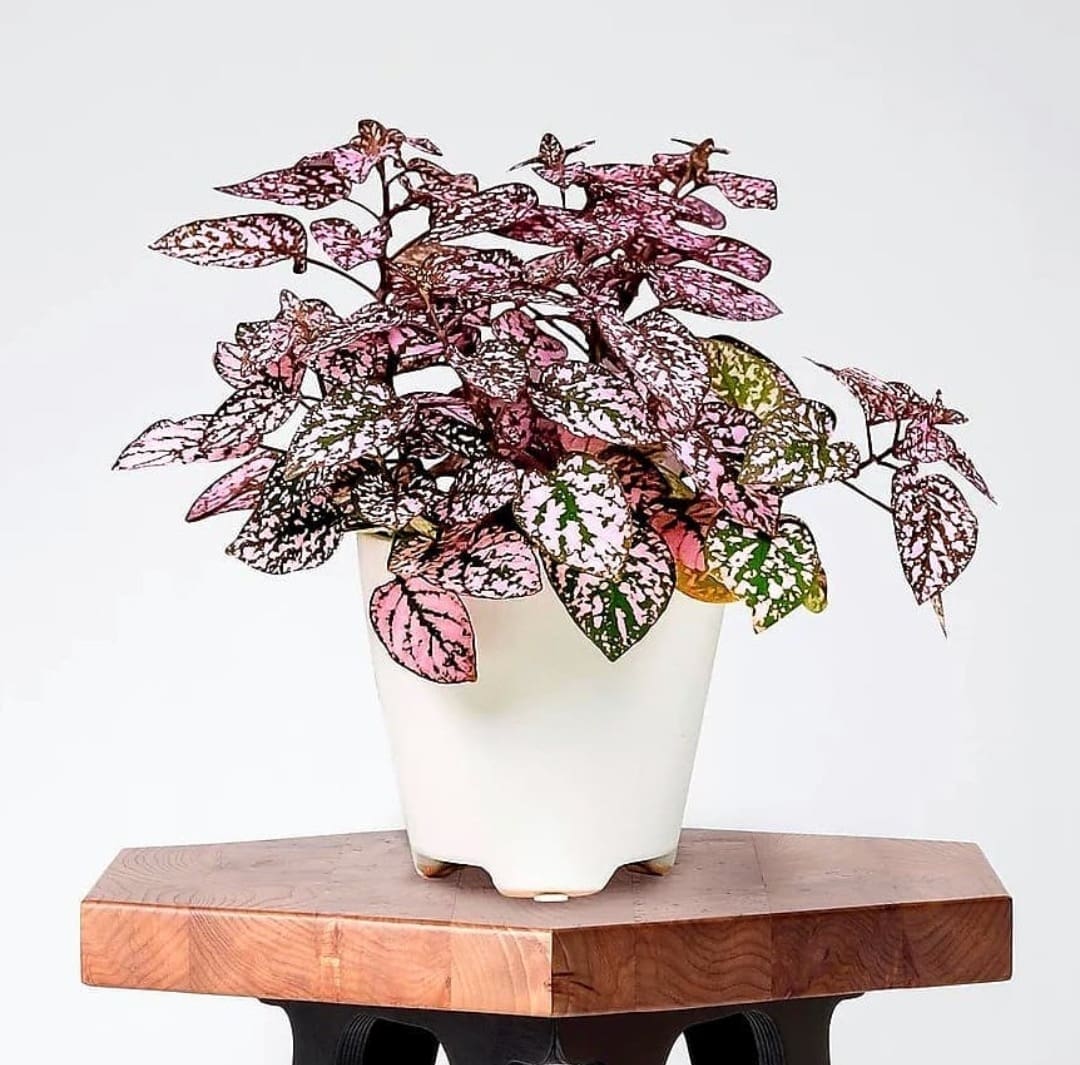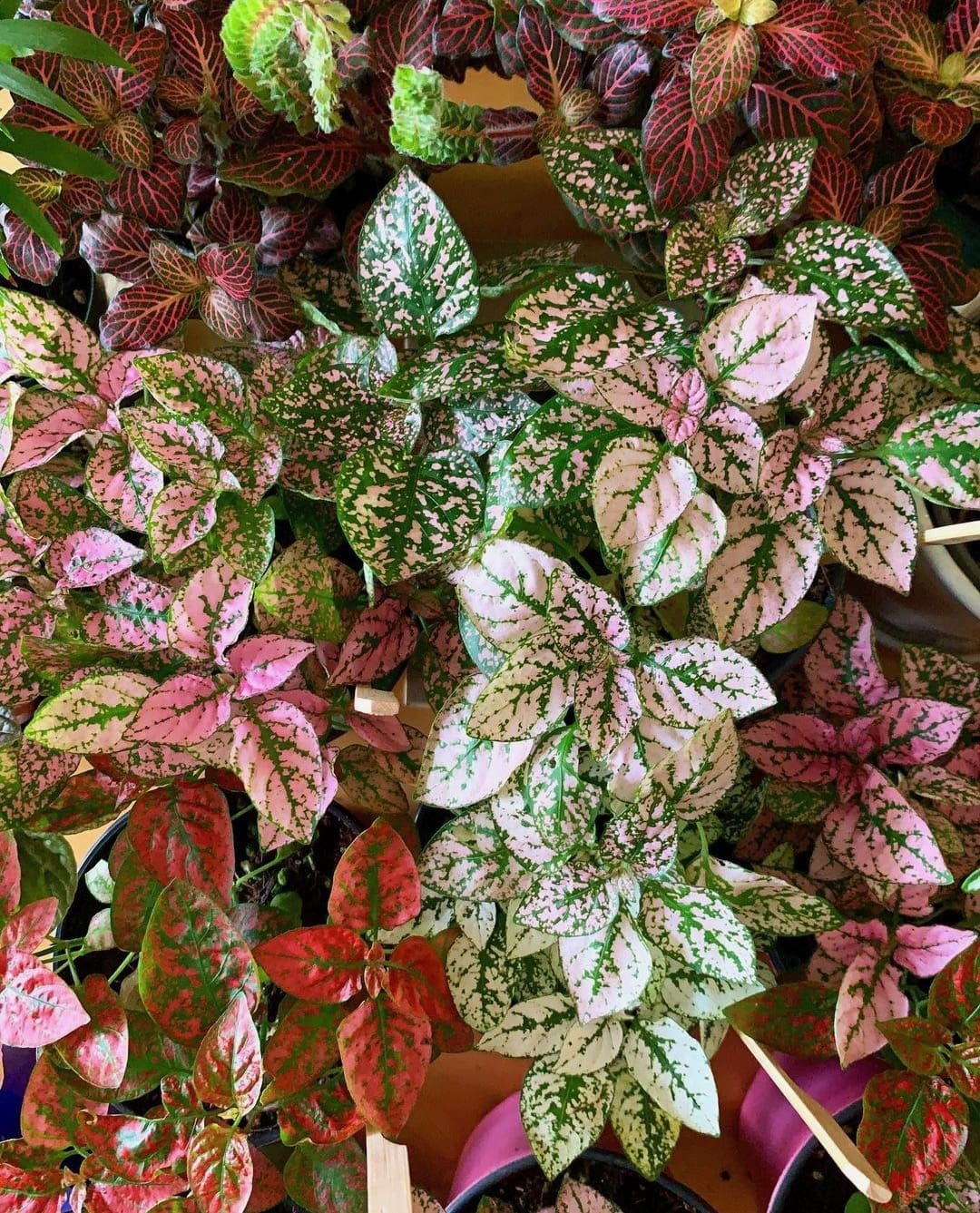 3. String of hearts
The sweetheart vine. Rosary vine. Chain of hearts. Whatever you want to call it, this trendy trailing vine plant features lovely pink variegated leaves, perfect for adding colour to shelves and window sills. They also make for exceptional hanging plants!
The colours will change with the seasons and intensity of light and small purple flowers will appear a few times a year. They have a semi-succulent type nature, meaning maintenance is minimal — most plants will only need one or two waters a week in summer.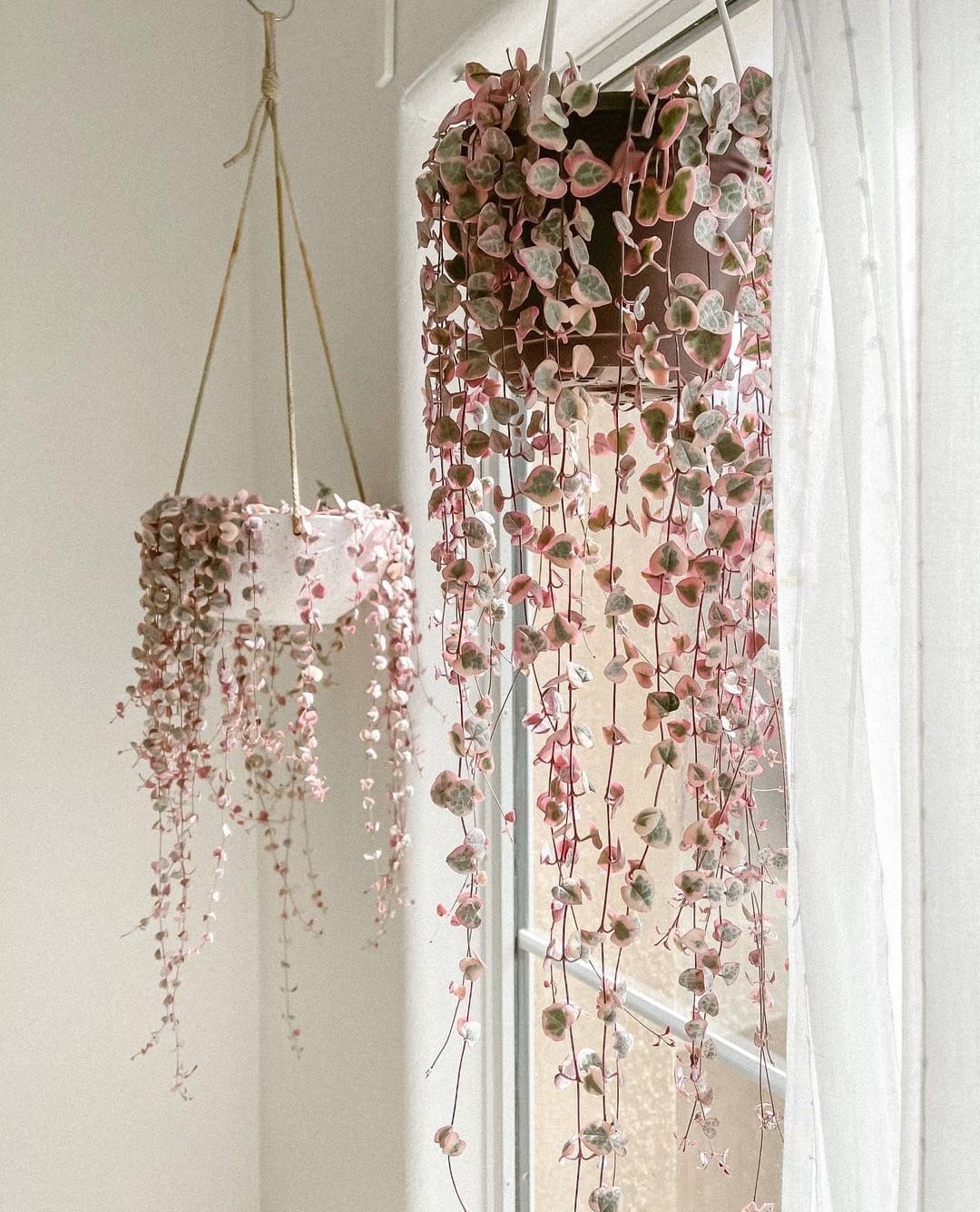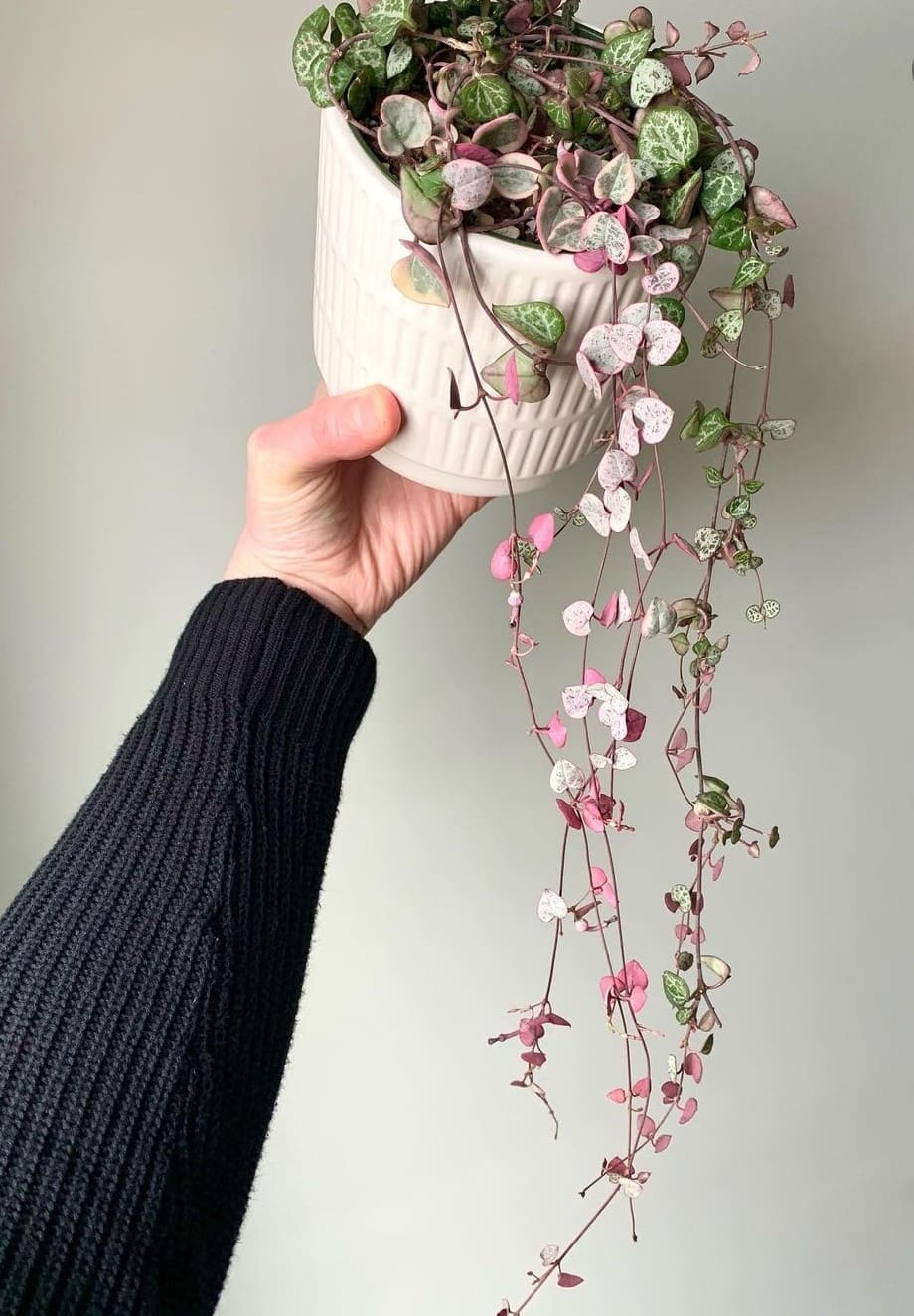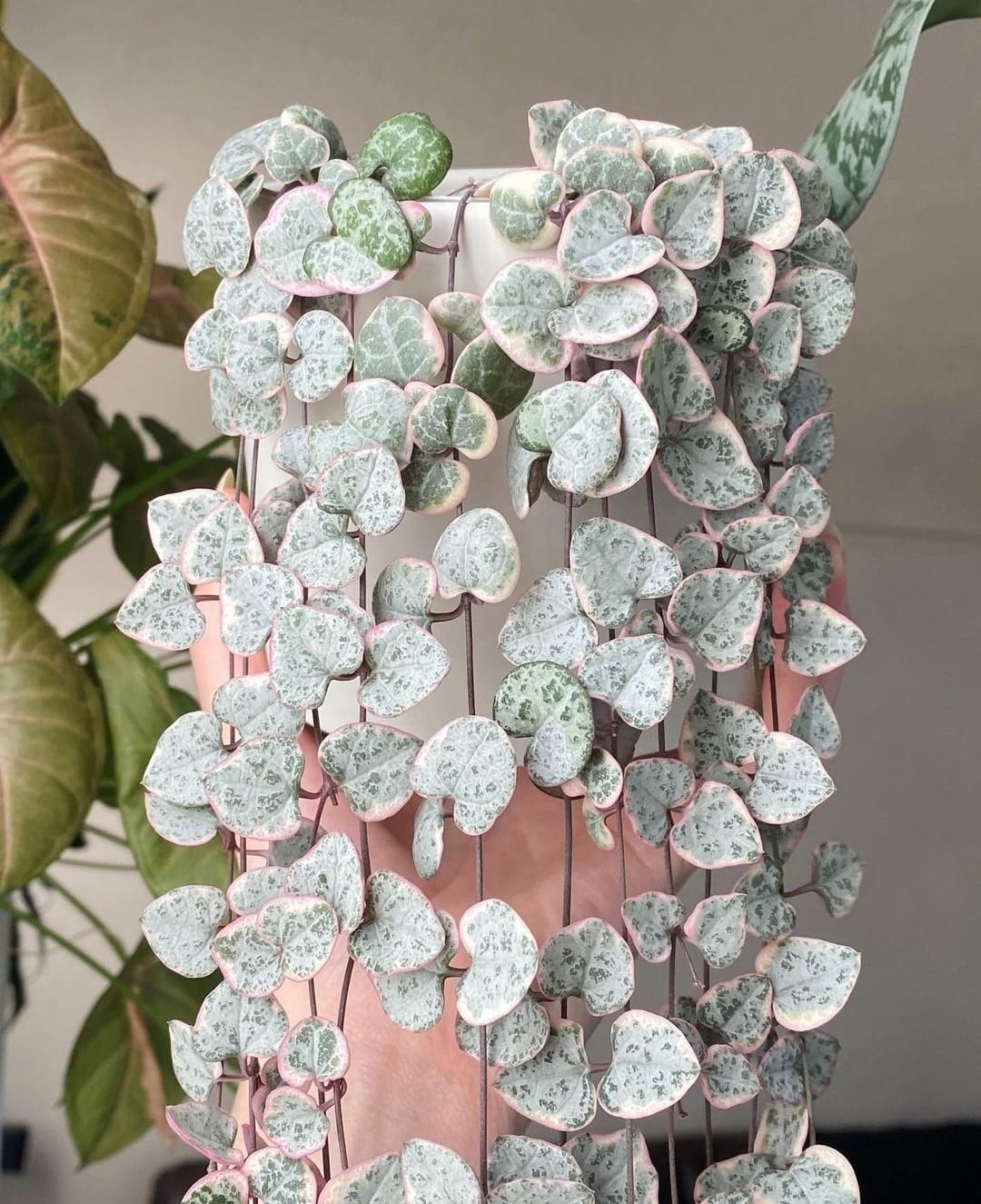 Shop our faves: Pots and planters
4. 'Pink Princess' Philodendron
Philodendrons are the ultimate beginners indoor plant — hardy and happy in a warm indoor spot. With stunning foliage and easy care, it's no wonder there's been an incredible spike in the popularity of the Pink Princess variation.
With streaks of bubblegum pink, it's great for adding a touch of pink AND green to your home. Lower variegated philodendrons are easier to find, but may have less pink leaves. Higher variegated philodendrons tend to be more pricey. Ultimately, it's all about what you prefer. Who doesn't like a good game of chance?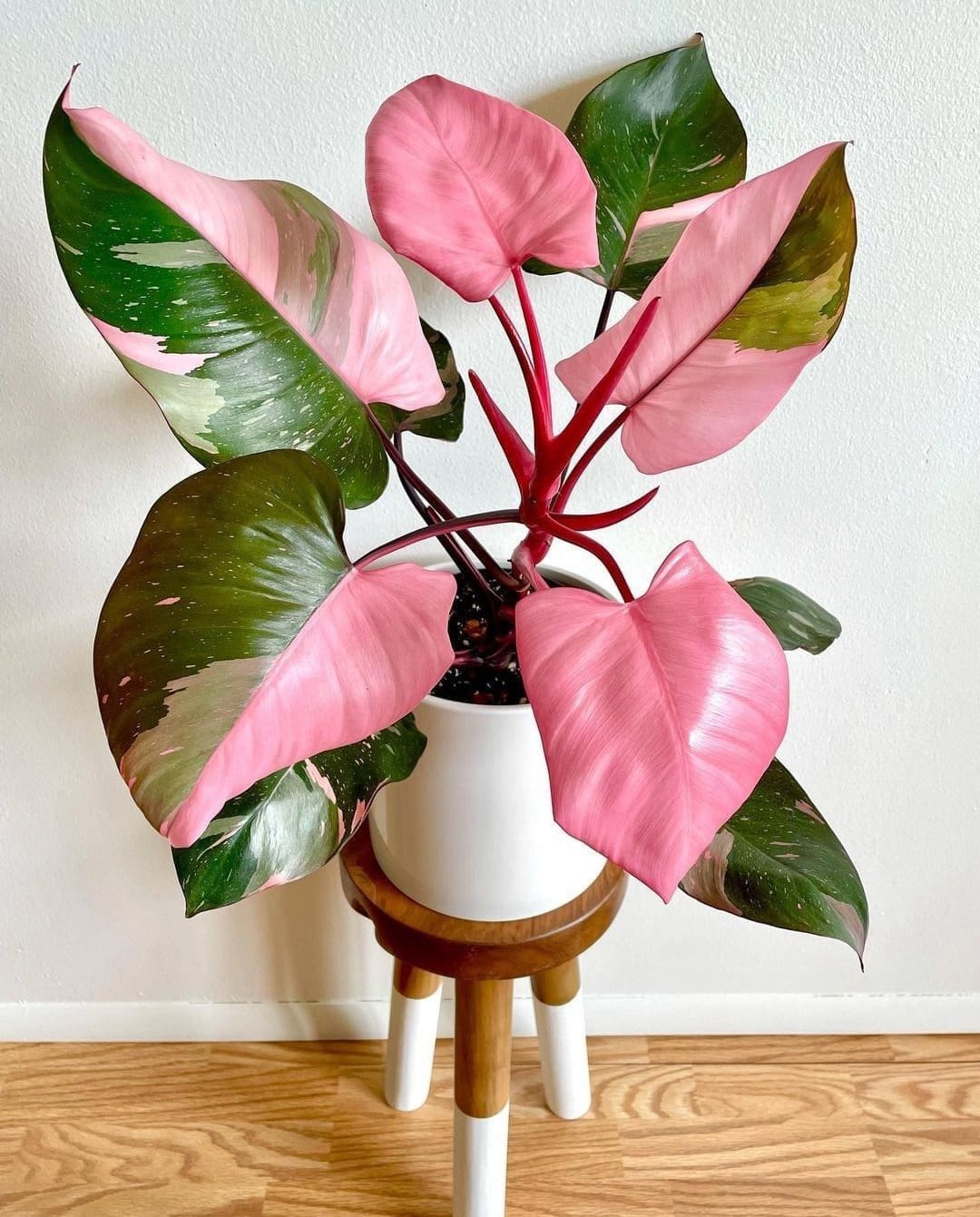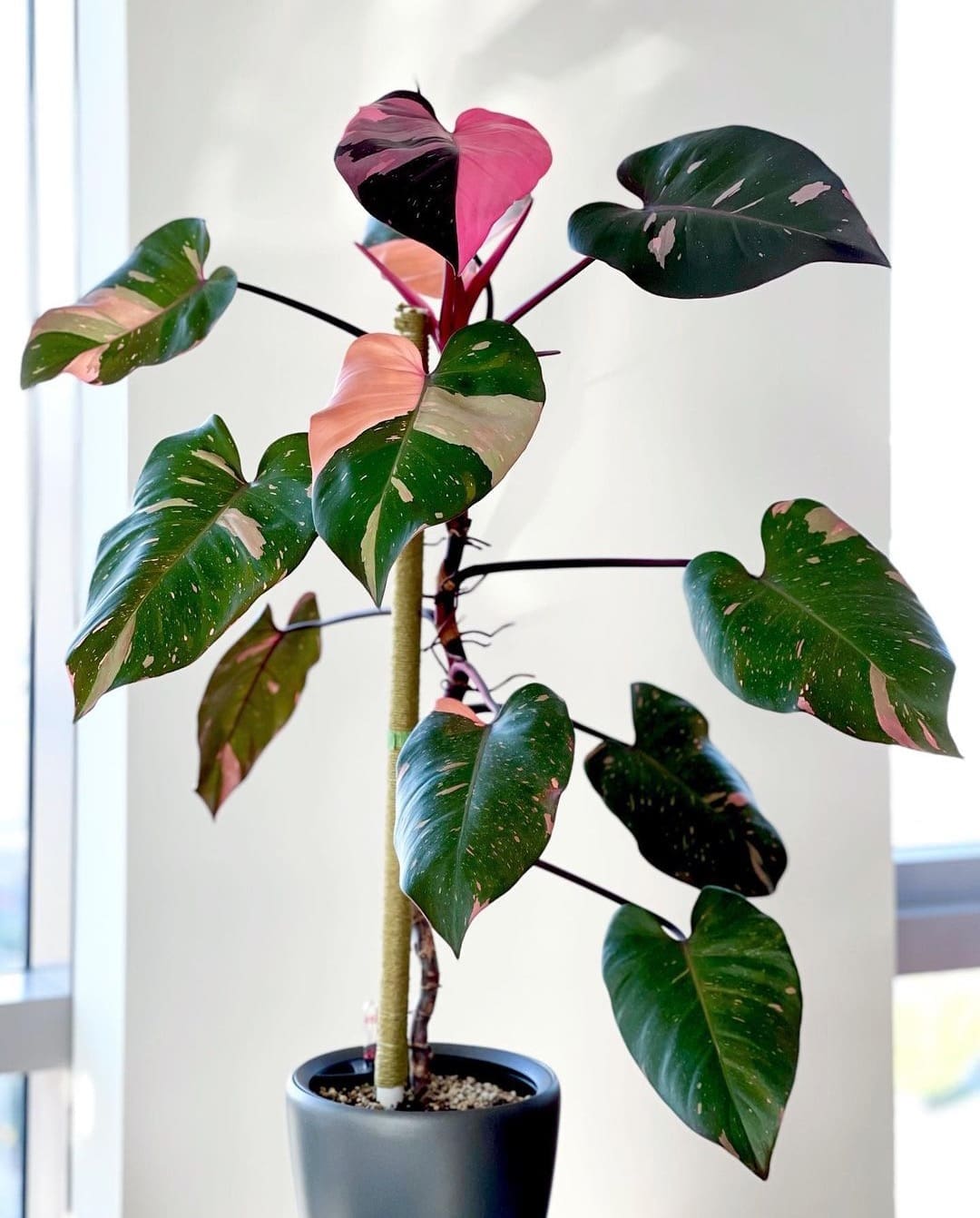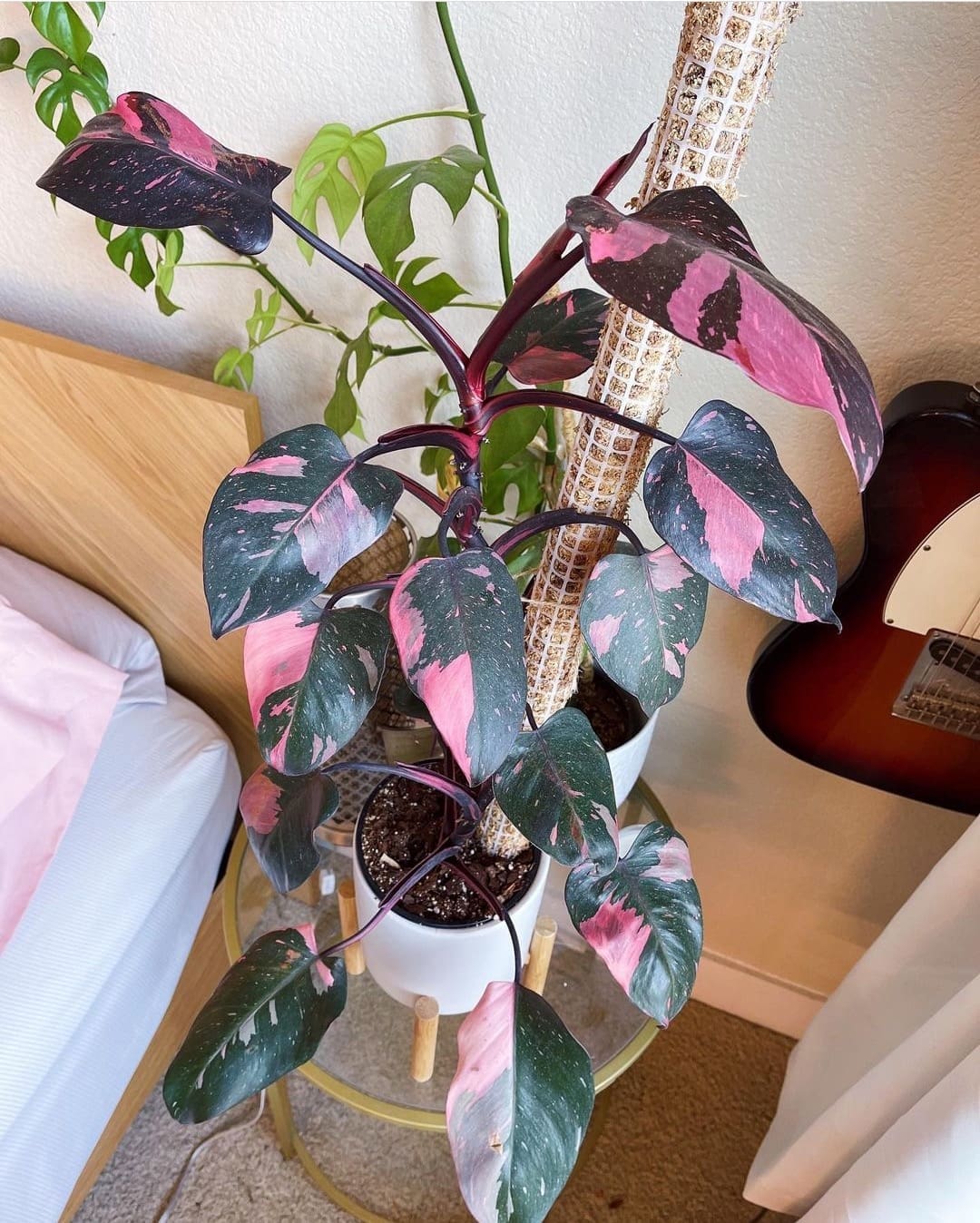 5. Rose-painted Calathea
This bright, low-growing shade plant has stand out oval leaves the feature a bright pink centre, surrounded by dark green. As a new leaf grows, you also get exposed to the gorgeous purple undersides of the plant.
It's a stunning plant, but one that requires a bit more care. From requiring a special pot mix and specific lighting, if you're willing to put in the effort, you'll definitely be rewarded with this pretty pink plant!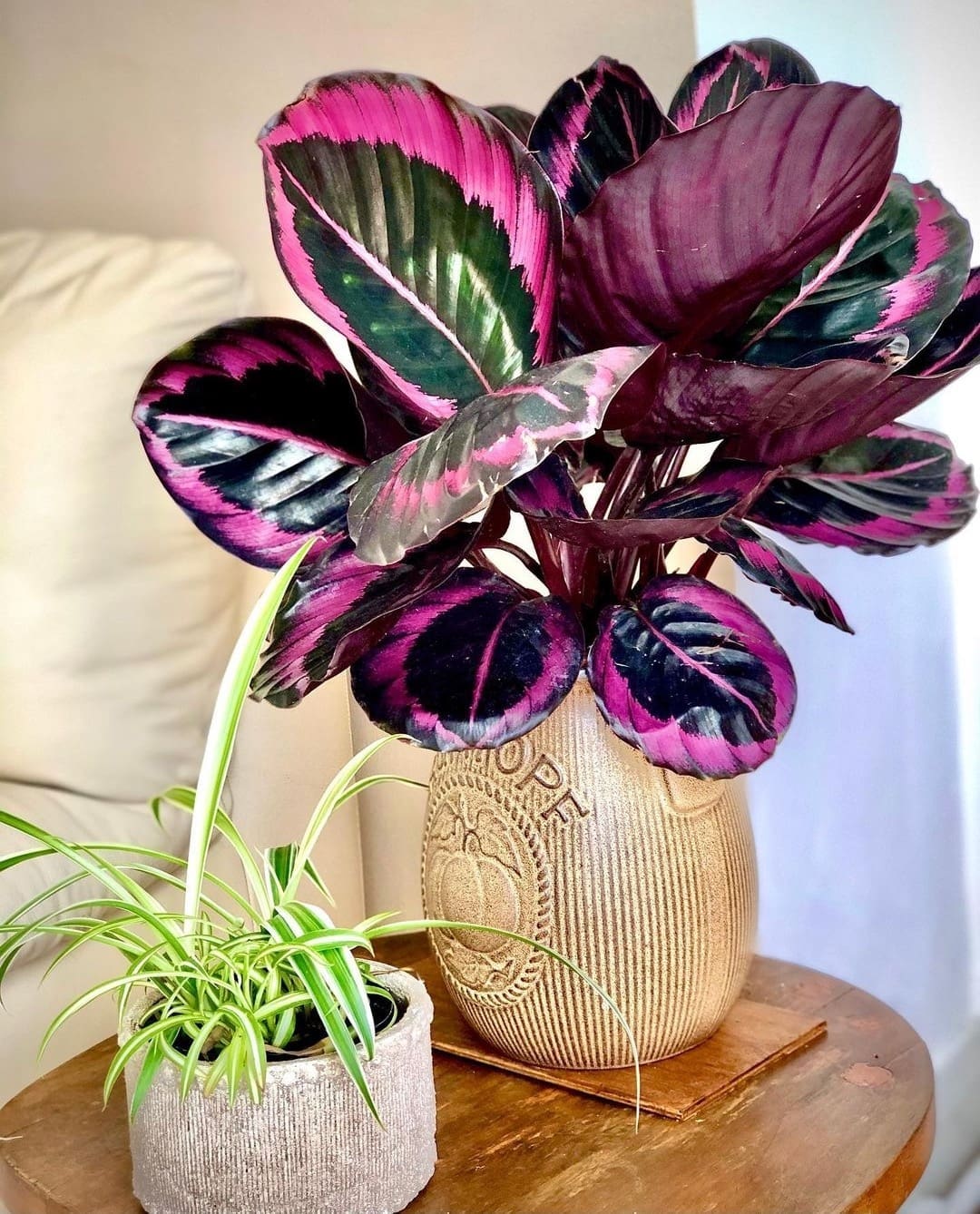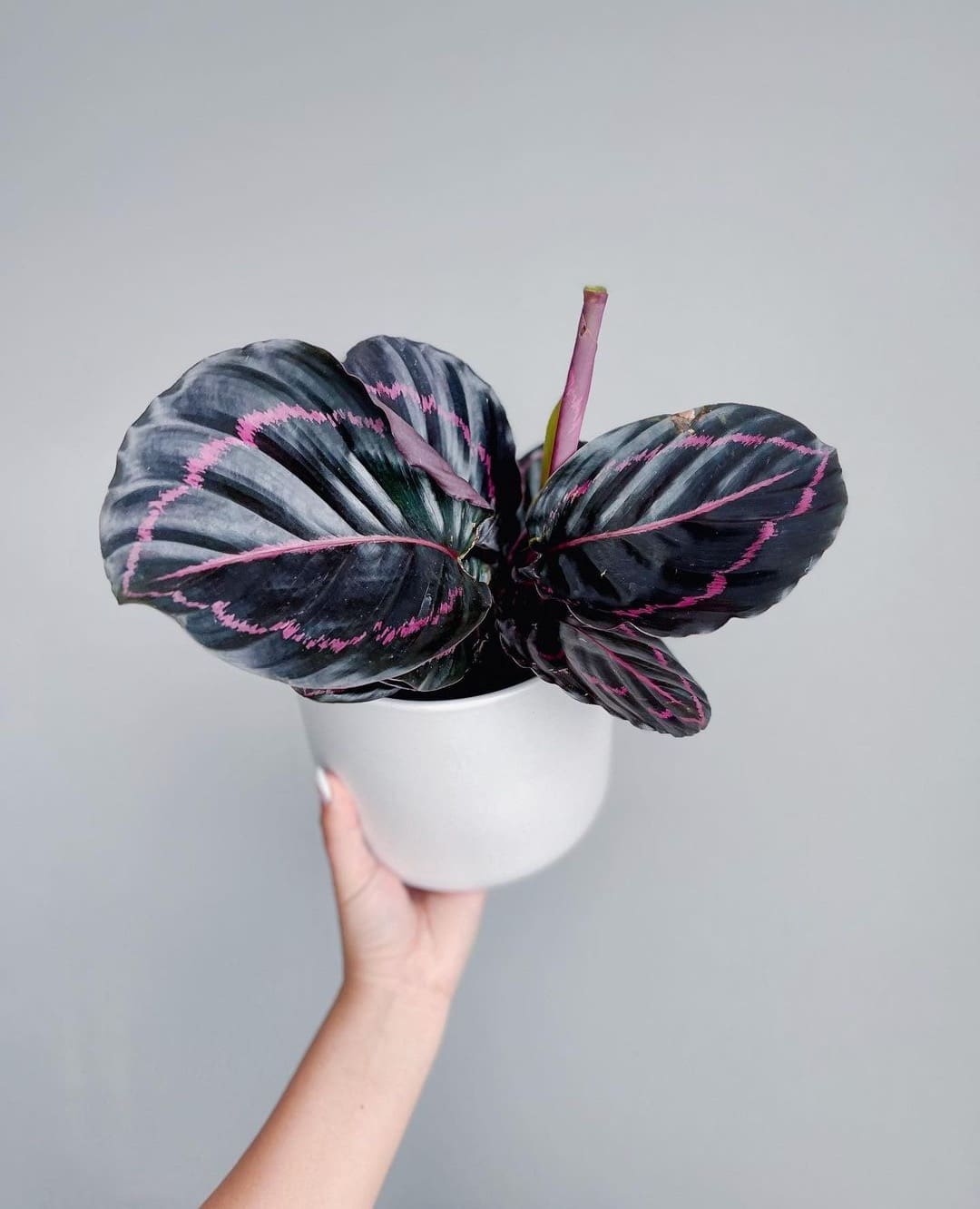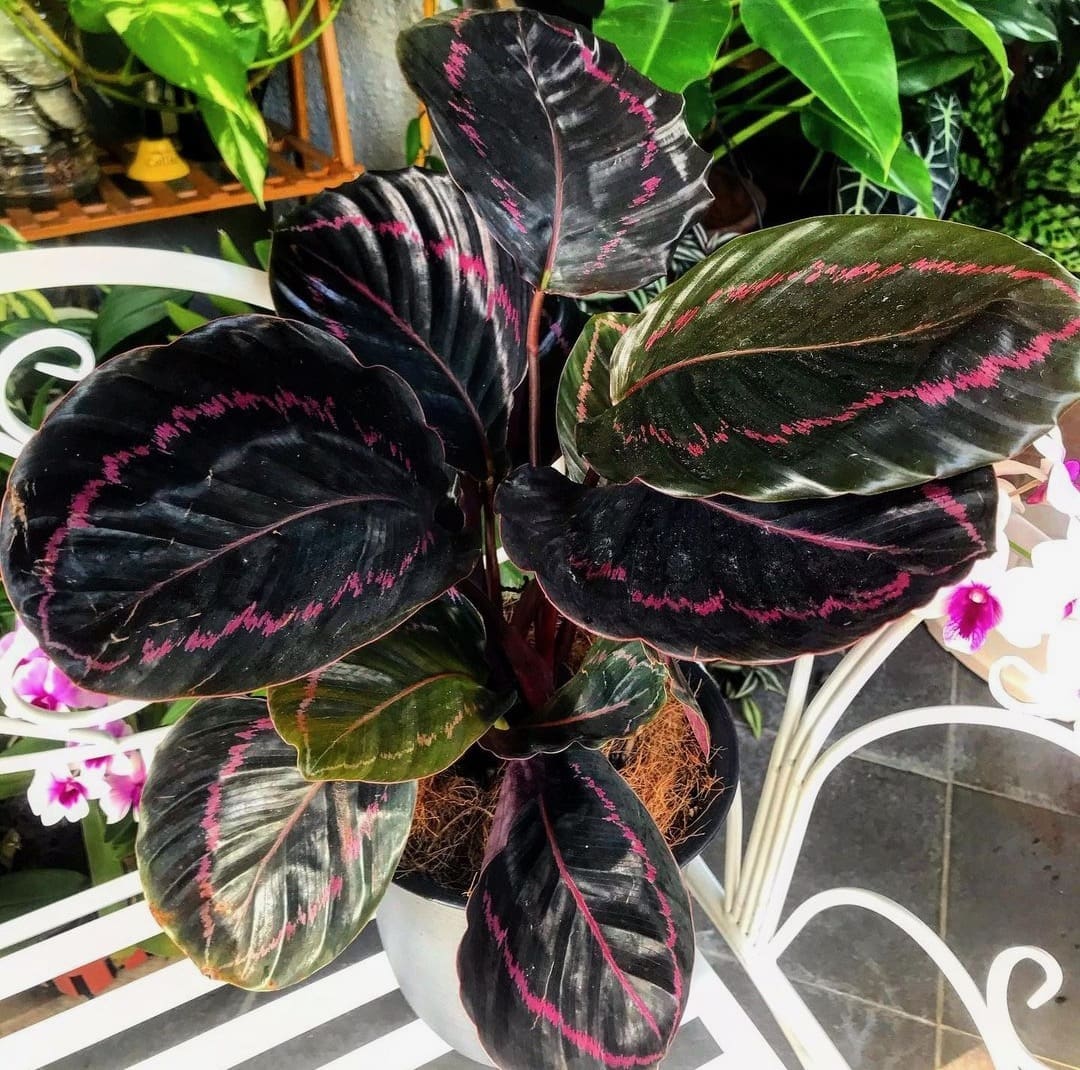 6. Pink Caladiums
This tropical plant has very similar leaves to the calathea. Caladiums come in a large variety of pink plants, from pink lady to apple blossom, displaying some beautiful colour variations.
Caladium's leaves will only grow larger and more dramatic with maturity. Displaying a lovely coloured inner leaf, whatever variety of pink you choose will definitely catch the eye of anyone entering the room.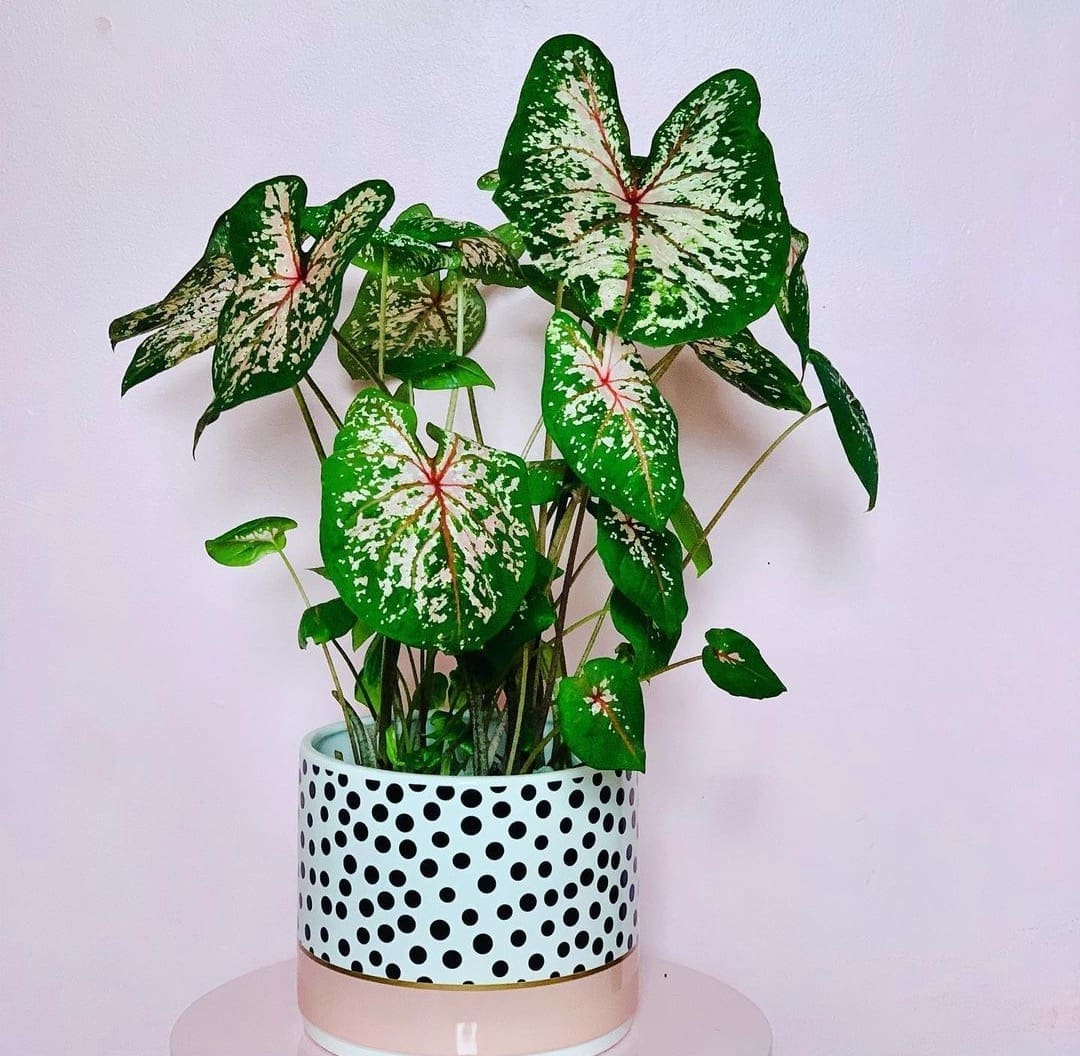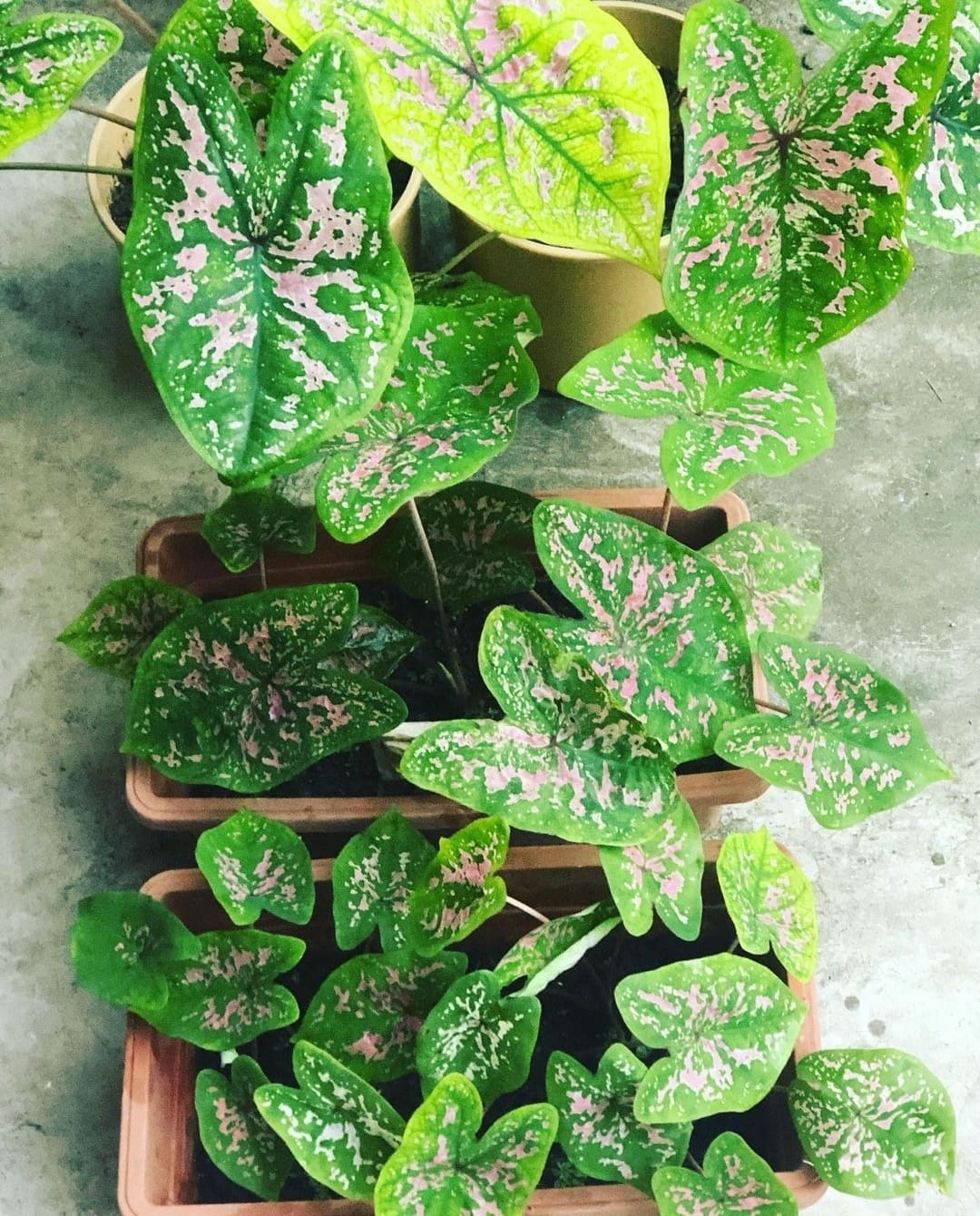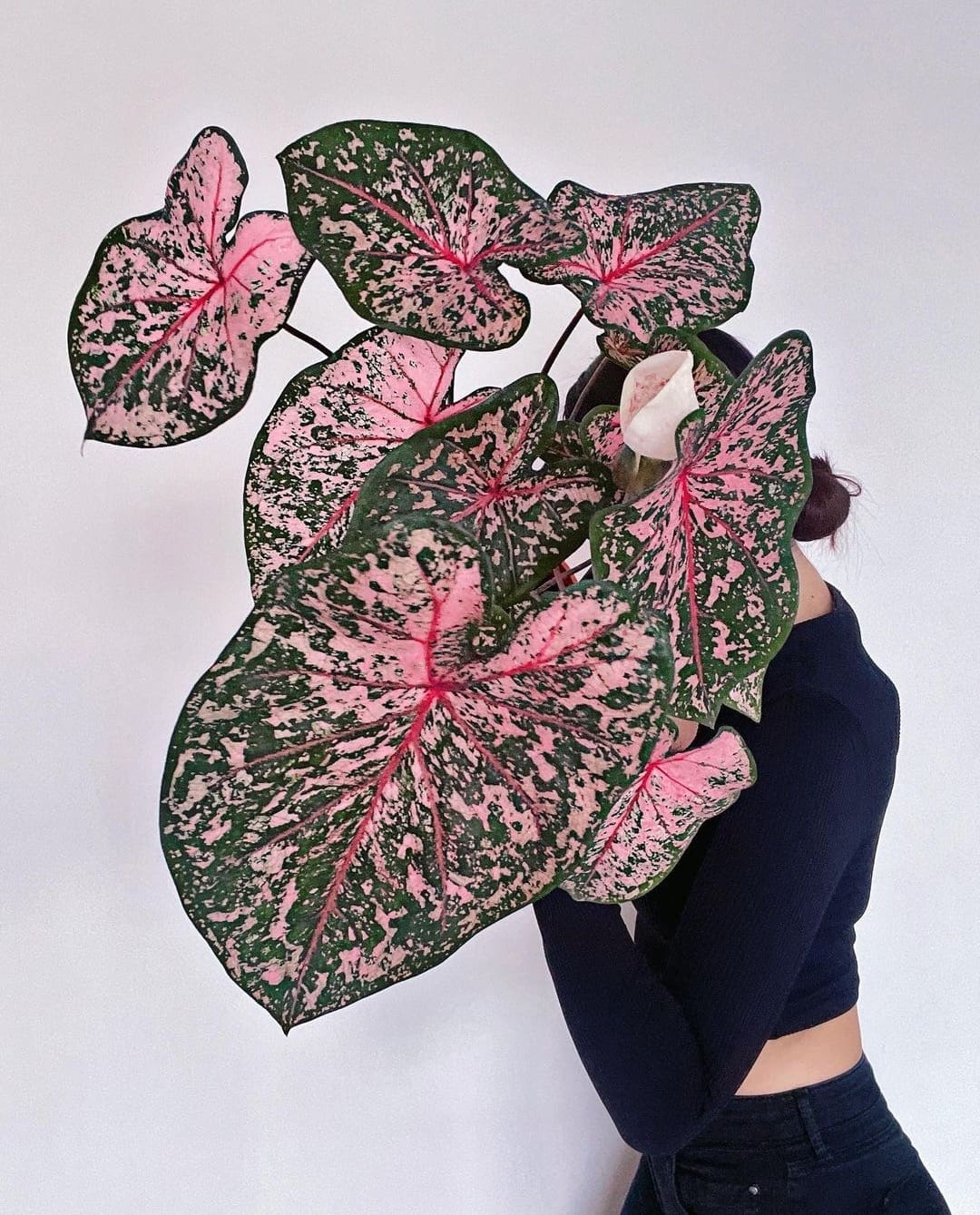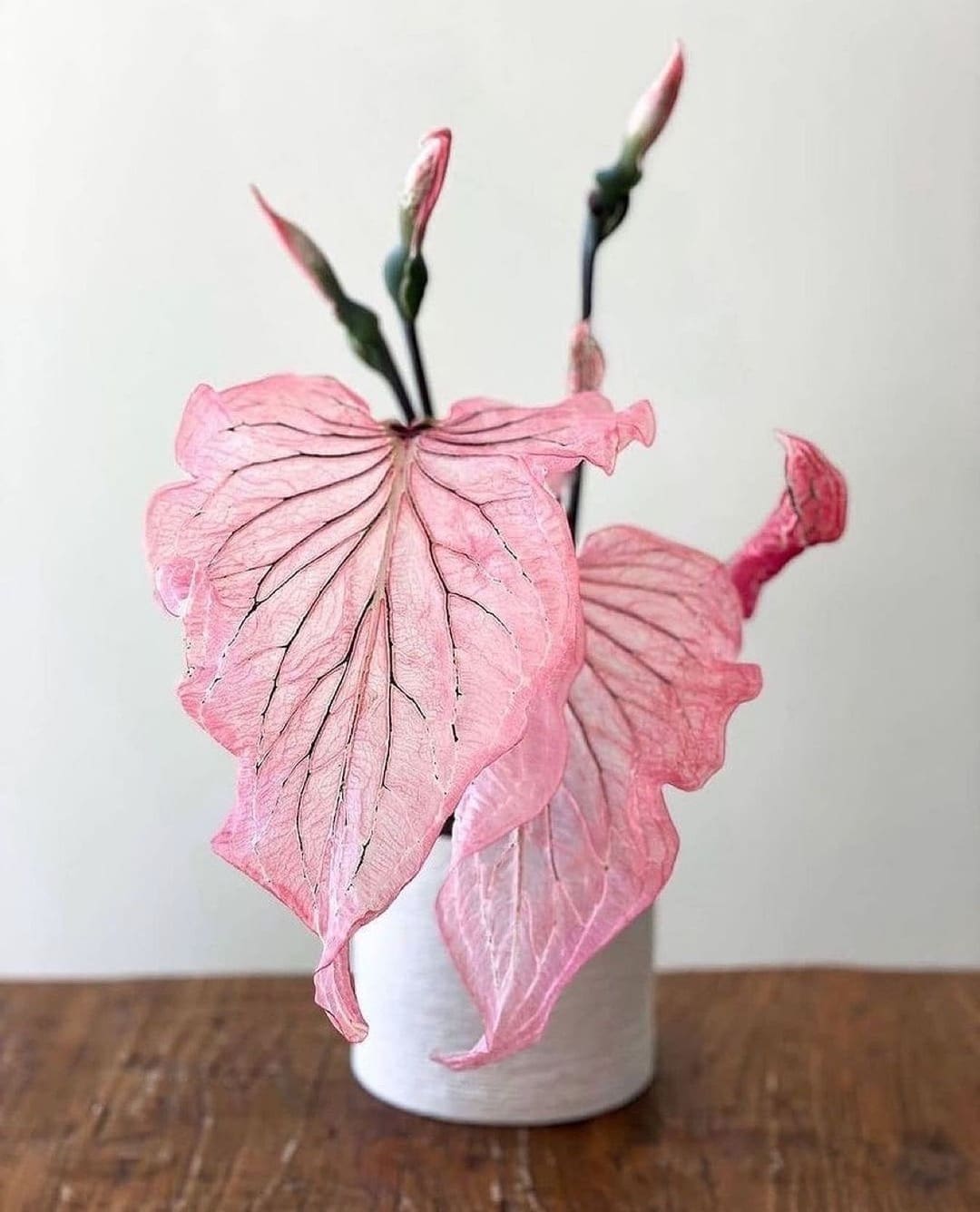 Shop our faves: Pots and planters
7. 'Pink Panther' Callisia
To finish this round up of the prettiest pink plants, we have the popular 'Pink Panther' Callisia plant. With muted striped leaves in pink, green and white, this pink plant can add the perfect splash of colour to your home. With succulent-like qualities, warm and bright is the way to go with this one.
Keep it in a pot by itself, hanging over the edge of shared pots or planted out in a rocky garden. As long as there is decent drainage with semi-regular watering, this beauty will thrive!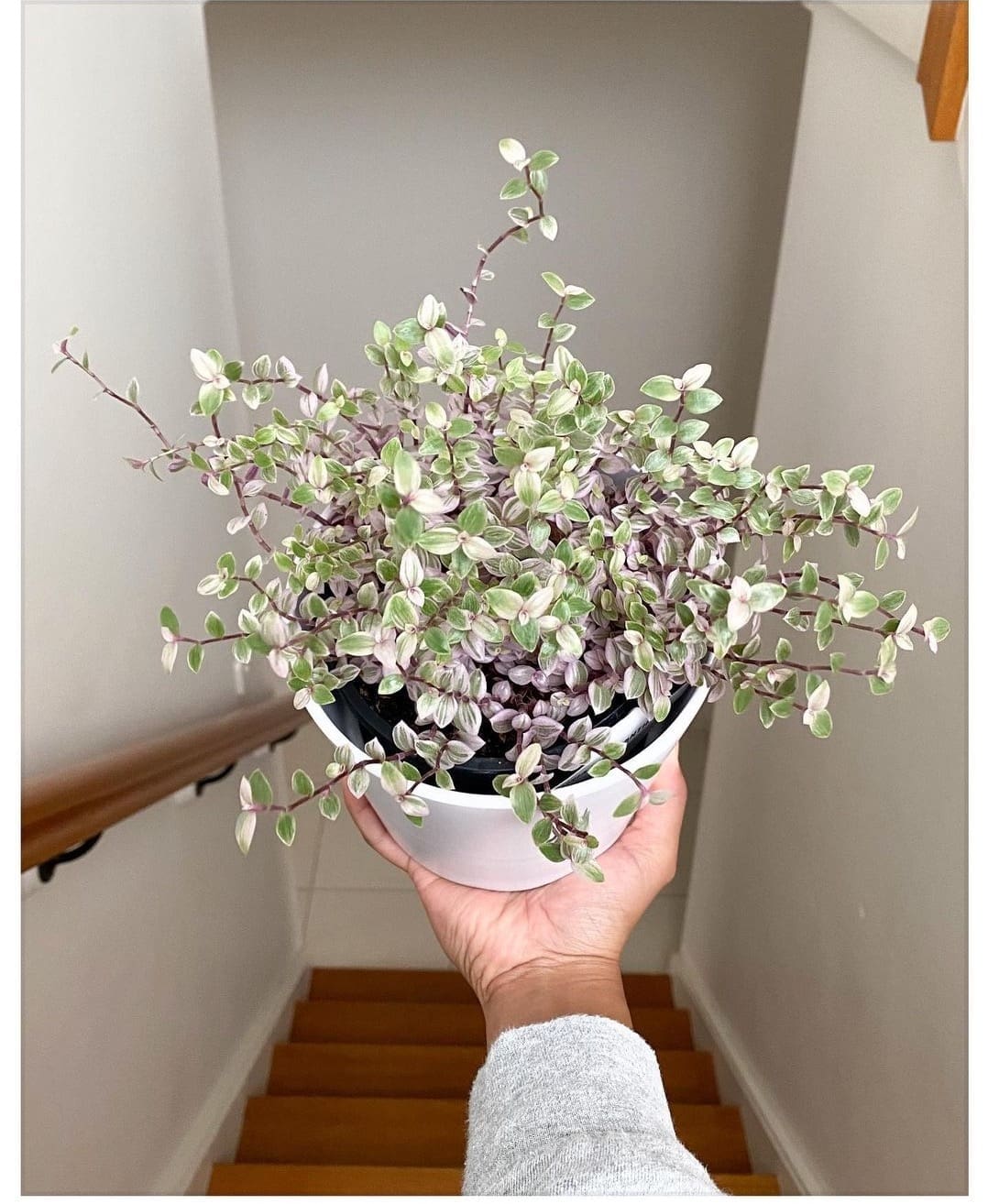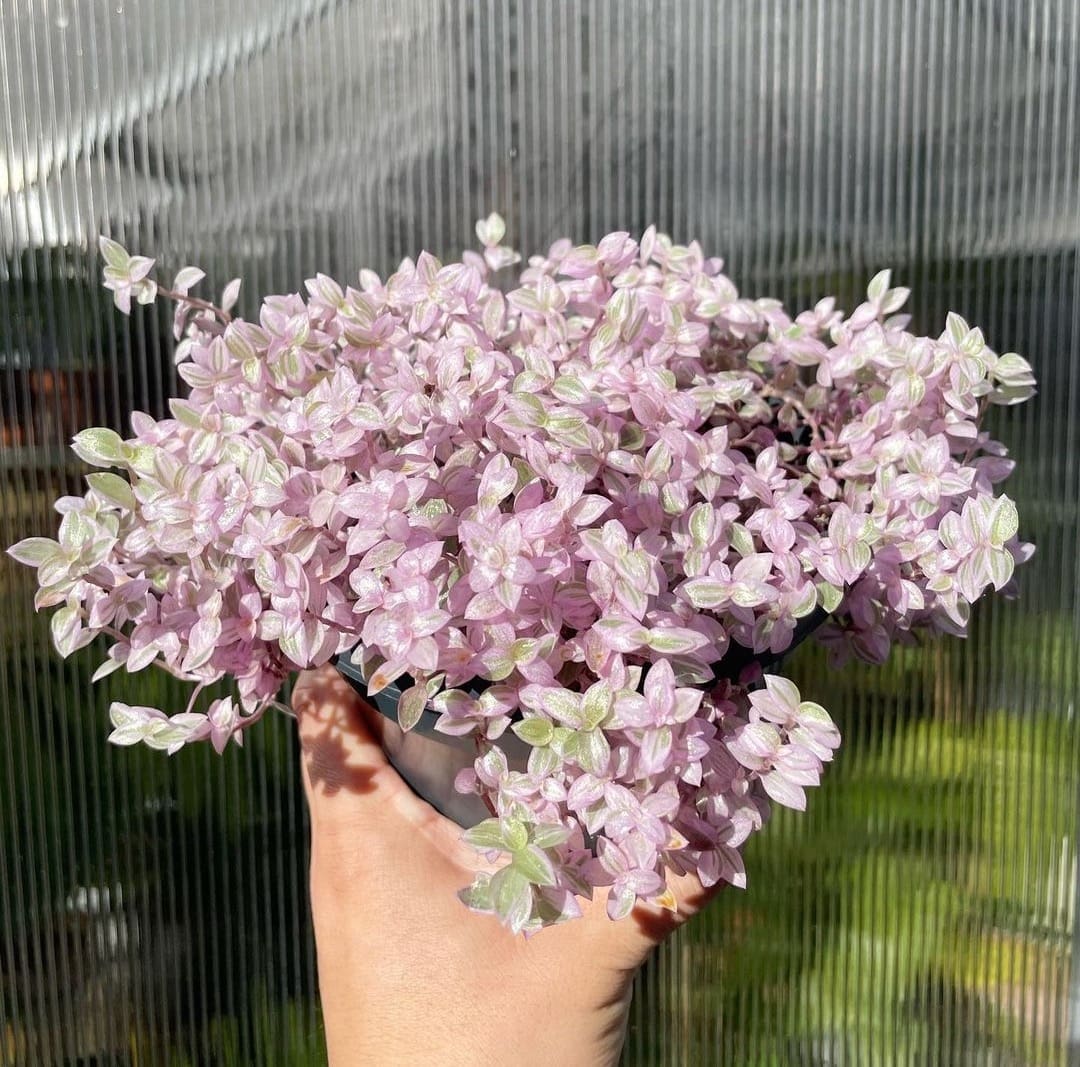 How did you find our 7 prettiest pink plants? Do you agree with our choices? Do you have any of these pink plants in your home? We'd love to hear your thoughts in the comment section below!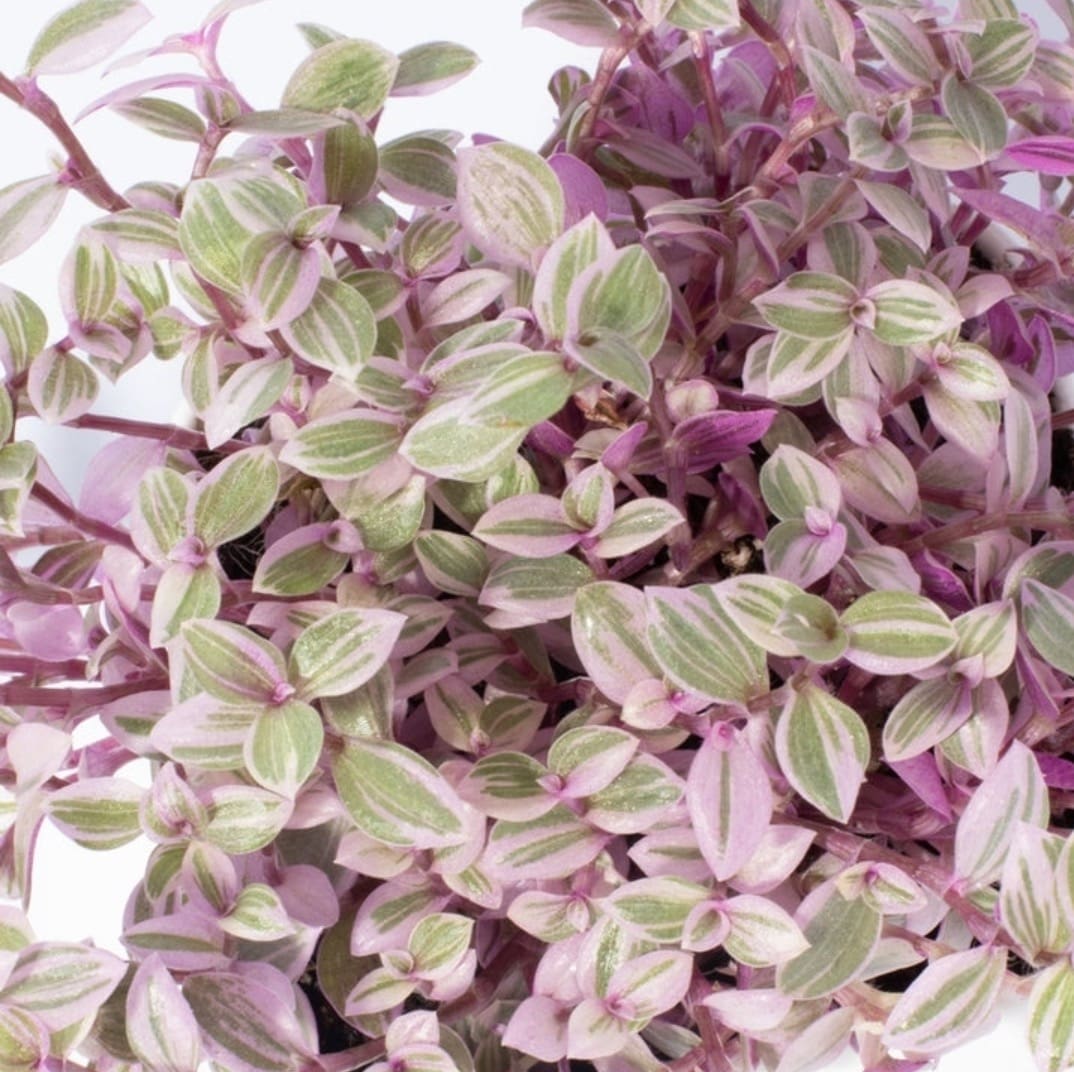 Disclaimer: This post contains some affiliate links. This means that when you click on a link and purchase something from that site, we may make a small commission at no extra cost to you.