The open concept living room floorplans that are so popular these days skip the walls and emphasize seamless space. While open-concept great rooms create a casual, inviting environment, you may feel overwhelmed when you decorate an open concept layout from scratch.
Here are some decorator tips for defining various areas, creating a distinctive style and linking different zones in an open concept living room.
1. Use Harmonious Design Elements

The paint colors, furniture styles and wood finishes in your great room do not have to match, but they should form a harmonious blend to be aesthetically pleasing. One popular way of creating a well-balanced open concept great room is to use a neutral color palette throughout. Painting all the adjoining walls in the same neutral color can unify the visual flow.
2. Create Cozy Conversation Areas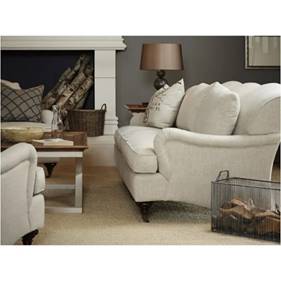 Use sofas, chairs and cocktail tables to create intimate conversation areas in a great room to make it more inviting. When you group the furniture close together with seats facing each other, you can produce the effect you are looking for. An
area rug with a coordinating color can help define the space.
3. Define and Separate Living Spaces
Today's great rooms incorporate living, dining and entertainment areas, as well as the kitchen. Some great rooms have architectural and other elements that help define each area, like a bay window, a fireplace or a breakfast bar. You can separate the different spaces by using color, pattern and texture as well as area rugs. The elements you pick can define the space while harmonizing with the overall design.
4. Add Focal Points
If your great room does not have natural focal points created by architectural features, you can add design elements with striking individual pieces and accent furniture. Further define your great room areas by using a distinctive cocktail table in the living area, an entertainment console with a fireplace insert in the entertainment space and a stunning dining table in the dining area to create focal points in your great room.
5. Choose Gorgeous Light Fixtures
A light fixture with a distinctive silhouette can go a long way to define an area in an open concept living room. When you make your selections pick light fixtures with similar styles that echo a finish, color or material found elsewhere in your great room.
One-Stop Shopping at Home Living Furniture
Discover a wide selection of name-brand furniture for today's lifestyles at Home Living Furniture in Howell, New Jersey. Enjoy a one-stop-shop experience for every room in the house, including the great room.
For information about Home Living Furniture weekly sales and promotions and to shop online, visit homelivingfurniture.com.