Many of us spend a lot of time in the living room, and yet the living room might provide the amount of storage space we need. That situation can set the scene for the living room to become a breeding ground for clutter, from the TV remote and magazines to electronic devices. But with a little planning and some stylish additions, you can keep your room neat to show off your beautiful furniture and decor items. From stylish accent cabinets and curios to multifunctional pieces like storage ottomans and lift-top cocktail tables, the choice is yours. Of course, beautiful etageres have always been a staple in the living room.
Here are some easy living room storage ideas to control the clutter and make the living room a favorite spot in the house to relax with family and friends.
1. Add an Attractive Accent Cabinet

Accent cabinets provide storage space on shelving behind closed doors. Accent furniture is designed to stand out and add style to your room. A beautifully crafted accent cabinet can give your living room that "wow factor" and give you the storage space you need. An accent cabinet can also act as a buffet to hold snacks when guests come to call.
2. Consider a Curio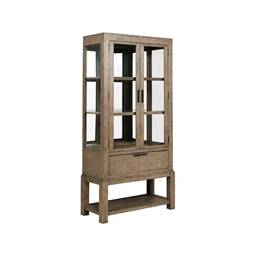 Curio cabinets are the perfect way to keep breakable items safe and display a treasured collection. Choose the right curio for your living room in styles ranging from contemporary to traditional, and everything in between. Because of its narrow shape, a curio cabinet is easy to fit along a wall or in a corner of the living room.
3. Opt for a Storage Ottoman
Now that we are spending more time at home, selecting multifunctional furniture is a good idea for convenience. In the living room, a storage ottoman can serve as a cocktail table and provide hidden storage for bulky items like throw blankets. Some living room sets come with matching storage ottomans. If they don't, you can add an ottoman in another style or color as an accent piece.
4. Bring in a Bookcase
Bookcases and
etageres
can help control the clutter and provide a space to display decorative items. Place small vases, sculptures and framed photos among the books and other items to give your living room additional style. This year it's all about bringing the outside in, so don't forget the potted plant.
5. Leverage a Lift-Top Cocktail Table
The lift-top cocktail table is a newer item that is multifunctional in the sense that it provides a surface to keep items handy and storage space below. It works on a smooth hinge mechanism that allows the table surface to rise above the base to provide a workspace for a laptop. When the top rises, it reveals an interior storage space for magazines, books and electronics.
One-Stop Shopping at Home Living Furniture
Discover a huge selection of living room furniture to help tame the clutter at Home Living Furniture in Howell, New Jersey. Enjoy a one-stop-shop experience for every room in the house, including the home office, the entertainment space and the outdoor patio.
For information about Home Living Furniture weekly sales and promotions and to shop online, visit homelivingfurniture.com.