The modern farmhouse look is gaining in popularity, with good reason. In a world filled with headline-grabbing issues, it's no wonder that we strive to make our home a true haven. The modern farmhouse trend serves up a casual look with traditional charm and a generous helping of timeless good taste.
Decorators use the farmhouse look to create welcoming open spaces. Choose natural materials in soft colors and add plenty of natural materials like wood. Lamps and chairs with a vintage vibe plus the greenery of house plants complete the modern farmhouse look.
Here are some tips for creating a trendy farmhouse style in your home.
Choose the Right Color Palette
Refresh your house with white or use warm beige shades that harmonize well with house plants. Green hues and cool grays with green undertones are perfect for a modern farmhouse look. Accents of deep blue and light brown blend well with farmhouse decor.
Combine Vintage Comfort with Contemporary Sensibilities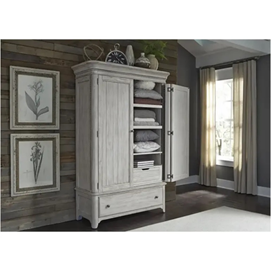 Modern farmhouse decor is inspired by the nostalgia of simpler times. Create the look by blending the warmth of country charm with modern elements such as natural materials and clean lines. Textured fabrics add another layer of style.
Add Wood Furniture and Decorative Items
Wood dining tables, chairs and ceiling beams make a strong statement of style in a home featuring a farmhouse design. Wood furniture like benches, sideboards, dressers and kitchen stools can blur the line between farmhouse and rustic. For a finishing touch, select wood decor items like picture frames and candlesticks.
Change Up the Textures
Texture can go a long way in creating an inviting farmhouse look for your home. Think rough wood planks, cool linen and cotton fabrics and the appeal of natural stone.
Make it Eco-Friendly
Look for eco-friendly furniture brands that feature eco-friendly materials and fabrics. Sustainable materials like bamboo can be renewed rapidly and wood may be sourced from sustainable resources. Also, some manufacturers are committed to eliminating toxic chemicals and VOCs (Volatile Organic Compounds) in their production process.
Don't Forget the Plants
Potted plants and culinary greens add an authentic touch to modern farmhouse decor. A simple small bouquet of heather or lavender can achieve the look you want. Enhance the effect with fresh-cut flowers like roses and hydrangeas and add dried flowers and botany prints.
The Farmhouse Look at Home Living Furniture
Find a wide selection of farmhouse furniture for today's lifestyles at

Home Living Furniture in Howell, New Jersey. Enjoy discount prices from name brands like Universal, Liberty and Magnussen on furniture collections with a farmhouse look.
For information about Home Living Furniture weekly sales and promotions and to shop online, visit homelivingfurniture.com.