It's true, there is such a thing as a stylish bathroom DIY idea! While there are A LOT of questionable do-it-yourself bathroom accessories out there, we've waded through them all to find you on-trend and achievable ideas. Trust other crafty bloggers and DIYers on Instagram to show how it's done!
So prepare to get inspired with our round up of top bathroom decor DIY ideas that are actually stylish.
Related article: Bathroom styling inspiration: From vanity styling ideas to wall niche inspo, we have it all!
Related article: Top 7 stylish bathroom accessories: Must-have bathroom decor to elevate your space
1. Plastic bottle upcycle
Who knew you could make a vase out of a plastic bottle? Vases and vessels are some of our favourite bathroom styling decor items. Easy, quick and cheap, you can now upcycle your old plastic bottles to make a vase using this clever DIY by Collective Gen.
2. Sweet tray or trinket dish
Sure it's styled on a coffee table here but this pastel tray would work equally as well in a bathroom. Use it as a tray under a bathroom vignette or make a slightly smaller dish for your jewellery or hair ties. Made from polymer clay, you can have so much fun creating your own version. For example, you could use different clay colour combinations or play with different tray shapes.
3. Towel holder
If you lack a linen closet or love to display towels in your bathroom, look no further than this bathroom decor hack! This DIY towel holder by Never Skip Brunch is a simple way to turn your towels into wall art while storing them for future use.
4. DIY spherical candle
Any type of candle in the bathroom is a good idea! Not only do candles add a heavenly scent to your bathroom, but they enhance your bathroom styling too. Make your own trendy spherical candle with our simple DIY, which is easily customisable to your styling needs. Find the full tutorial here.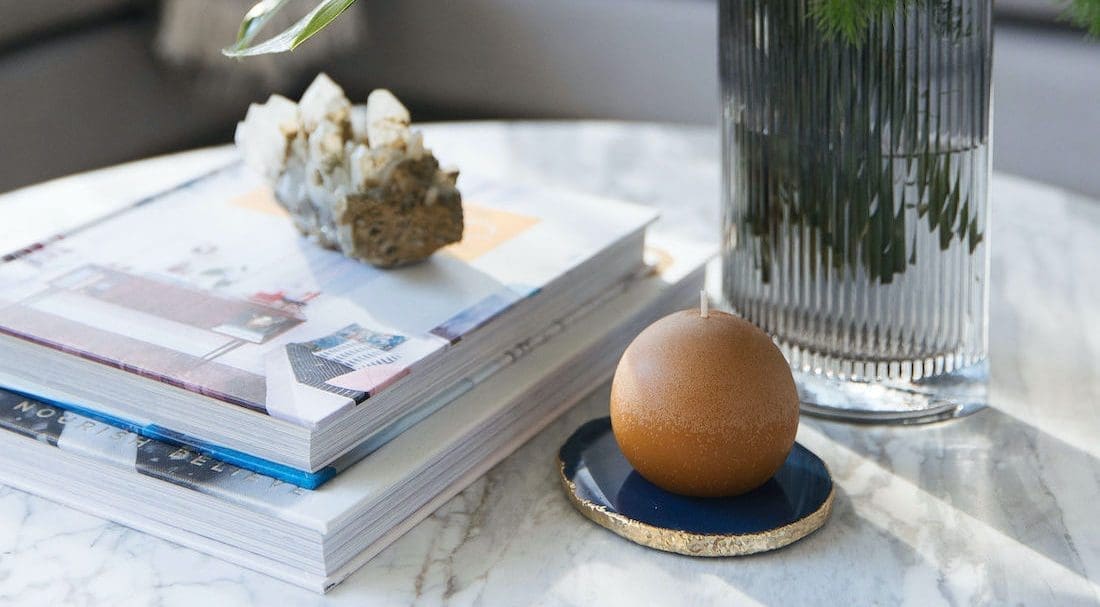 5. Bath tray or caddy
Who doesn't love unwinding in bath with a great book and heavily candle scent? Well we've created the world's easiest DIY bath tray — practical when you're using the bath (no more soggy book pages!) and a great way to add more style to your bathroom. Find the full tutorial here.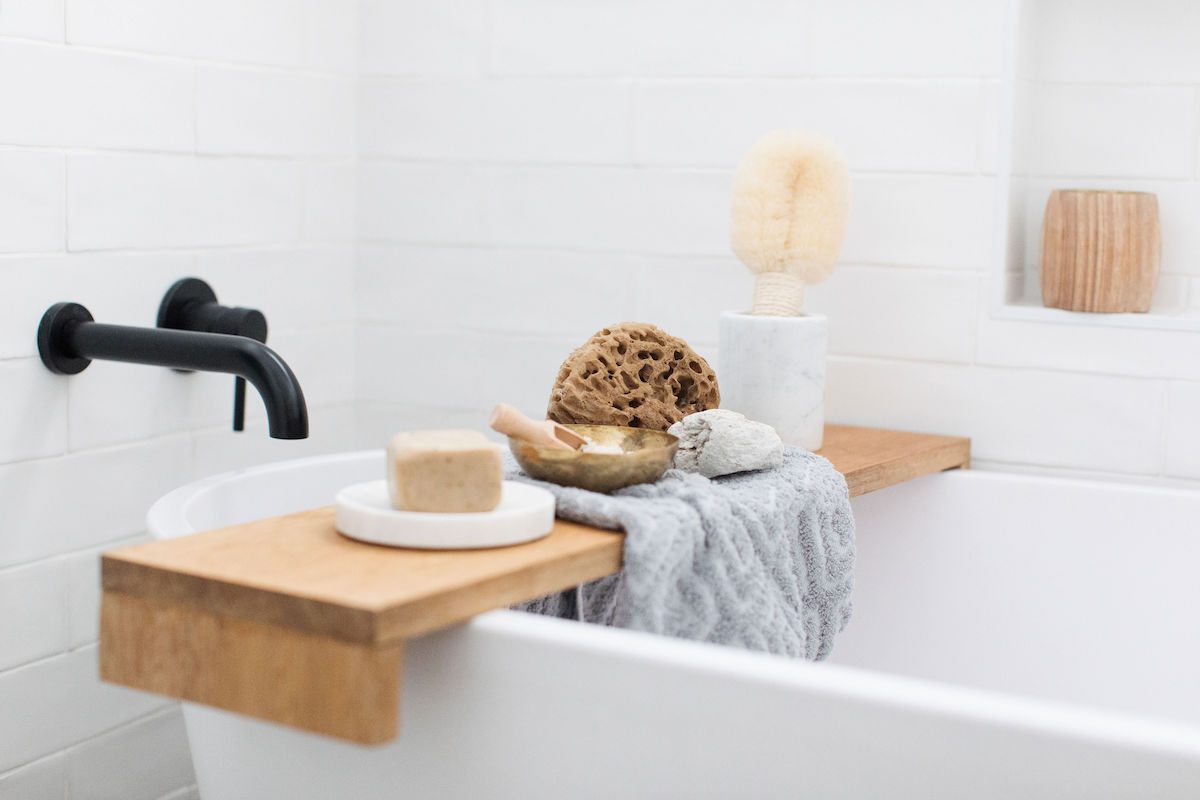 6. DIY mirrored trinket tray
Another great jewellery holder idea is this DIY mirrored trinket tray. Holly from Club Crafted DIY'd this mirrored trinket dish using gold macrame hoops and a small mirror! Check out her tutorial or get creative and think what materials you could use to create your own unique trinket dish.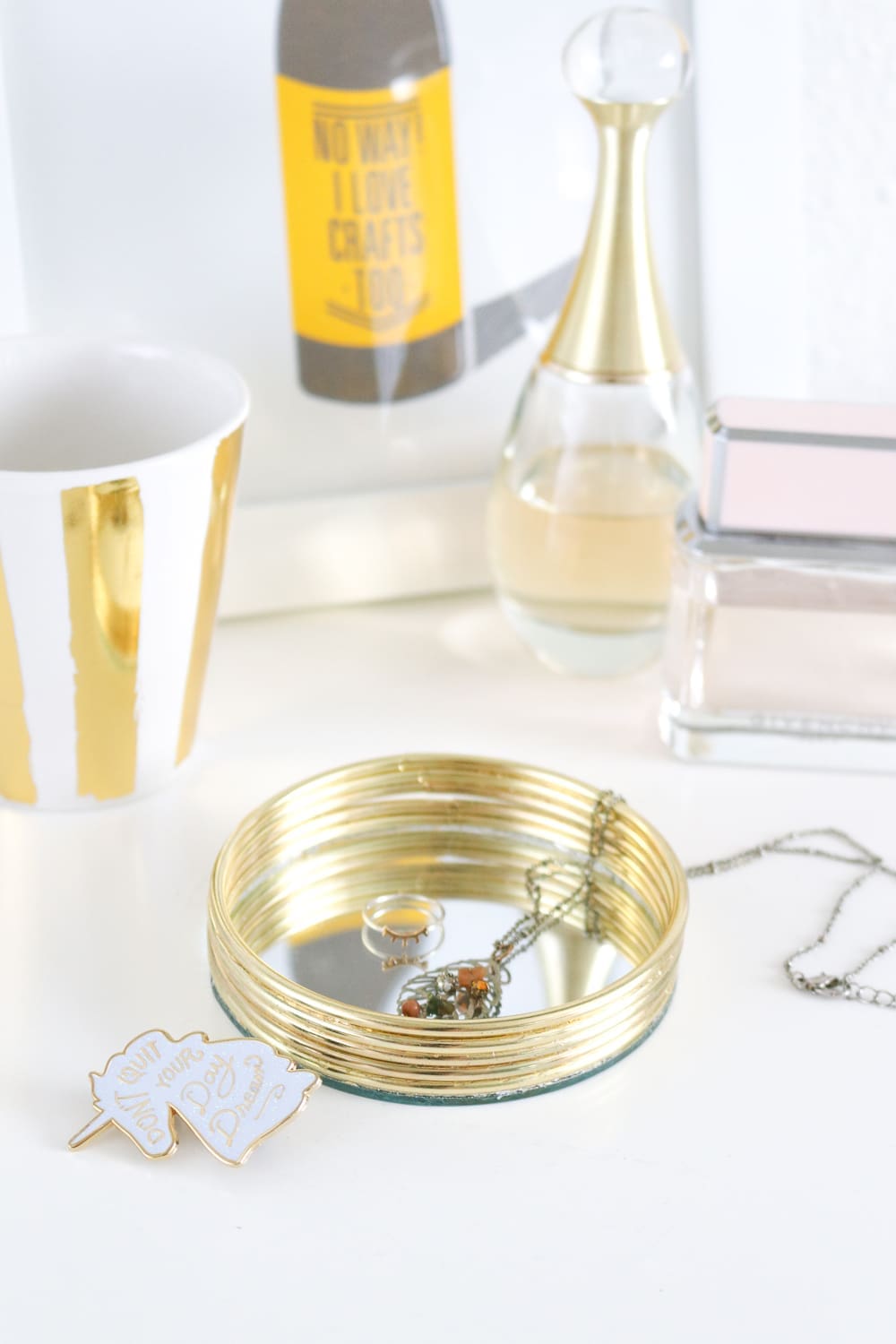 7. Some more bathtub trays
There are so many ways you can DIY your own bath tray and if you're looking for one with a more rustic aesthetic than ours, check out these two from Leslie from Deeply Southern Home. There's a simple tray design with reclaimed wood for beginner DIYers or newer design with an iPad station.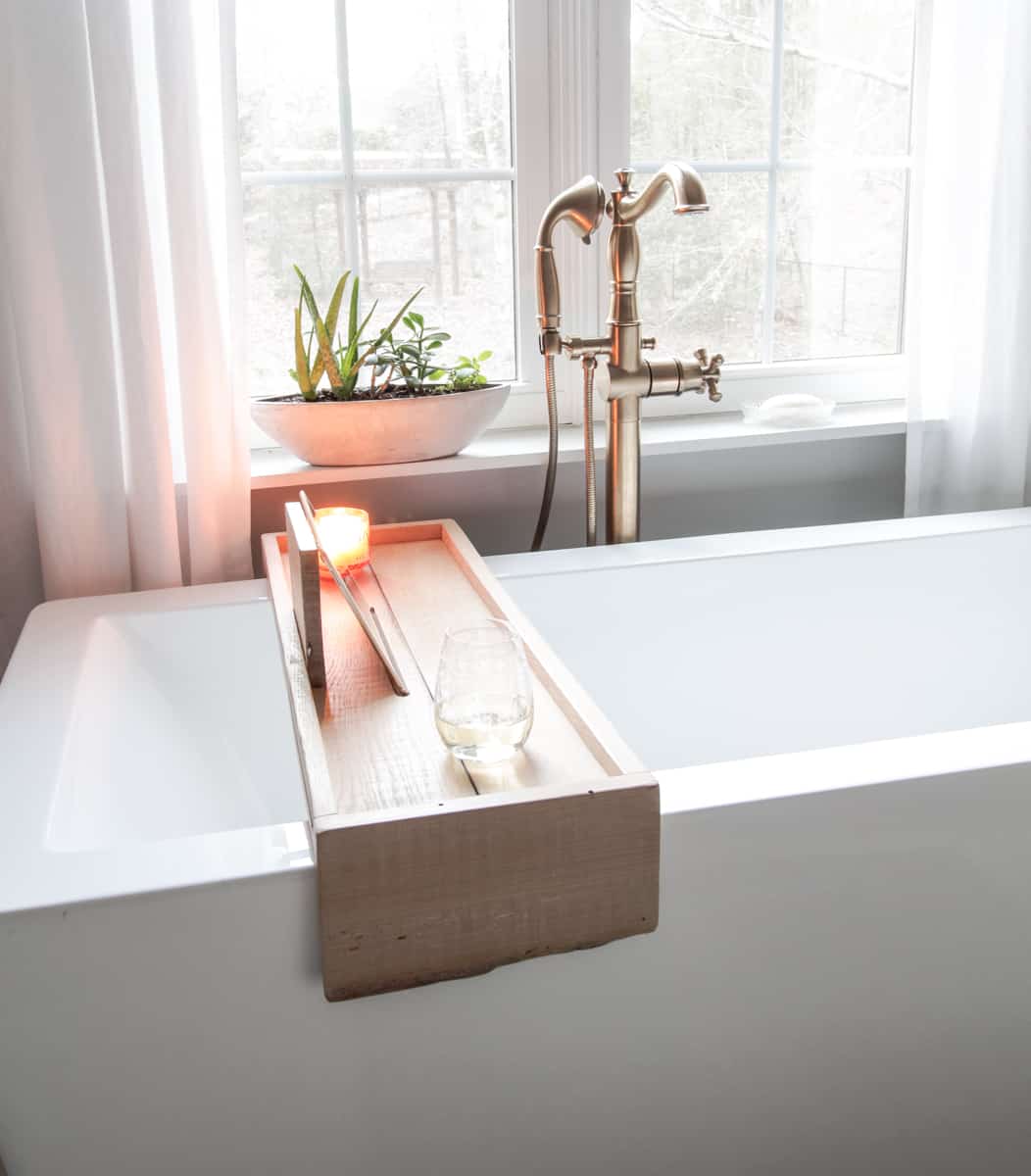 8. Grid tile tissue box cover
Keep your tissues nearby in style with our grid tile tissue box cover! With the right tools, this DIY will be a breeze and add an interesting touch of texture to your bathroom. Don't forget that it's easily customisable too! Find the full tutorial here.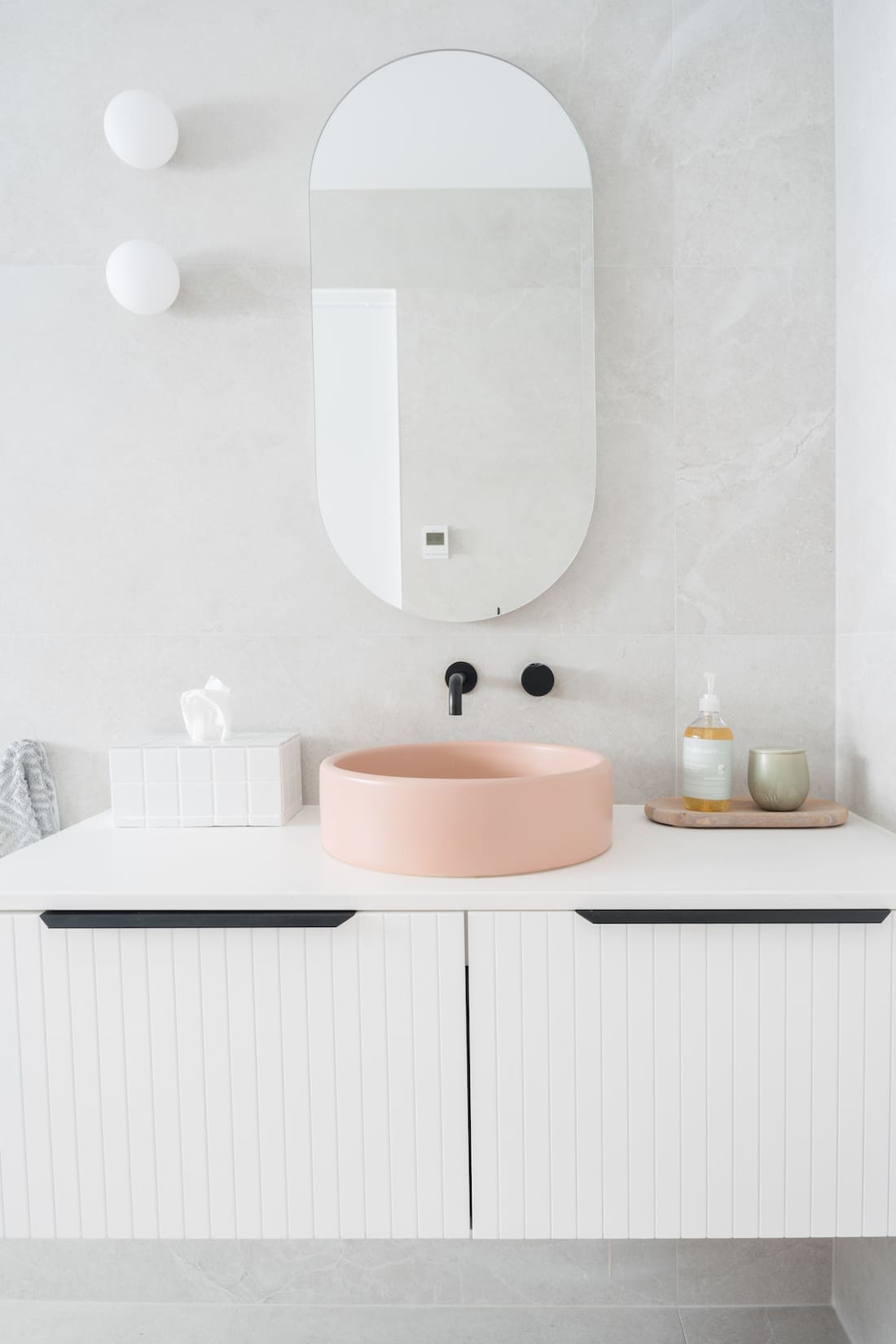 9. Dip-Dyed stool
Three-legged stools were trending in a big way a few years back but we still love this sweet and practical dip-dyed stool from Wildfire Restoration. A stool next to your bath can provide the perfect surface to set out some self care products. Duplicating a stylish but expensive example from a furniture website, this DIY is an affordable alternative to many stools on the market.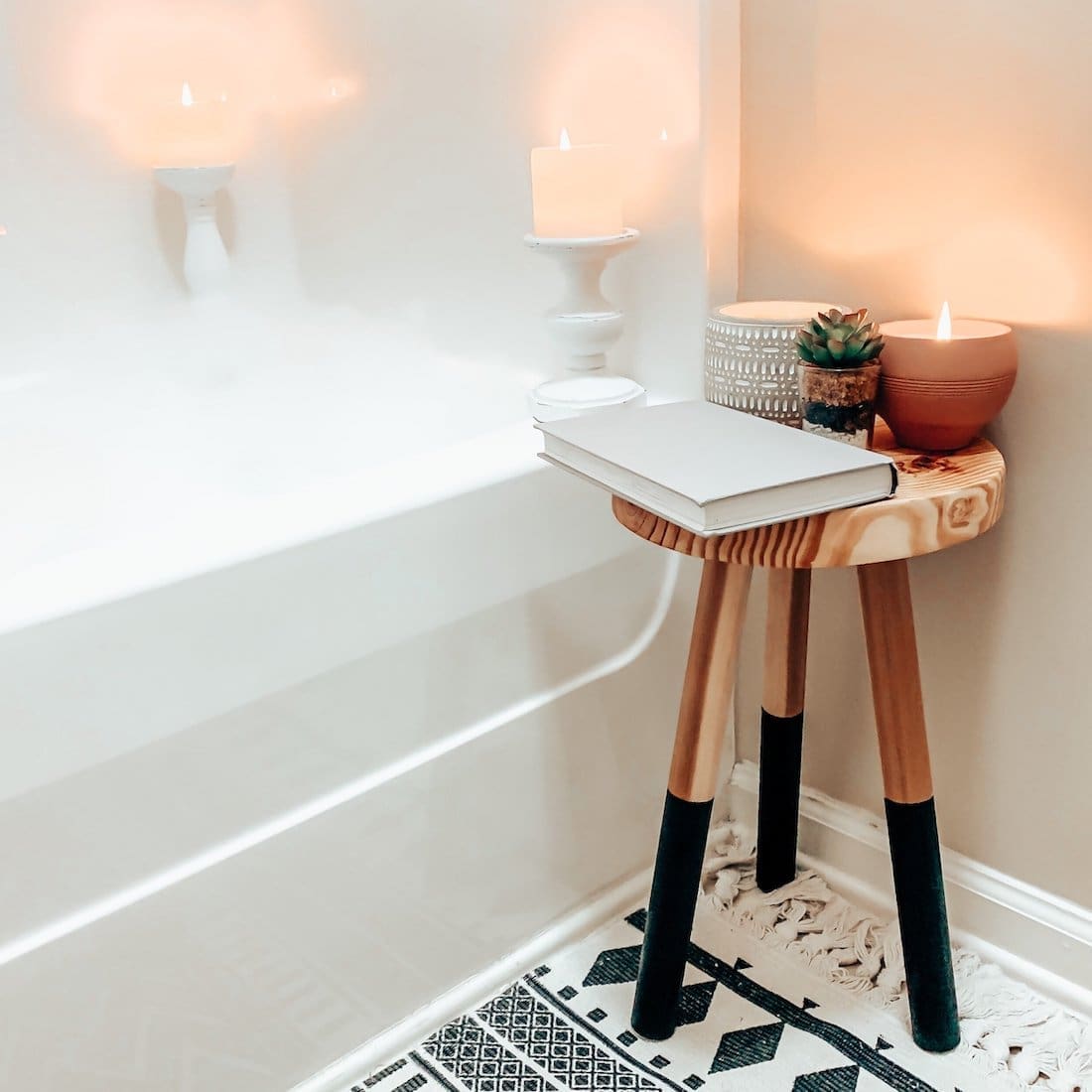 10. Floating mirror
In urgent need of a bigger mirror, Shara from Woodshop Diaries created this floating sunset mirror DIY. This DIY requires basic woodworking knowledge, but it's a simple DIY that can update your bathroom for less. And we love the extra bit of storage the shelf provides!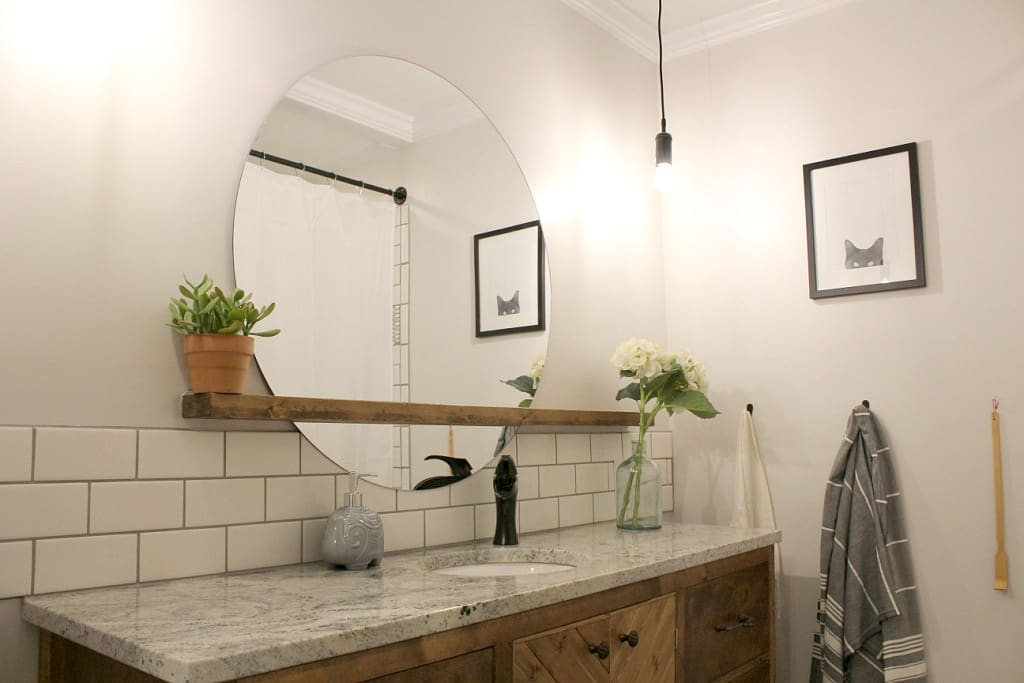 11. Organic shaped mirror
Or for an on-trend bathroom mirror, we love this organic shaped mirror Gen created. She transformed her $24 mirror into a puddle shaped mirror with plaster effect boarder, perfect for channelling Mediterranean or contemporary vibes. Find her mirror tutorial here.
We hope you enjoyed this roundup of stylish bathroom decor DIY ideas that we would be happy to feature in our homes. Are you going to try any of these bathroom decor DIY ideas? Have you seen other stylish ideas for the bathroom? We'd love to hear your thoughts in the comment section below!