Feeling inspired to decorate your bathroom? Great, you've come to the right place because we've got styling tips and inspo to cover every zone of the bathroom. Whether you're looking for new ways to style your vanity or how to arrange items on a bath tray, we've got it covered!
So read on as we share our favourite bathroom styling inspiration and advice on how to bring it into your home.
Related article: How to decorate your bathroom: Bathroom styling tips and tricks
Related article: Top 7 stylish bathroom accessories: Must-have bathroom decor to elevate your space
Our favourite bathroom decor
The first challenge of styling any space is finding the right pieces of home decor.
When it comes to styling you bathroom, there are a variety of items you can use including:
soaps and body products
collection of perfumes
jewellery box
trinket dishes or bowls
brushes (body brushes, loofahs, make up brushes etc)
small items of decor (such as a sculpture)
candles
vases or vessels
indoor plants
towels.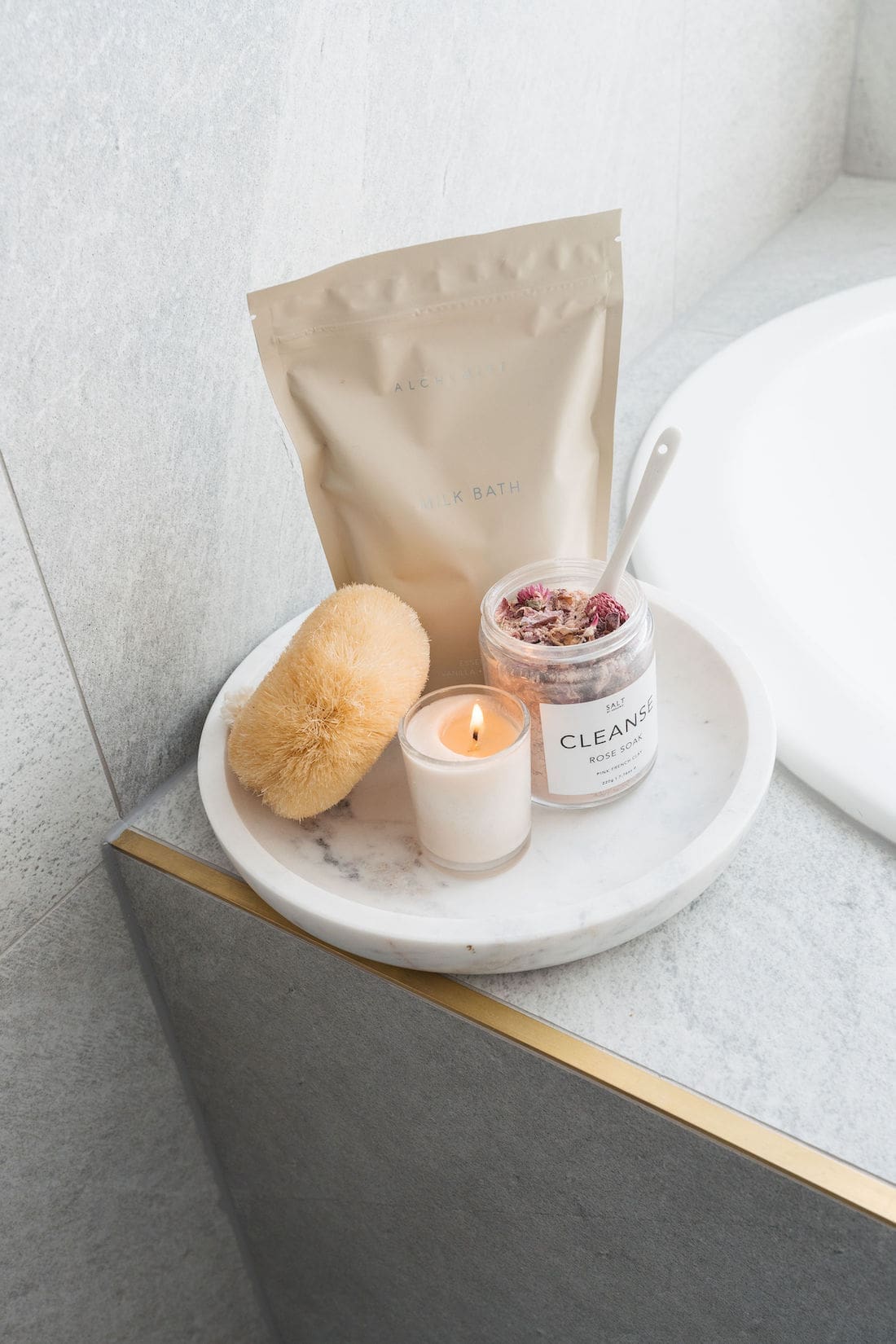 Vanity styling
Now let's go zone by zone around the bathroom, sharing plenty of inspo pics and top styling tips. Firstly, the vanity! Most bathrooms are designed so the vanity is front and centre and depending on size, there are various ways you can style it.
Small arrangement to one side
If you only have a small vanity or you prefer a more minimalist look, creating a small arrangement to one side may be the perfect way to style your vanity.
How to create a small bathroom vignette:
remember styling in odd numbers looks most balancing to the eye. So pick out 3, 5 or 7 items of bathroom decor, mixing up height and scale, to create the arrangement
add a pop of life, such as a vase of stems, piece of coral or other item from nature
the easiest rule to follow is one large item, one medium item and one small item. But if you feel like challenging yourself to create a slightly larger arrangement, take a look at that gorgeous bathroom styling by The Stables below.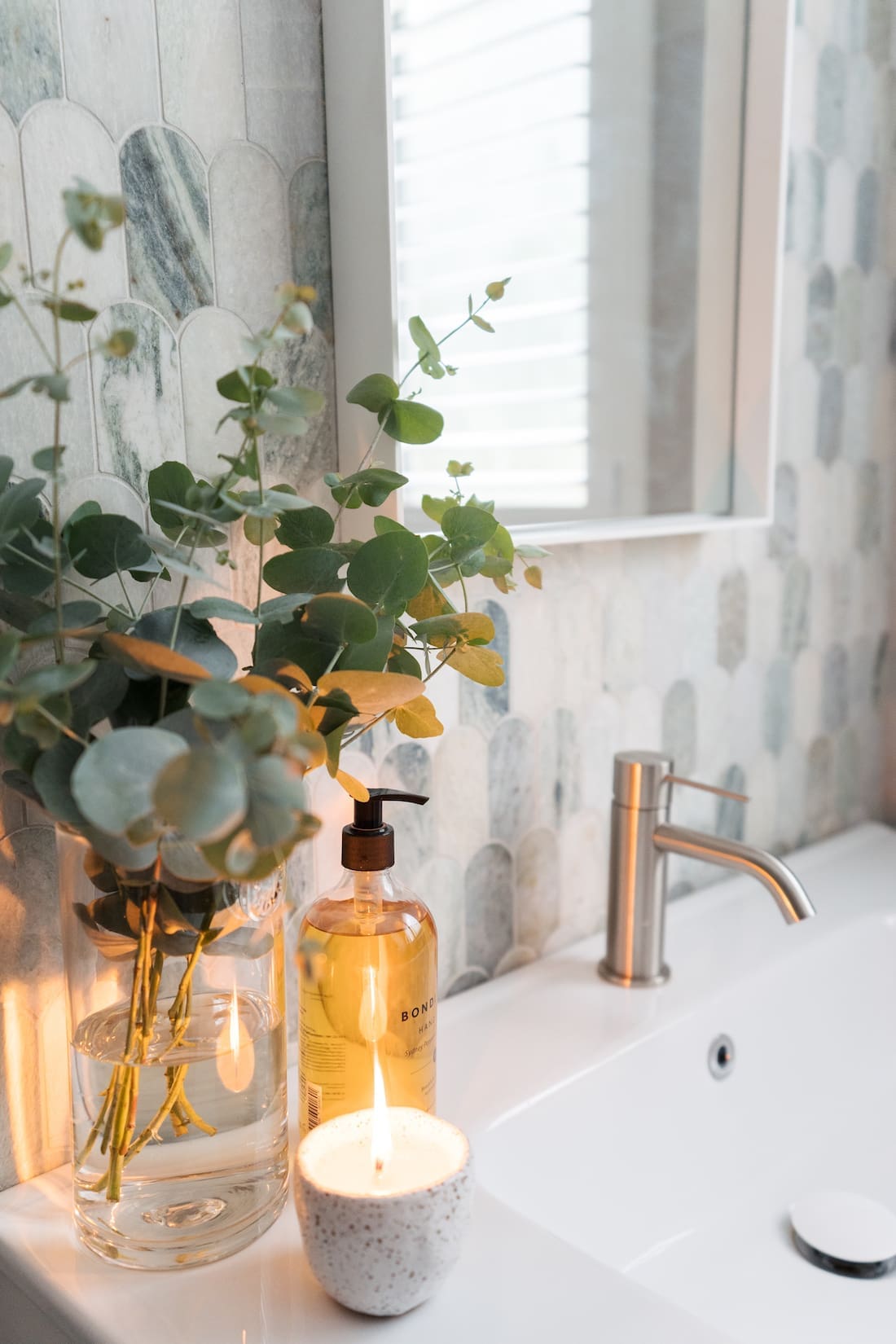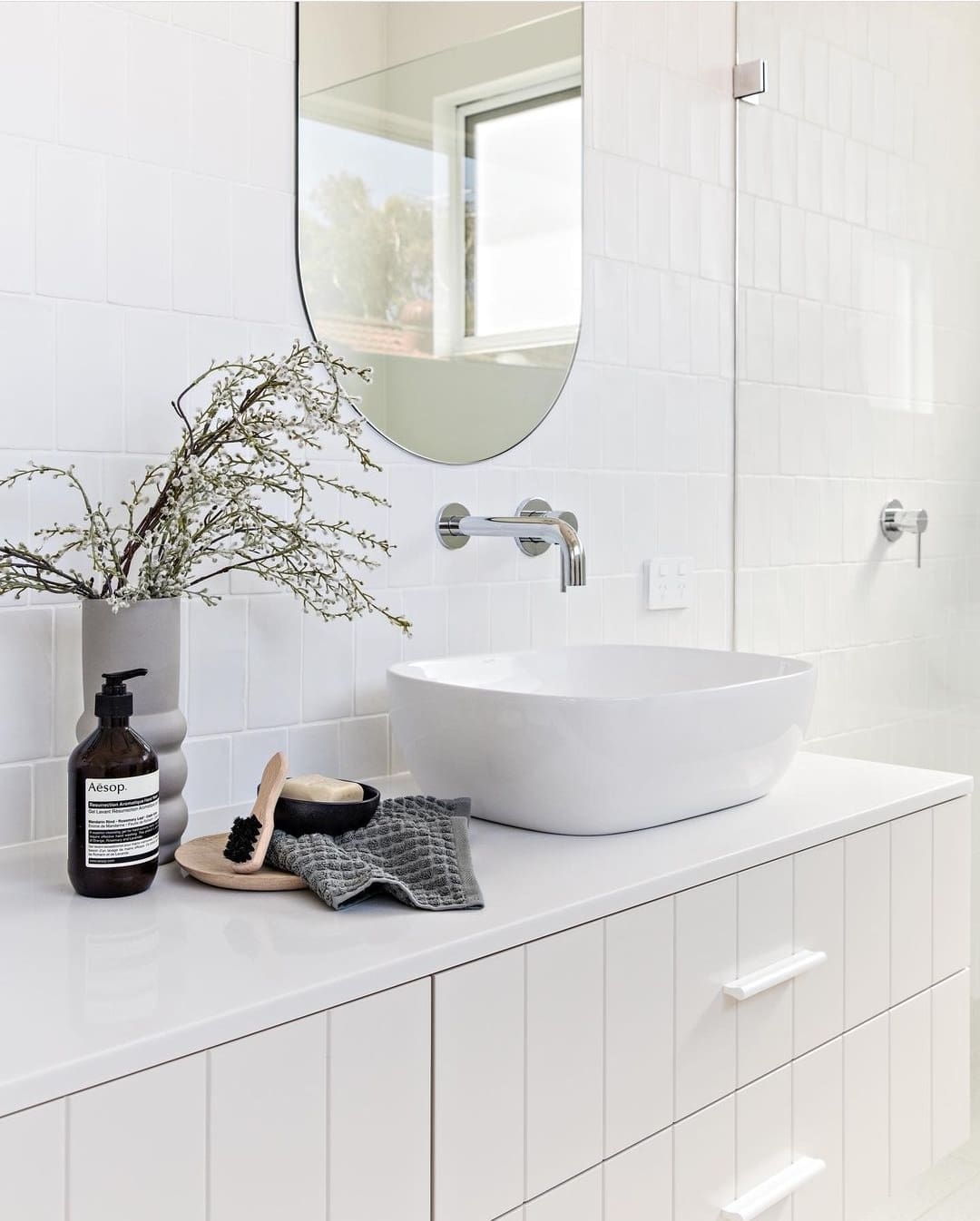 Create a styled arrangement on a tray or trivet
Another way to style your vanity is to pick up a tray or trivet and create a styled arrangement on top. Using a tray as a base immediately elevates your bathroom styling as it makes smaller items look as though they belong. There's a huge variety on the market now — concrete, marble, travertine, brass, ceramic — so you'll be sure to find one that suits your bathroom style.
Tips to styling bathroom decor on a tray:
keep it functional. Modern bathroom styling is more pared back and minimalist these days so ditch your dried floral arrangements and show some restraint. Of course, we won't say no to a candle or diffuser, and some pretty florals in the mix 😉
mix height and scale to create visual interest
remember that styling in odd numbers (items of 5, 7, 9 etc) generally works best
introduce warmth with natural materials, like a natural bristle brush
add life with greenery, such as indoor plants plants, flowers or stems (like those gorgeous olive branches below)
consider having a theme, such as coastal decor or harmonious colours.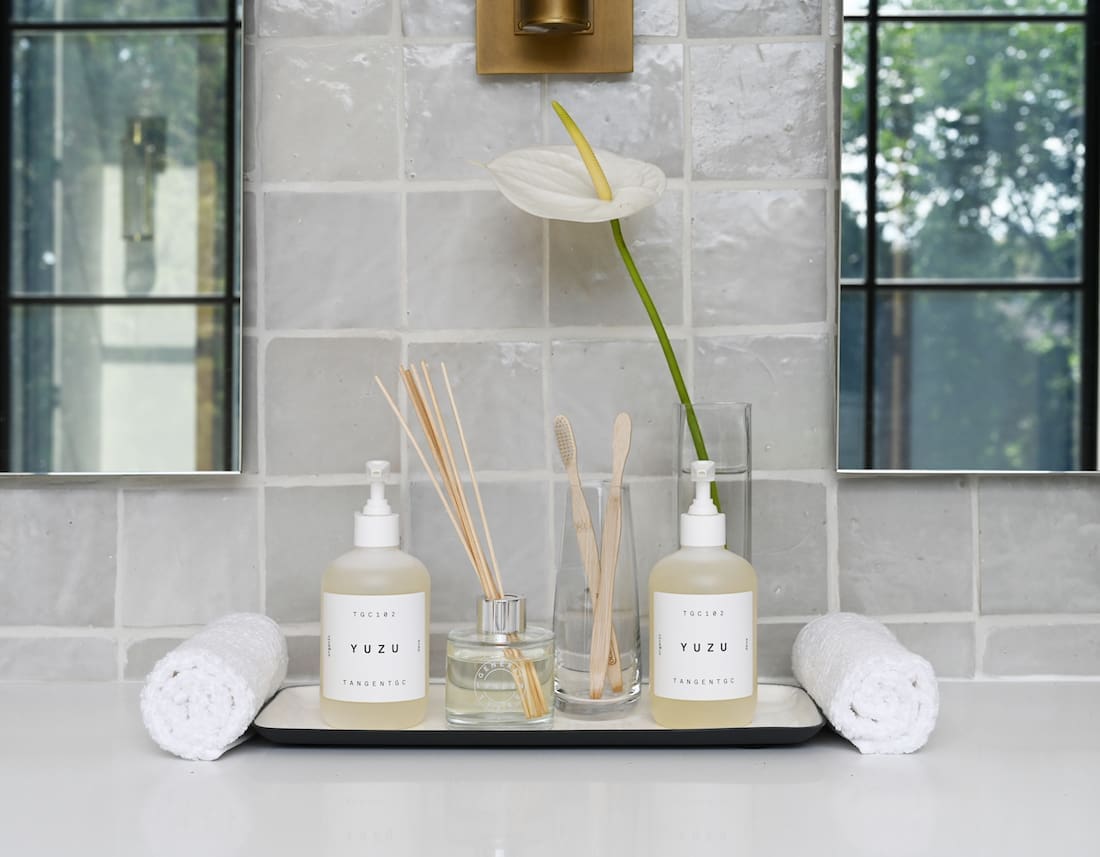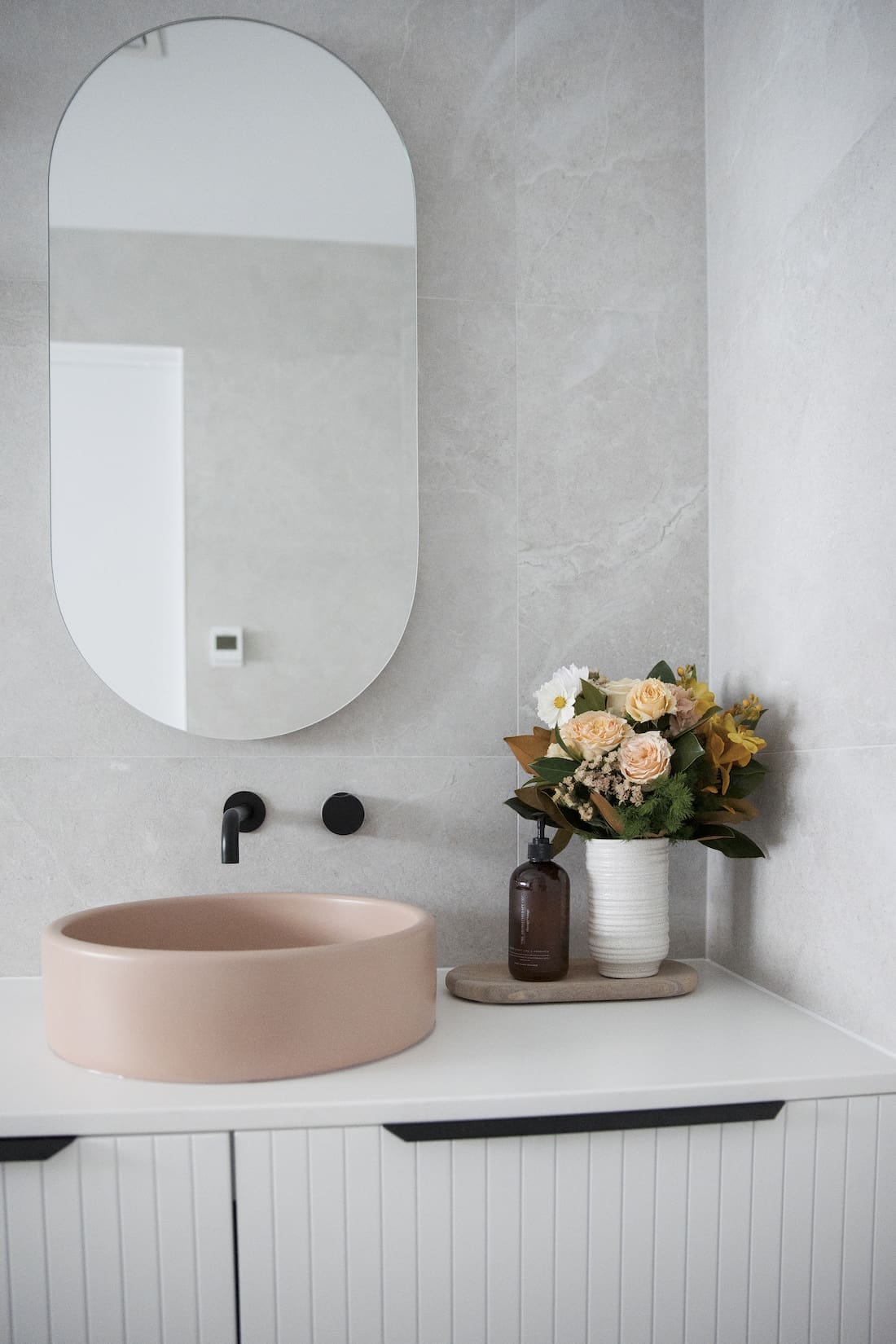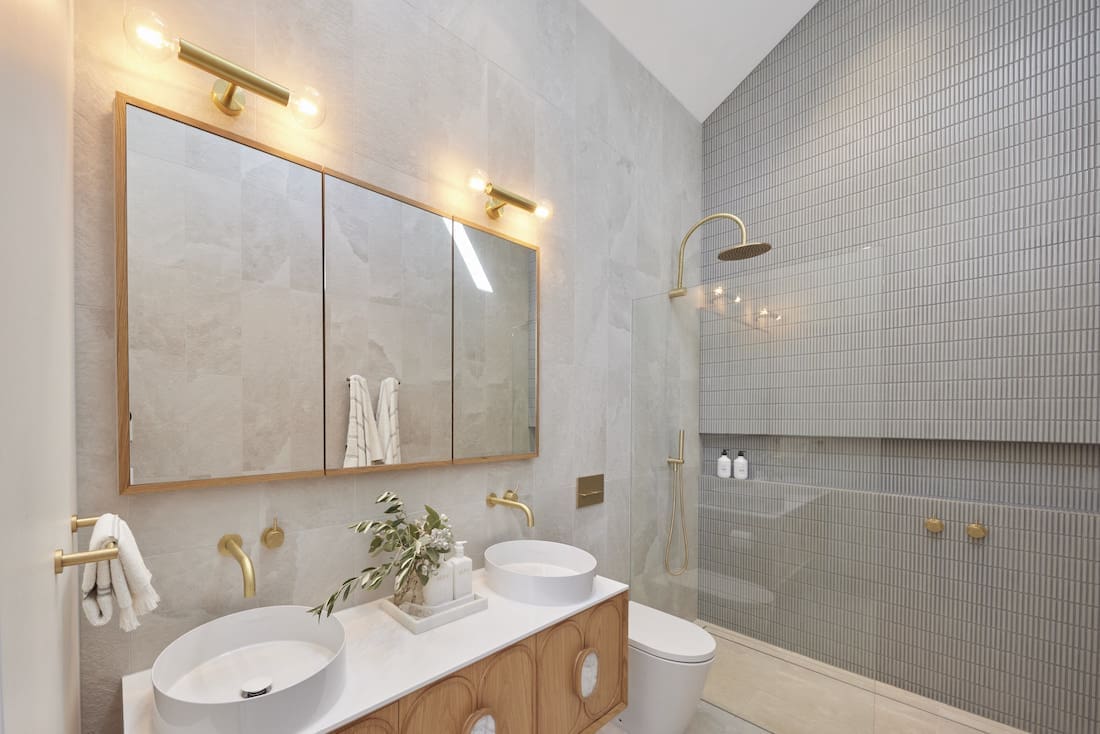 Niche styling
Another zone of the bathroom where you can create a styling moment is in your shower or bath niche. We often say less is more, and this definitely rings true in your niche.
If you have a wall niche, don't overcrowd it with Radox and razors, instead consider using similar items as the ones listed above.
Don't forget, you can also transfer your shampoo, conditioner and body wash into beautiful bathroom pump bottles that fit your aesthetic. It's one of the best bougie on a budget interior styling hacks!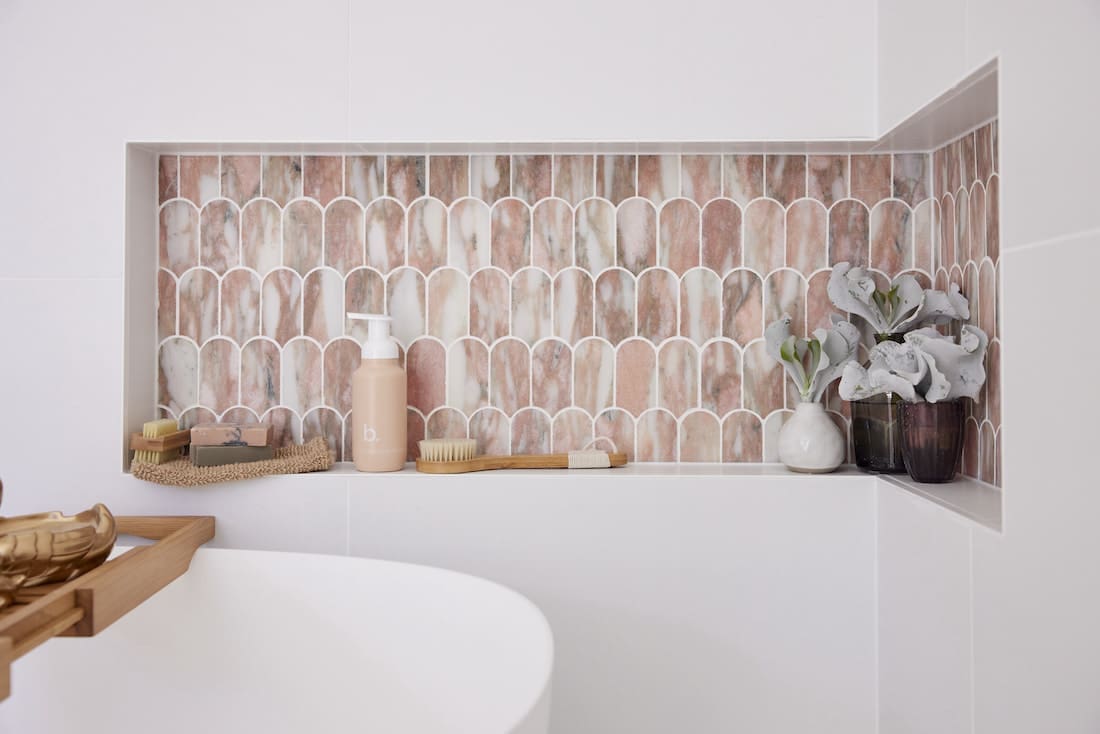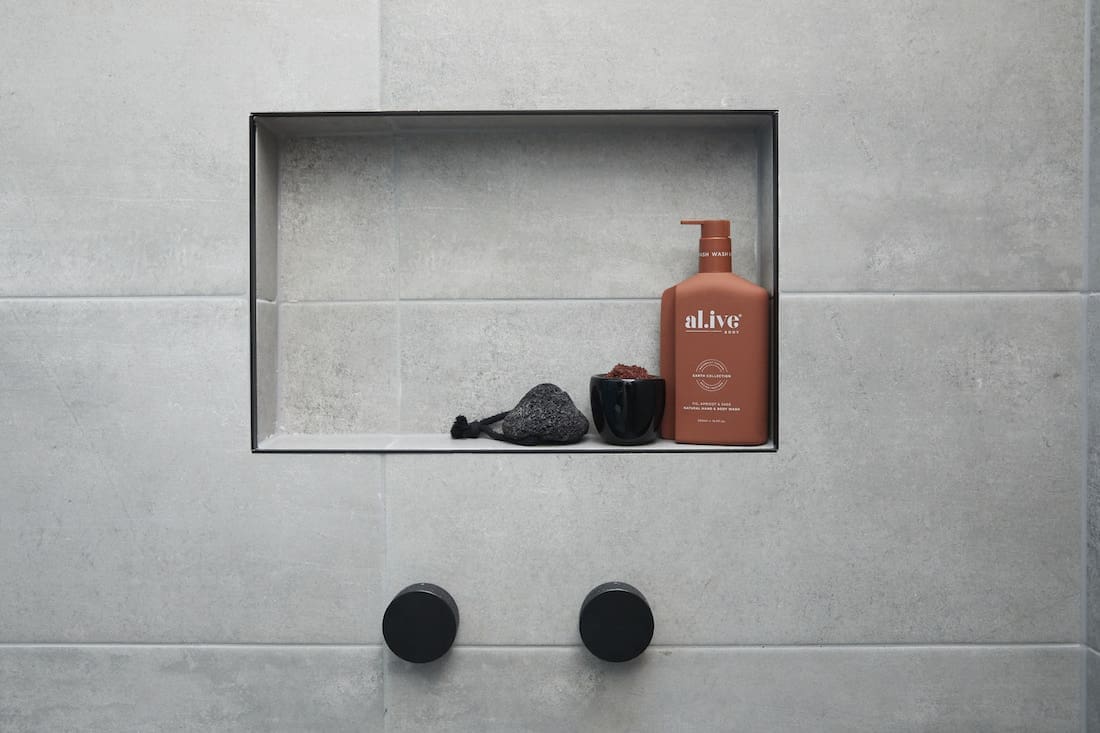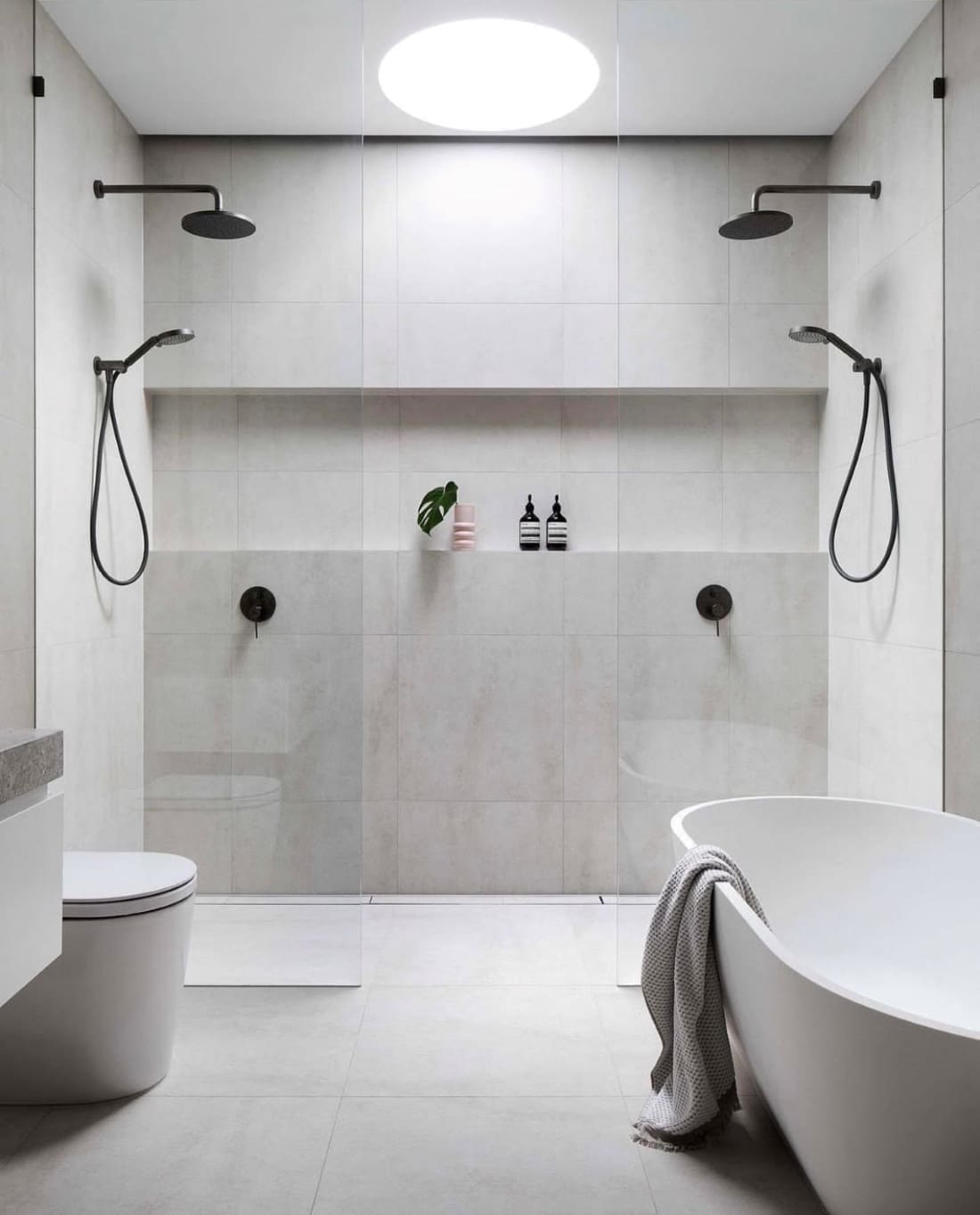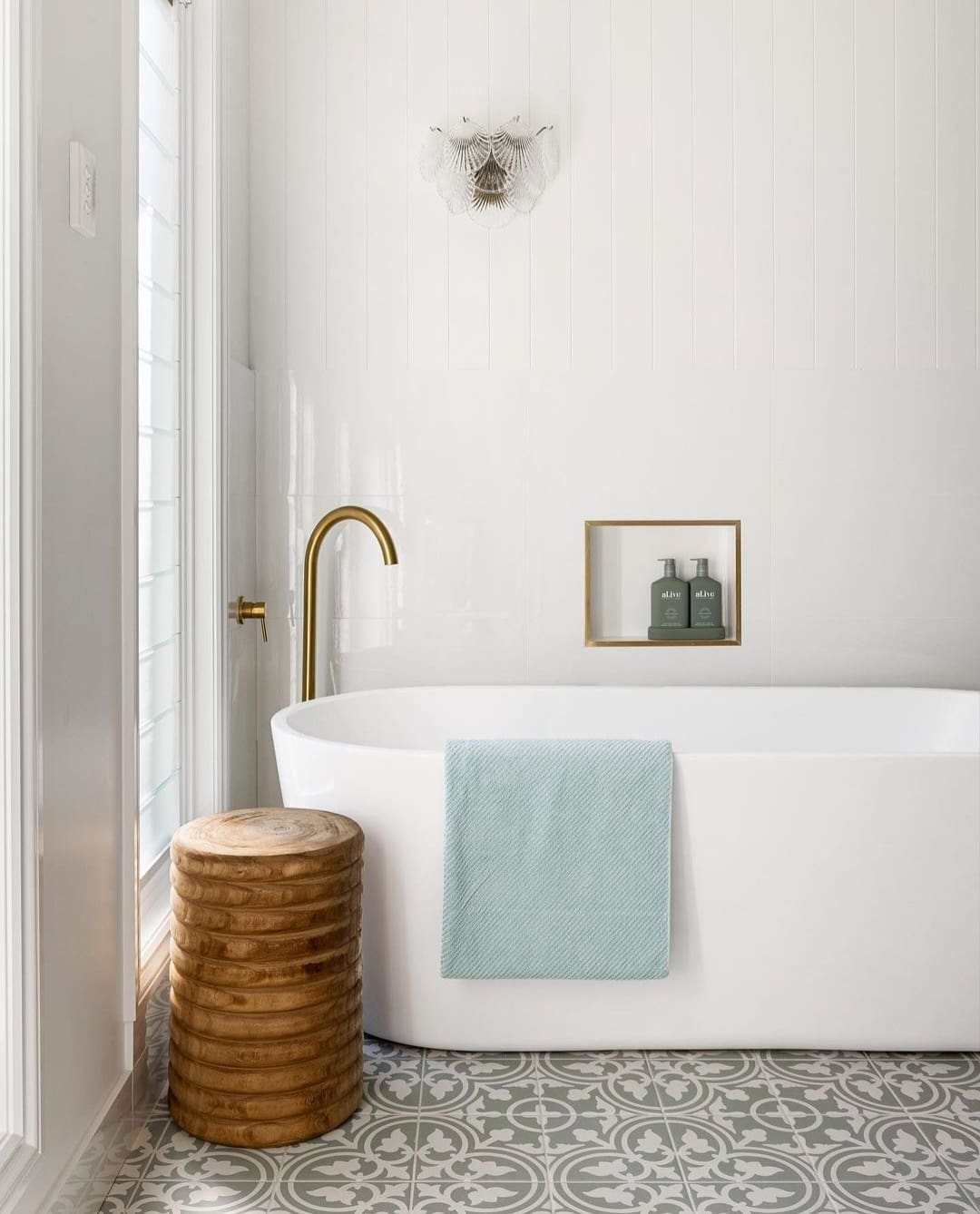 Wall ledge styling
The hottest bathroom design feature is the ledge wall or half height wall. From coastal to contemporary bathrooms, mid-century modern and luxe, it's a design feature that works for just about every interior style.
Similar to a wall niche, you'll want to stick with a simple selection of decor. In fact, the rule of 3 seems to be the most popular way to style a bathroom ledge or wall shelf.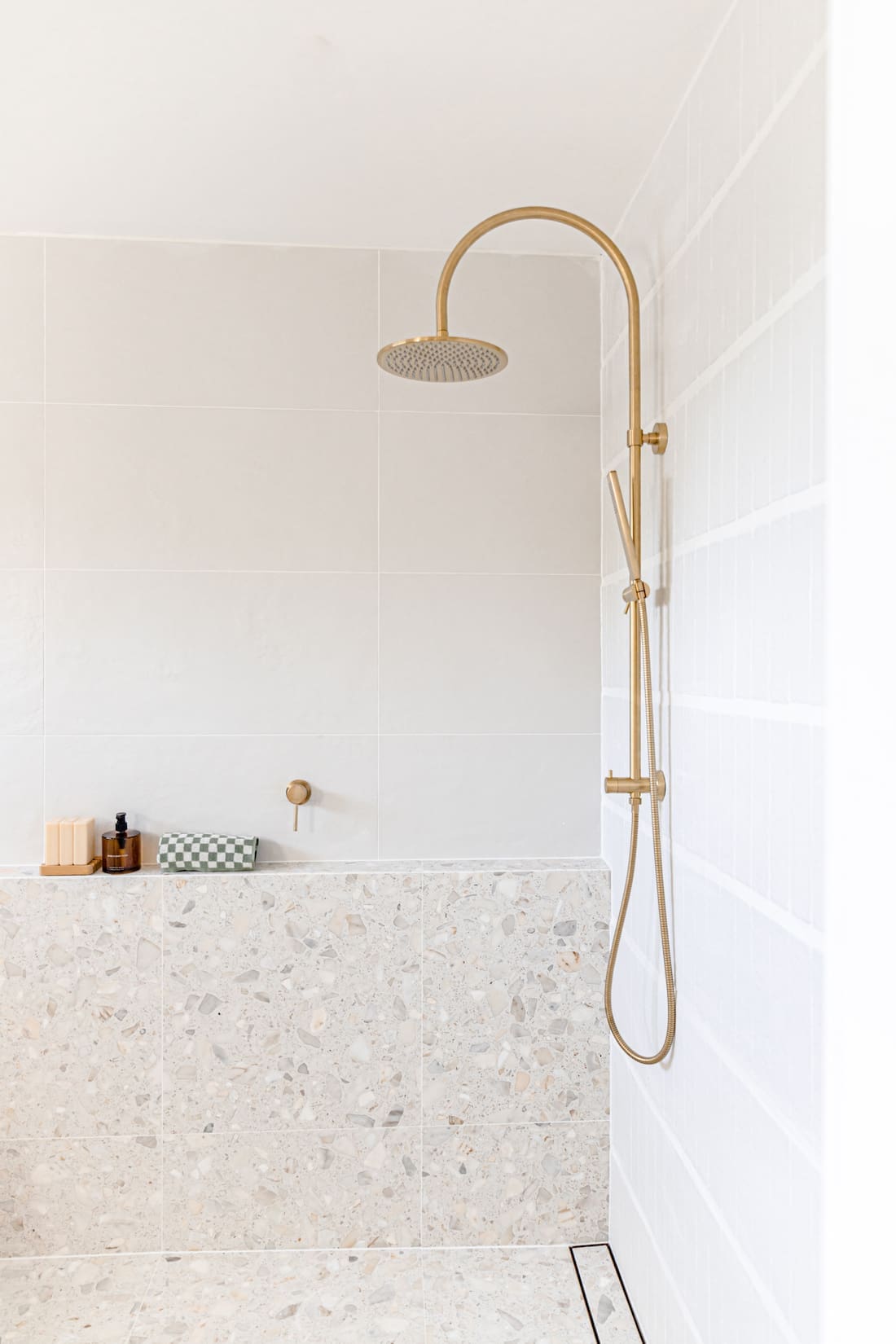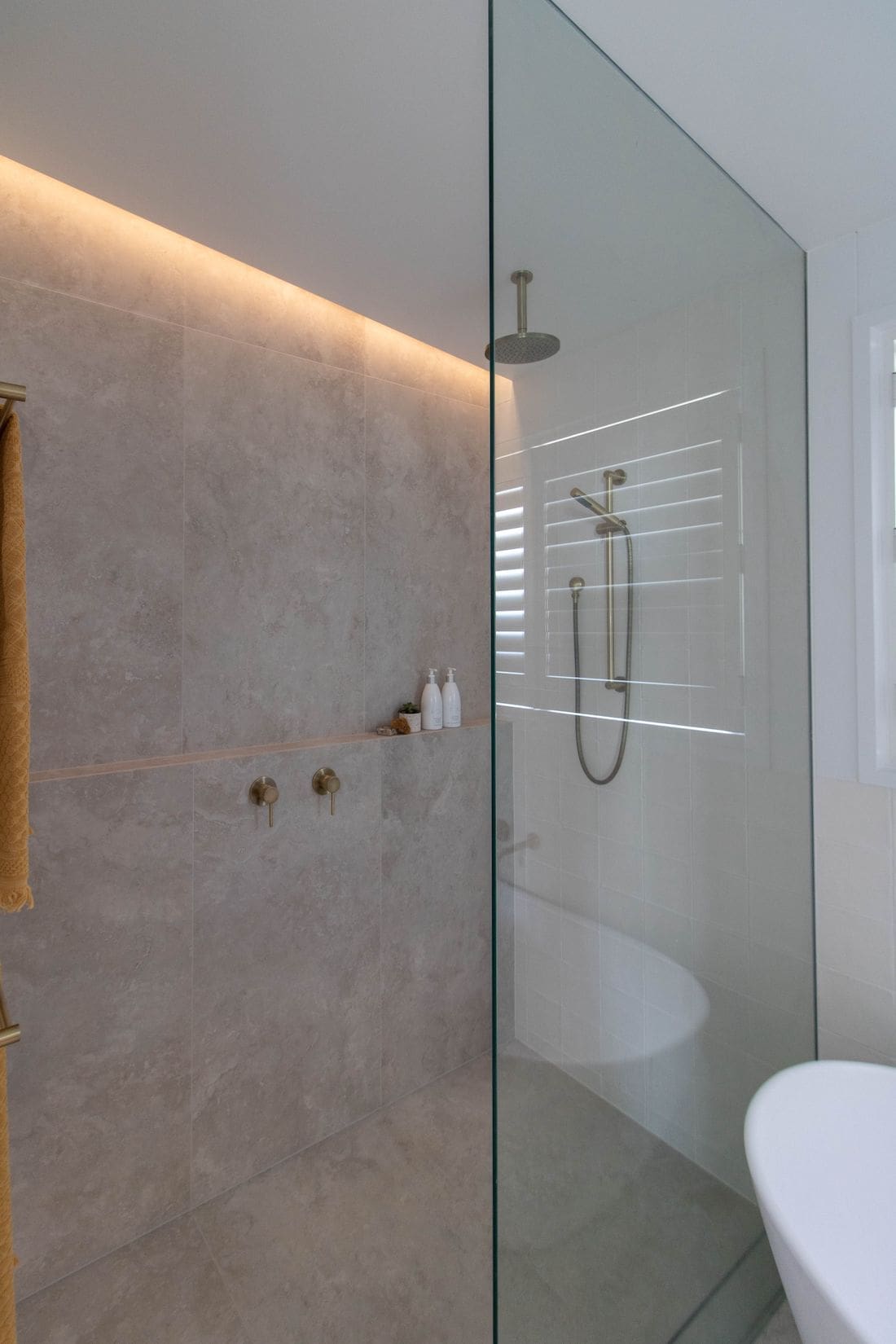 Bath tray styling
Now for one of the most popular ways to add style to your bathroom — with a bath tray!
A tray across your bath that's set out with items inviting you for your next relaxing soak doesn't just look pretty, it can be a visual reminder to take some time out for yourself. Think beautiful bath salts, a scented candle, body brush and so on. Here are some of our favourite bath tray looks to inspire you.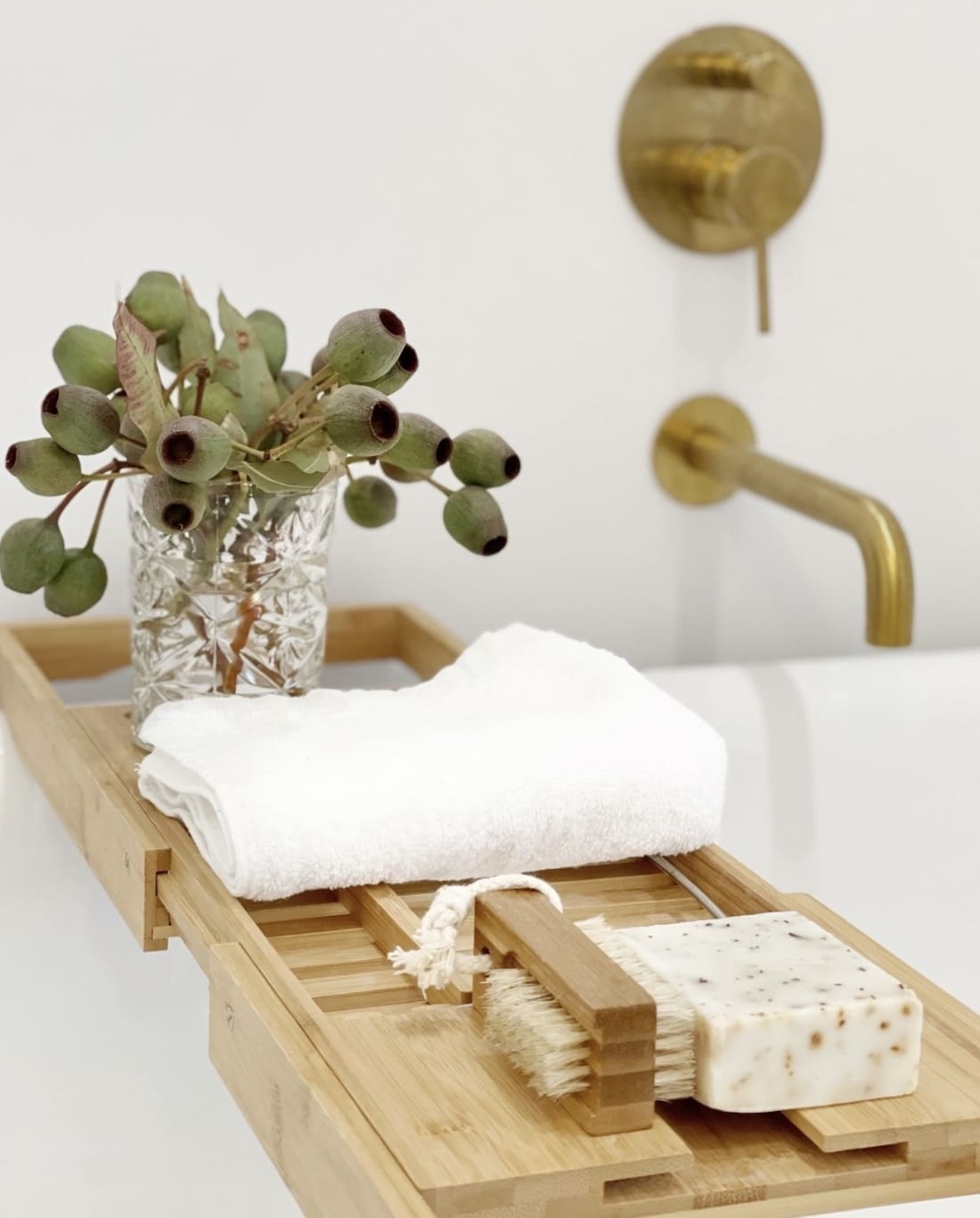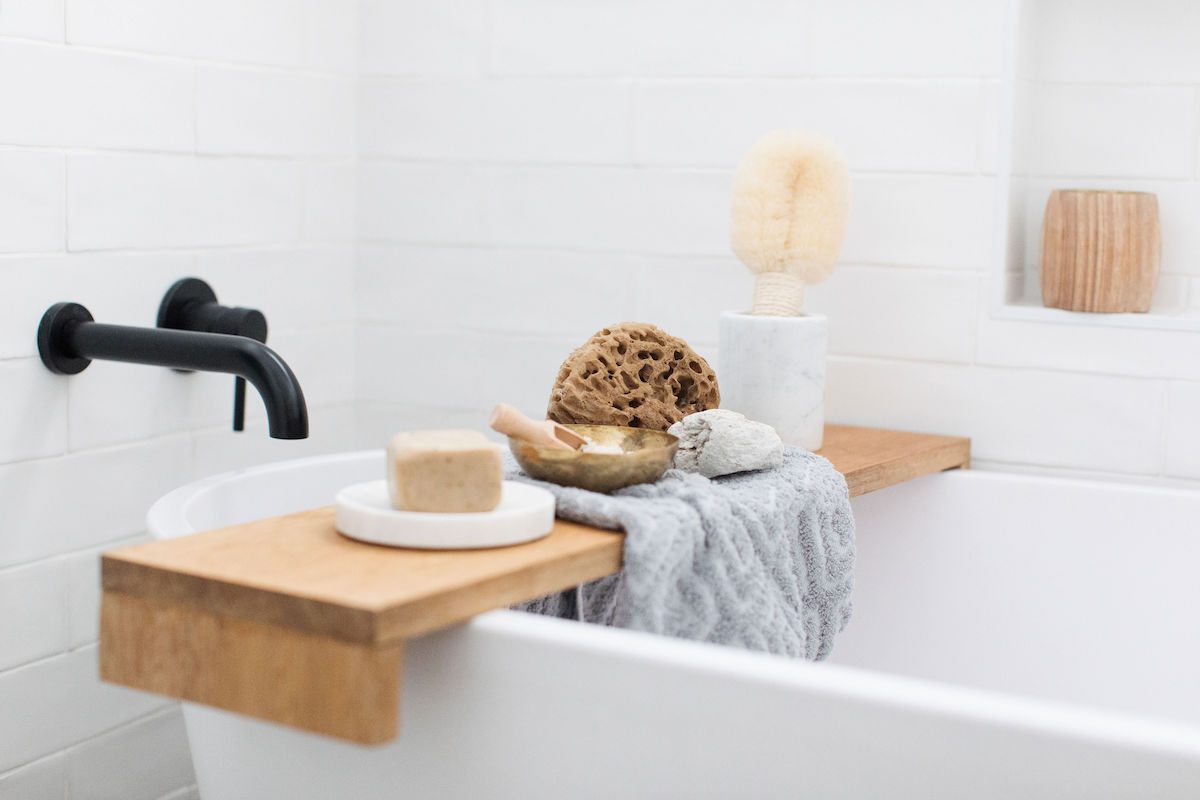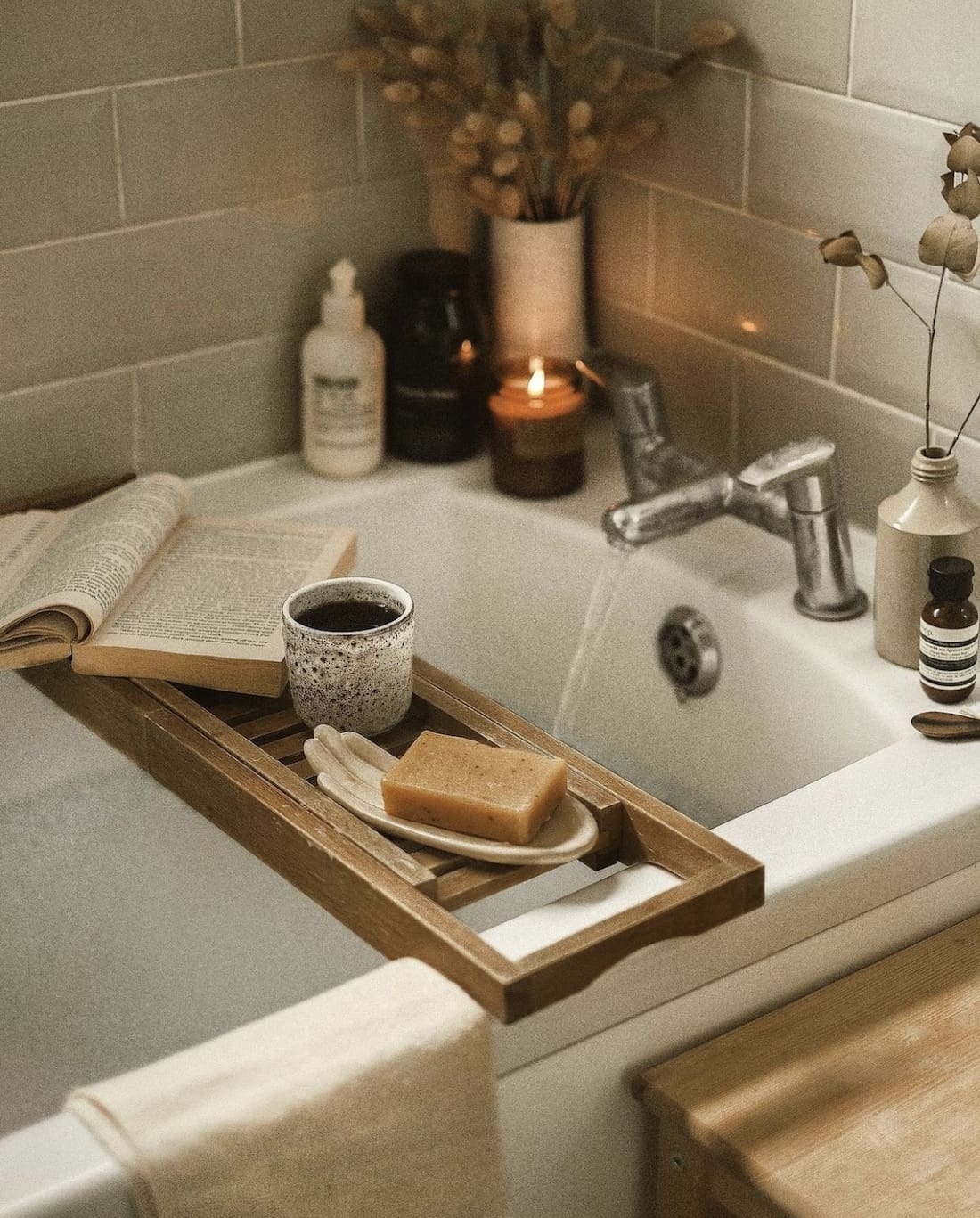 Bath stool styling
Similarly, a stool next to your bath can provide the perfect surface to set out some self care products. Look for a stool that complements your interior style. Stylist tip: we often like to drape a small hand towel over first to create the sense of layers. It's one of the quickest and easiest ways to add a sense of luxe and visual interest.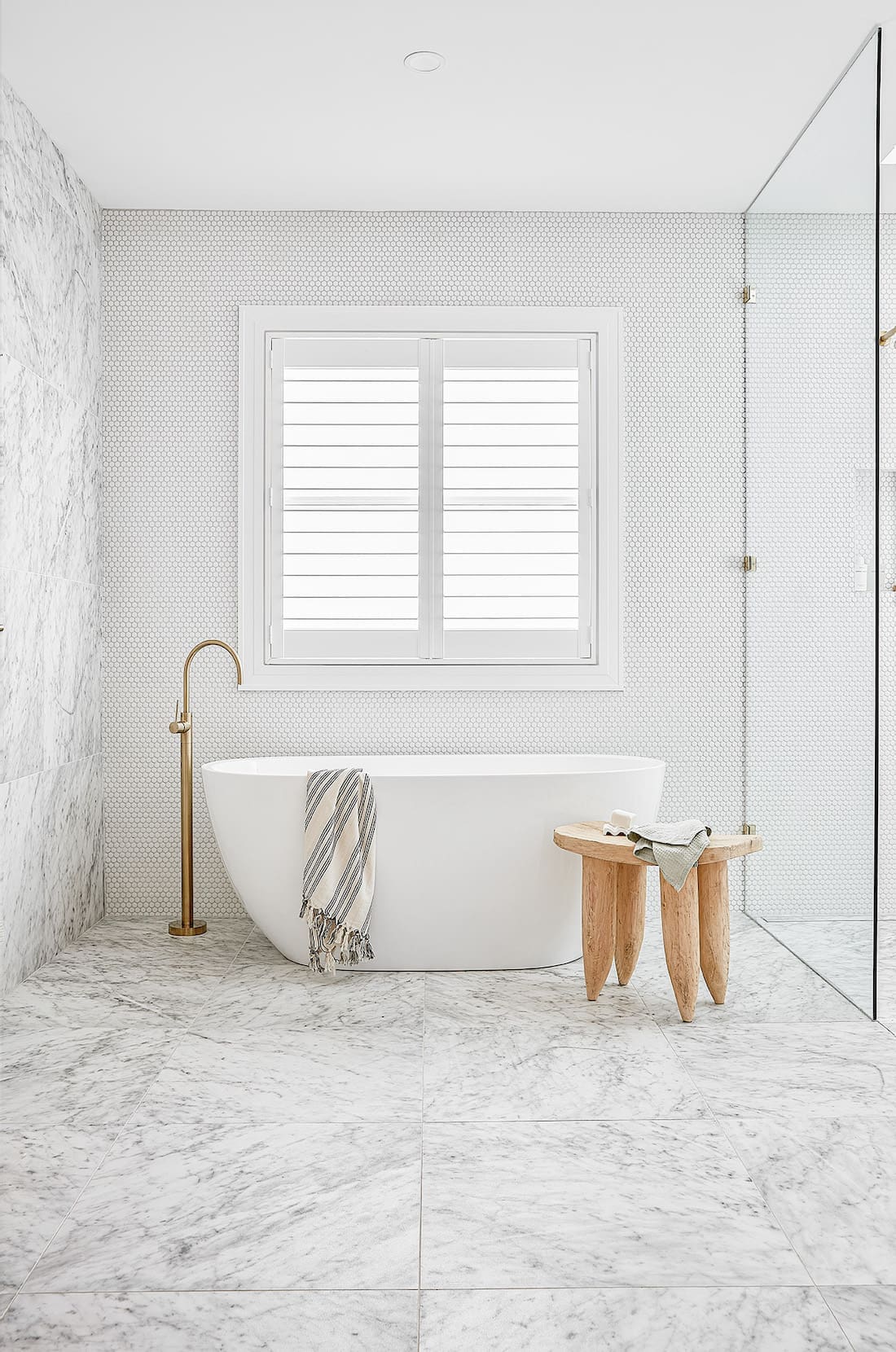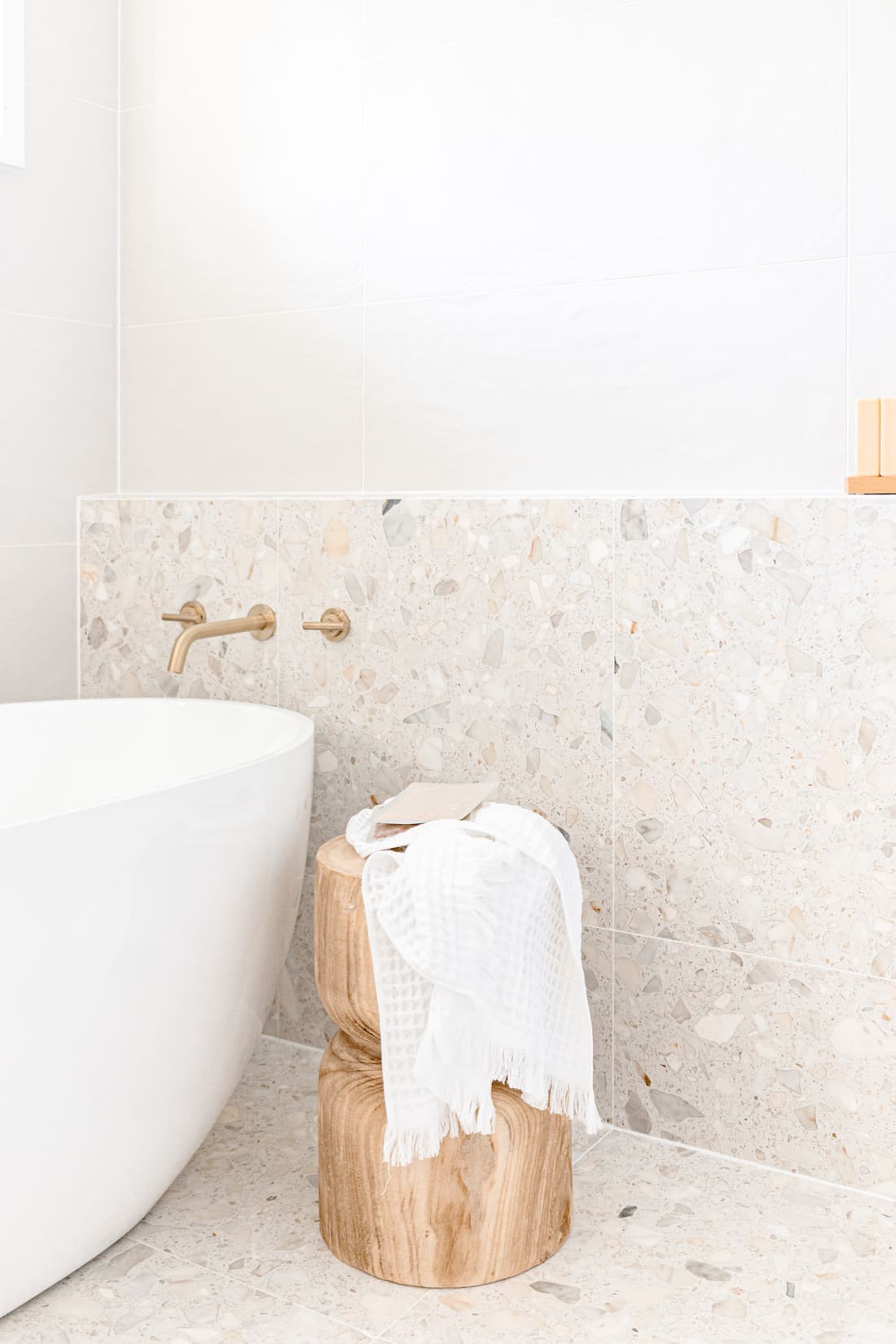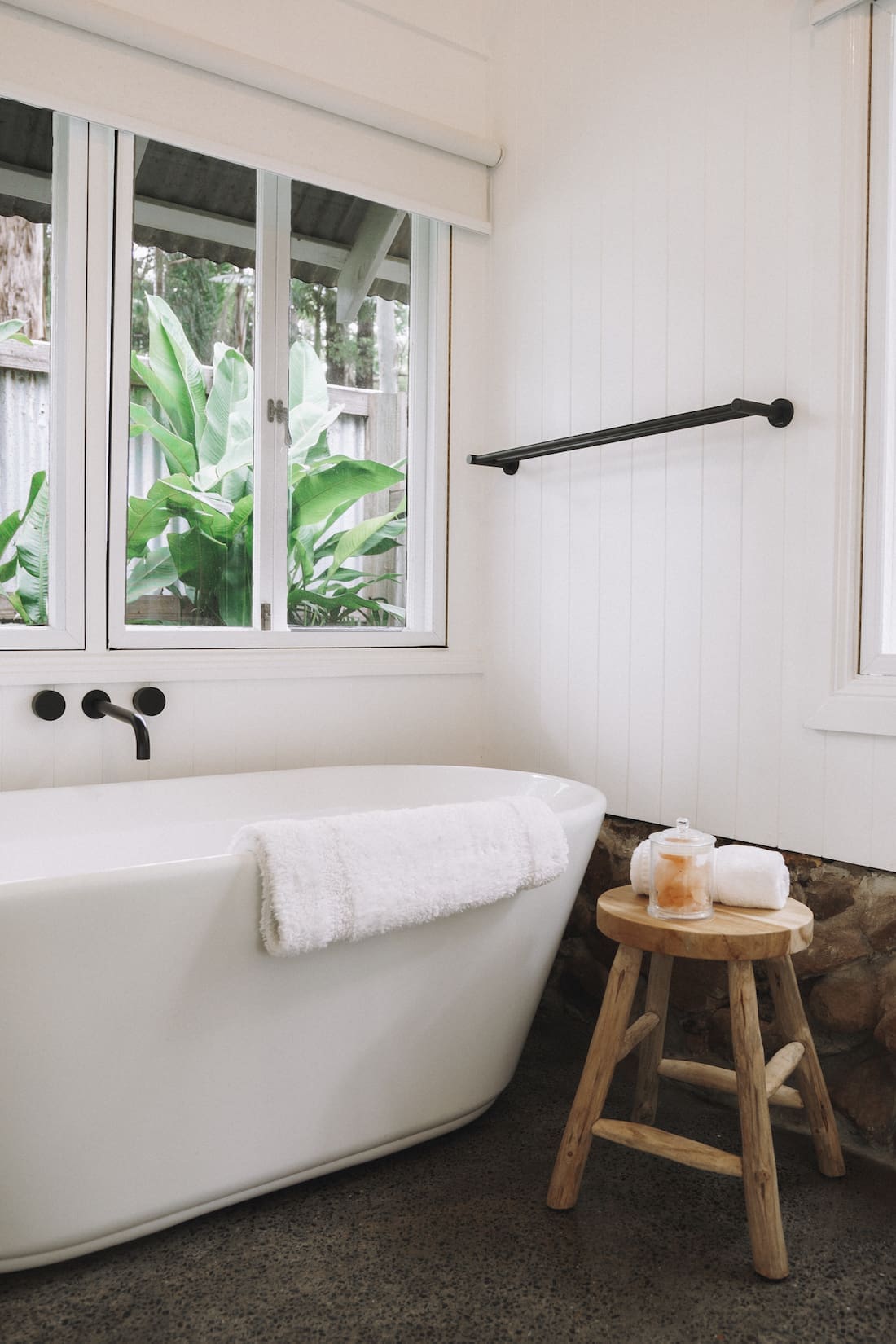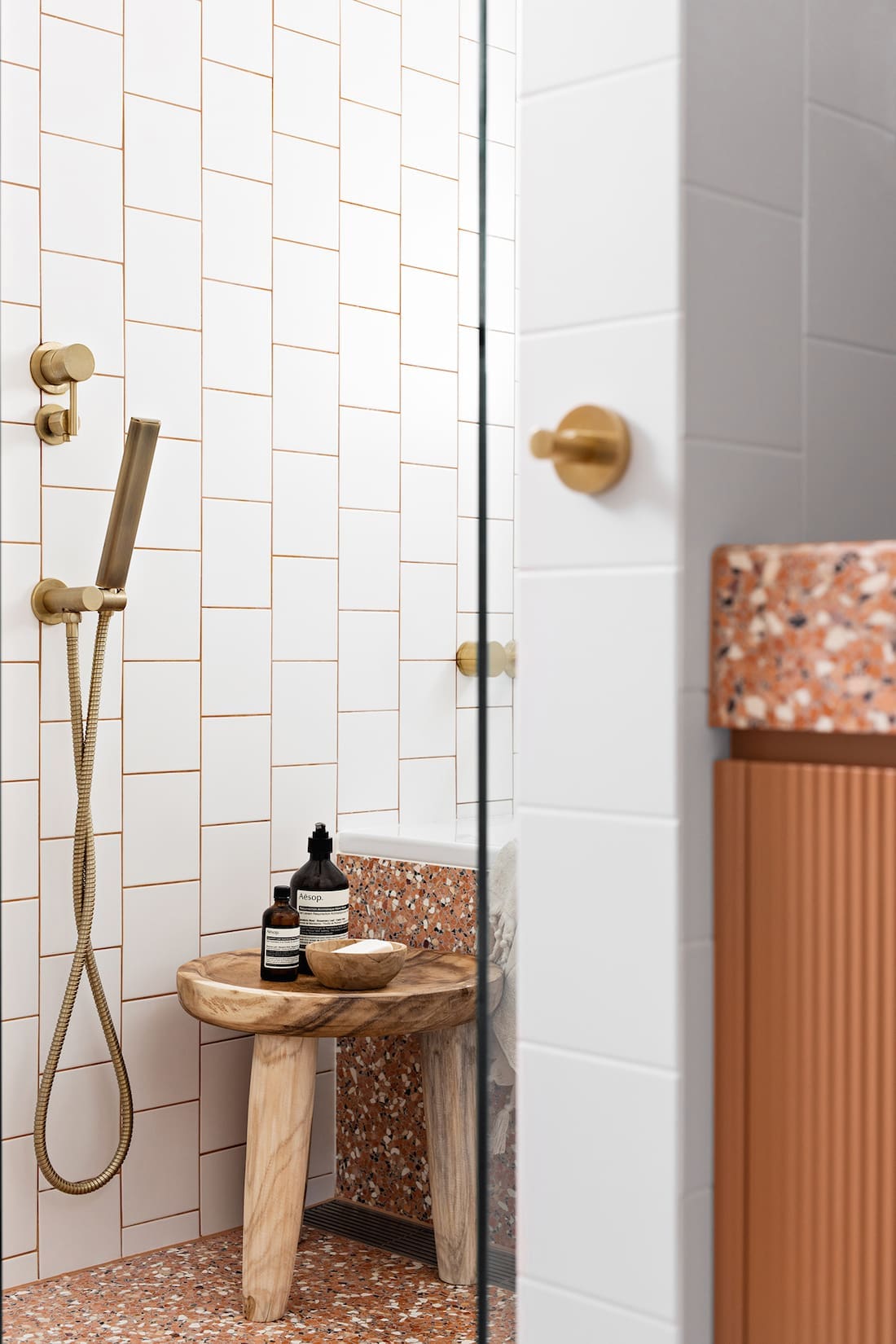 Towel styling
Finally, towels are a fabulous way to elevate the look and feel of your bathroom. Towels can act like art for your bathroom, adding a big pop of colour or pattern. And there are so many ways you can style towels in a bathroom.
Our favourite ways to style towels in a bathroom:
hand towel draped over your vanity for a relaxed look
bath towel hanging from a robe hook
hand towel draped over a bath stool
face towel rolled or folded on your vanity
a mix of towels folded into a heated towel ladder.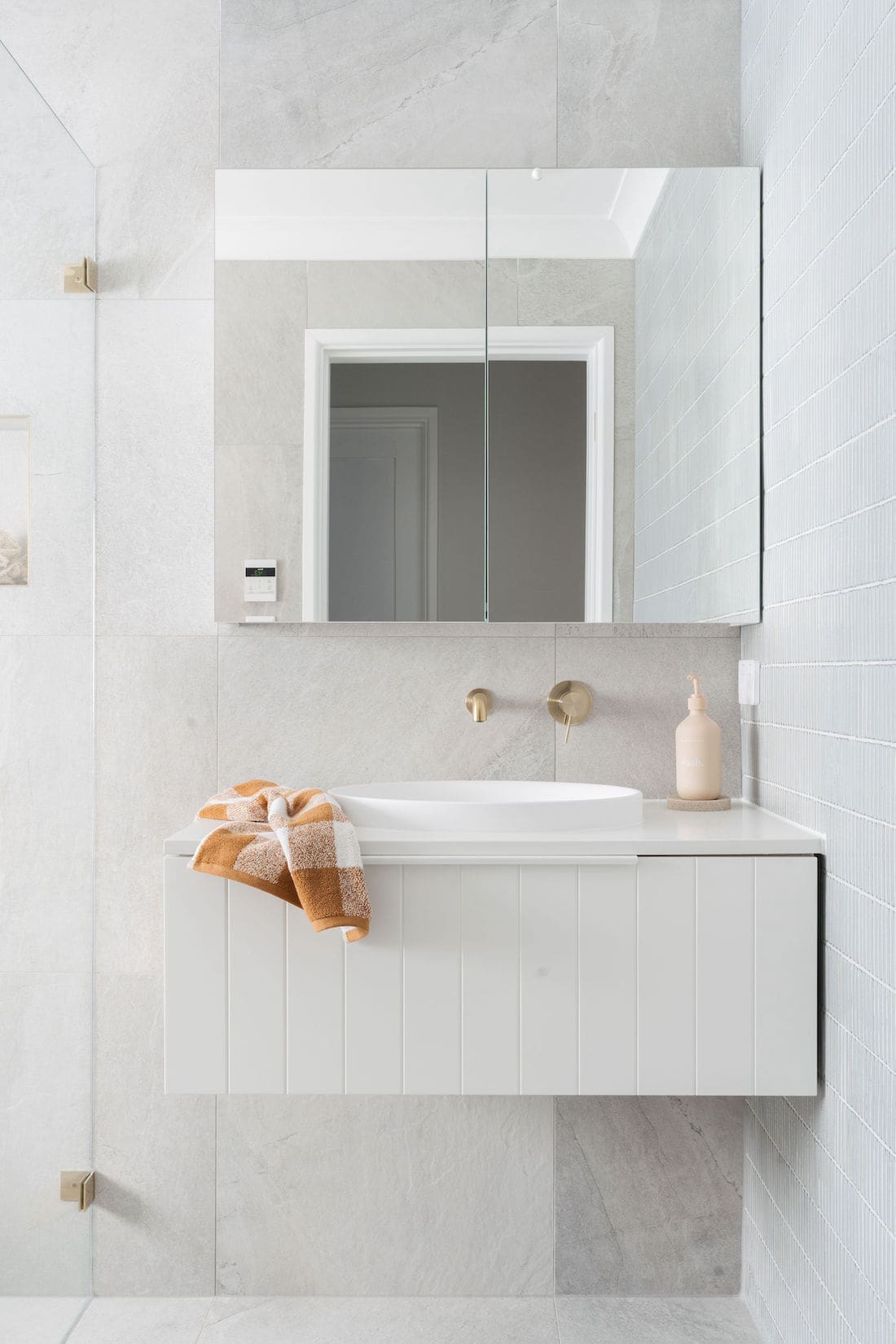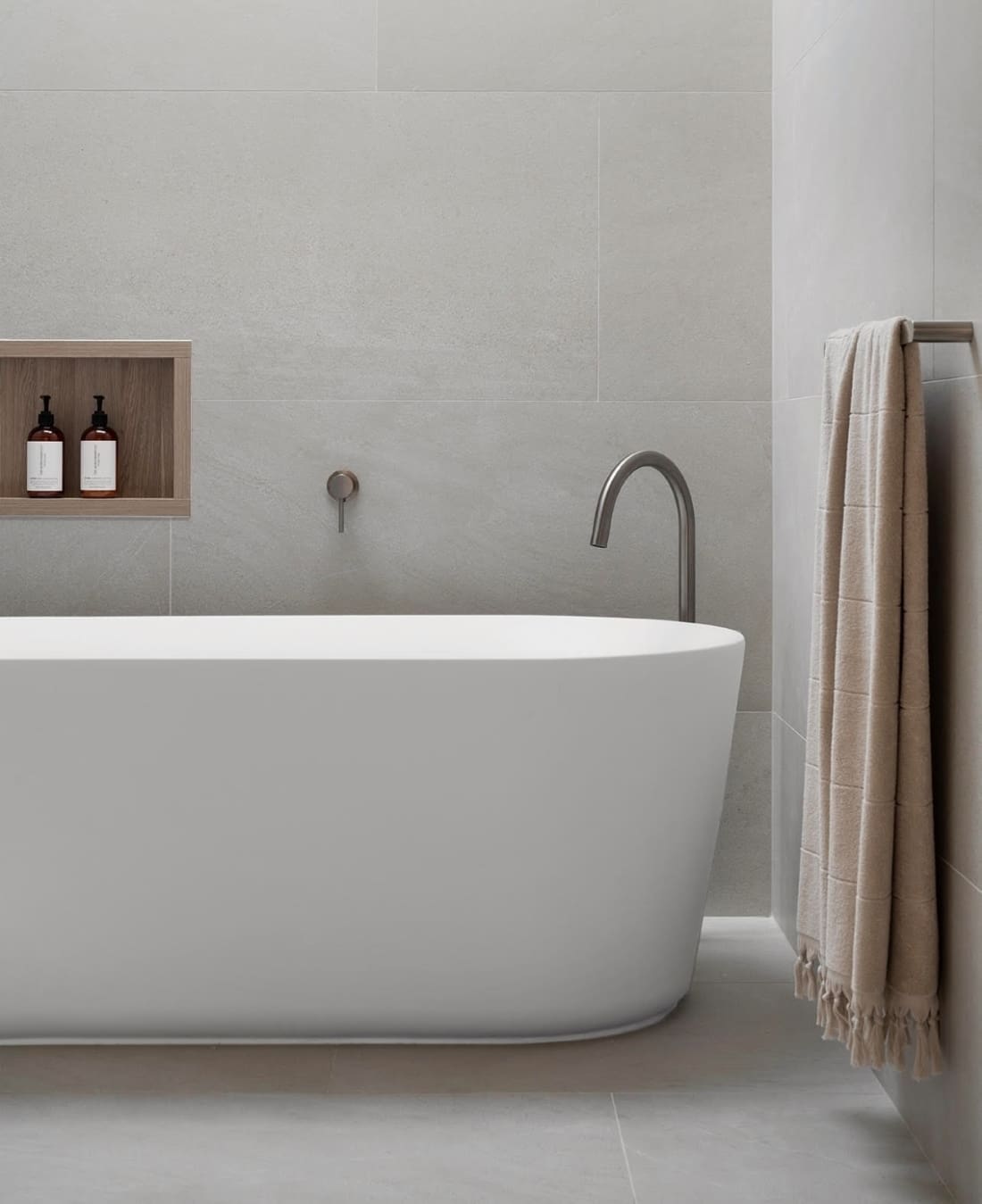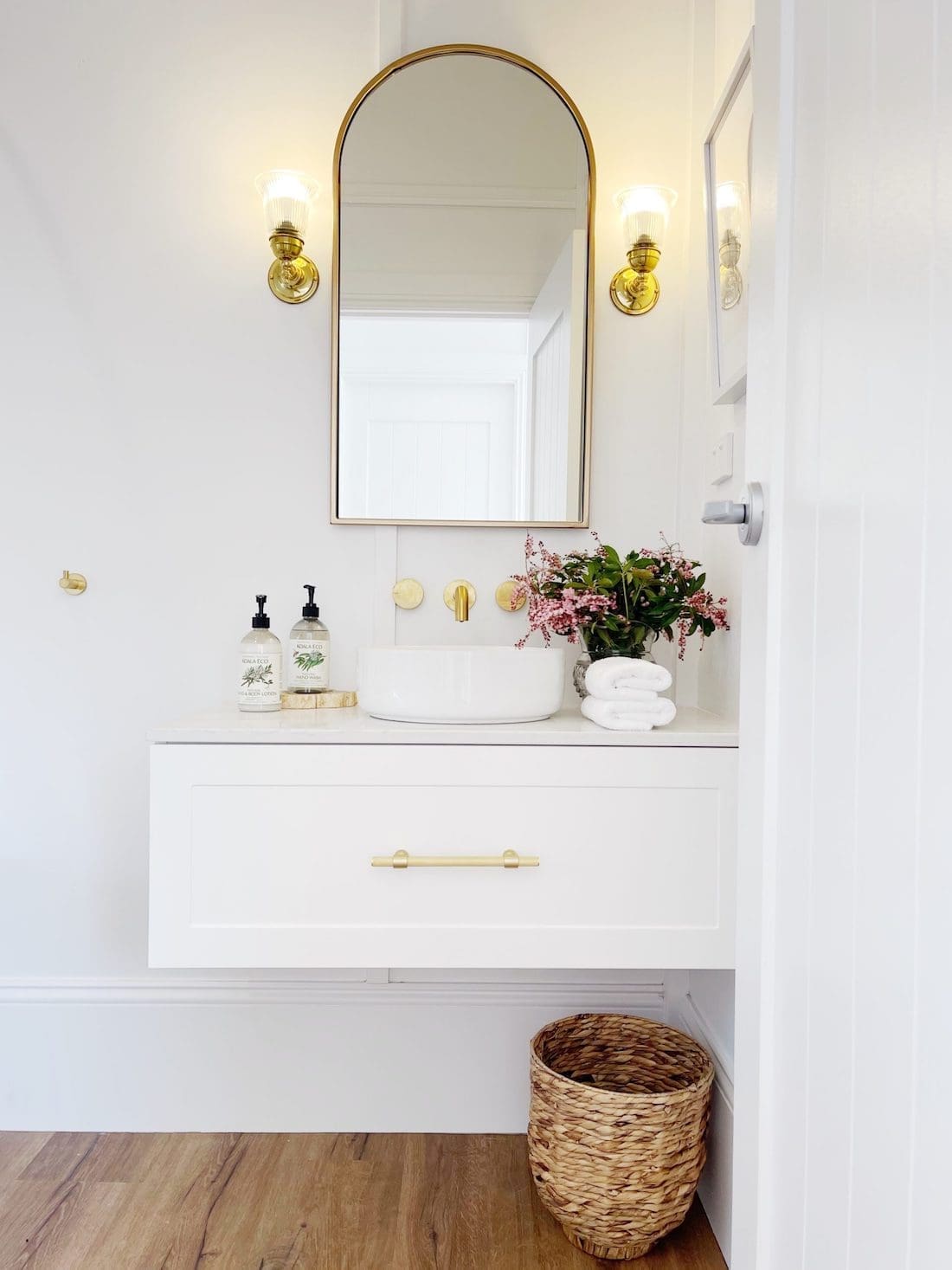 Is there a zone of the bathroom that we missed where you need some bathroom styling inspo? Or do you have other styling tips you can add? Share them in the comments below!