The talented female trio, Three Birds Renovations are yet to deliver a home we haven't loved from top to bottom. And their latest project, House 14 — aka Dream Home — is no different. The light, bright and beautiful interior, paired with textural pieces and styled to perfection, will have you pinning every single image (just like we've done!).
This modern coastal home is utterly dreamy, so let's take a look inside!
Related article: Orton Haus: A coastal home with raw and natural accents
Related article: Peachy tones and gorgeous curves in the latest home renovation from Three Birds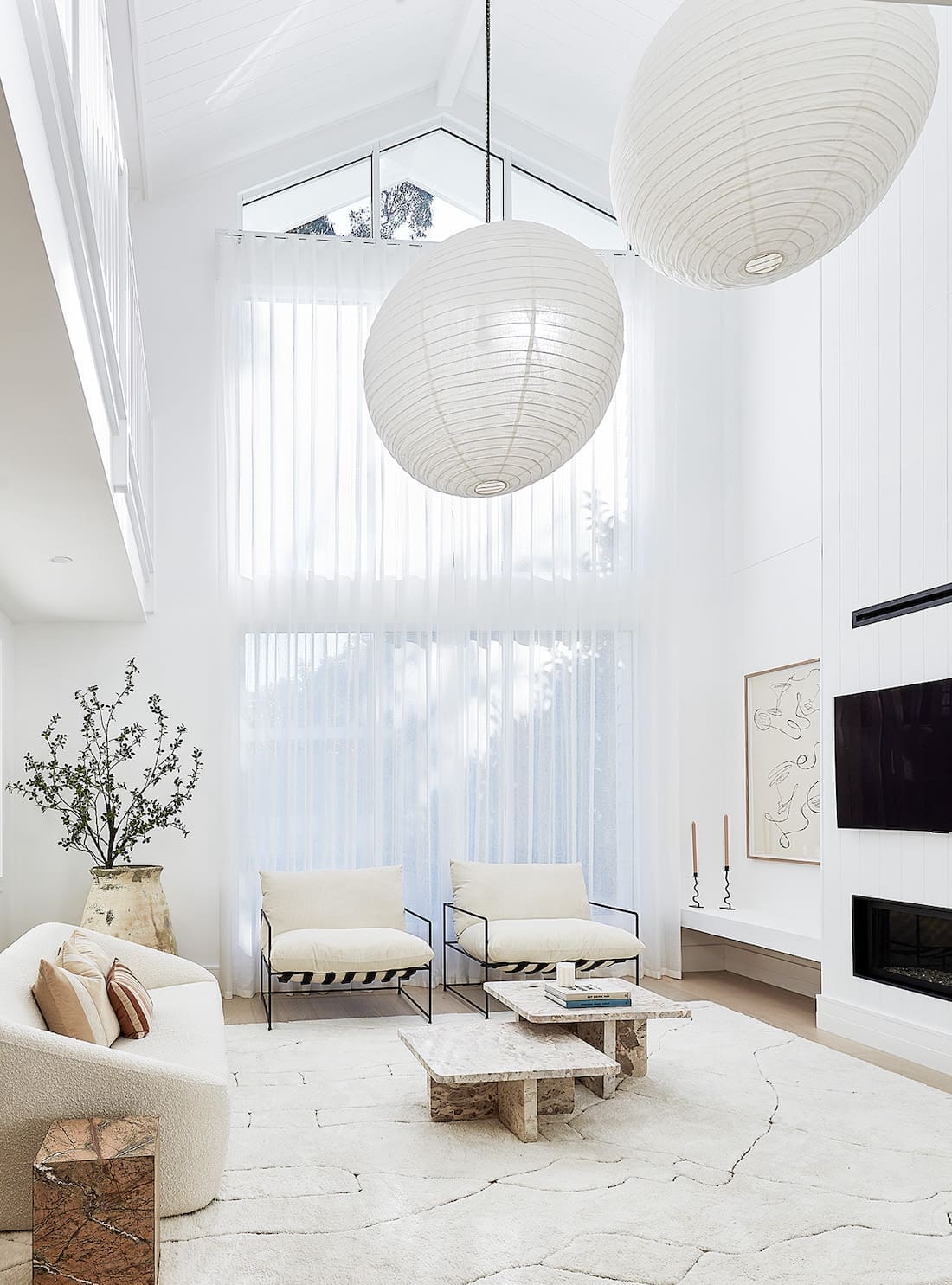 Most noticeably, this home has a light, bright and beautiful interior.
To create a coastal oasis within your home, the Three Birds team suggest focusing on the aesthetics of your interiors. It requires pulling together a cohesive look that champions light and the ease of moving through spaces.
House 14 does just that. A stunning coastal-cool dream home, this is a 4 bedroom home with open living spaces, a beyond stunning kitchen and plenty of outdoor space. It's bright and breezy, utilising all that unfiltered, natural light.
"How about that natural light!" smiles Lana, one third of the team.
"The great room, the living room… whatever you want to call it. This is our favourite room in the house. We dedicated a double height ceiling to this room.
"We've got the void and the huge double height windows to bring in as much natural light. I just love how this room makes me feel."
"All the light flickers all over the room," adds Bonnie — another Bird. "With the [reflections from the] water. It's magical."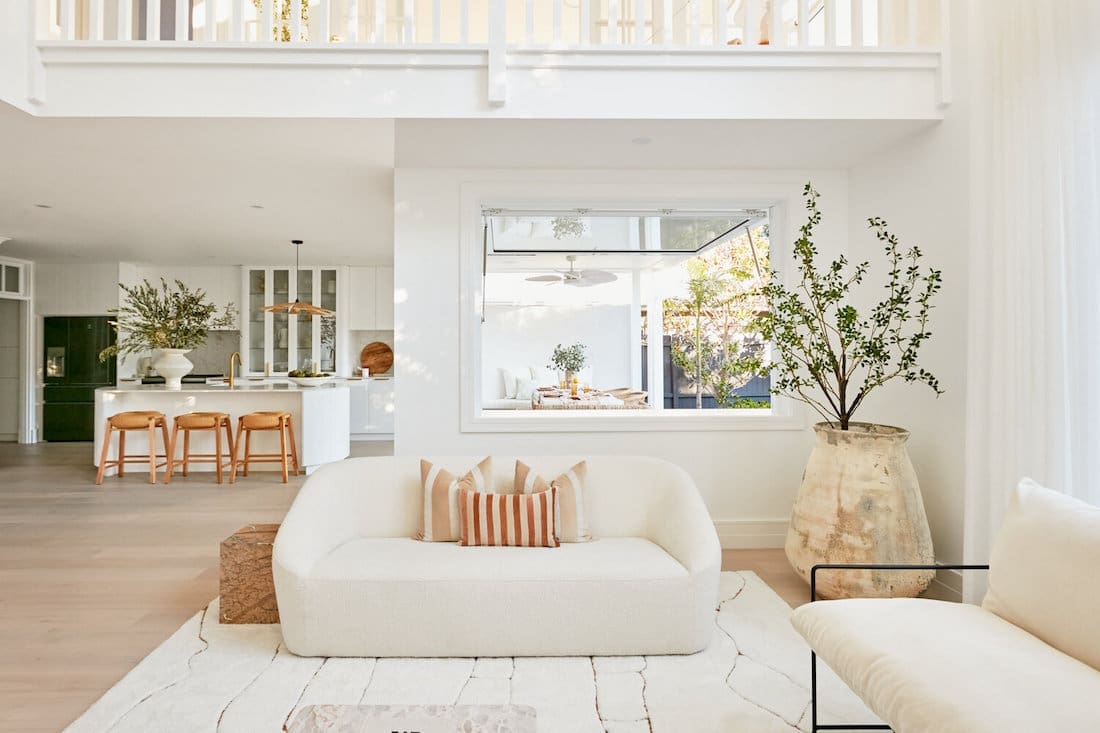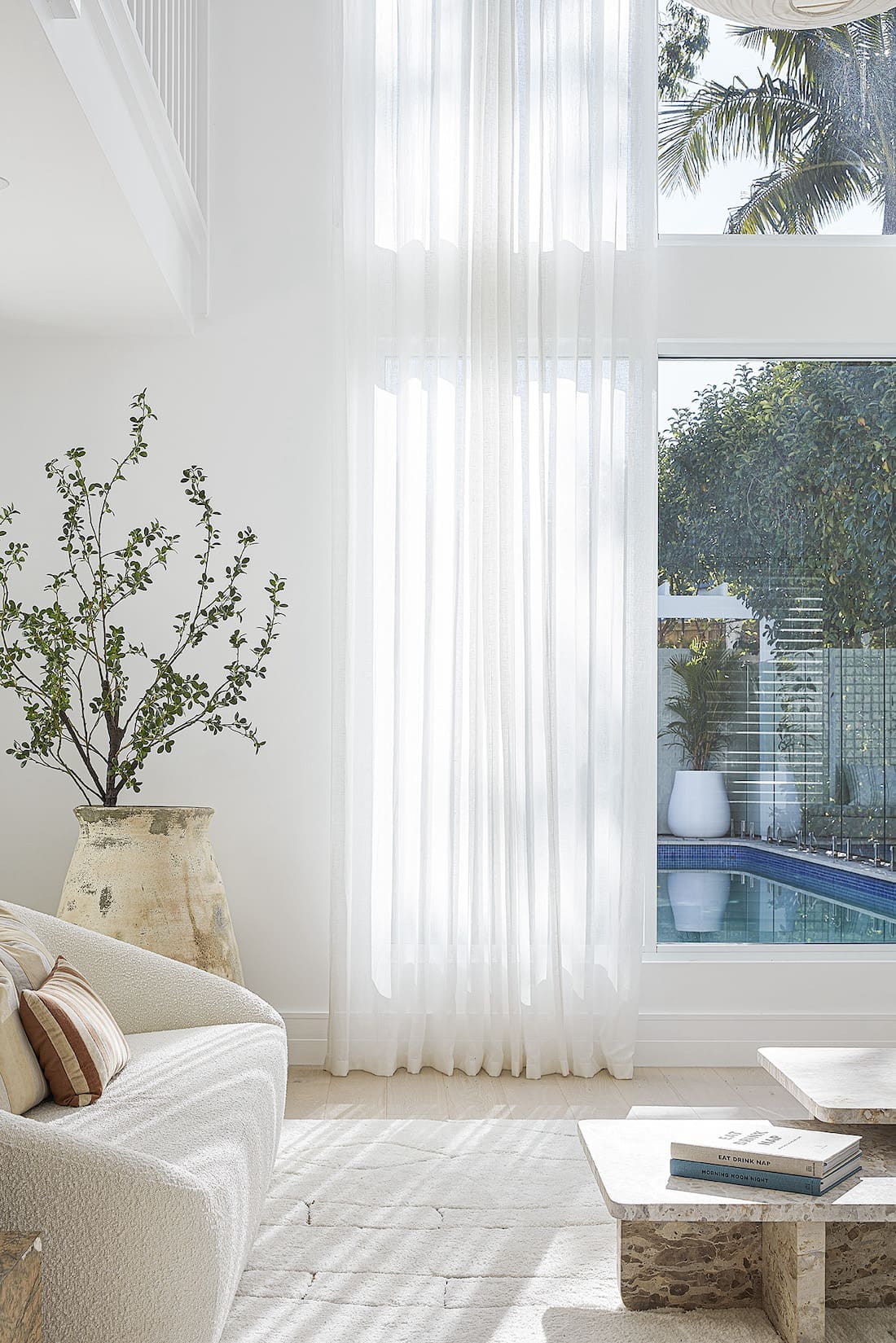 Designed to include 'the best of the birds' this Three Birds home is one that you can buy and build on your own block of land.
"The Three Birds style is a style of its own," says Erin, who completes the trio. "We would like to think that it's very classic. It has a degree of luxe to it… a degree of class. And hopefully, a lot of longevity."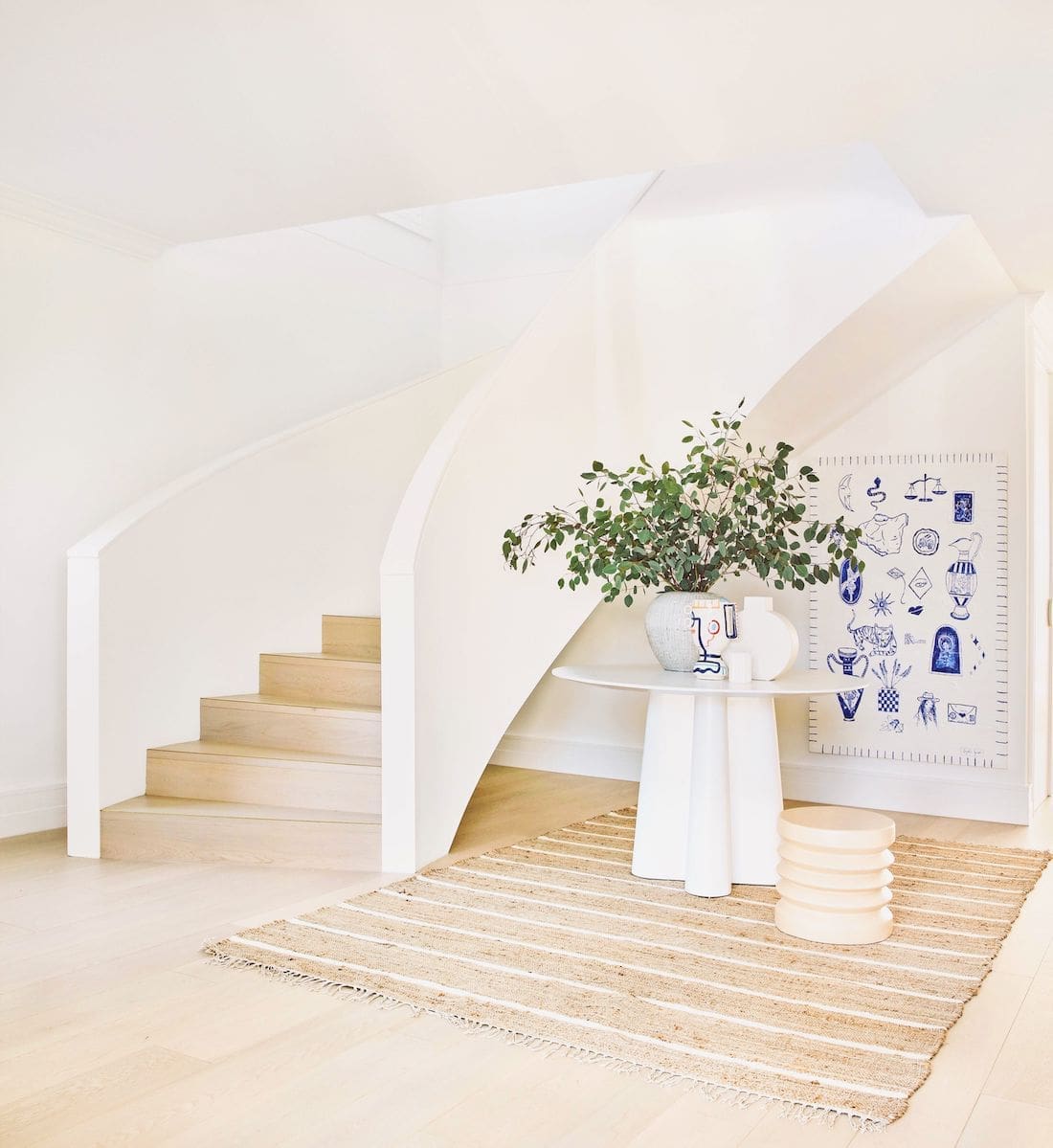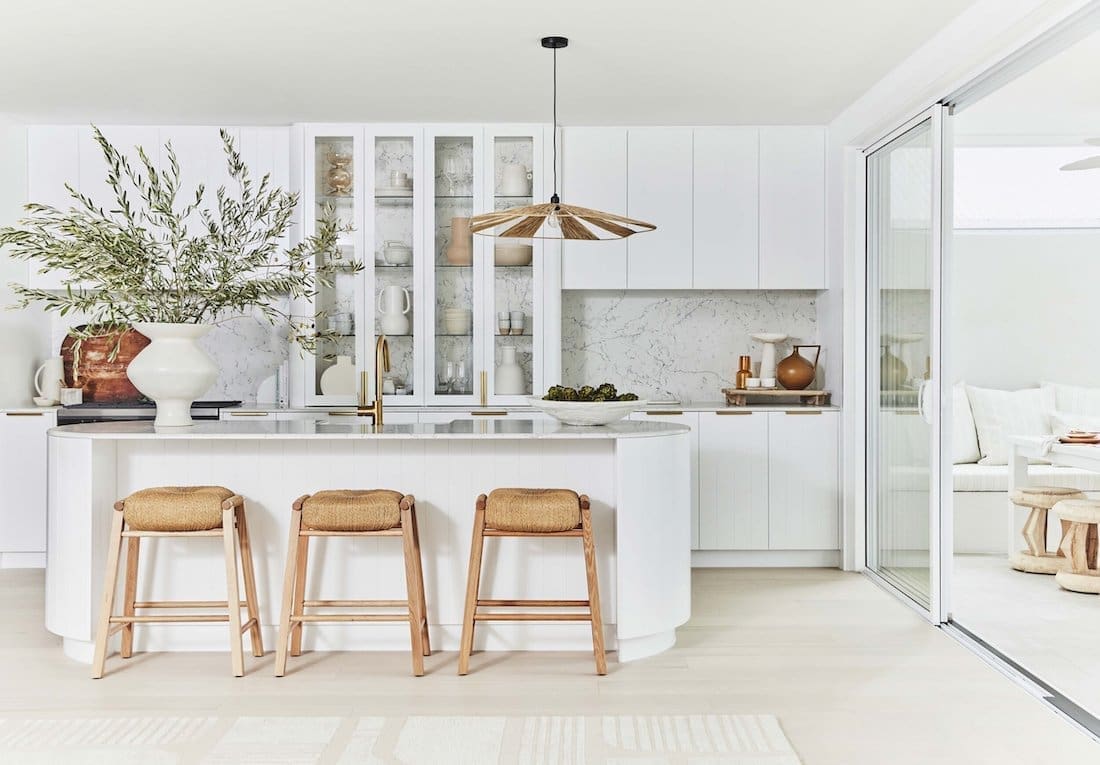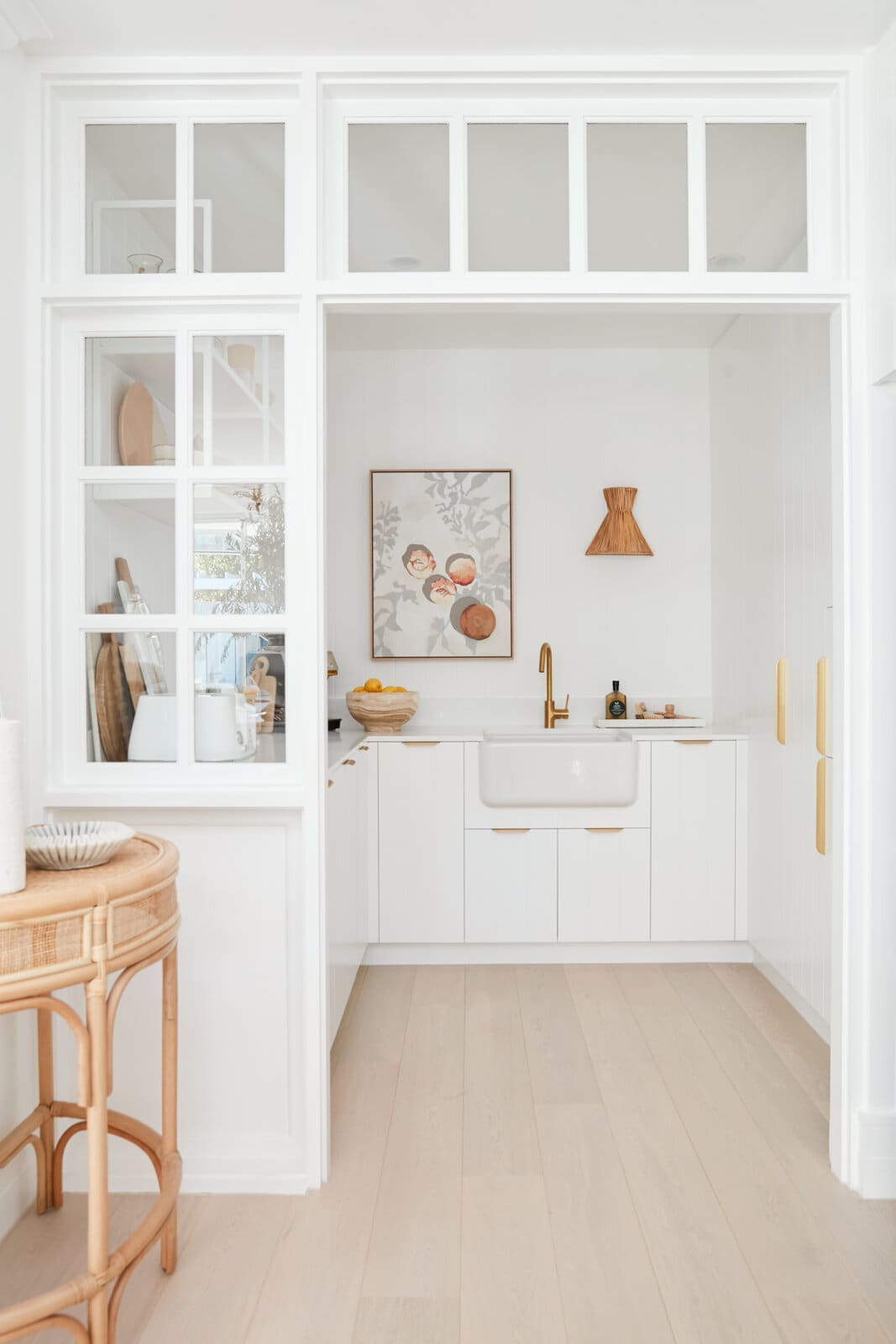 As we take a look around, there are so many beautiful, well thought out design elements.
"We dedicated a lot of space to this font entry because we always know how important it is to create that wow factor the moment you come through the front door," explains Lana.
"There are so many little aspects of it that are beautiful. You walk through that front door and seeing that staircase!" says Bonnie with a gasp.
"The heart of the home… the kitchen. This kitchen definitely takes inspiration from some of the favourite Three Birds kitchens we've done. Specifically the curved end of the island is something we feel really softens a kitchen space and it makes it feel very special," says Lana.
"We've got that V-groove cabinetry which is so beautiful for that coastal look and feel and a bit of a statement stone.
"The butlers pantry is something we spent a long time designing. The opening with the window detailing was really important to us.
"We took inspiration for that from Bonnie's butlers pantry. We just think it's a nice way of creating separation but without closing it in.
"Loads of space, loads of storage. Lots of lovely open shelves. And just because it's the kitchen, doesn't mean you can't hang artwork in it! It really makes this place feel more homely."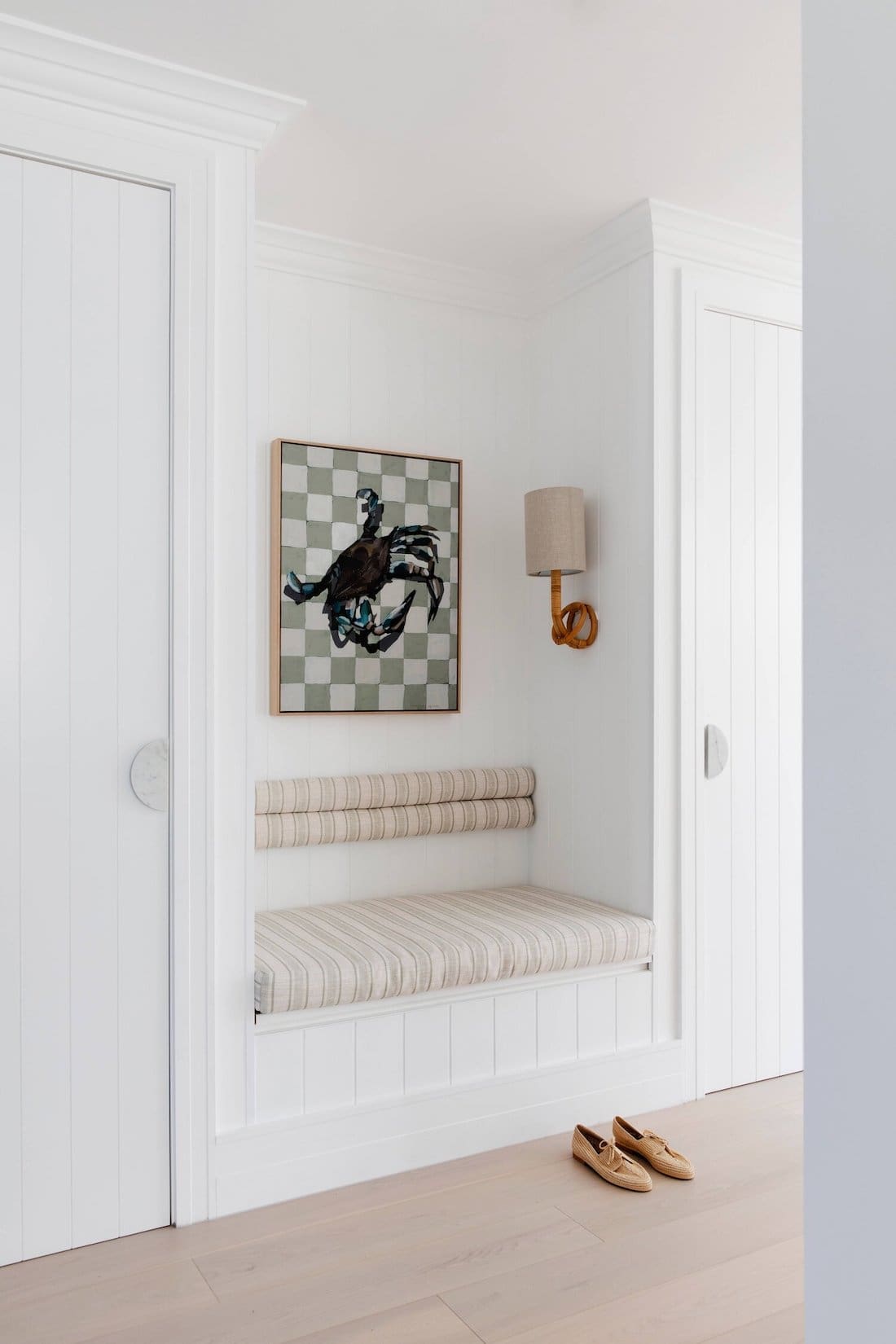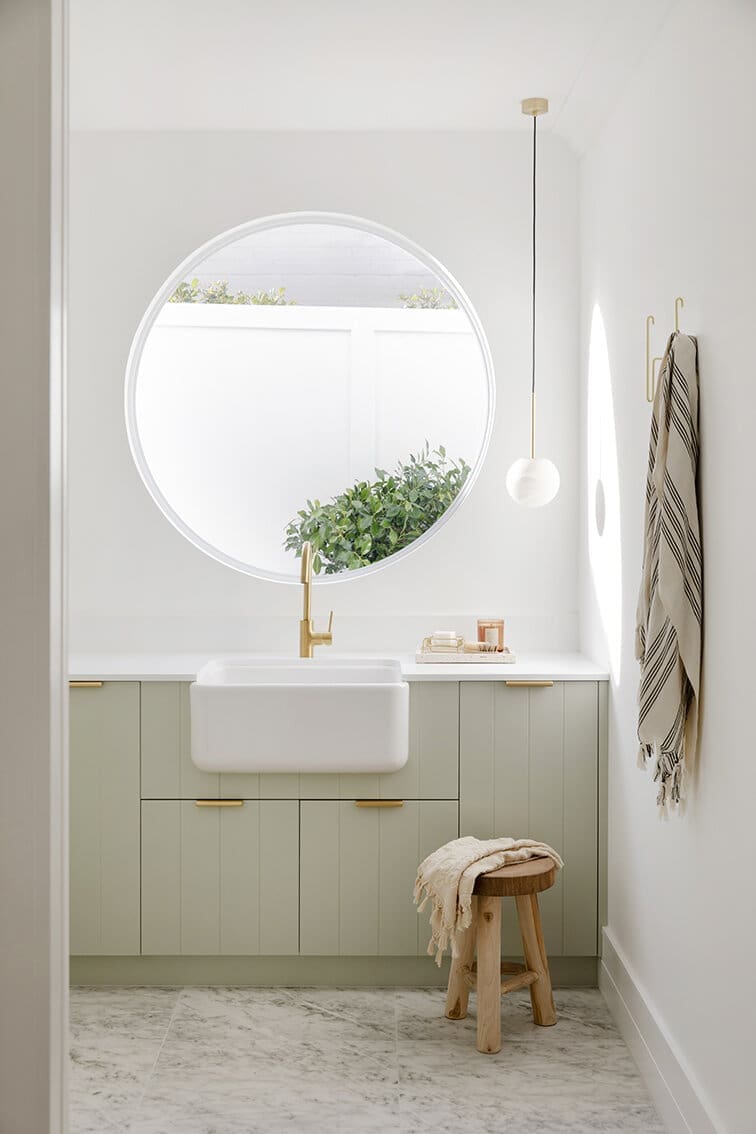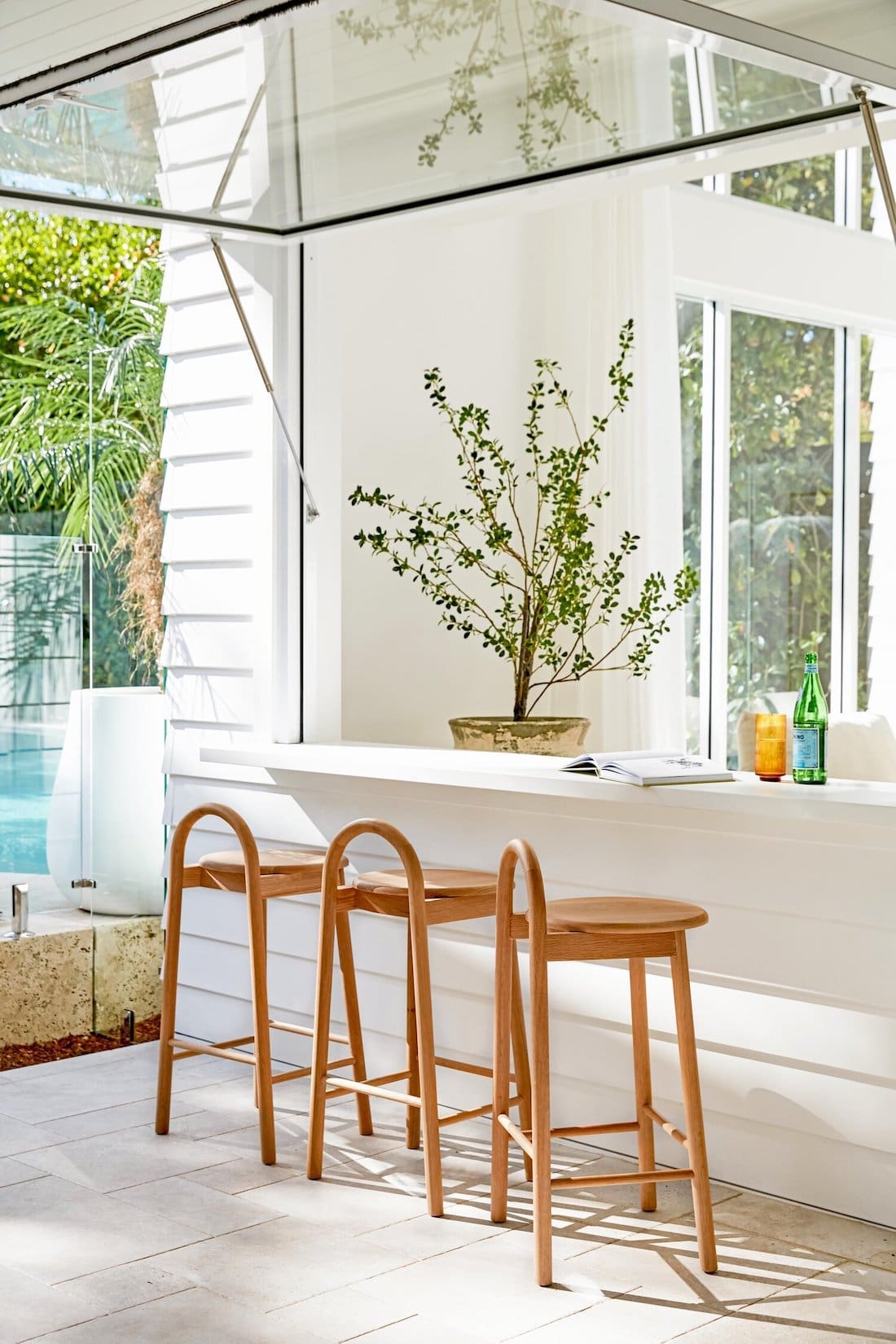 Choosing which statement design elements to include in the Dream Home was a tricky balance. They needed to keep the home affordable, but still quintessentially Three Birds.
"We have a really wide hallway. It's something we love doing. It makes all the difference in the world," says Lana.
"It's really practical when you've got lots of cupboards and storage to not have it banging into each other. And then this is our take on a mudroom space. Built in storage in the seat. All our built in bench seats have storage in them which is so cool!
"Into the laundry, we wanted you to look down this hallway and see this gorgeous round window. We've done this round window in House 10 and everyone loved that laundry. This is the same design.
"A laundry is a place that we always put a bit more effort into because it can sometimes get neglected. We've tried to give it a nice big footprint, lots of space, lots of storage. And we love a pendant in the laundry! It's just another way to make it feel a little more special in quite a functional space.
And of course, something that simply couldn't be missed?!
"A trademark Three Birds moment… the gas strut window!" says Lana with a smile.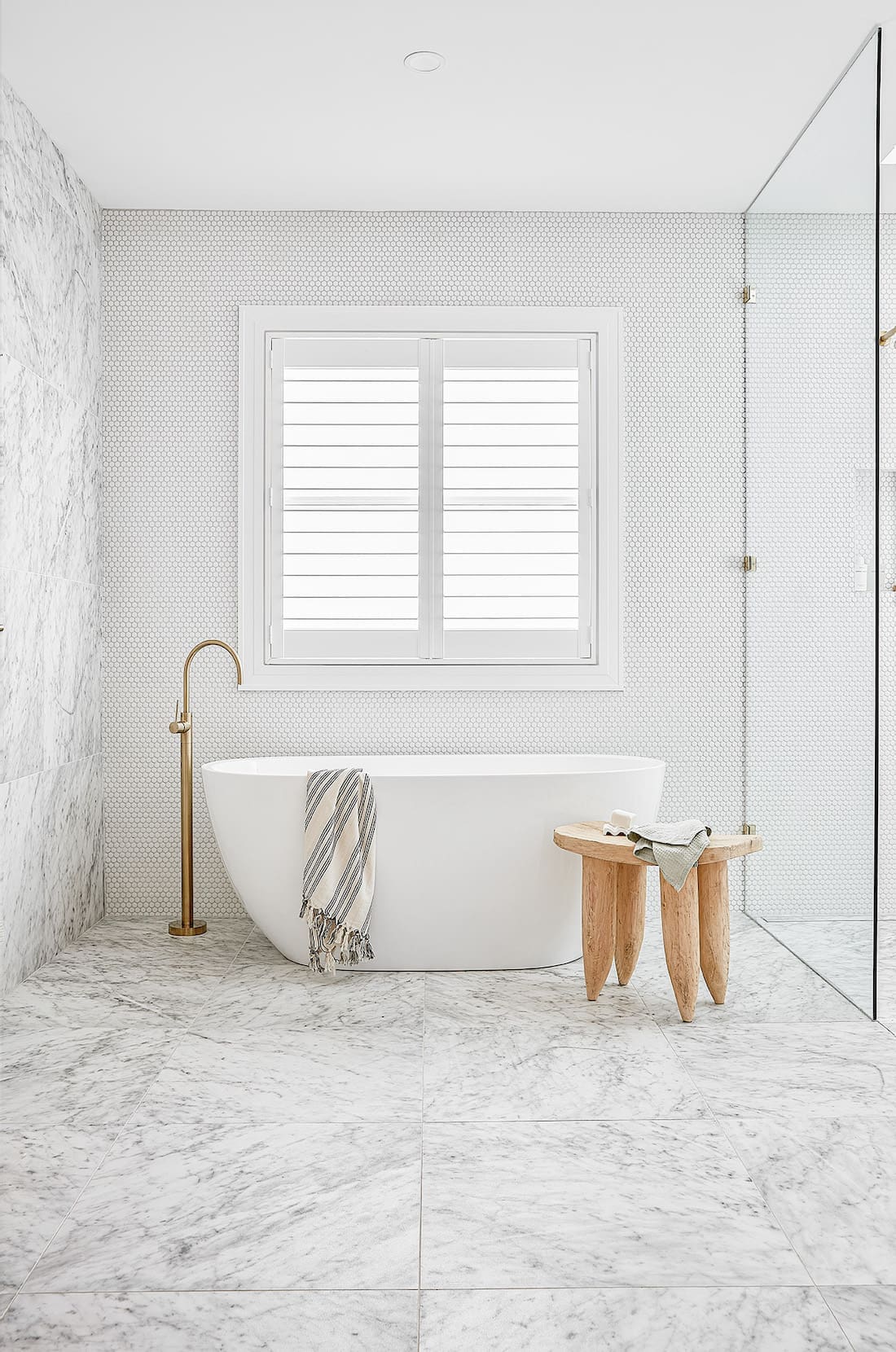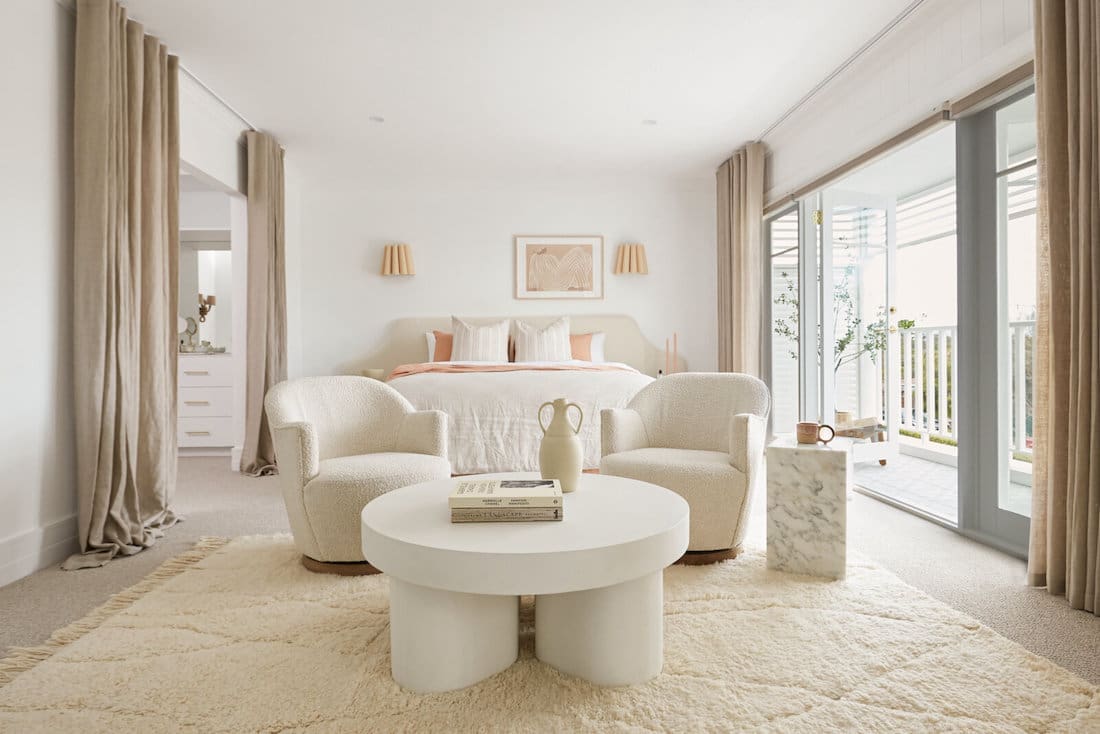 As well as plenty of light, there are also lots of curves to spy around every corner of this beautiful home.
"In the main bathroom, we created this curved wall that wraps around into the shower. We couldn't have created the curved wall so effectively without the penny round tiles. They're easy to bend around the curve. And you really can't go wrong with white penny rounds!" says Lana.
"The toilet is hidden behind the entry door which is one of our favourite little tricks. It just means that everything you can see are the pretty components of the bathroom.
"[Another thing] we've always loved doing is the skylight above the bath. It provides lovely natural light."
What do you think of the light bright beautiful interior of Three Birds Dream Home? Does it have all those iconic Three Birds features for you? To see more projects from the incredibly talented team, be sure to check out their website, renovation and styling schools, or scroll through their Instagram.