Living out of the city has given Ally Spasic from Art by Ally S all the inspiration she needs. Her designs feature a soft, pastel colour palette, giving her pieces a touch of femininity. Describing her style as abstract still life, we were excited to chat with Ally on her university study change of heart which saw her chasing her artistic dreams.
Related article: Food and art lovers rejoice with the appetizing abstract art from The Art Edit
Related article: Hand drawn florals and pastel colour pops from artist Adele Naidoo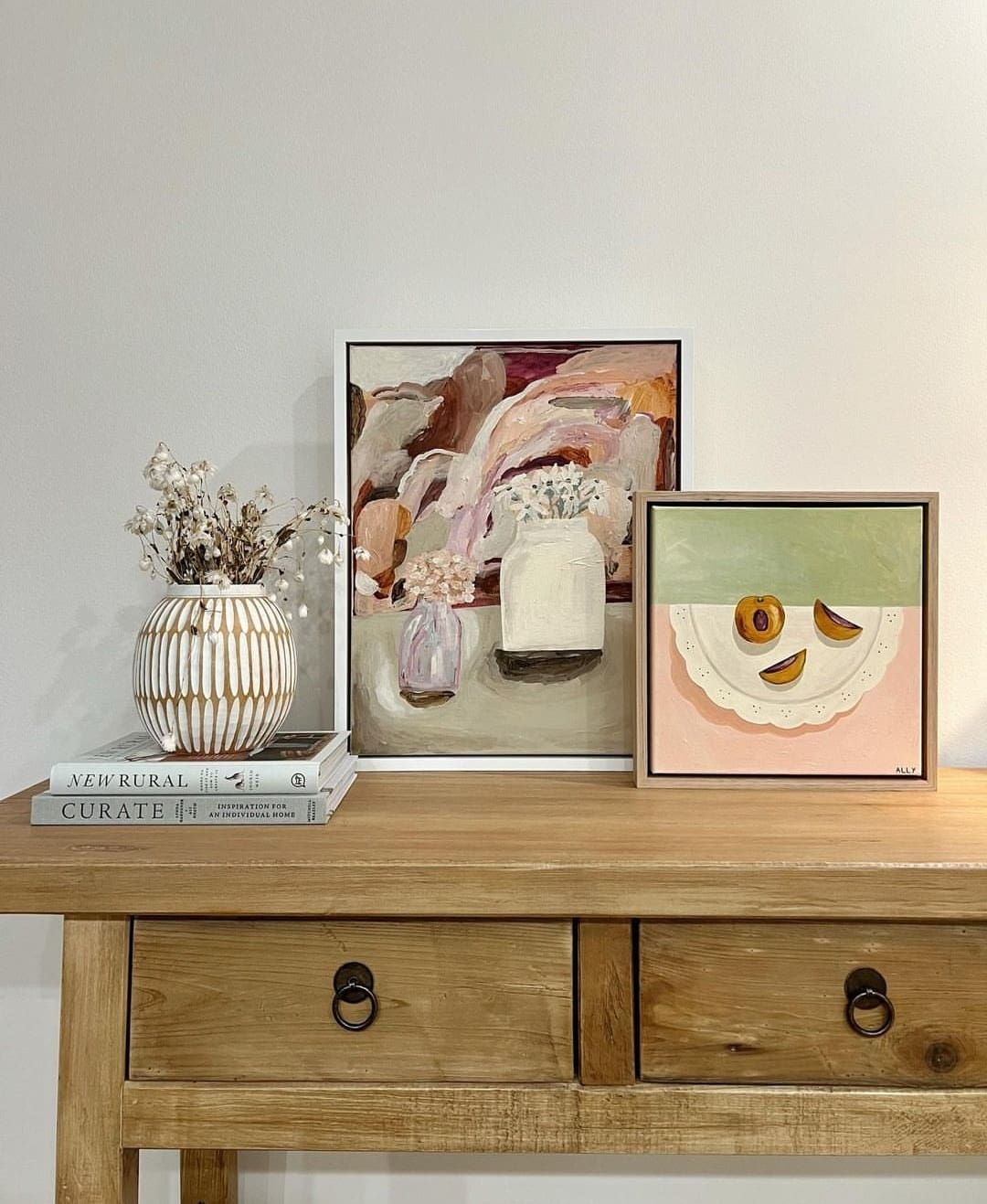 Living in a rural setting provides Ally with never-ending inspiration for her art.
"I live with my fiancé and our 2 dogs (Rusty and Bentley) on our dream property, just on the outskirts of Bathurst in New South Wales.
"The views from every window of our home give me endless inspiration. Whether it's the morning sun that lights up the rolling hills, flowers blooming in the garden, the budding fruit trees or the evening sun casting ever changing sunset reflections off the dam," Ally says dreamily.
"These inspirations fill me with so many ideas and colour palettes for my artworks.
"I do most of my work in my art studio on our property. It's a heritage cottage that has been around for nearly 200 years. I love its quirky, beautiful feel."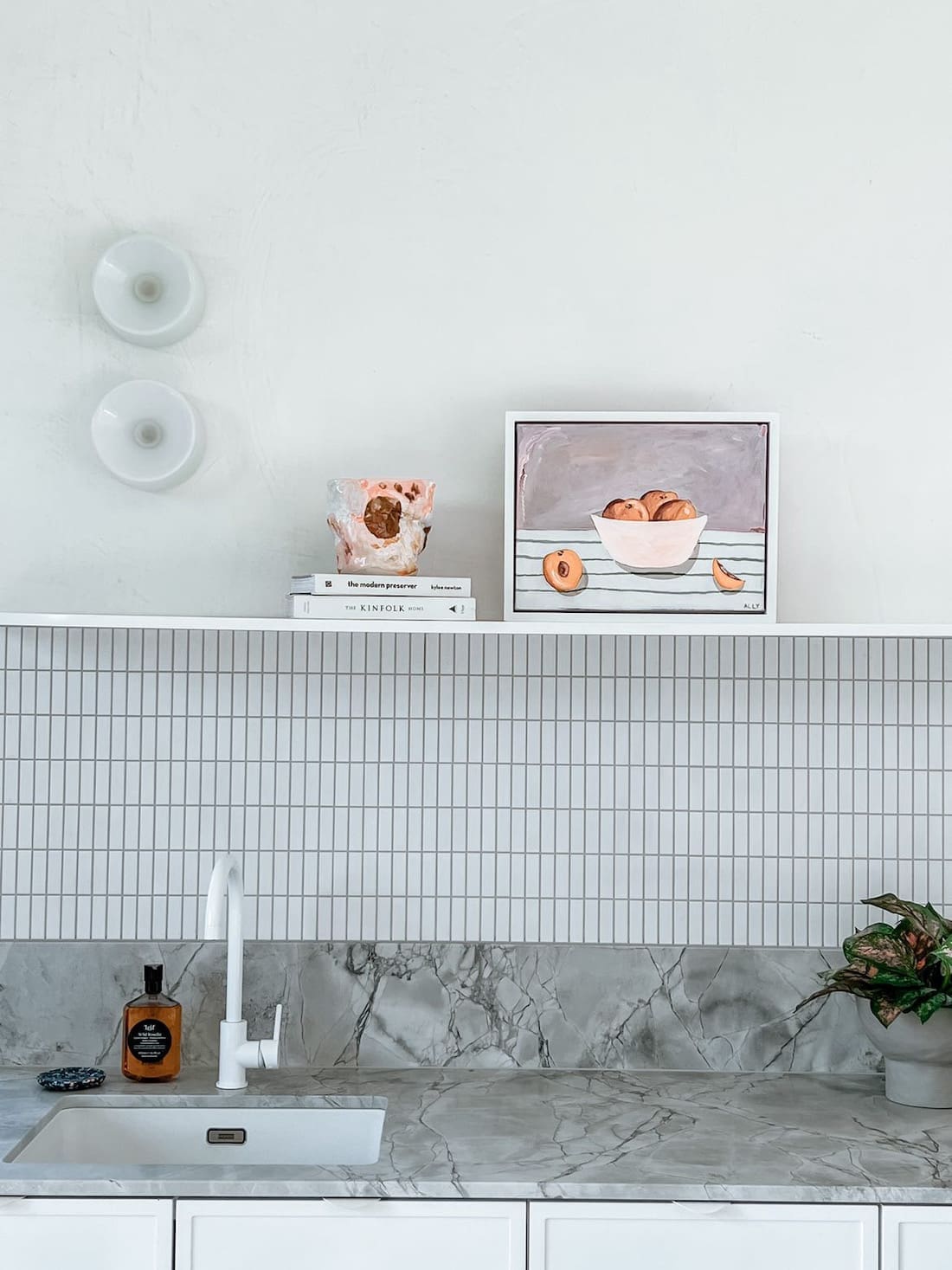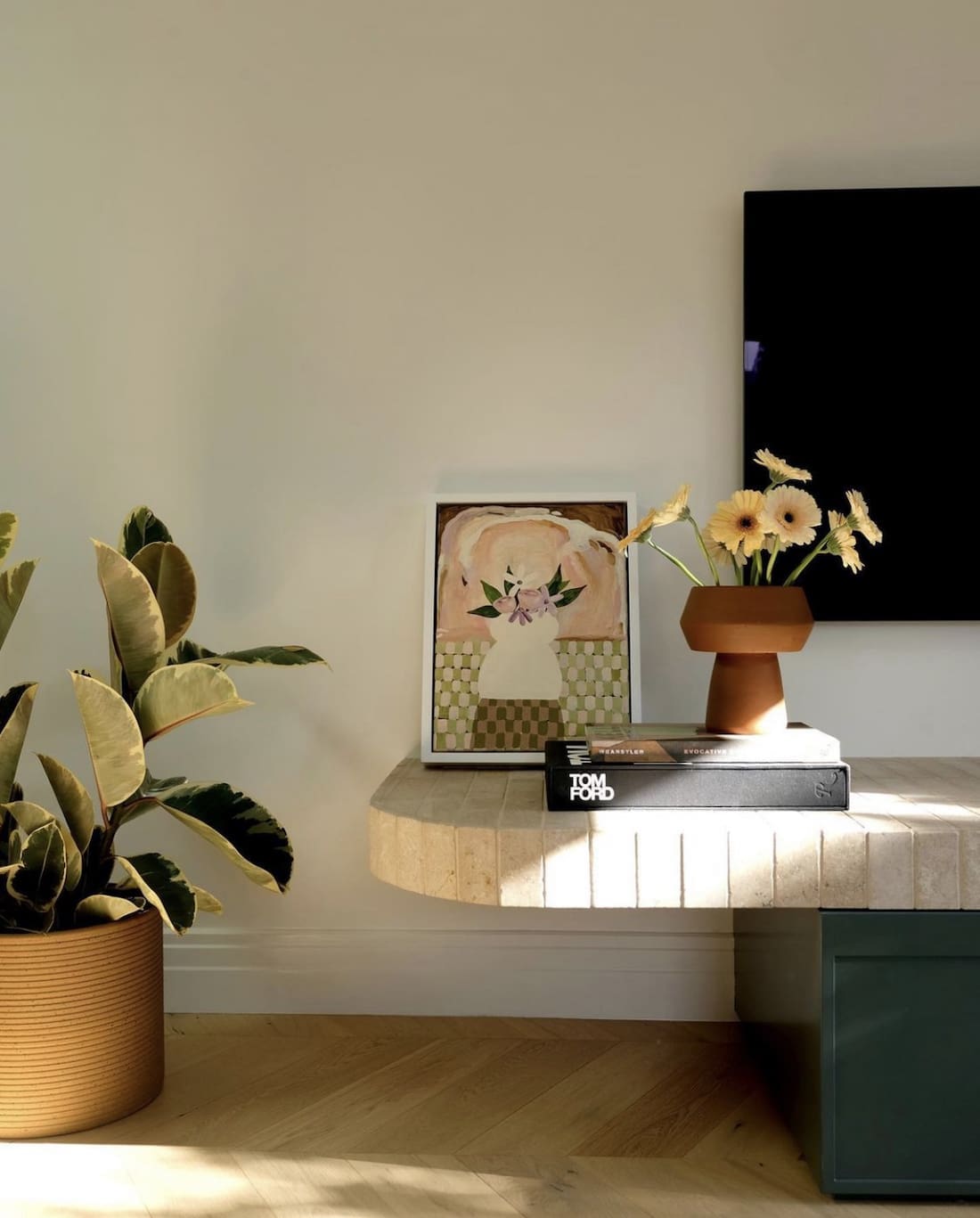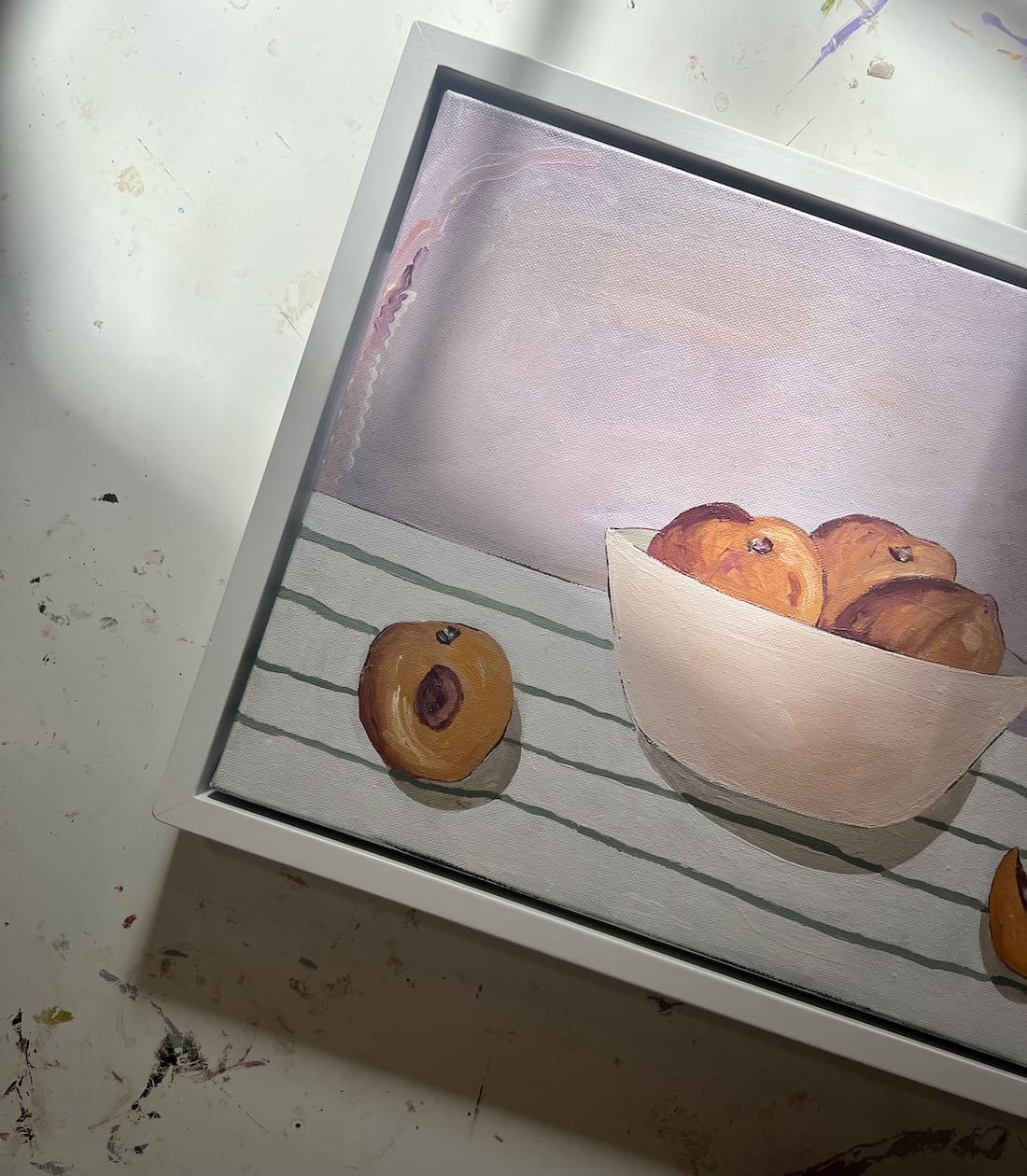 Creative from a young age, Ally loved experimenting with different crafts until she found her favourite.
"I've always been creative, ever since I was little. All through school I studied art and had the most amazing art teacher in primary school that really encouraged me. When I finished school, I started painting and playing around with lots of different mediums," says Ally.
"I then started focusing more on the practice of painting acrylic on canvas. Building my skills, experimenting with different styles and colour palettes to find my rhythm and what I loved painting.
"This was when I felt like I'd really found my style. Every time I picked up a brush, I realised how much I loved creating and expressing myself on the canvas."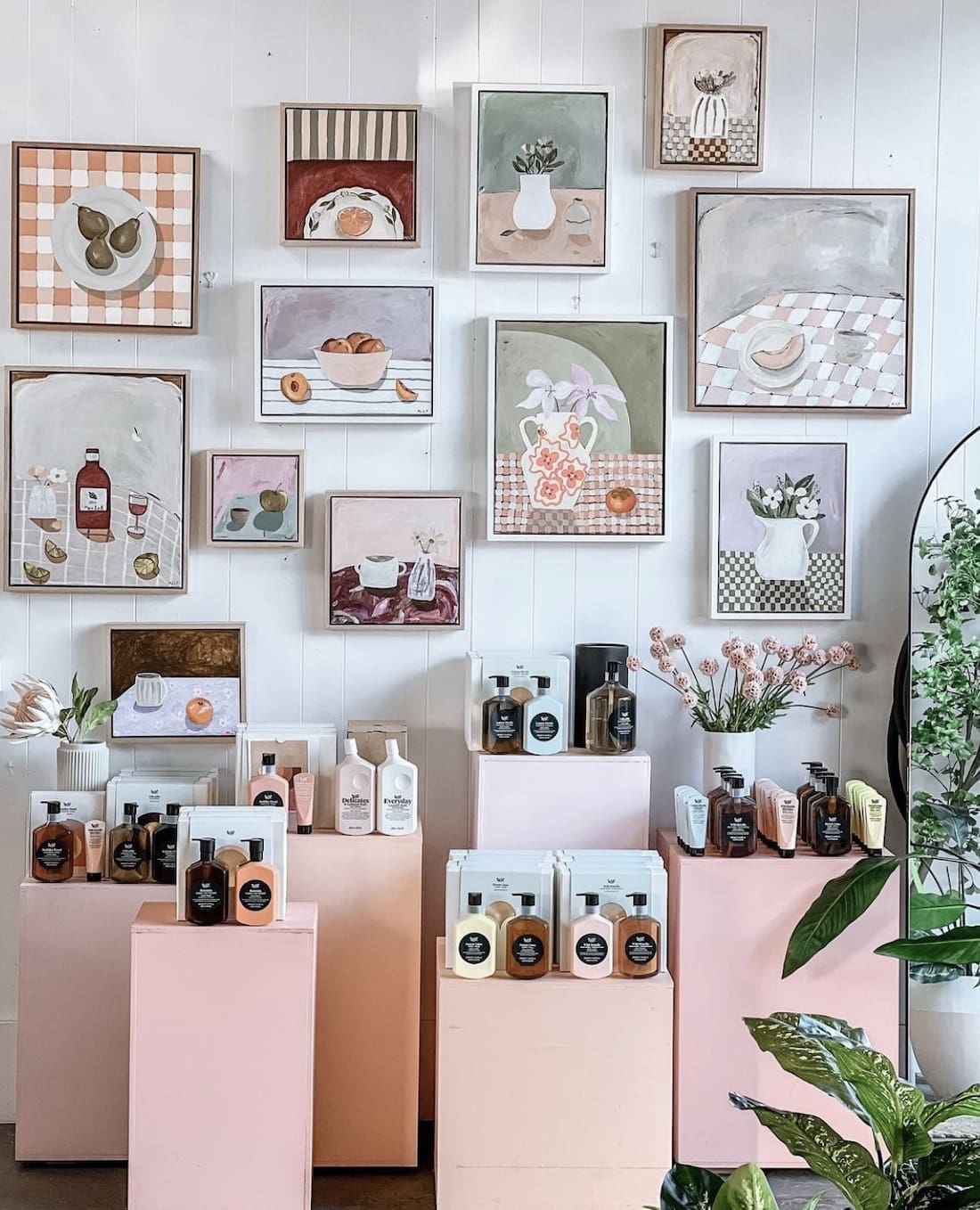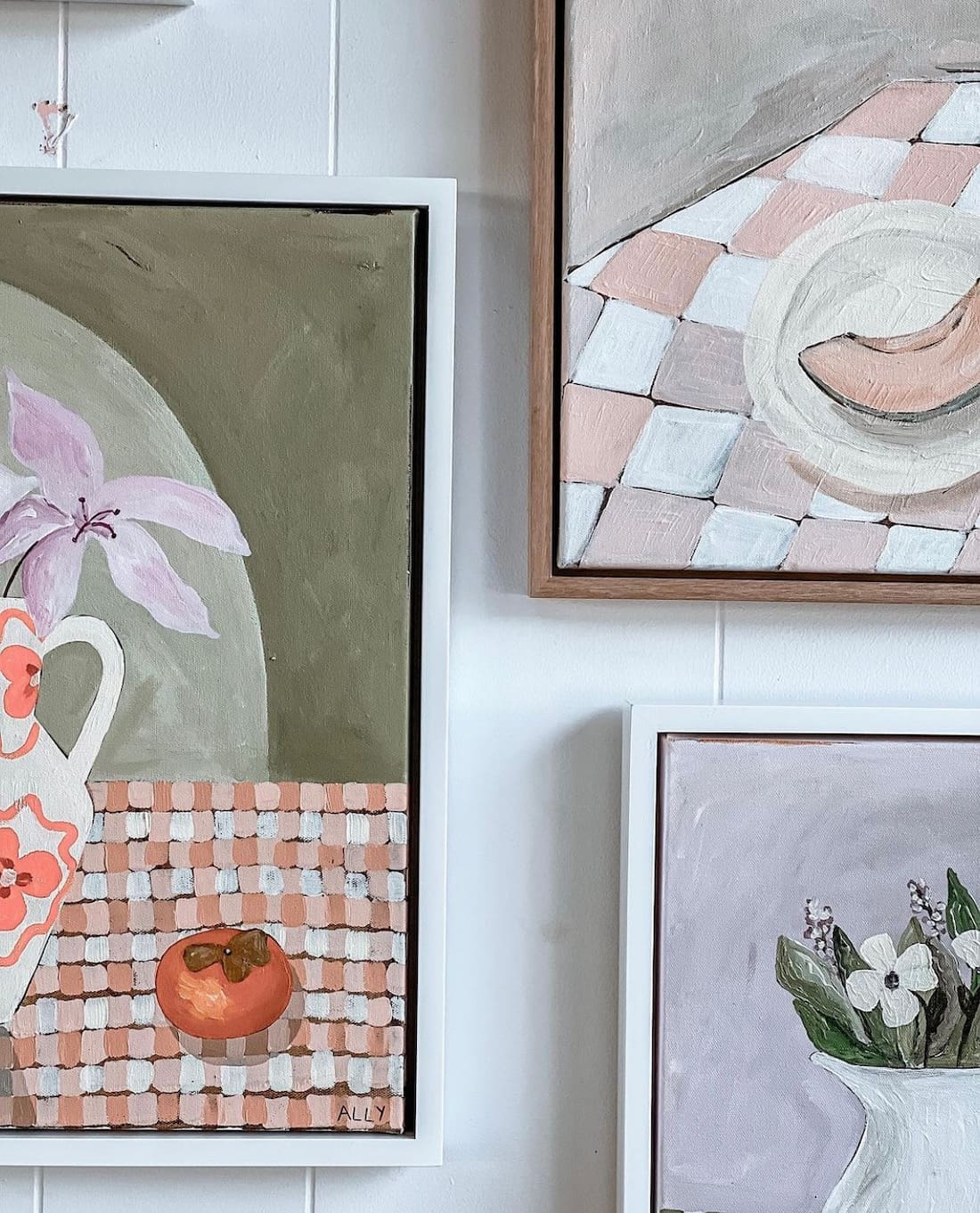 Like many talented artists, Ally didn't think she could make a career from art so took a different path.
"While I was knee-deep in painting and discovering my style, I started a university degree studying teaching. Partway through, I realised I simply wasn't enjoying the course and I really wanted to pursue my art career," Ally remembers.
"Fast forward 2 years and I am so grateful for the journey I've been on! Art is now my full-time job, however I still work a couple of days a week as a barista."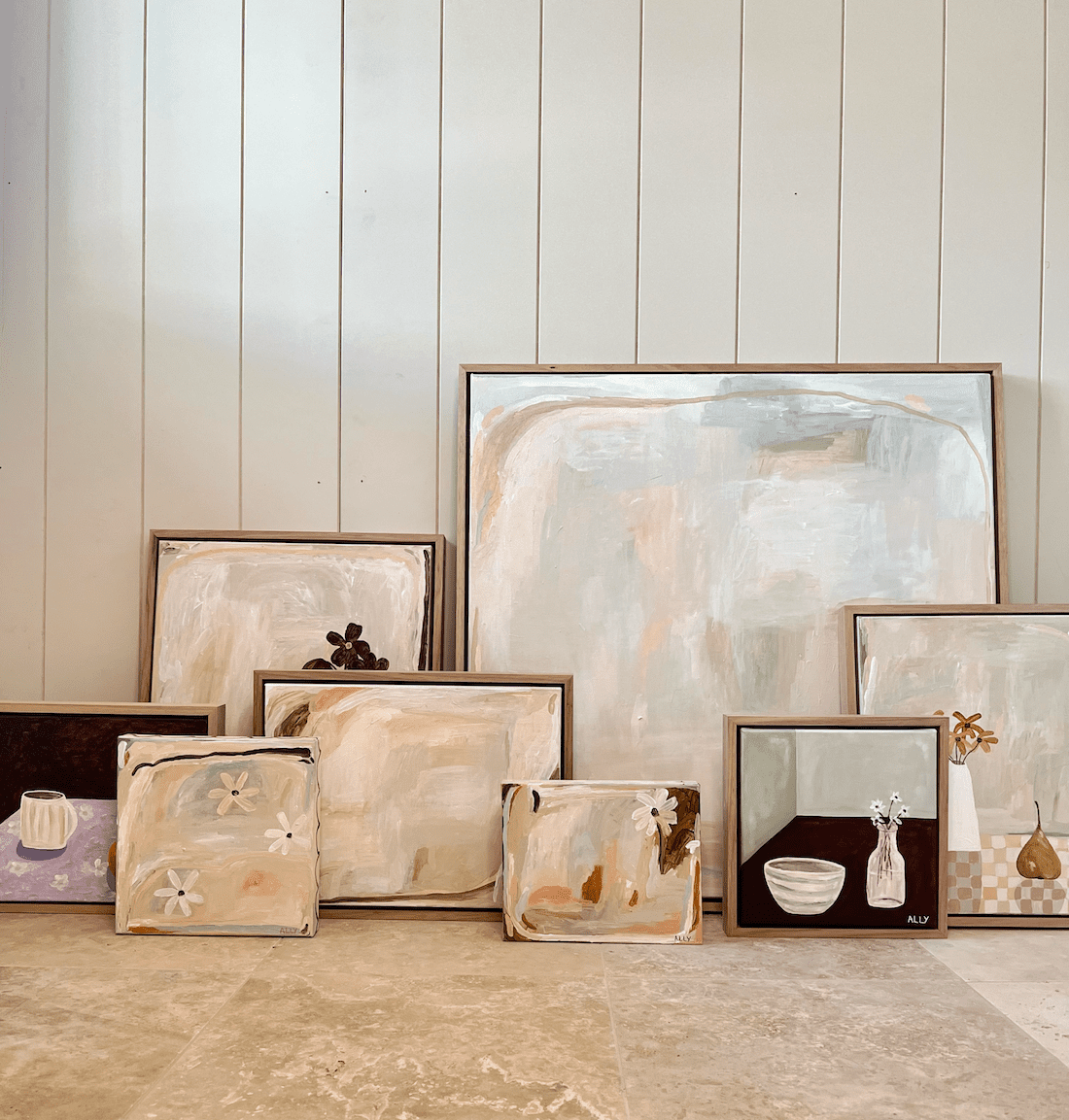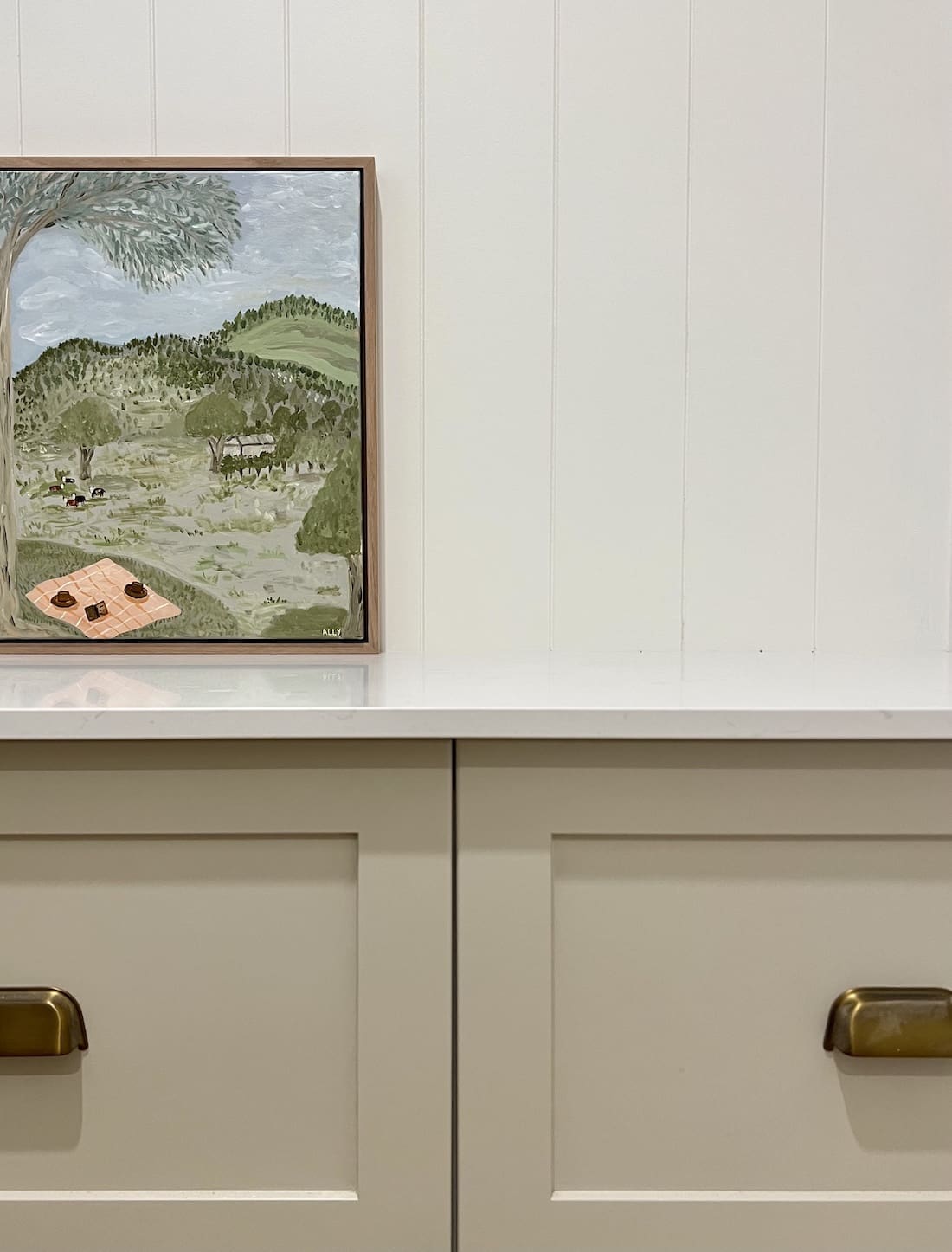 The abstract still life art Ally creates have a distinctly 'her' pastel colour palette.
"Nature gives me so much inspiration. The expansive views and ever changing colour palette of the land and environment. The changing of the seasons, fresh florals… I'm inspired daily by what I see," smiles Ally.
"My style is abstract still life. Since discovering art at school, I've loved abstract art and loved painting textured abstract pieces. I also love painting still life works and thought it might be an idea to combine my love for these 2 styles.
"Incorporating as much texture where possible, I use acrylic paint to create my abstract still life works on canvas. As I'm surrounded by beautiful views of landscapes, I find myself drawn to painting these views. I also love it when customers commission a piece, inspired by landscapes that are special to them.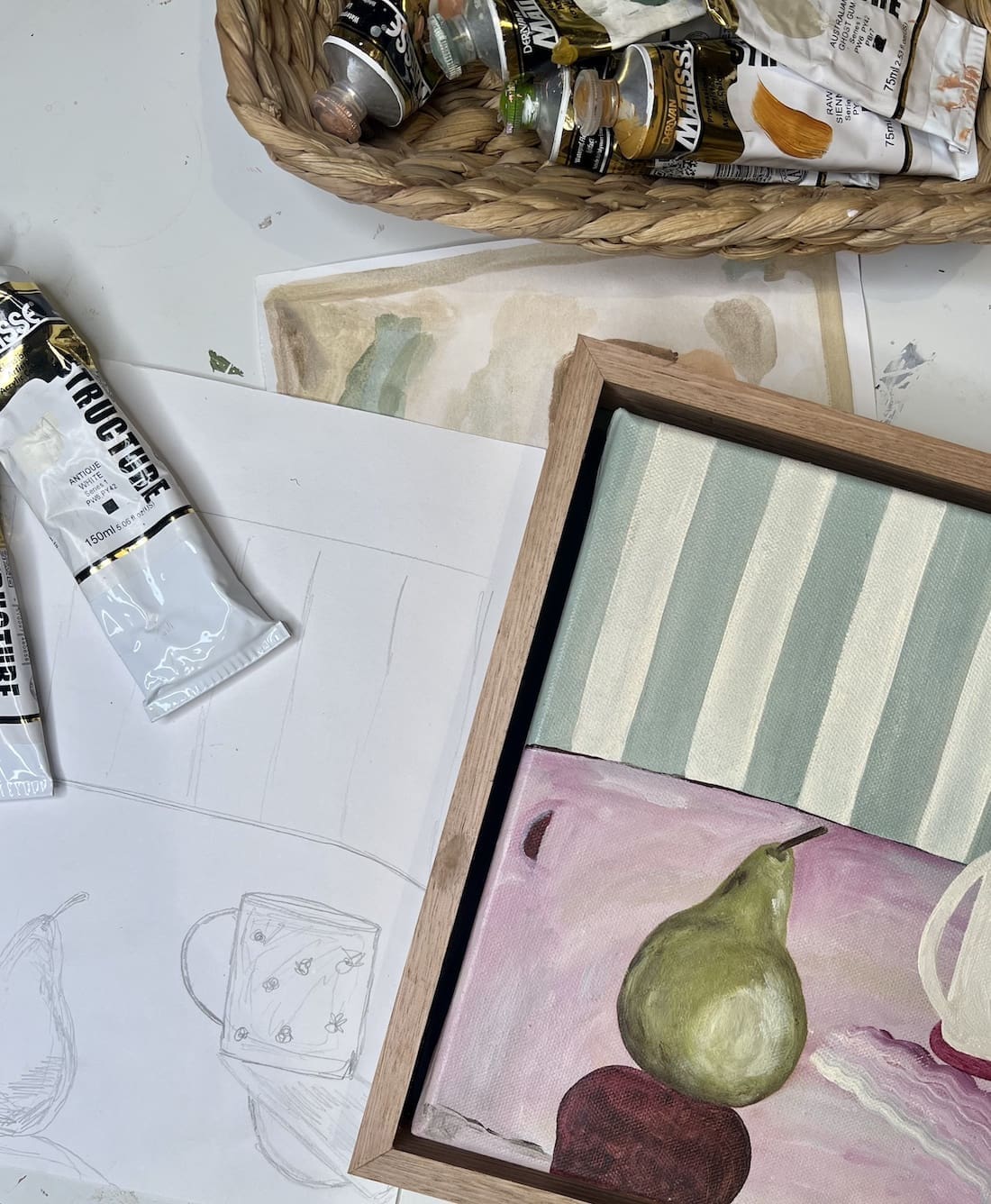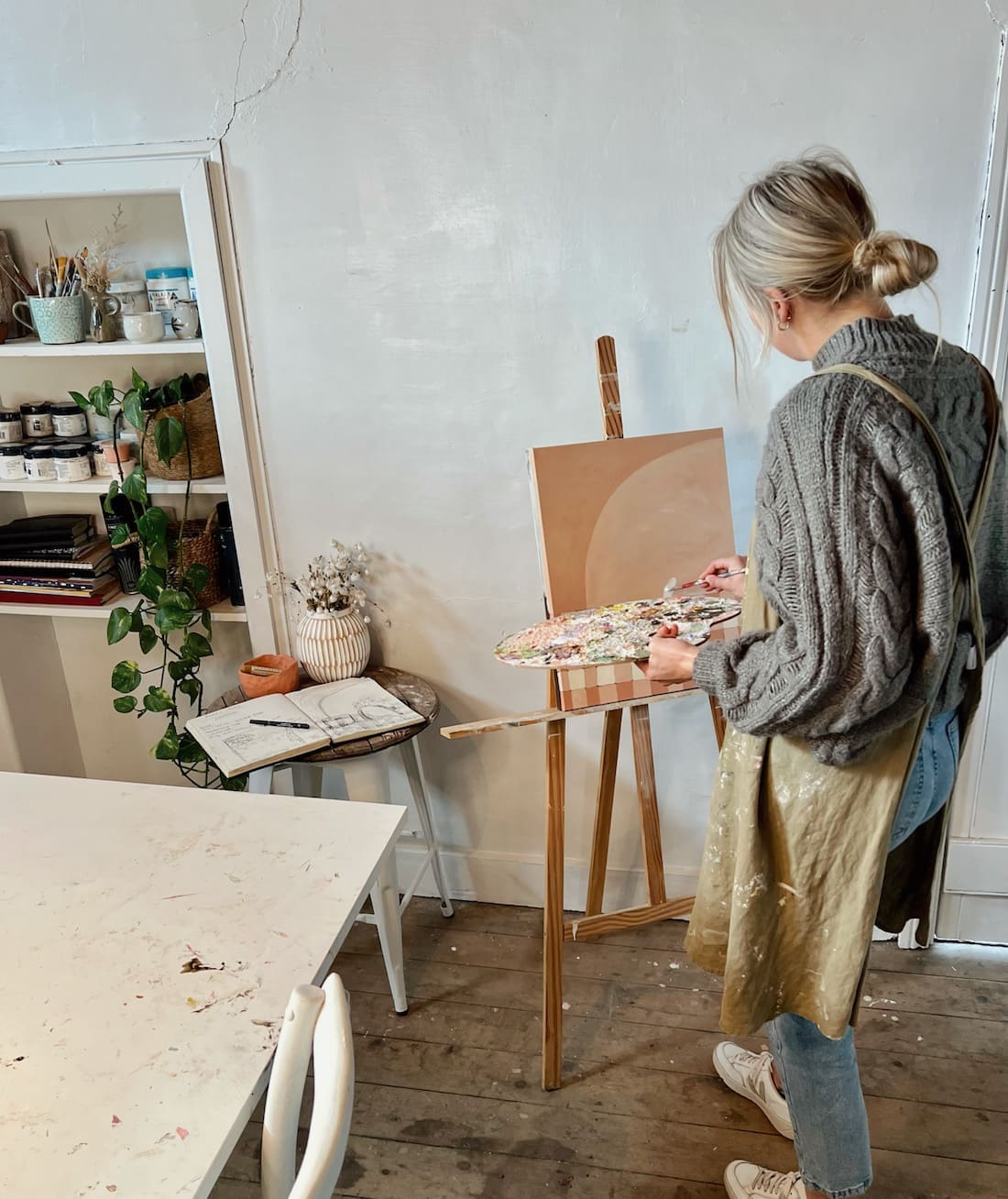 Ally allows her mood and intuition to guide her when creating her abstract still life paintings.
"I'm inspired by objects in my home. I like to create a vignette and sketch it to use in a work later on. Sometimes I will paint from a still life scene in my studio.
"I decide on the colour palette I want to work with — this often depends on what mood I want the piece to evoke. It's quite clear how much I love using soft pastels and neutral tones," smiles Ally.
"I feel these colours bring a sense of peace and calm to the finished piece. However I do love using pops of bright colours to bring a sense of joy and fun to the space.
We loved chatting with Ally and discovering her beautiful paintings. To see more of her work, be sure to take a scroll through her Instagram, and check out her website for more art.