There's plenty of research that supports the connection between our environment and wellbeing… and after all the time at home the past couple of years, I like so many others, felt it strongly! Don't get me wrong, I'm incredibly grateful for the home my husband and I have built for our family. But aspects of our house I didn't like became all the more obvious when locked up. So I went on a mission to freshen up our home and over the past few months have been decluttering, DIYing and decorating my heart out.
One aspect of our home that needed attention were our window coverings so let me share with you the new window treatments I selected from dollar curtains + blinds.
Related article: The best window coverings to insulate your home
Related article: Top 50 items in home decor
Kitchen and dining window coverings
In our kitchen and dining area, we had light filtering honeycomb blinds. Although I initially loved these when we had them installed years ago, over time they became discoloured and the cordless mechanism inside broke so they would no longer open fully. It meant we always had the view at least half blocked with brownish blinds. Not exactly the look I'm going for!
In this space I knew I wanted window coverings that were minimalist and low maintenance. It's the busiest part of our house where our young kids and dog Hulk will unleash their energy. Ultimately, I decided simple white light filtering roller blinds were the best window covering solution and I couldn't be happier with how they have brightened and lifted this space.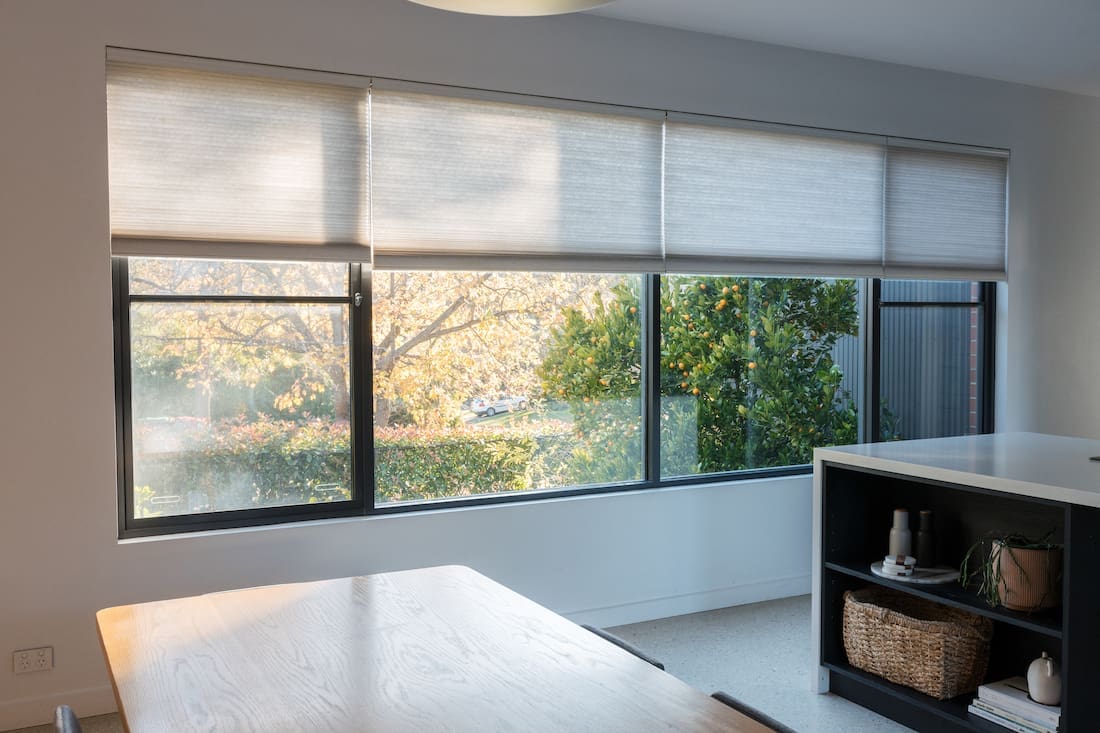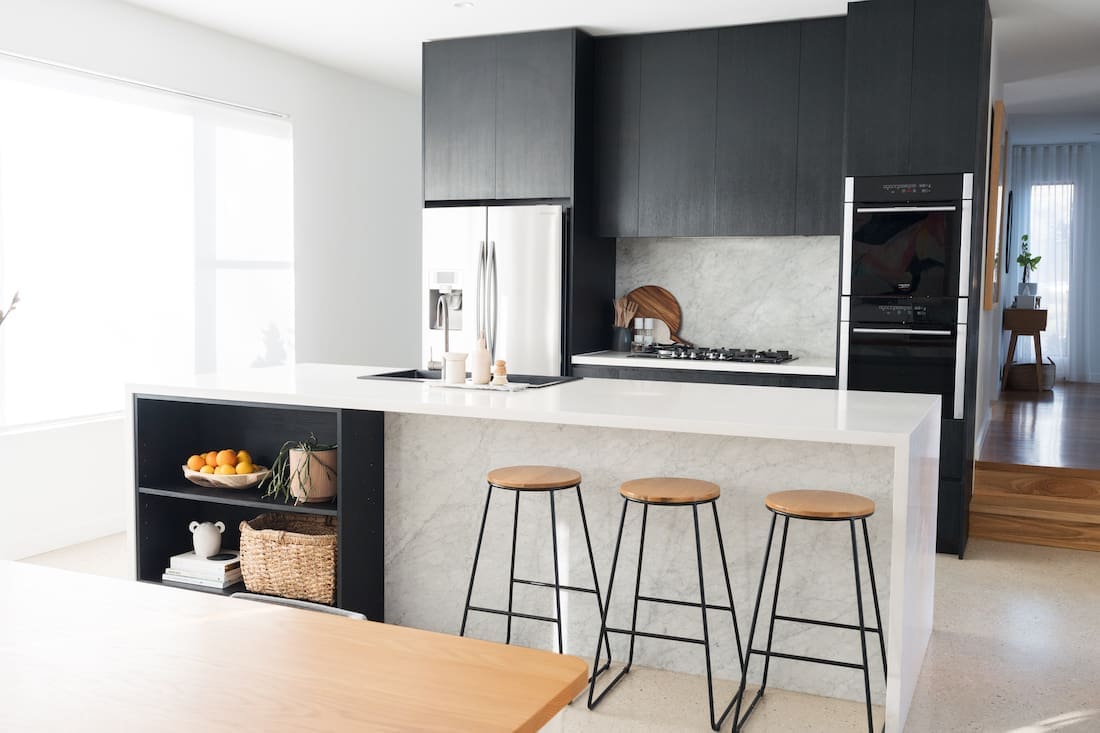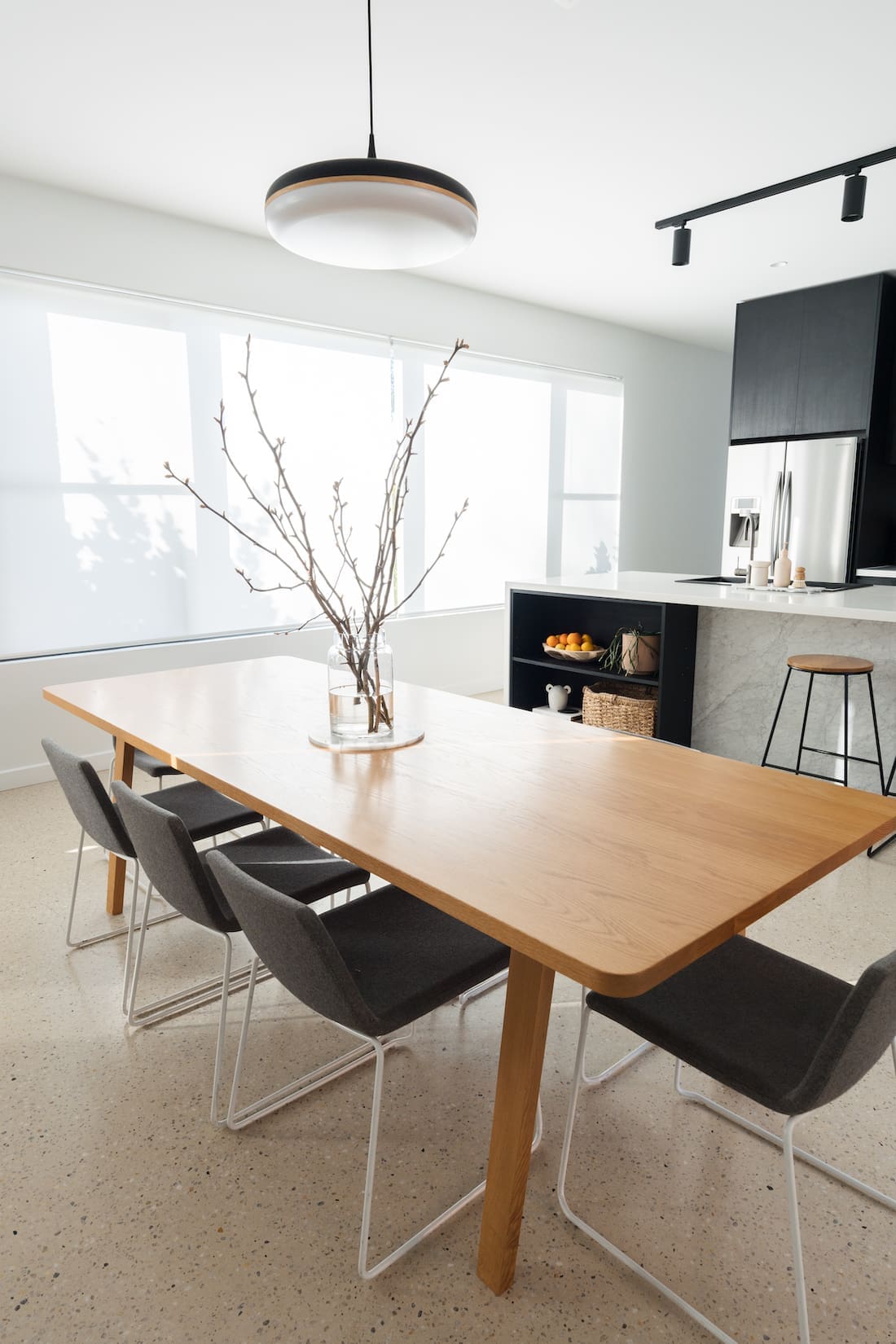 Living room sheer curtain
One of my favourite spaces now is our living room, thanks to the new sheer curtain that diffuses light so beautifully in here. Previously, we had two small sheer curtains on the corner window. But when the afternoon sun hit, the room would become uncomfortable with too much light and heat coming through the large glass sliding door. 
dollar curtains + blinds offer so many track options, including curved tracks for corner windows. So we replaced the small corner window curtains with a large, seamless sheer curtain. It runs from the start of the sliding door all the way across to the end window. Game changer!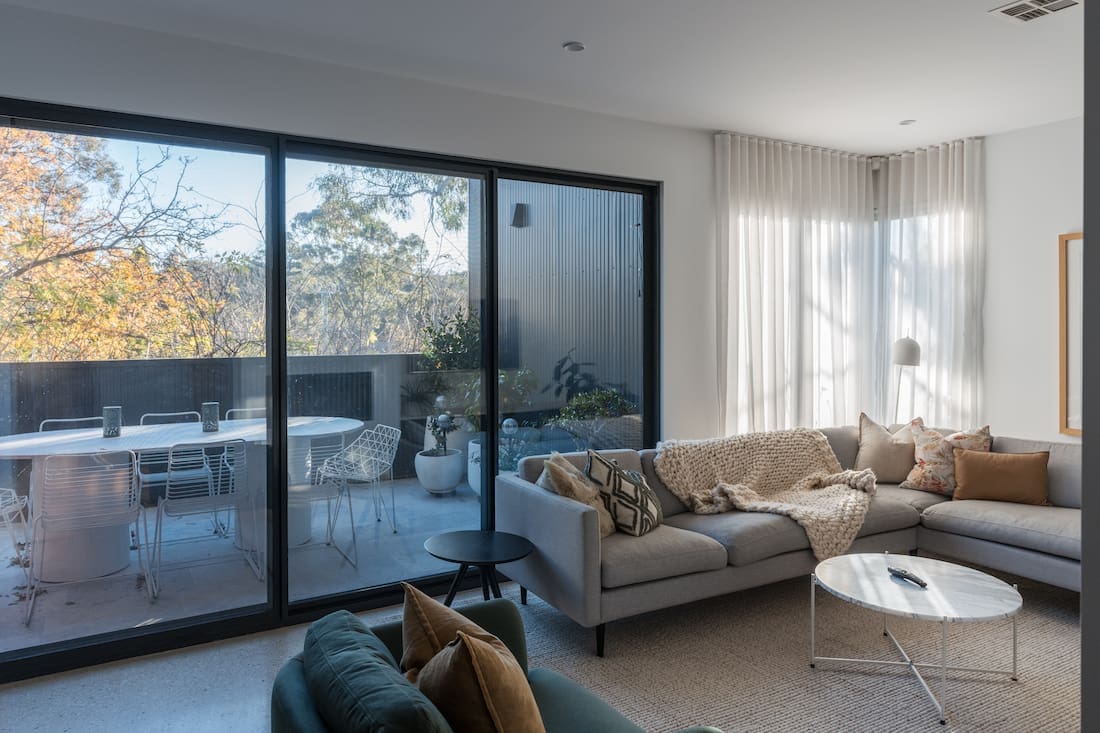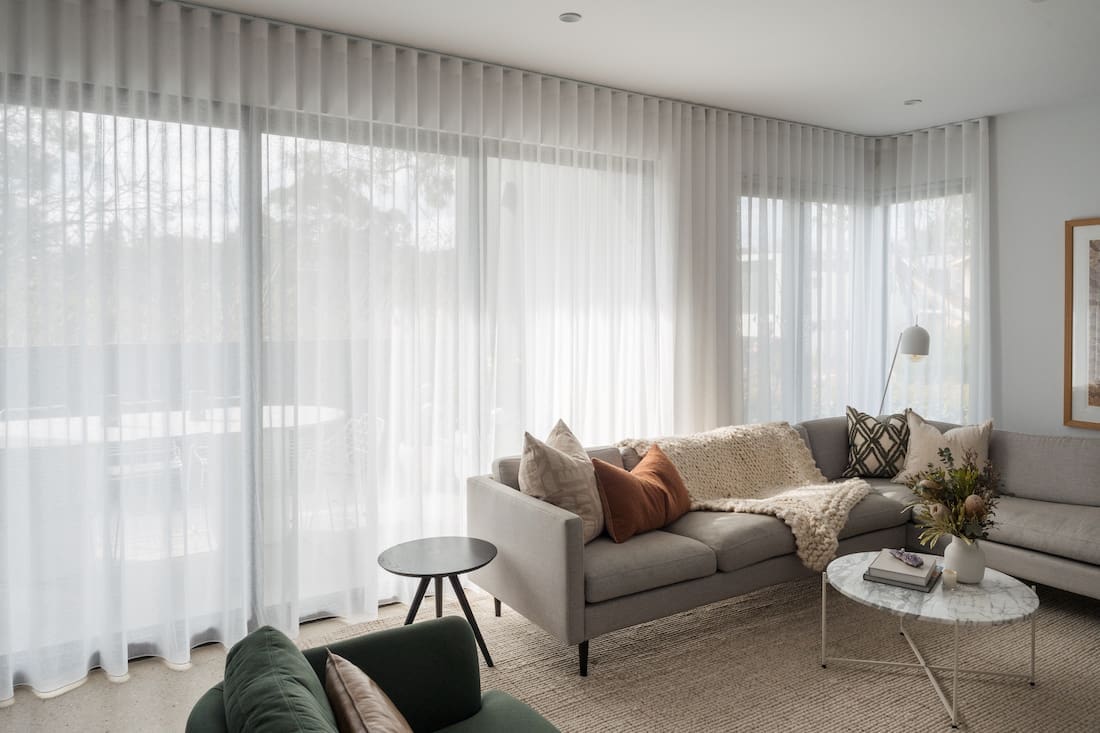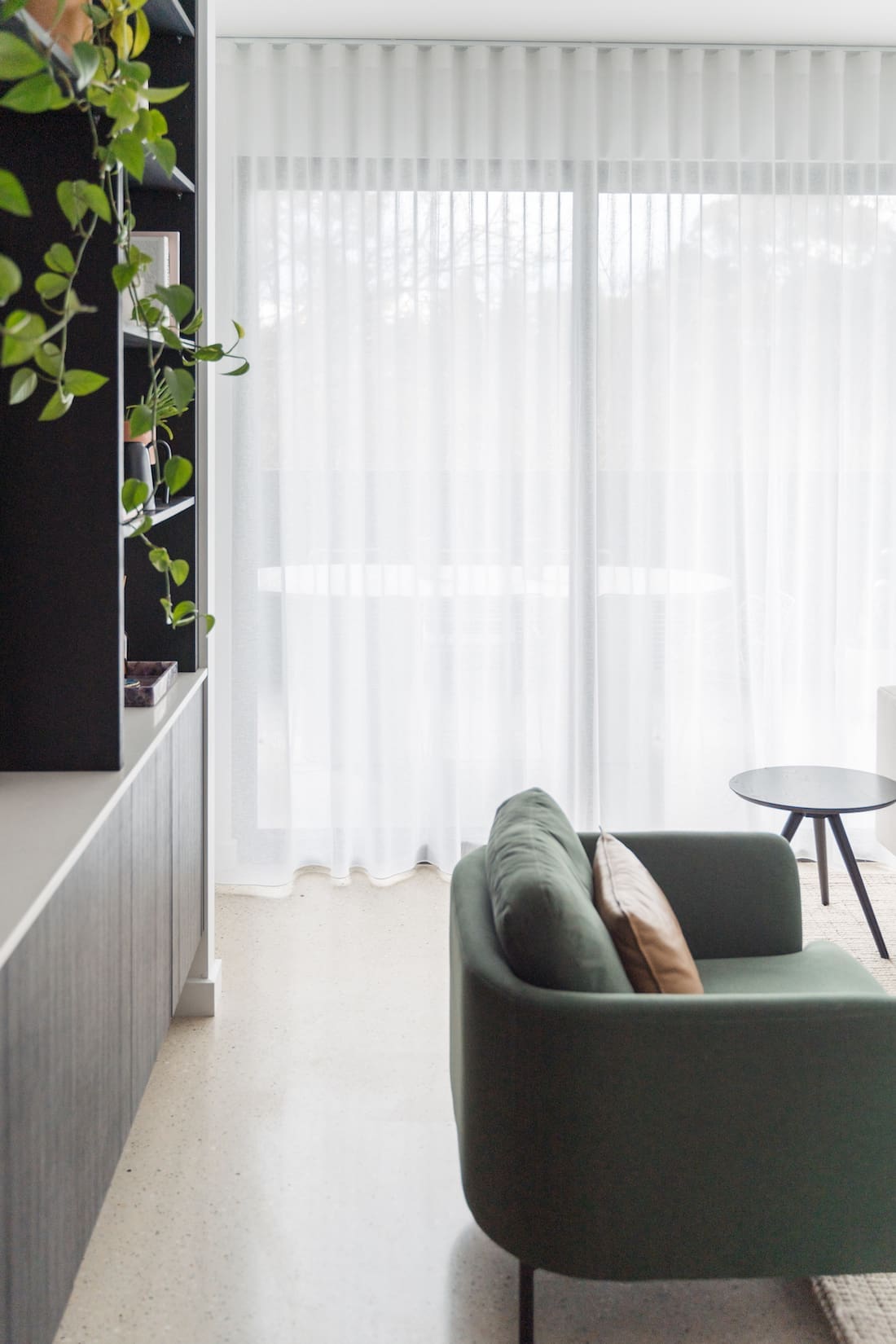 Bedroom sheer curtains
Years ago, when we installed sheer curtains in the bedrooms, the look was to have them puddle on the floor. Two kids later and my views on overlength curtains has changed a lot, ha ha. 
Not only is the extra length a bit of a dust collector, it also contributed to the kids breaking many of the curtain tracks. Despite my best efforts stop them playing in the curtains, kids will be kids. And whenever they stepped on the curtains, I'd hear a snap of the curtain unclipping or worse, breaking from the track. 
I've also learnt a lot more about window coverings over the years and some key tips are to:
run your curtain as tall and wide as possible to create the illusion of a larger space. This is why I made our new bedroom curtains larger, running from wall to wall
sit your sheer curtains off the floor to better highlight the shape of the fold
embrace a textured fabric to bring more depth to your space. I selected 'Banksia Natural' curtain fabric from dollar curtains + blinds for all the rooms.
(All of the sheer curtains I removed were either reused or recycled.)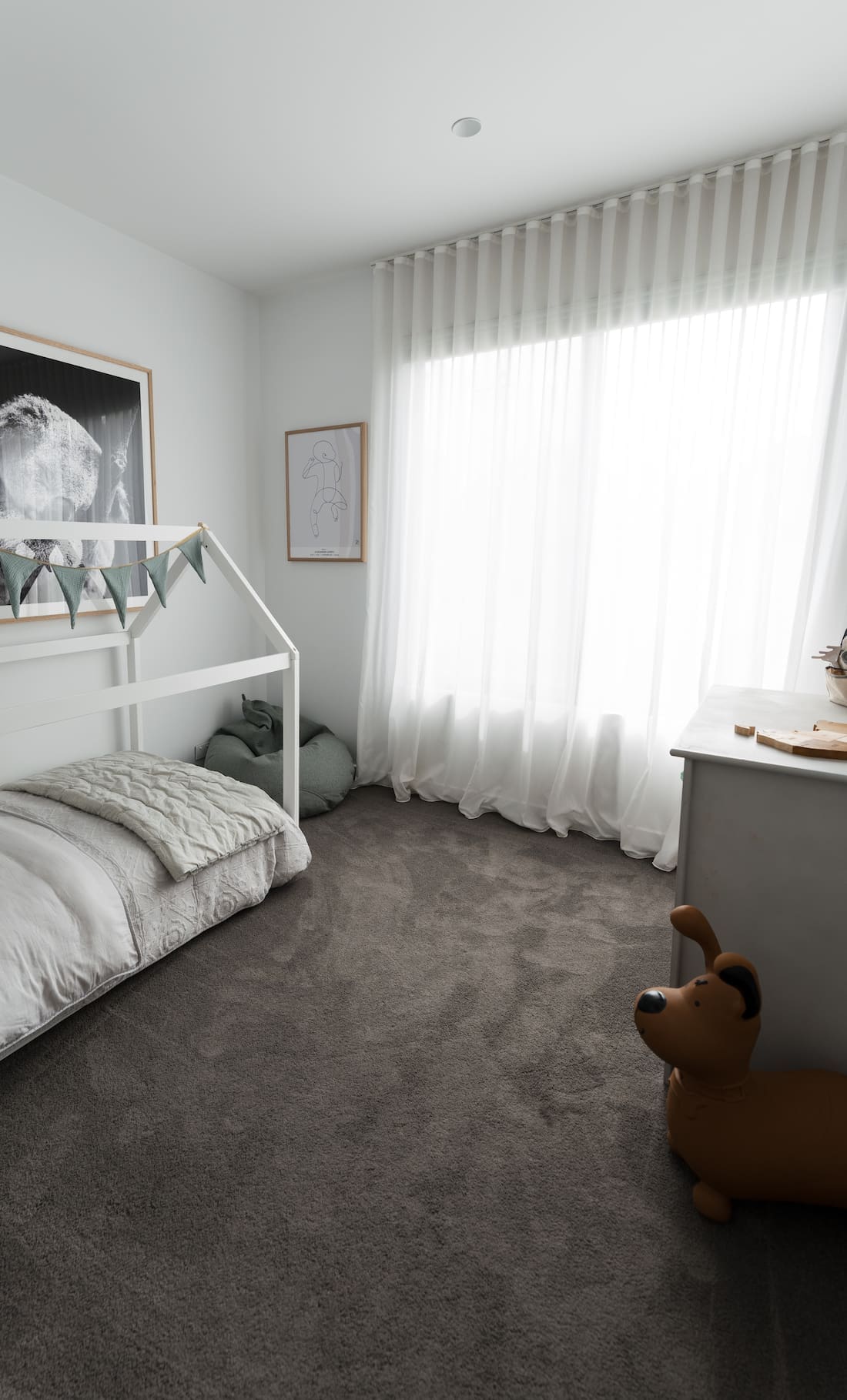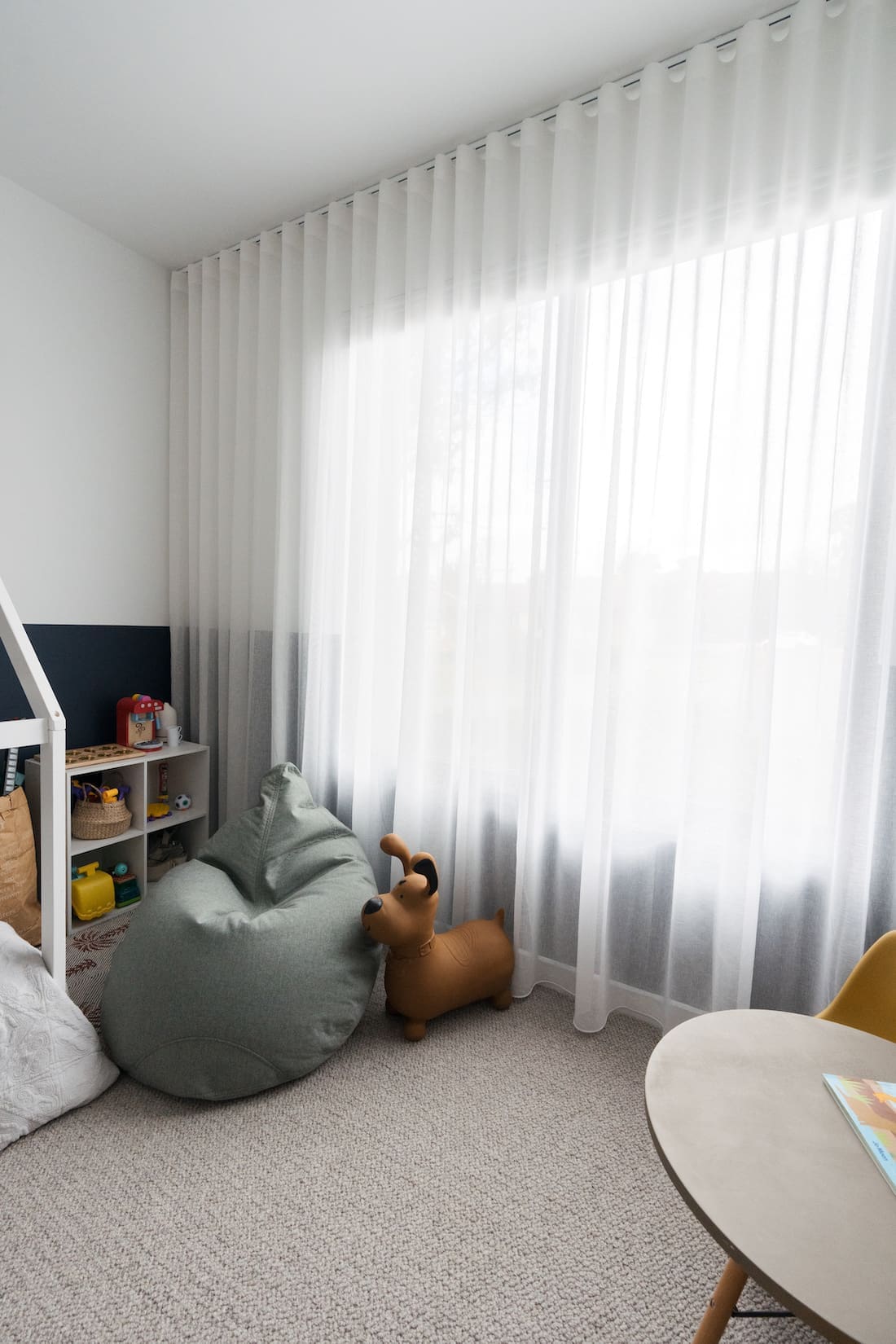 Master bedroom window coverings
Finally, our master bedroom had a total window covering overhaul. I felt like this space was drowning in fabric and the mechanisms in our honeycomb blinds had broken.
I ummmed and ahhhed a lot about what kind of window coverings I should install. Every type of window covering has pros and cons and it took a while to weigh up what was most important to me. Was it to have total blockout, the best control of privacy, or the aesthetic?
While recess fit honeycomb blinds have the smallest light gap of any recess fit blind, they can look somewhat harsh when there isn't a curtain in front of them. Because I knew I would not install a curtain on the two smaller windows, I wanted a minimalist window covering. Again, I decided on a simple roller blind to drop away and allow the artwork to be the hero of the wall. The difference of light gap between honeycomb and roller is minimal and I'm so happy with this solution.
Oh, I can't forget to mention that gorgeous ceiling mount sheer curtain we installed on the main window wall. Following the tips I mentioned above, we ran this curtain from wall to wall and had it sit off the floor to let the fabric hang in that lovely wavefold pattern.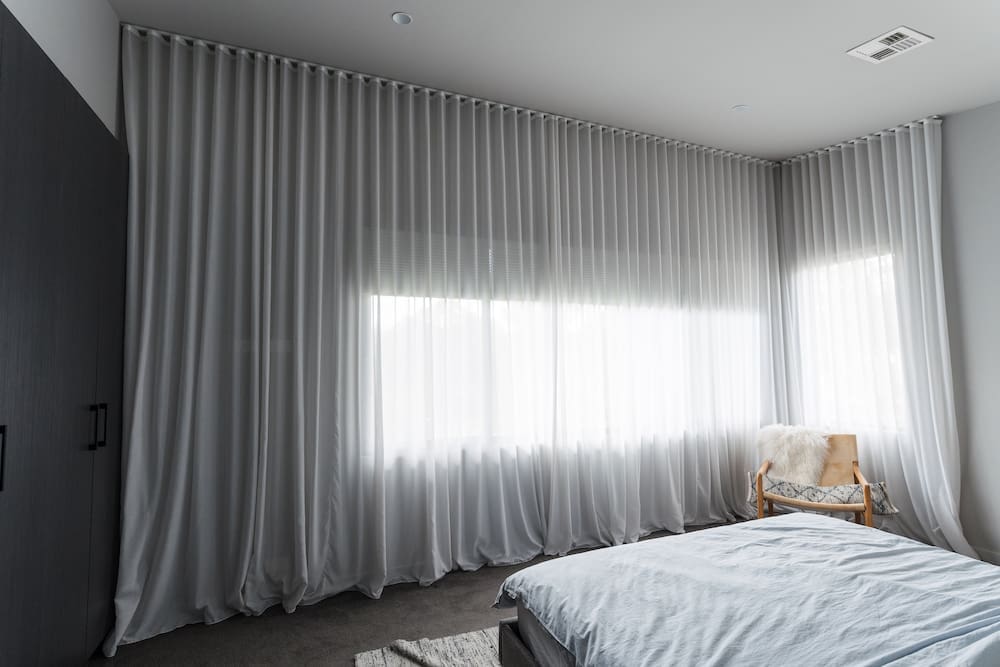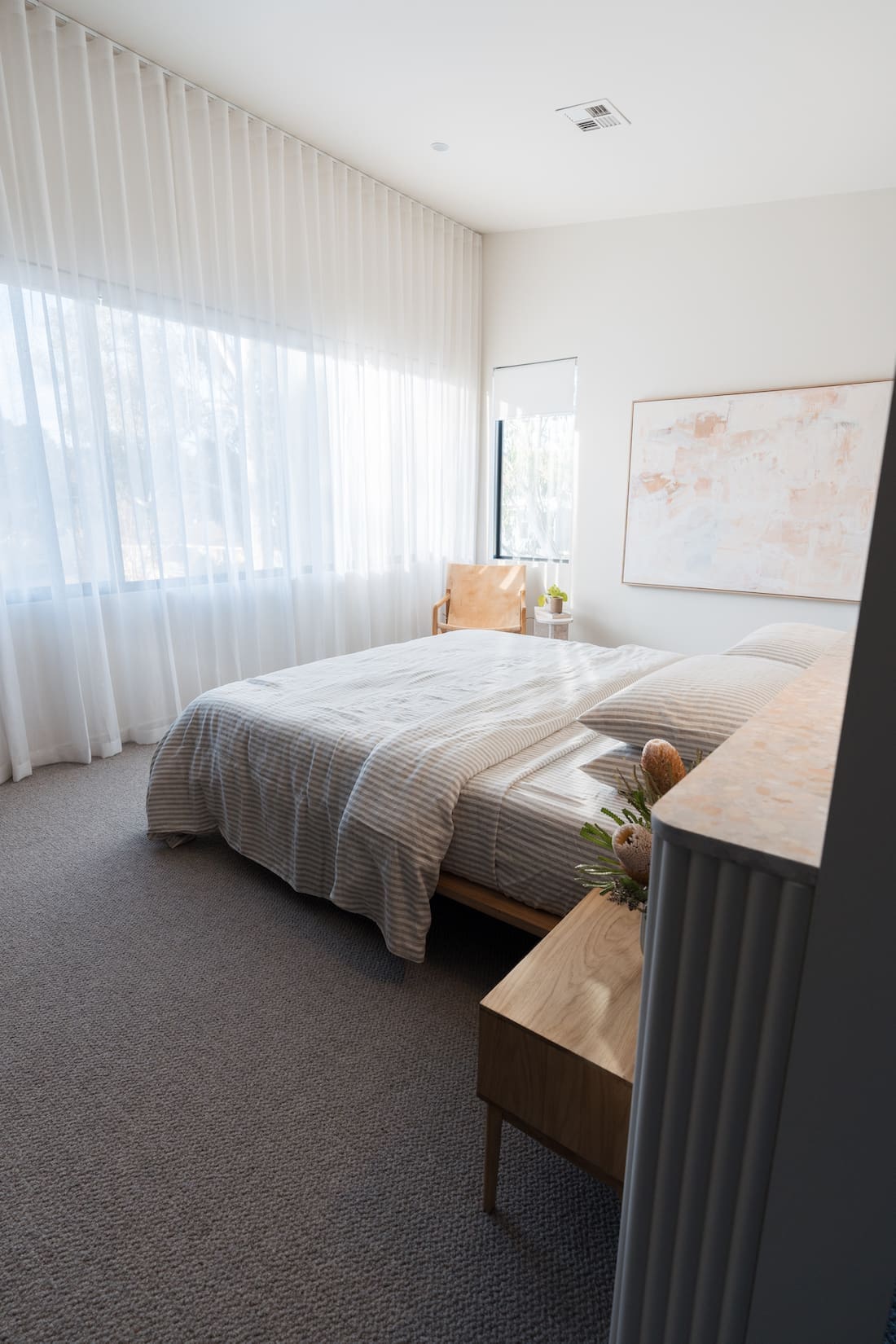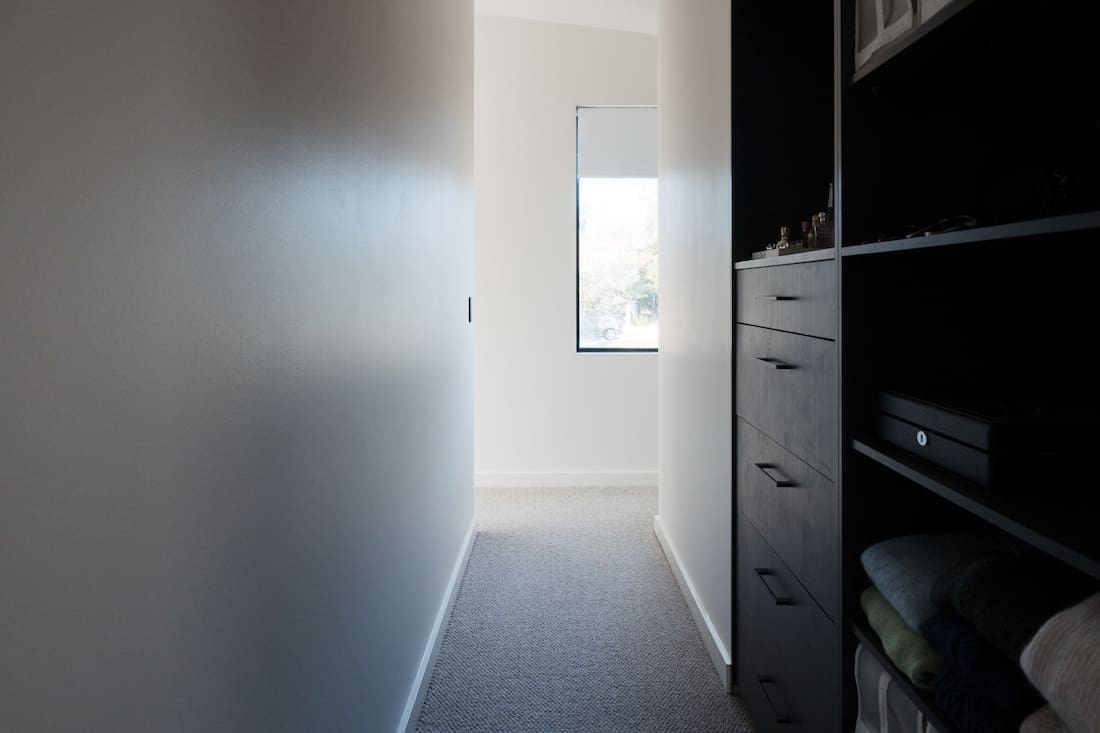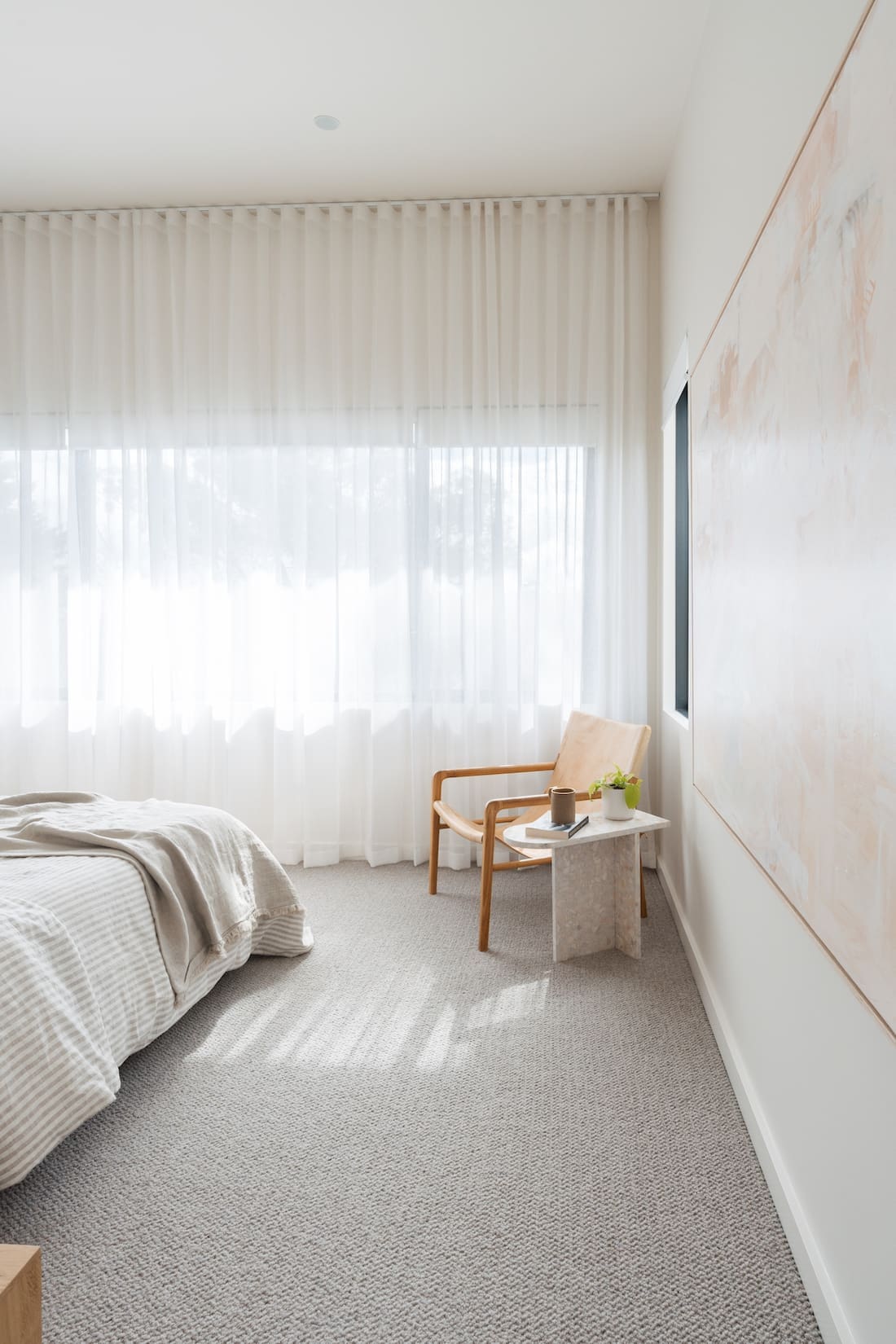 If you have any questions about the window treatments that I chose, pop a comment below and I'll get back to you asap. You can also explore the full range of window coverings at dollar curtains + blinds on their website or connect with them on Instagram for plenty of design inspo.
Window coverings were gifted by dollar curtains + blinds but all opinions expressed in this blog post are my own.