If you've been following our home tours, you'd know we love a good pop of colour in any space. With a blush powder room, luxe kitchen and contemporary living room, there's a lot to love in today's home tour.
And when a home gets featured in Vogue, you know it's extra special! So be prepared to get wowed as we take you through First Blush project with Smac Studio's Principal Interior Designer Shona McElroy!
Related article: Step inside this Art Deco apartment renovation by Studio Quarters
Related article: Colour and emotion: How to select colour for the mood you want to achieve in your home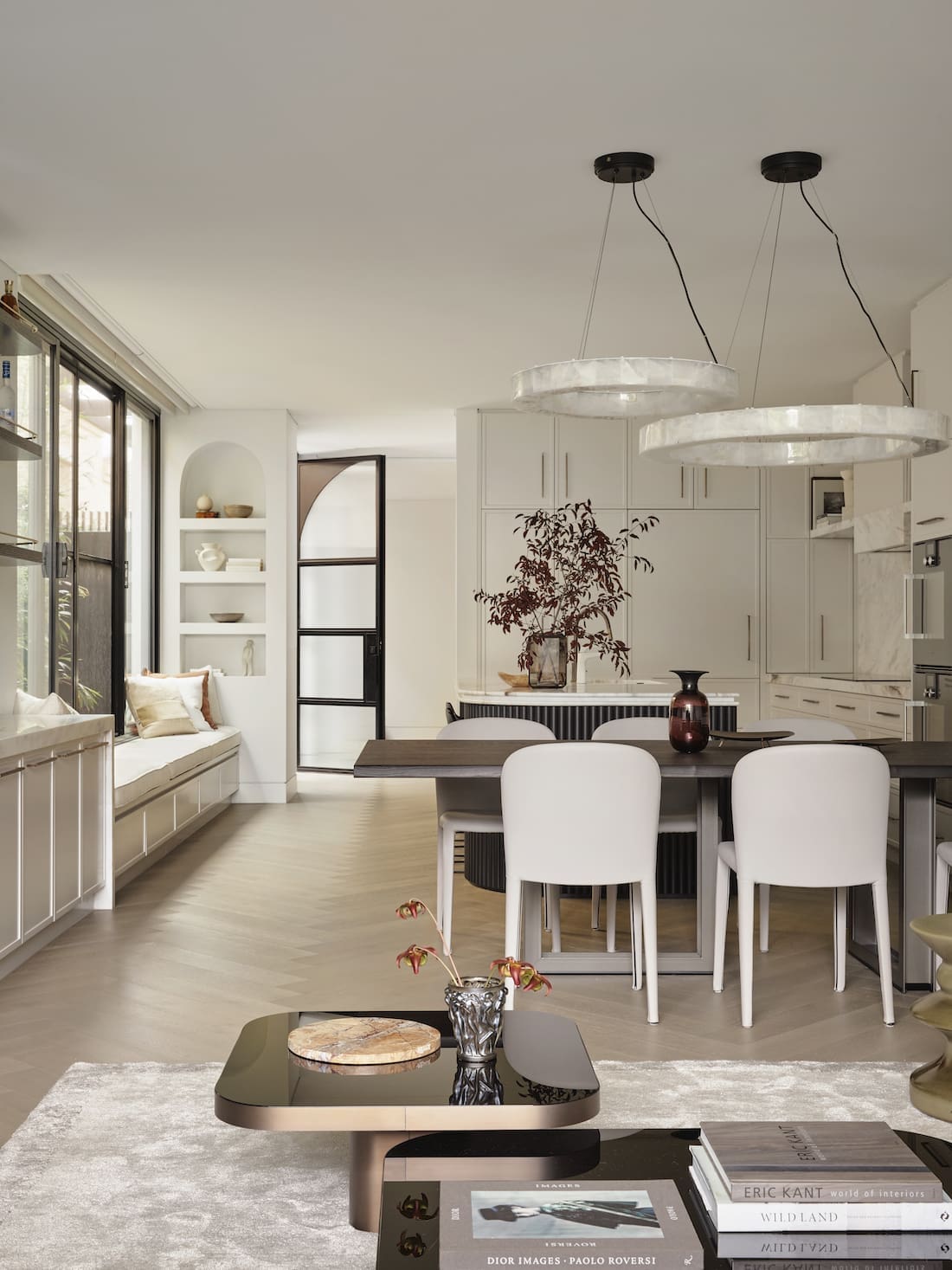 Shona worked collaboratively with the client and creative team to bring the design dream to fruition.
"The client's brief was to create a bright and tranquil family home. They also wanted a layered casualness with elements that would make the home feel designer and upmarket.
"Equally important, they wanted the home to have longevity and likeability. So if they ever decided to sell, another buyer would fall in love with it.
"The architects had worked on developments with the family prior to this, so they had a formula going. It was fun to come from an inside-out perspective and work together.
"Landscaping was also important as the house has been designed to defy its dimensional confinement at every turn. With the help of Naomi Barin from Dangar Barin Smith, lush planting adorns the new side passage, and the vast open windows provide clear connectivity with the landscaping and a sense of intriguing lightness."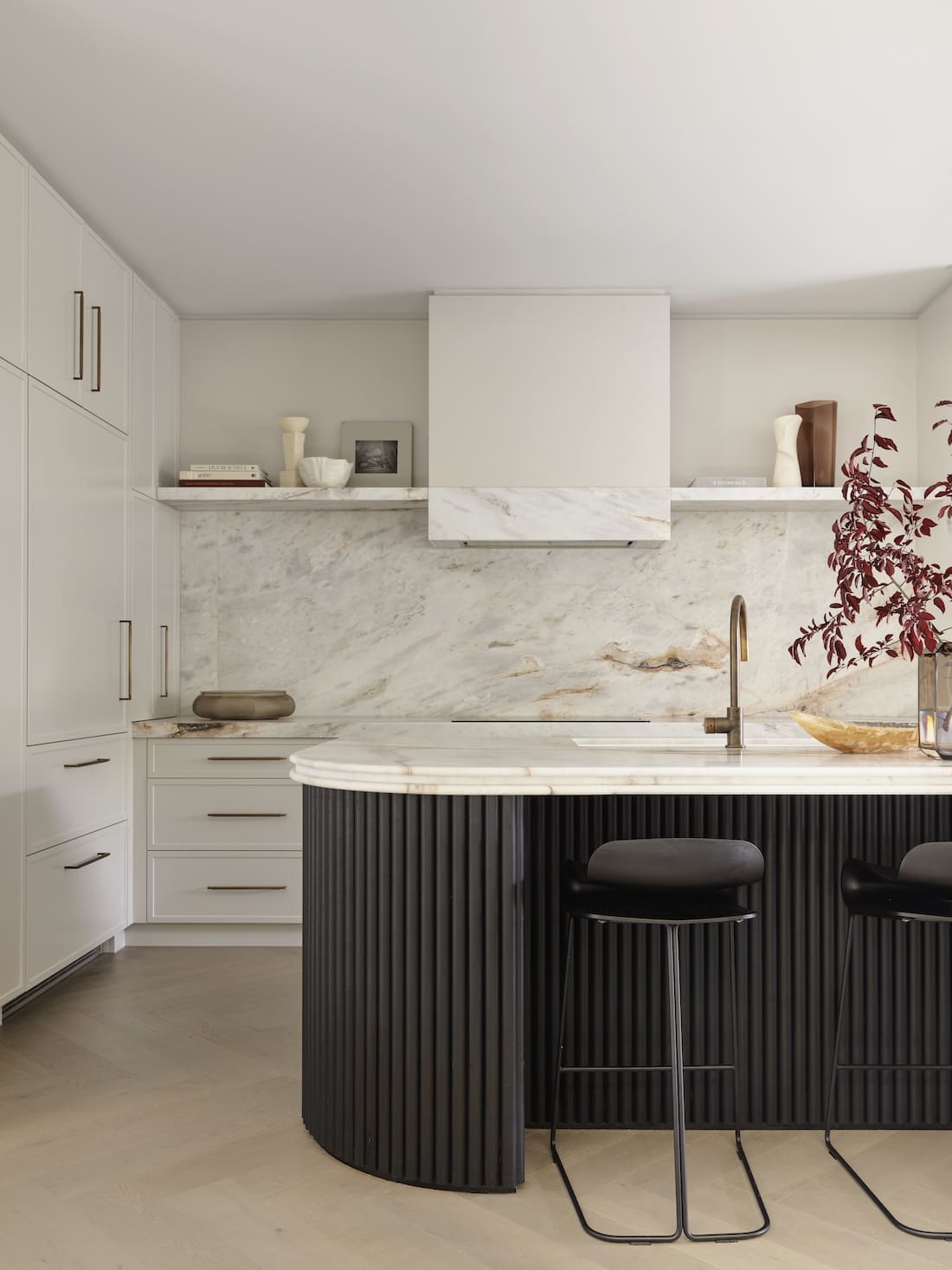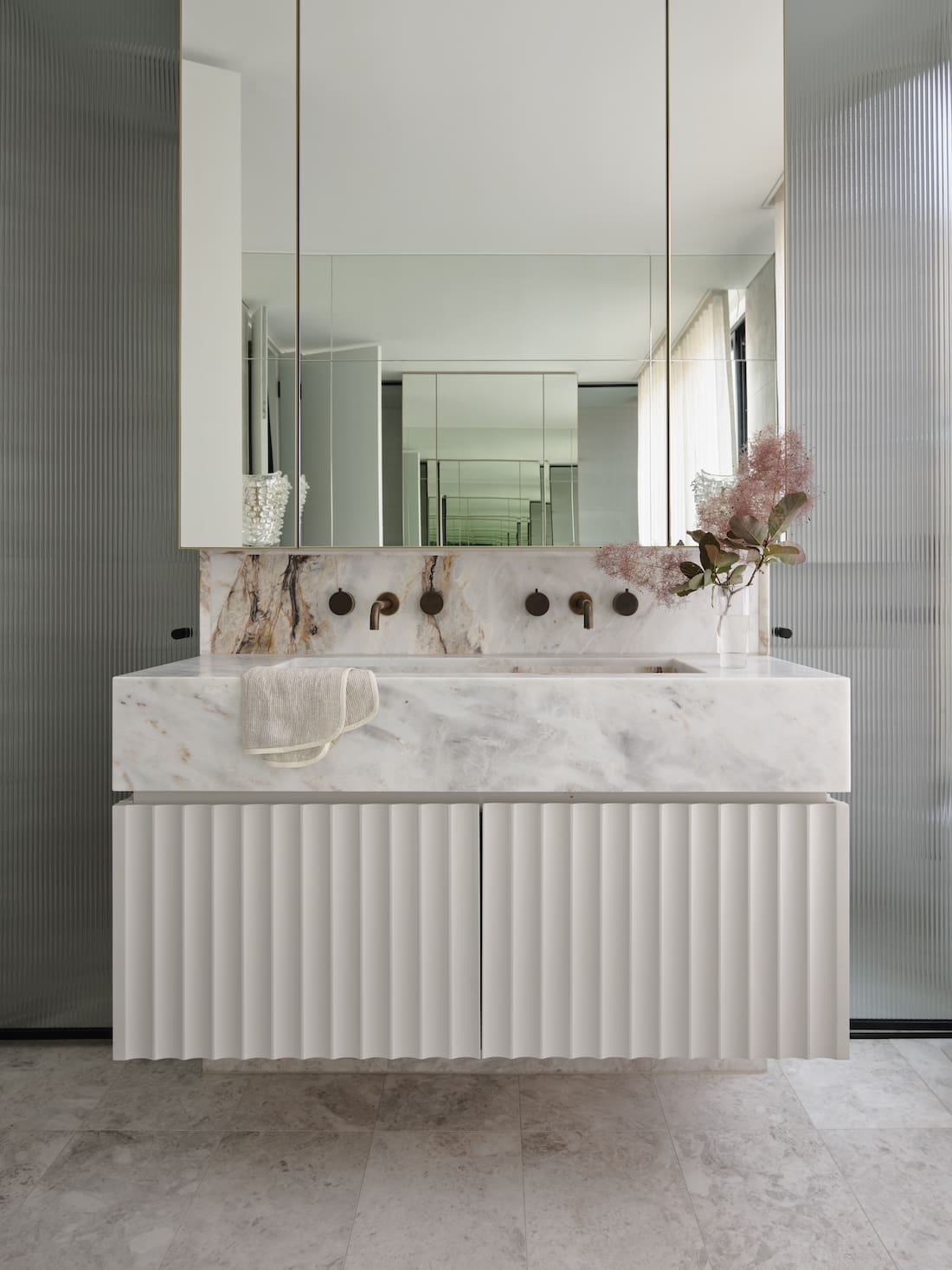 Shona and Smac Studio have continuously delivered glamorous homes, and this duplex is no exception.
"I would call this style a glamourous version of relaxed. We had a pretty clear idea of the lightness and casualness we wanted in the house. In saying that, we were also both drawn to a bit of glam and pretty things — hence landing somewhere in the middle. 
"Inspiration came far and wide. Certain elements nod to Parisian interior designers, such as Joseph Dirand, and Australian design is also always influential with bringing the outside indoors. 
"The home has been principally designed with a nuanced approach to texture and colour. With two daughters (and another on the way), the subtle blush palette and softness of the home draws its influence from the family's strong feminine energy."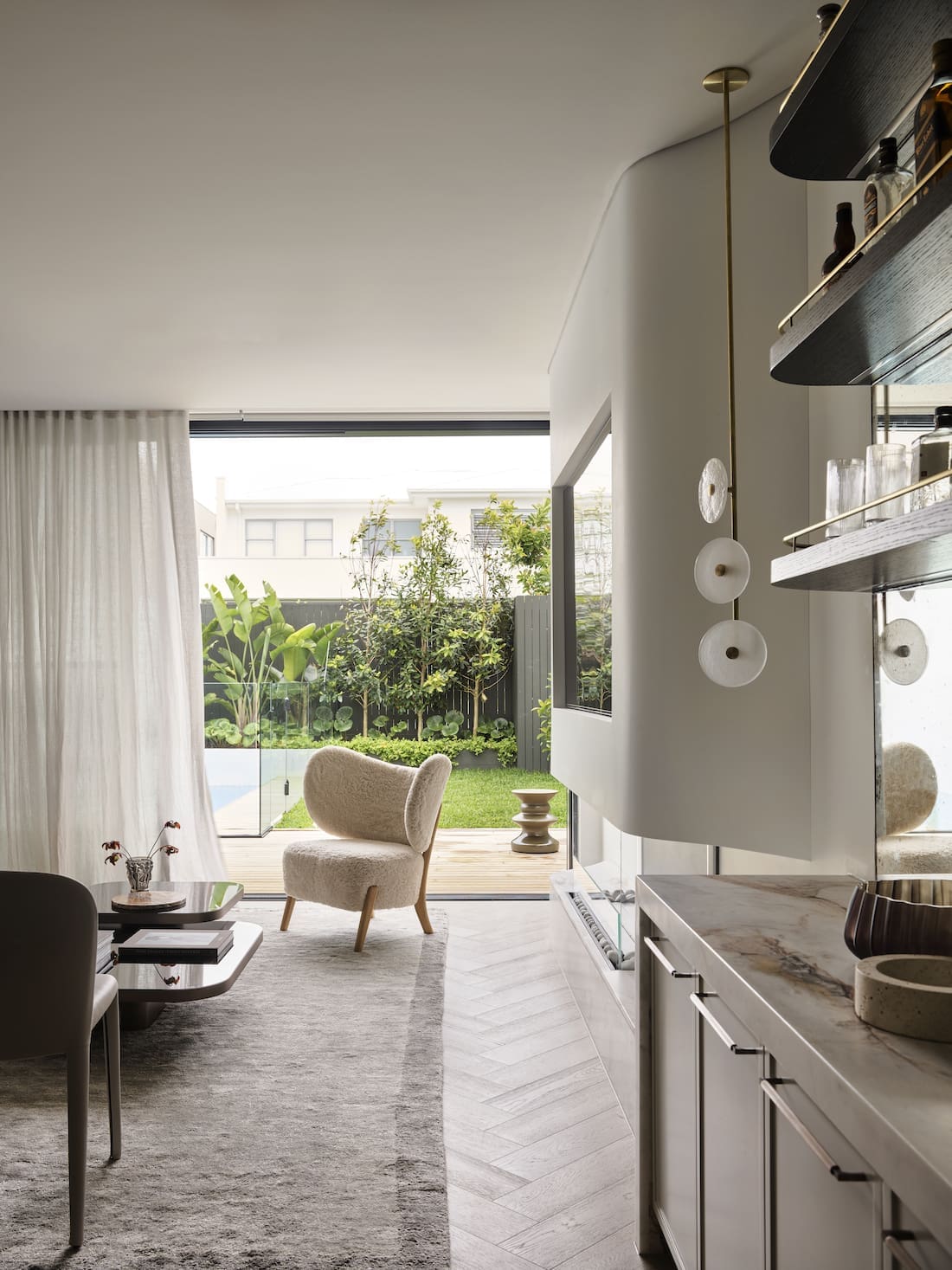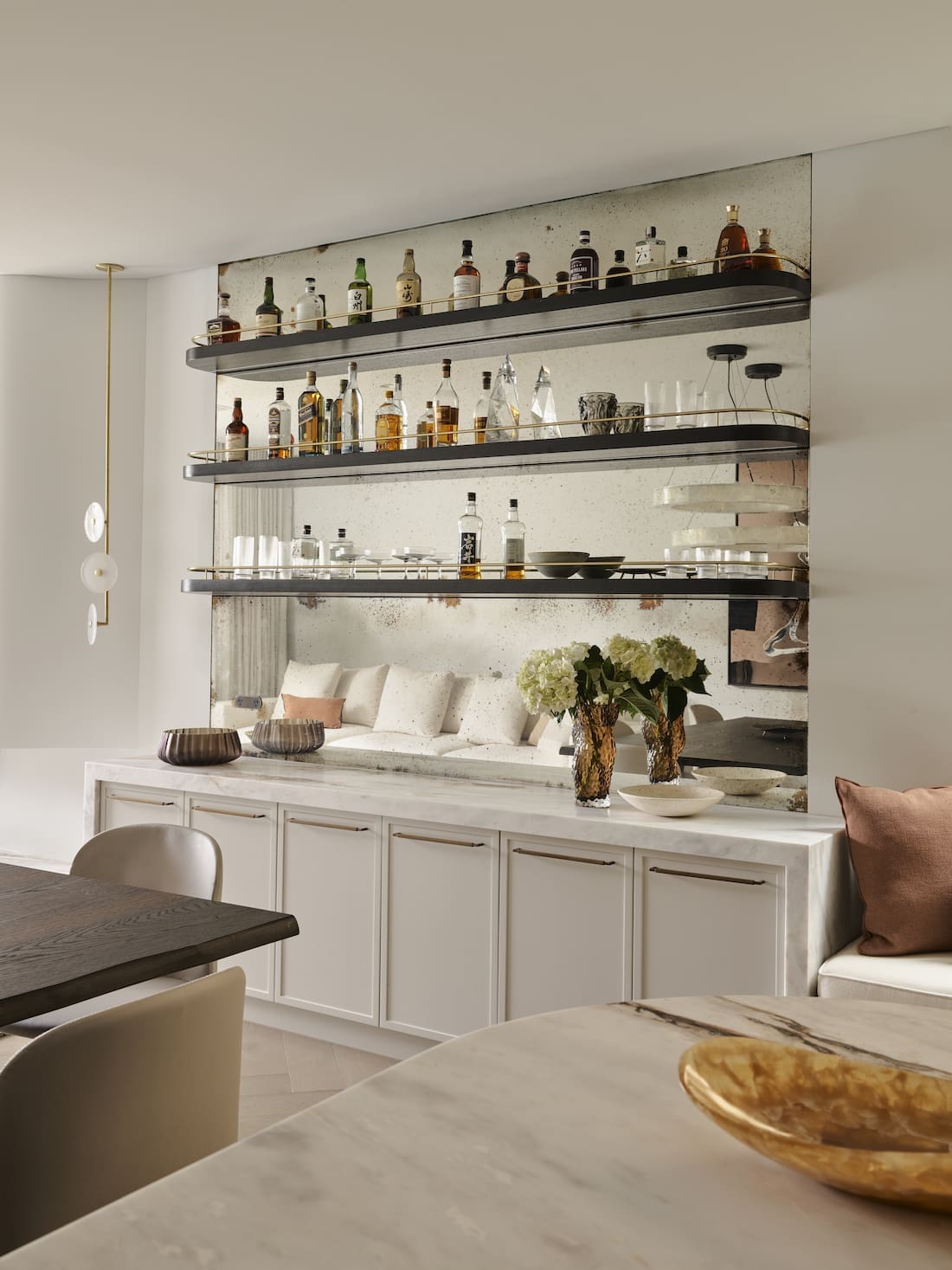 With elements like the living room bar and marble kitchen, there's no denying the house hit the luxe brief.
"A thoughtful entry foyer provides separation between the staircase and main living/dining areas, making the house feel sequential and thus, larger.
"The owners are young, fun entertainers. As such, the bar was a must-have! The bar also works nicely to separate the living and dining spaces into zones. It also has a continuous element with the fireplace and the bench seat across from the kitchen.
"In the bedroom, the curved wall softens what is actually quite a large and deep makeup vanity. I really wanted this space to feel like a luxurious feature of the bedroom, and it also mirrors some curves that are downstairs in the entrance foyer."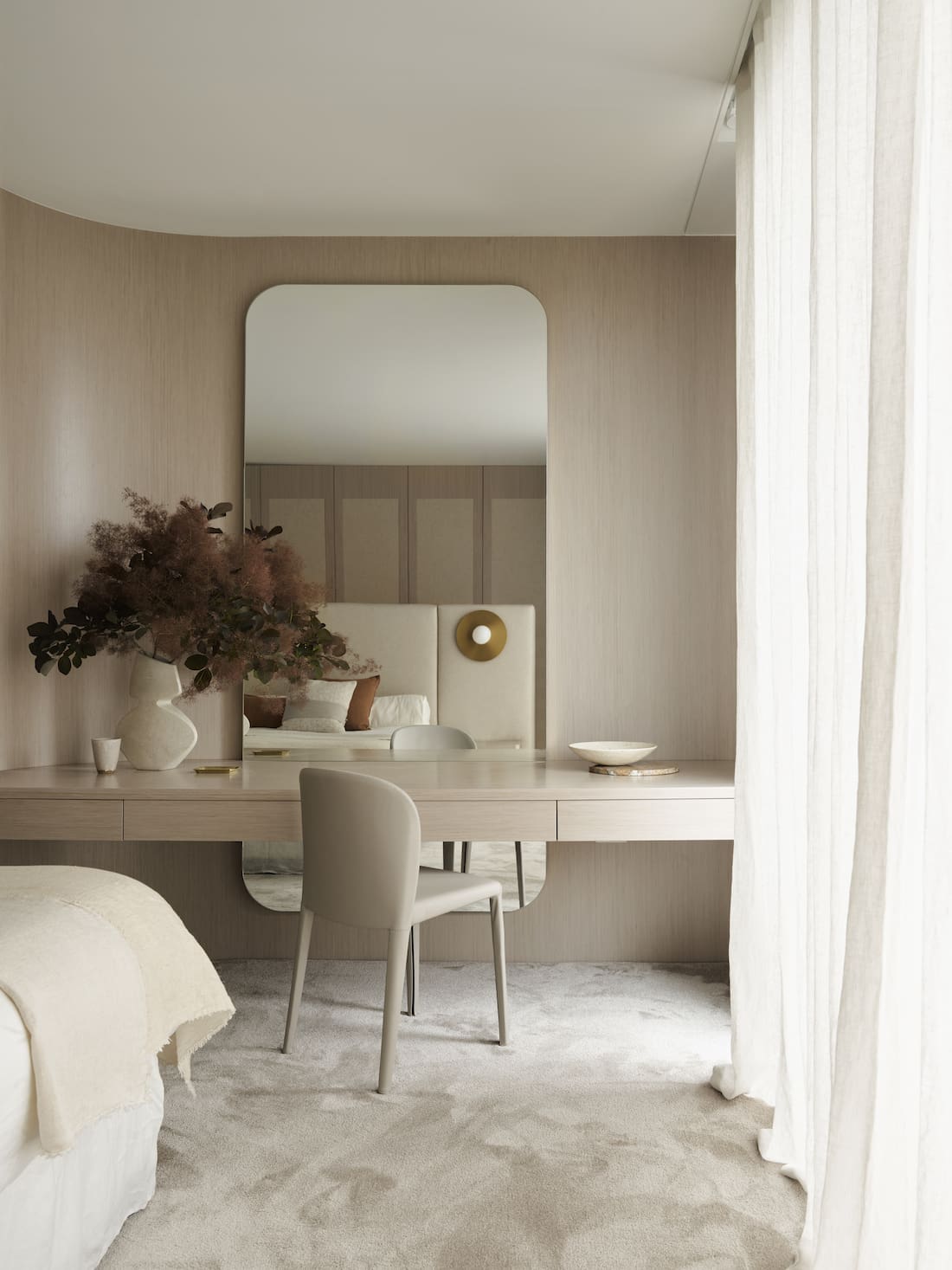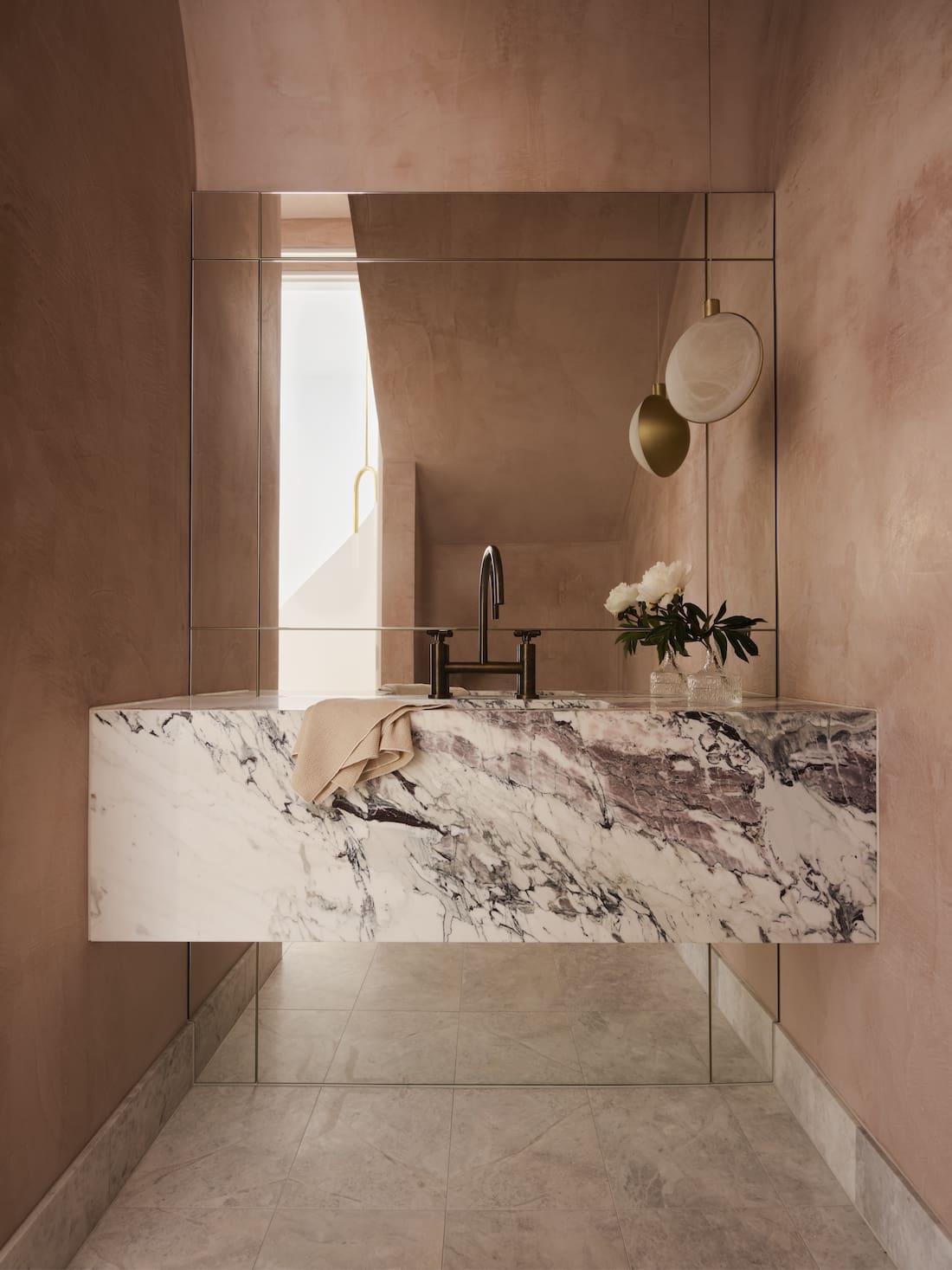 Even with so many unique elements to love, the blush pink bathroom remains a favourite for many.
"Both myself and the clients fell in love with the Palladian marble immediately, and it helped shape what we used around it. For example it has hints of rust which we emulated in aged brass fittings, and pink pops of upholstery.
"I'm a big believer in letting the client fall in love with the slab! It's a piece of art in itself and I usually never lock in a stone until we go to the stone warehouse and have a look at all the slabs.
"I clearly LOVE a dramatic powder room, it's the one room in the house I feel you can have a lot of fun, and I see the other bathrooms as pared back versions of that."
Design — Smac Studio
Build — Airth Building
Stylist — Claire Del Mar
Photography — Anson Smart
Gardens — Dangar Barin Smith
We'd like to thank Shona McElroy for taking us on the tour! For more from Smac Studio, follow them on Instagram or check out their website! What did you think about this home? Do you also like the blush powder room? We'd love to hear your thoughts in the comment section below!